Discussion Starter
·
#1
·
Hi all, I have been bitten by the AK bug once again, and would like to trade my rifle for a 5.45mm AK. If anyone has a 5.56mm AK for trade, I would be interested in that as well.
The rifle I have for trade is an AR15 SPR-type clone. She is a real tack driver! The specs are:
DPMS Upper with T Marks and M4 Feedramps
DPMS Lower with a RRA Match Triger
18" White Oak Armament Stainless Steel SPR Barrel with Ops Inc Brake and Collar
YHM Lightweight Free Float Hand Guard
Harris Bipod
2 KAC Rail Panels and 1 KAC VFG
A2 stock
The BEC Gold Label 3x9 illuminated reticle scope and rings and riser mount (rings and riser not shown) are included. For the right deal, I have @ 600 rounds of 5.56mm/.223 ammo (370 rounds of SS109 62gr, and 200 or so rounds of 55gr .223, brass cased) and 8 or so (sorry, they're away in the closet, so I forget how many I actually have!) 30 round mags.
The rifle is currently kryloned black, and has undercoats of OD and Tan. It has a little under 500 rounds through it.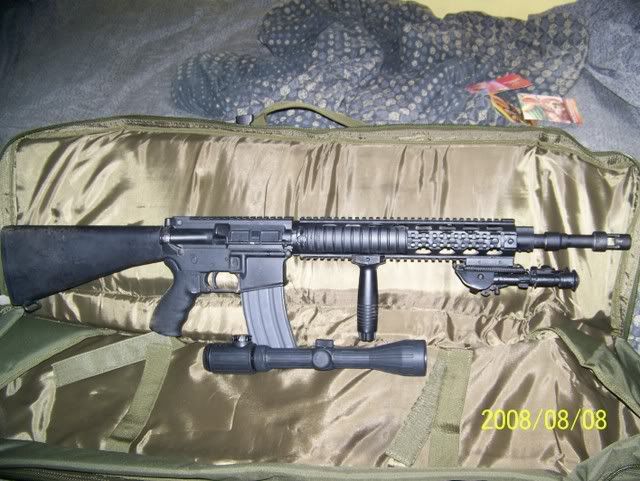 Show me what you have! Please no WASRs or SARs. Arsenals, Saigas, and Interarms or home brewed Tantals (with chrome lined barrels) preferred. Thanks for looking everyone!