SPF: Yugo M70AB2, 1986, Completely matching parts kit with MINT intact ORIGINAL Bbl!
Next up is an amazingly minty Yugoslavian M70AB2 kit that I'm selling.... (Item #8)... NOW SPF to crosscreek55 ...was $875!

It's an impossibly excellent-condition 1986 kit and appears to be unfired (see bolt face and muzzle images) This is an all-military/matching/original kit from a single gun, with it's original finish and intact barrel. Everything functions properly, and it is equipped with (only faintly glowing, of course) night sights, and grenade launching sight, exactly as originally imported.

I looked through about 100 of these hand-picked M70 kits from the first (and only decent) batch brought in years ago by a builder I know, the kits were mostly obvious veterans of corrosive ammo and neglect during the war, this one must have been stationed well out of the fray, and is the only 80's-made M70 I've seen with a good bore, let alone a mint one. The bore is as perfect as when new, deep rifling and perfect crown, as can be seen in the bullet test pic. There is only mild evidence of issue and rack wear on the exterior finish, the usual dark rub mark on the bottom of the lower HG from the folder buttplate, slight loss of blued finish at the edges and mild scoring on the left folder strut (my guess is that it was probably from bluing salts left on the gun when manufactured, considering the gun's overall condition) as can be seen in the enclosed images. The gas tube is also serial-numbered, and the recoil spring assembly is electro-penciled with the same assembly number, and in the same script as the rest of the serial-numbered parts. An exceedingly rare kit, amazingly minty for a 29 year-old gun, one completely built and fully proof-marked by the Yugoslavian military, and far cheaper to build than a virgin parts-set of course.

I will sell this "unobtanium" kit today for $875 (was $975) delivered USPS Priority with insurance. Terms: Extremely discrete PP as a gift, or $905 with PP fees added. Payment to be made within 24 hrs of your "I'll take it" only! Kit is CROSS POSTED elsewhere, so the time and date stamps will determine purchaser!

If you are seriously considering purchase, please feel free to ask if there are any parts you'd like to see more closely, the original Yugoslavian oil is present on these parts and there is reflected tungsten light in some images, but the parts are not yellowed or brown, just a lighting artifact.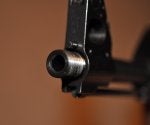 New bits, kits, and pieces listed 2015...
Special! Price Reduced!!!
Hi folks, I'm back again, with a few critical parts and kits to sell... I am the same Five Four Five that always found the best Soviet wood AND hard to find items, and I'm now going to be offering kits and other parts... Stay tuned for more items that I'll be selling in the weeks to come!
Up for sale are several rare and hard to find parts kits and accessories for guns issued from the 1970's to the 1990's
Please post "I'll take it" per Forum rules and follow up with a PM, in your PM, be sure to let me know:
1) Your on-line name, as posted.
2) Real name and address for postal delivery by Priority Mail or other agreed to option, if a larger/bulky item (I will work with you on options as long as they are provided with a tracking number per Forum rules).
3) Item number from these new 2015 listings.
I will reply with the payment info, your choice of either
discrete
PP (+3 1/2% for fees) or a PP discrete GIFT payment (without comments added, please) and an order acknowledgment.
4) FFL dealer information (one that will accept shipments from non-FFL holder, for items with receivers in the sale).
Please, no requests for sales or shipping outside the lower 48, and no sales to states or localities where any of the parts in a kit and/or item offered are banned.
Contact me for combined shipping on multiple items, etc.
Please note that I can accept
incredibly discrete
PP only for this item!
Thanks for looking, and I hope I can help you equip your valuable builds and collections!
-Five Four Five