Discussion Starter
·
#1
·
All my life, I wanted a Galil. However, after I got one, I decided that I prefer the more traditional AK. :doh:
This is a Century Galil. It is like new, as I bought it brand new, two months ago and have only fired 30 rounds through it. It functioned flawlessly, with both brass surplus and Wolf. The only issue I had, was the hand guard retainer latch, which broke, the first time I cleaned it. Century sent a replacement and my local smith fixed it without any trouble. Two refinished steel mags are also included. The mags fit perfect, with no wobble. This is an early serial # rifle and has had the firing pin recall work done to it (has F stamp on bottom of receiver). The only notable wear is the usual selector mark rub and a rub in the finish, just forward of the mag well on the right side, where the stock was folded during shipping (I will be sure to wrap it better than Century did!). It has the original box with matching serial number, tag and owner's manual.
Price is $700, including shipping to your FFL (must accept shipment from non-FFL). Not available to any state where it would be prohibited.
I am also willing to trade (actually would prefer it) for a straight stock, Bulgy AK-74 (ORF or other, quality build), in similar condition.
If you are interested, have questions or would like more pitctures, please PM me. I am located in SW Minnesota and would consider a FTF, if the distance is reasonable.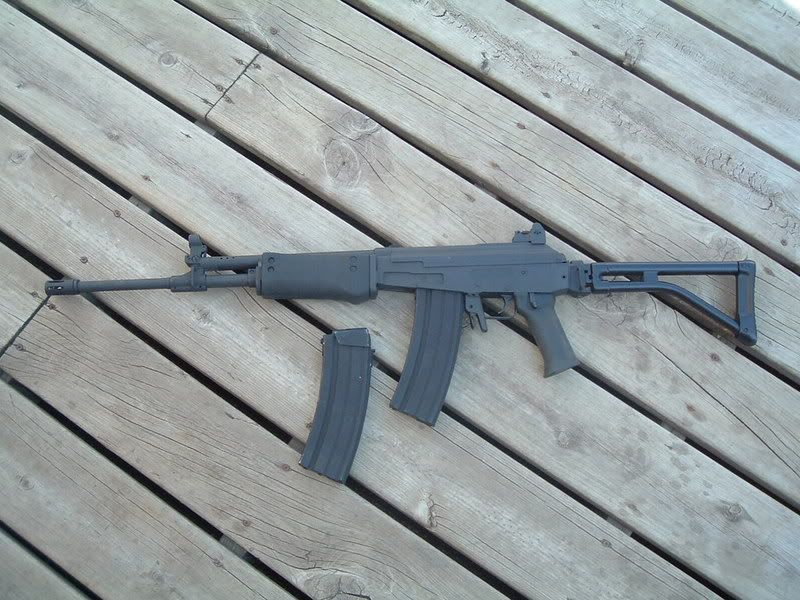 Thanks for looking! :smile: