I have a few items for sale. These are posted here and on another platform. Items are sent from the UK with tracked shipping. All prices are plus shipping, please message me for shipping quotes.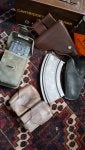 CZ 50/70 molded black leather holster (Genuine CZ marked): $25
Makarov Russian brown leather holster (genuine OTK stamped): $15
Yugoslavian? 7.92 brown leather double ammo pouch: $10
German G3 double mag pouch plus x2 HK G3 mags (marked HK G3): $25
Will sell all items as a whole for $95 shipped (including extra spare G3 magazine)
Bren magazine can be sold upon request, message for details. First 'I will take it' plus selection and followed by a PM gets first pick. If you have any questions or require more images, please ask.
I have a spare Rheinmetal marked G3 magazine in mint/unused condition that I will throw in for $5 with the other G3 mags and pouch.