REDUCED WTS: Mint, Matching Bulgarian AK-74 Kit, Intact Orig Bbl! 5.45, '90
Withdrawn

...
-was $650 ...shipped!

Unfired, 1990-made Bulgarian AK-74, original intact barrel kit, 5.45 x 39mm, excellent for home builders, the least expensive AK74 to build... Bulgarian armorers already did the hard part!
This kit is one I was keeping for myself, but thinning the collection brings this kit to market here, excellent all-matching kit, virtually impossible to upgrade... perfect for a 1990 Bulgarian military restoration project!

Unfired Matching Bulgarian AK-74 kit, intact Bbl! 5.45, 1990 manufactured (Item #

11

)

Up for sale is a new, unfired, intact barrel, all matching Bulgarian AK-74 (fixed stock) kit, "single-rivet" trunnion, complete kit with all-numbers matching. Trunnion is date coded "30" for 1990, with the original cold hammer forged, chrome-lined, military 5.45 x 39 barrel, bore and crown are new. Wood furniture. Ready for your build, whether as a Bulgarian military restoration, or even a Soviet clone...

All matching parts from the same original rifle. Furniture is Bulgarian wood with the usual Bulgarian brown plastic grip.

Two-piece Bulgarian "half moon" brake. This kit is very minty, with only small scuff-marks from shipping. Almost impossible to improve on the condition. Get it, and build yourself a truly premium AK-74!

Best quality AK-74 kit! $650.00


Including insured USPS shipping,
payment to be sent within 24 hrs via extremely discrete PP only, gift payment without comments, or total plus 3 1/2% as regular purchase.
Cross posted elsewhere, so time and date stamp will determine purchaser.

I have a Black late-type bayonet which came with this kit that I will add for the purchaser, for another $40 ($42, non-gift) in new condition, scabbard and bayonet are matching (but numbers do not match the kit).

I will also offer the purchaser an NDS 2 (5.45 fixed-stock) receiver for an additional $80 (gift) or $83 regular payment via PP, receiver MUST ship to your FFL and they must be able to accept shipment from a non-licensee, additional shipping fees will apply if sent separately from the kit.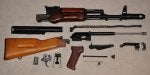 Please also see my other sale thread:
WTS: Mint All-Matching Bulgarian / Tula AKS-74 Kit, Intact Orig Bbl & Bayo! 5.45, '90
New bits, kits, and pieces listed 2015...
Hi folks, I'm back again, with a few critical parts and kits to sell... I am the same Five Four Five that always found the best Soviet wood AND hard to find items, and I'm now going to be offering kits and other parts... Stay tuned for more items that I'll be selling in the weeks to come!
Up for sale are several rare and hard to find parts kits and accessories for guns issued from the 1970's to the 1990's
Please post "I'll take it" per Forum rules and follow up with a PM, in your PM, be sure to let me know:
1) Your on-line name, as posted.
2) Real name and address for postal delivery by Priority Mail or other agreed-to option, if a larger/bulky item (I will work with you on options as long as they are provided with a tracking number per Forum rules).
3) Item number from these new 2015 listings.
I will reply with the final payment amount, your choice of either
discrete
PP (+3 1/2%) as a regular payment, or PP gift (without any comments, please) and an order acknowledgment.
4) FFL dealer information, one that will accept shipments from a non-FFL holder (only for items with receivers in the sale).
Please, no requests for sales or shipping outside the lower 48, and no sales to states or localities where any of the parts in a kit and/or item offered are banned.
Contact me for combined shipping on multiple items, etc.
Please note that I can only accept
incredibly discrete
PP for this item, and funds
must
be sent within 24 hrs of your "I'll take it!"!
Thanks for looking, and I hope I can help you equip your valuable builds and collections!
-Five Four Five