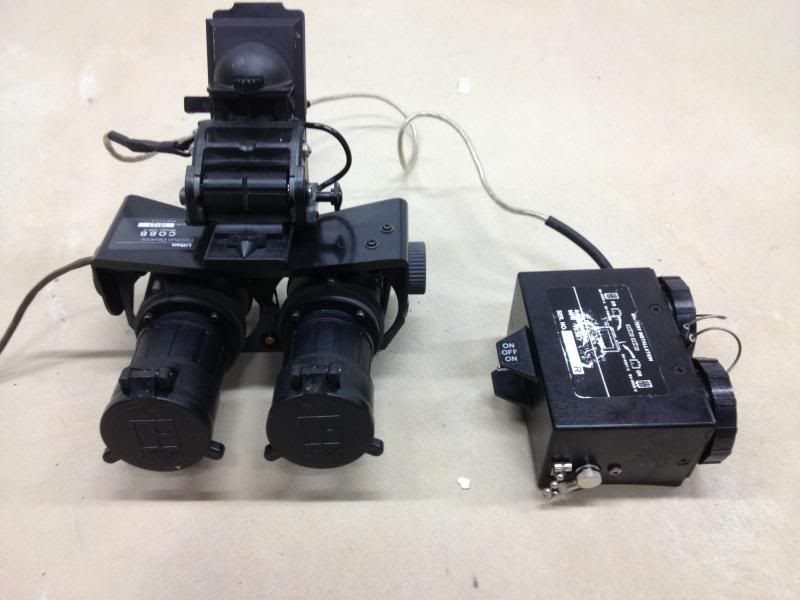 Up for sale is a PVS-5 (LItton made night vision) in the "whole enchilada" package! $1650 shipped (more pictures below)
PRICE REDUCED TO $1400 SHIPPED. PARTIAL TRADES CONSIDERED
The setup includes the following:
PVS-5 with dual tubes (both work great) in COBB mount, and with flip up front lens covers. The tubes are adjustable for focus, diopter, pitch, and cant, and pupil distance. Basically if you can think of an adjustment you need to make, you can do it to get both tubes centered and focused on each eye with or without glasses.
Also included is the COBB QD fip up mount, press the button on the left side to flip up. Locks in both up and down positions, and when in up position, cuts power to goggles automatically. The mount has a standard Norotos mounting plate with release button, snaps in to any standard helmet one of three screw mount.
Also includes battery pack, which uses 4x AA or 2x military batteries. Switch on back is a master ON/OFF for power supply. Pack easily mounts to back of helmet with velcro, and also works as a counterweight.
Yet more goodies too- comes with original case, and with the "ecto goggle" padded faceplate- you can remove the PVS-5 from the COBB mount put in the faceplate mount to wear right on your face without a helmet. Of course the weight is all on the front of your face, but I have tried it and it does work!
Please note that these are gen II tubes, don't expect this to be a pair of dual PVS-14's, if you want that you gotta pay the $6,000+ tag for them. These are a great setup for true binocular vision for night driving, etc, and the tubes have no noticeable blemishes on them- they have been well taken care of.
I accept USPS money orders (preferred) and online payment +3.5% on this item. i ship USPS Priority insured. See my feedback- over 100+ all positive. I offer a 3 day inspection, goggles must be return complete and in same working condition as shipped, and shipping is on you with full insurance required.
Let me know if you have any questions, please email and no IM's. Please note this is listed on other forums.
Additional pictures available upon request.
Both tubes work, per the first picture. Second picture is left tube, third picture is right tube- hard to get focus on the image with an iphone, but you can see that they work and have no blemishes. Both tubes work equally well.