Discussion Starter
·
#1
·
Ok here we go:
I have been waiting a long time to finally get this underway- I purchased 2 US Palm magazines from One Source Tactical (OST).
Price was 29.95ea.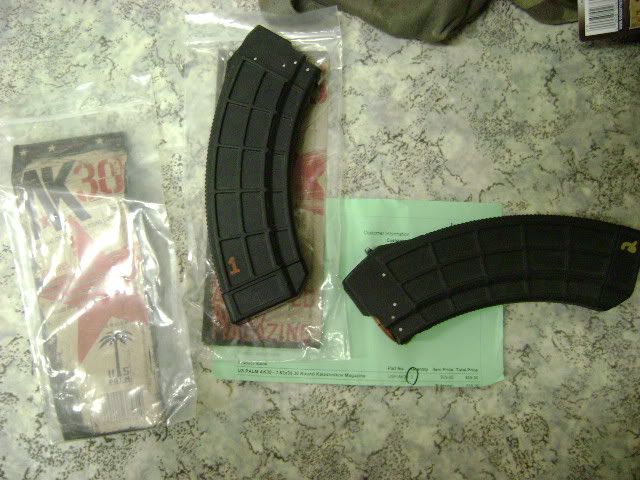 I began with a simple notion; test these magazines under normal operational conditions while down range-firstly I am not going to spear, bayonet, perforate, break-dance with or try to destroy these magazines via any special means; just simple "load and shoot" tests and a couple simple drop tests possibly at a later date. I will note any and all malfunctions and their cause.
When I received the magazines I looked them over a little bit and took them to the range a few days later.
Pros:
Very robust construction; it has a sheet stainless steel reinforcement for the front locking tab, rear locking tab, and internal reinforcement molded inside of the magazine tower.
Strong spring.
Loads fairly easily.
Easy gripping surfaces on the front and back of the magazine due to molded horizontal corrugations.
Possible Issues:
Lacks steel reinforcements in magazine lip area- could be an issue or maybe not: It hasn't been a problem in the past with other magazine types tested.
No witness hole present to see if magazine is full-for many this is not a problem for me it is-albeit a minor one.
They do not insert into the magazine well opening quite as easily as steel or Bakelite's but still easily enough.
They feed almost as smoothly as Bakelite or steel magazines-not necessarily an issue though.
Cons:
Magazine is bulky and does not feel right in my hand and does not sit well inside of military issue pouches. There is a special set up available to carry the magazines, which is available from a few sources but trying to use existing pouches could prove problematic in some cases (+/-).
Not able to be disassembled for routine maintenance.
Range Testing:
Weapon used: Hungarian AKM, the weapon is cleaned and lubed before every test. I had fired about 300 rounds from it before testing; no issues noted. I also gaged the weapon with military gages: The weapon passed all tests with flying colors.
Edited to add: New test info to the title