Discussion Starter
·
#1
·
As mentioned in the "AK ammo type" thread, here are some pics of the infamous Uly HP's! These rds were fired through a fresh cut white oak measuring 10" across @ 25yds, and were recovered from the bank behind the target.
Note the one on the top right. This one did a 180, and then expanded backwards!
This one looks like it woulda hurt :twisted: (didn't find the rest of it)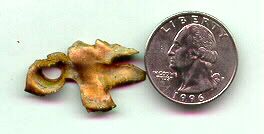 More pics to come!!!!