Discussion Starter
·
#1
·
If you would like to use my pics on another website, please ask me first. As long as you give me credit, and are not making any cash off of it, then I dont care. It kind of pisses me off to find my pics on other websites, with some guy taking the credit for it. I should not have to explain the term "common courtesy"
Here are a bunch of AK pics that I have to share. These were mostly taken at a museum in Belgium.
As some assclown broke into my car the night before and stole my photolights, they didnt come out as well as I needed. Rather then the whole trip being a waste, I will share them here. I have also added pics from Museum exhibits, as well as deact AKs from my personal collection.
If someone can correctly guess the special font that I used to mark some of my photos, I will bring out some never seen before pics.
Albania:
There are a variety of these; Long barreled, dimples, etc.. But all are ChiCom pattern.
Albanian made AKM. All numbers match, excellent shape.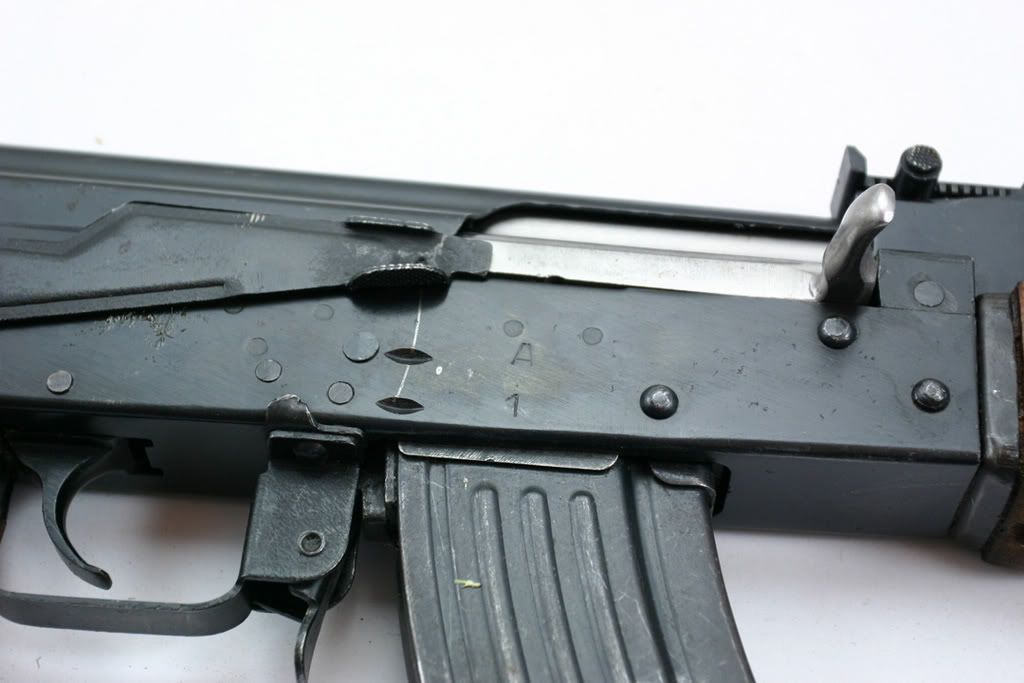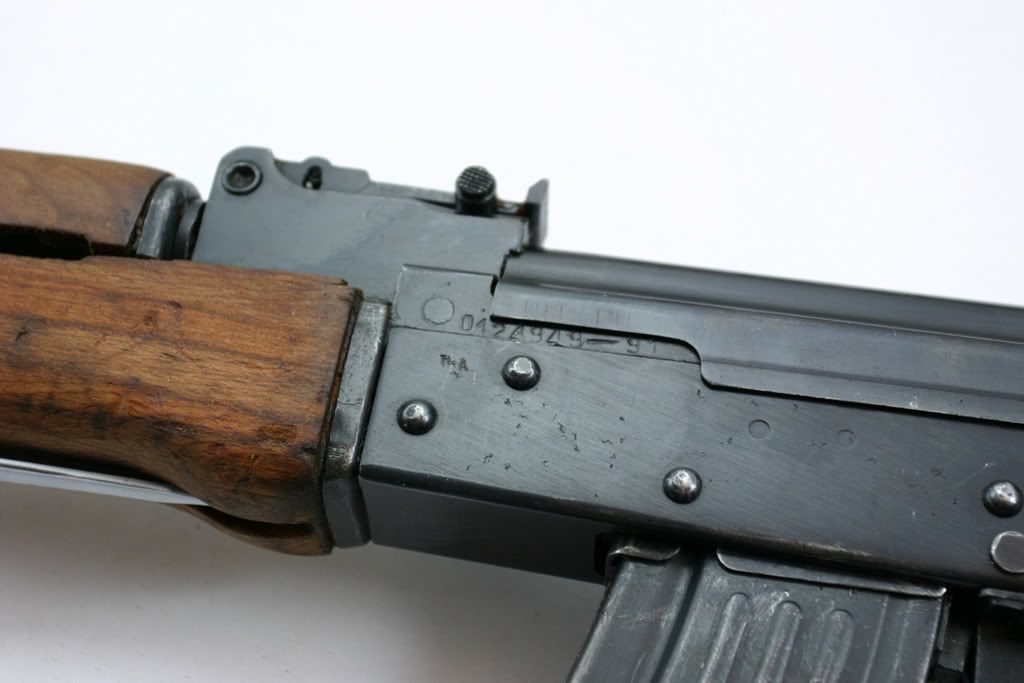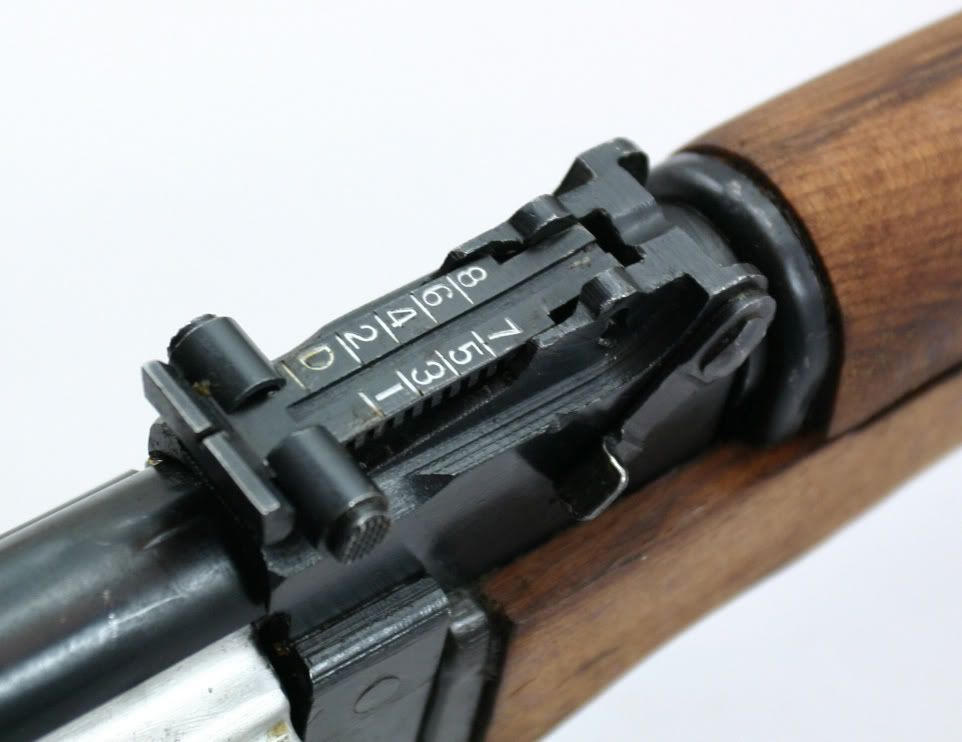 Romania
Here is the
AIR carbine
. This one is 5.45-


Selector markings; This one has a 4 position trigger group with 3rd burst. Also notice the upturned carrier handle.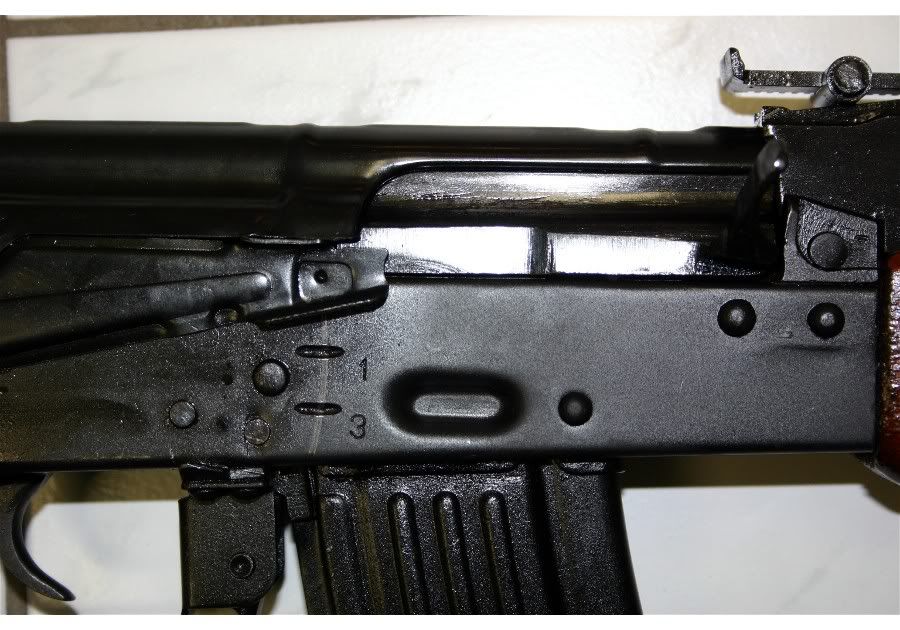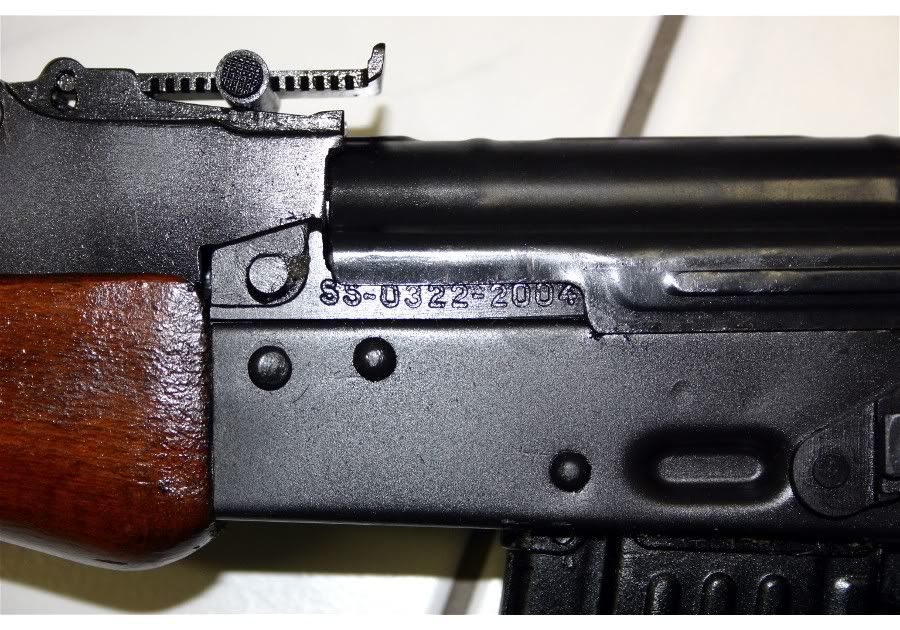 Special rear 400M rear site-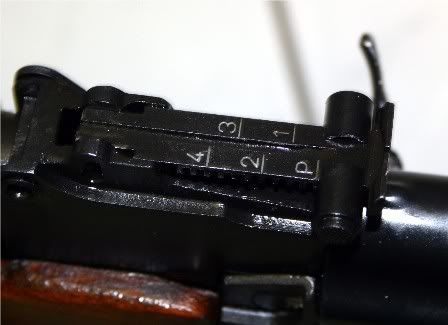 Romanian
AKS-74, with the AIM 40MM (US 40MM) grenade launcher
-

Close up of the launcher; You can see the AKS74s markings also. The trigger is the push button on the side near the barrel release. The safety is spring loaded, and you must push it forward and push the button. You also get a good look at the site for the launcher, which is a part of it.

The launcher attaches like a standard handguard-


RPKS-74
Here are two different versions. The top was made in 92. The 93 made version features a 4 position selector, a carry handle, flash hider, bakalite upper handguard, scope rail, and some other smaller differences.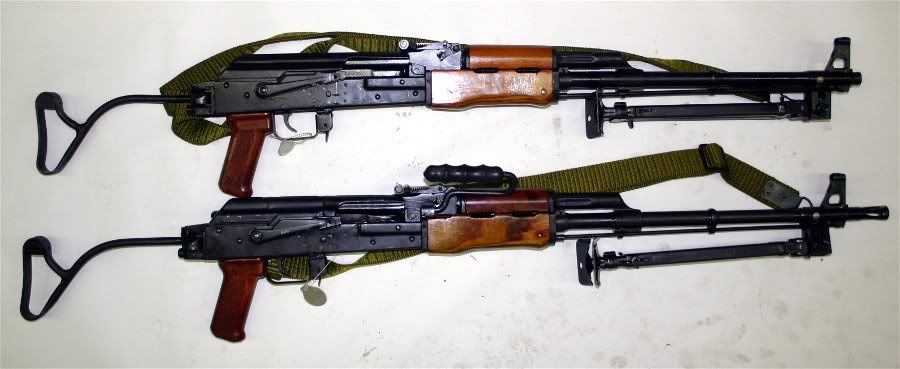 Rear site-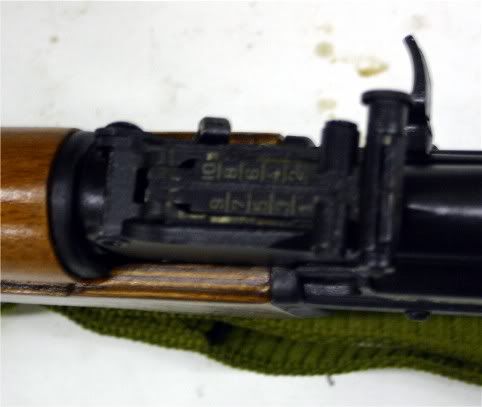 1992 made weapon-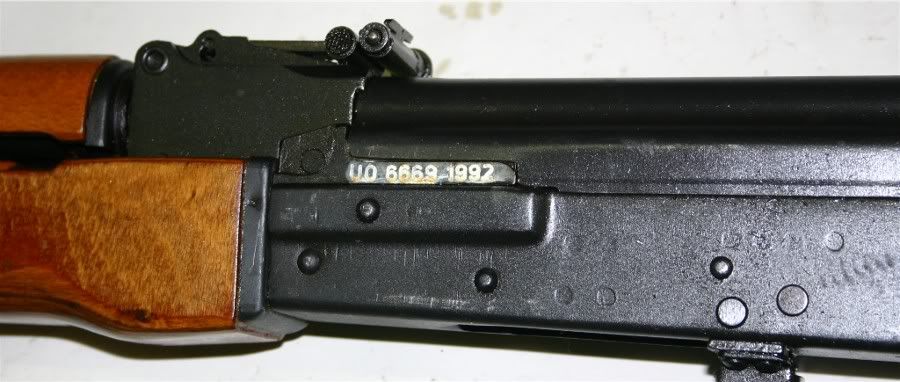 1993 made weapon-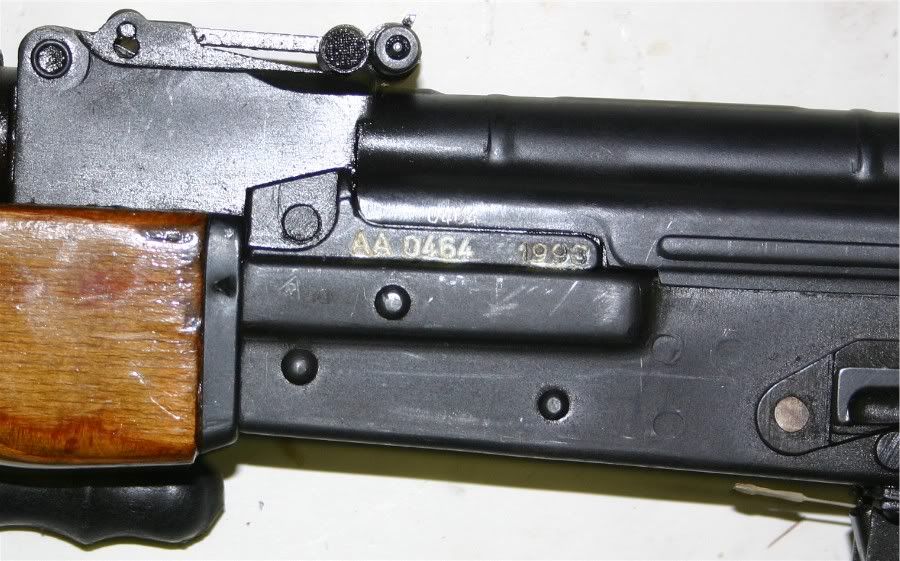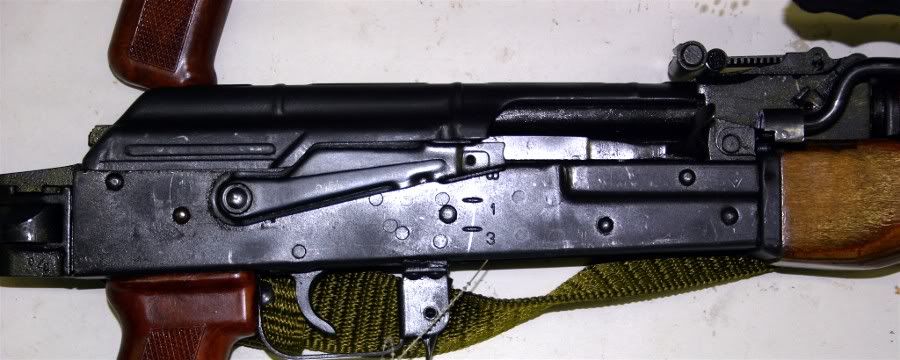 AIMS (AKMS)
-


Not sure why some Romanian guns have the arrow in triangle, while others do not.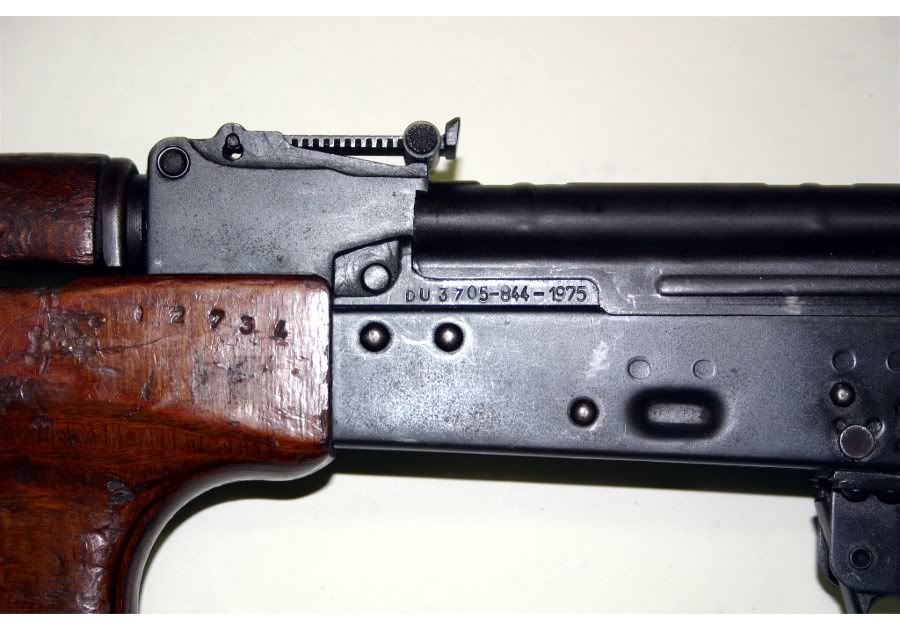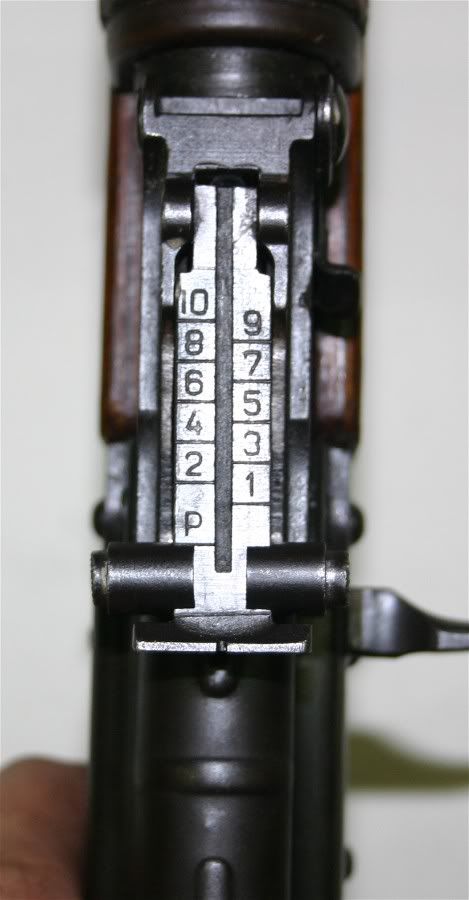 Hungary[/size=3]
AK-47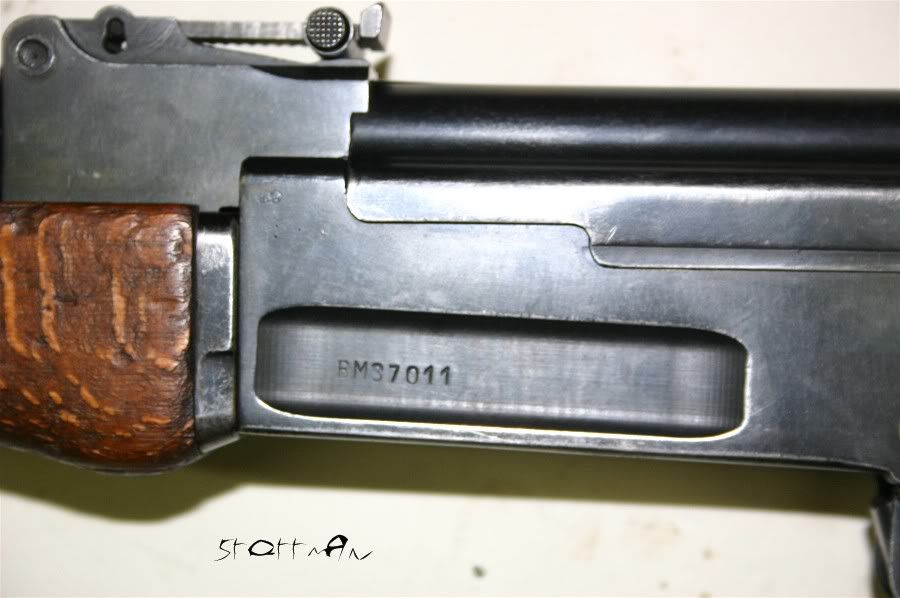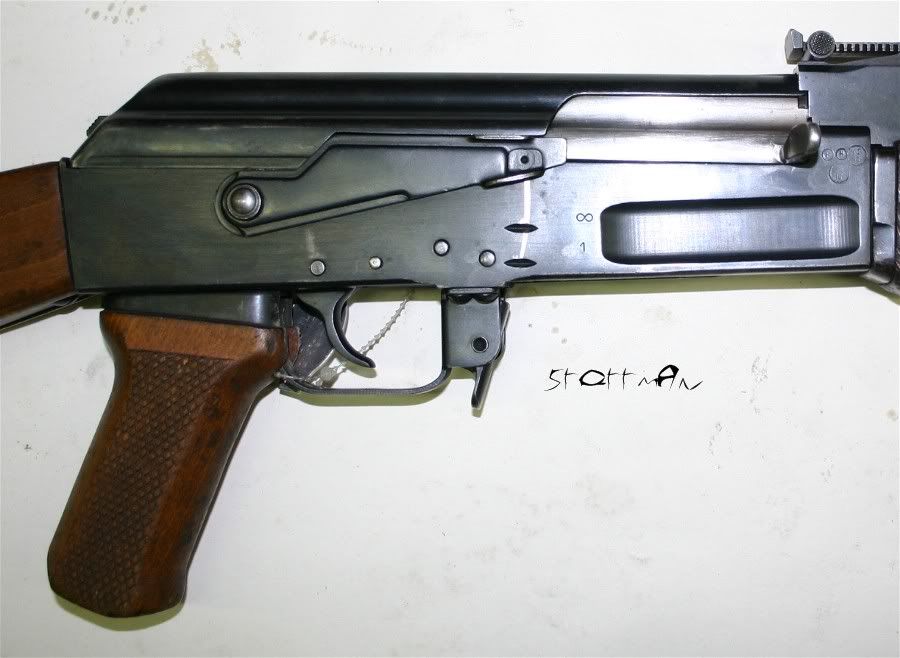 AMD-63
This is an intresting example, in that it has a side scope rail.



View of the markings and the scope rail. Hungarian guns dont have the year of production.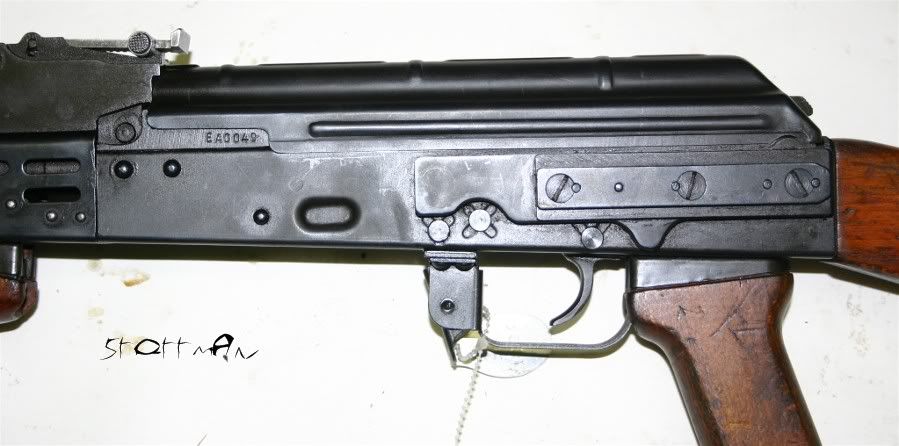 AMD-65


Selector markings, which are common to all Hungarian AKs.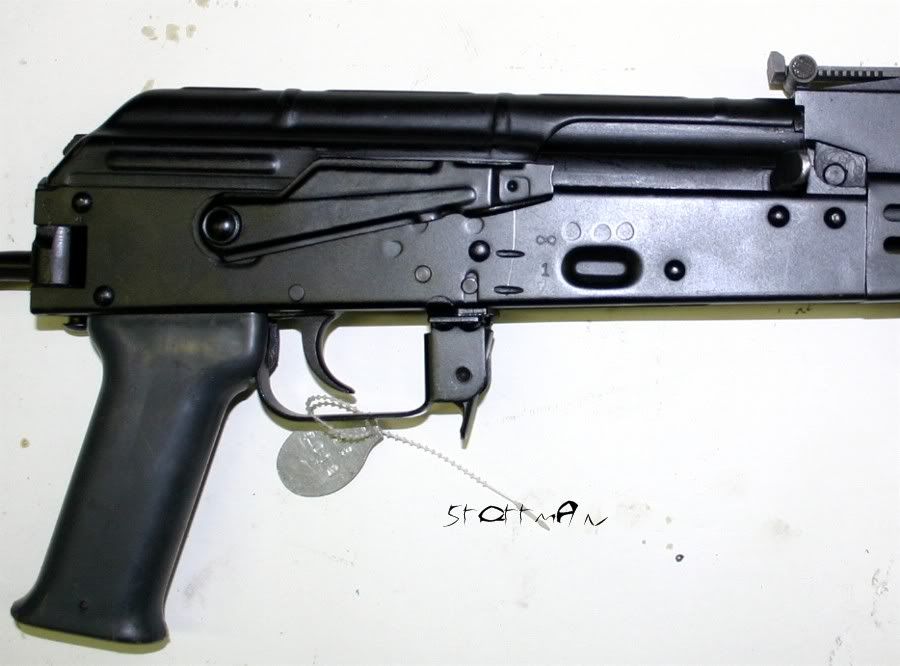 AMP-69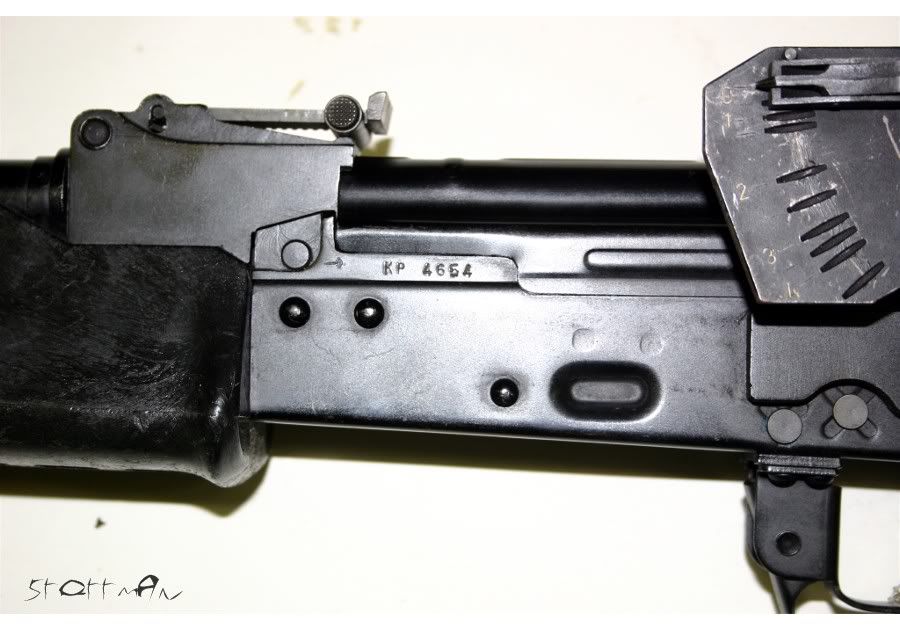 Scope for launching grenades.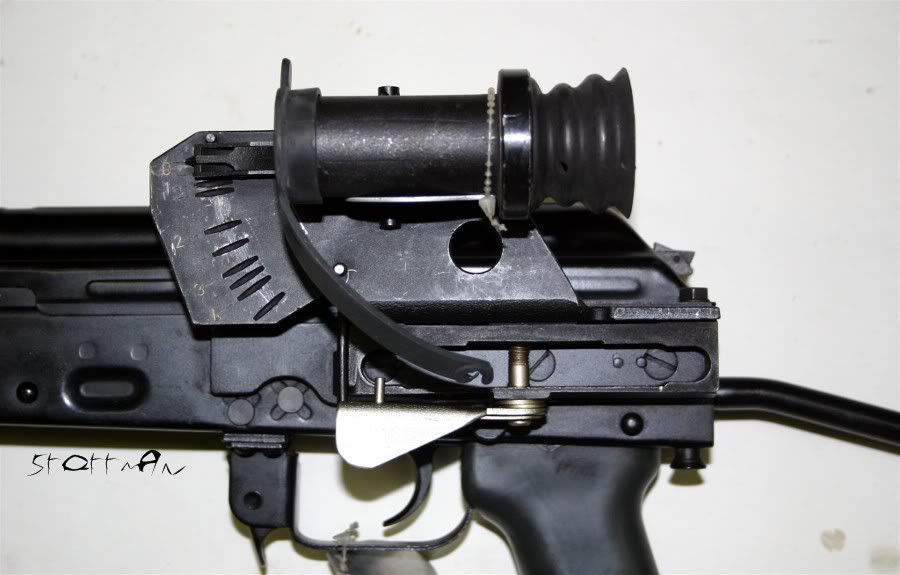 Scope rail-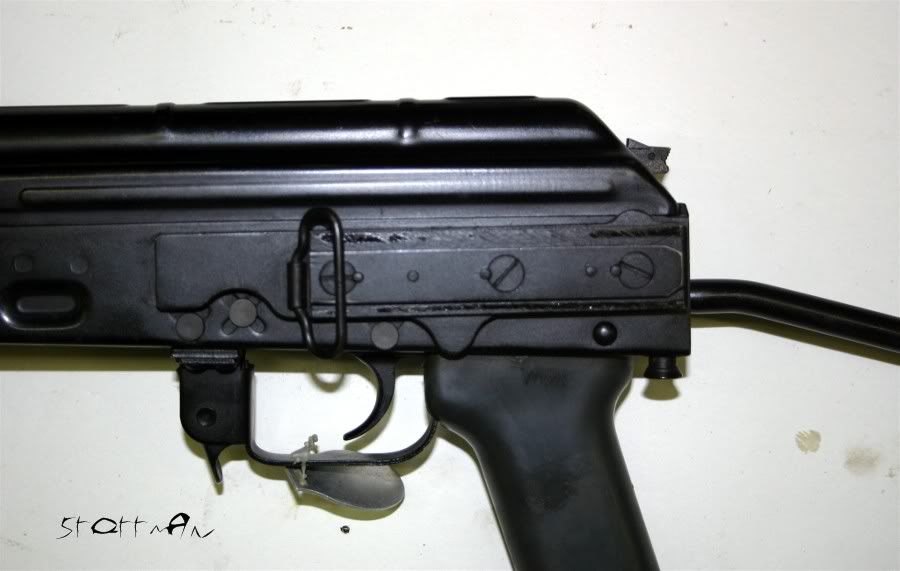 NGMS
Export version in 5.56 Nato. Magazines are the same as the DDR STG940 Weiger series.



East Germany[/size=3]
MPi-Ks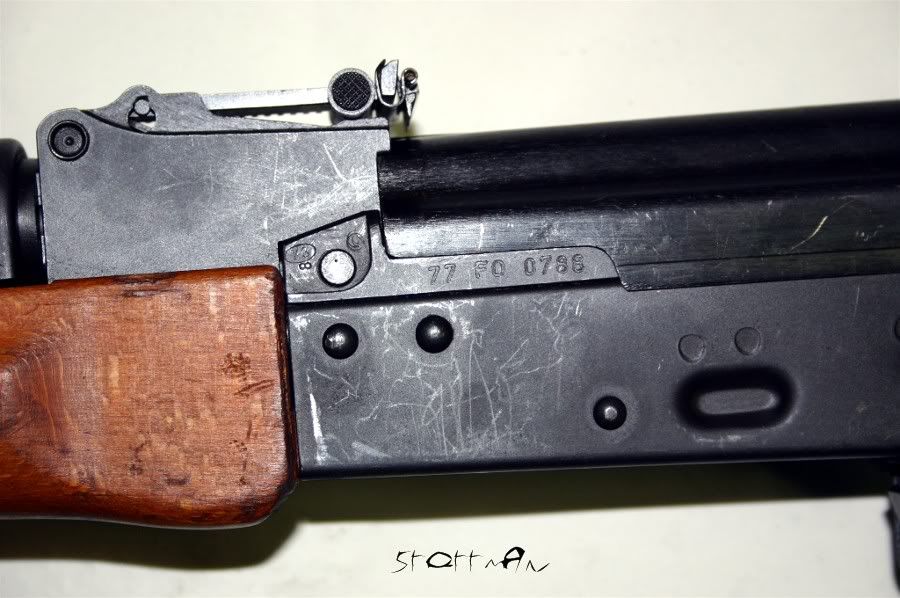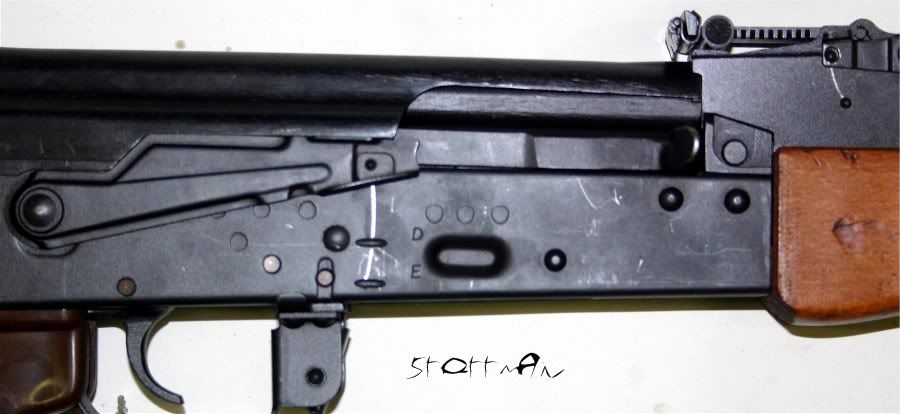 AKR
Shorty AK-74. Very few were made, a factory cutaway is even rarer.




Early DDR AK-74s had stamped serial number info, later models were simply engraved.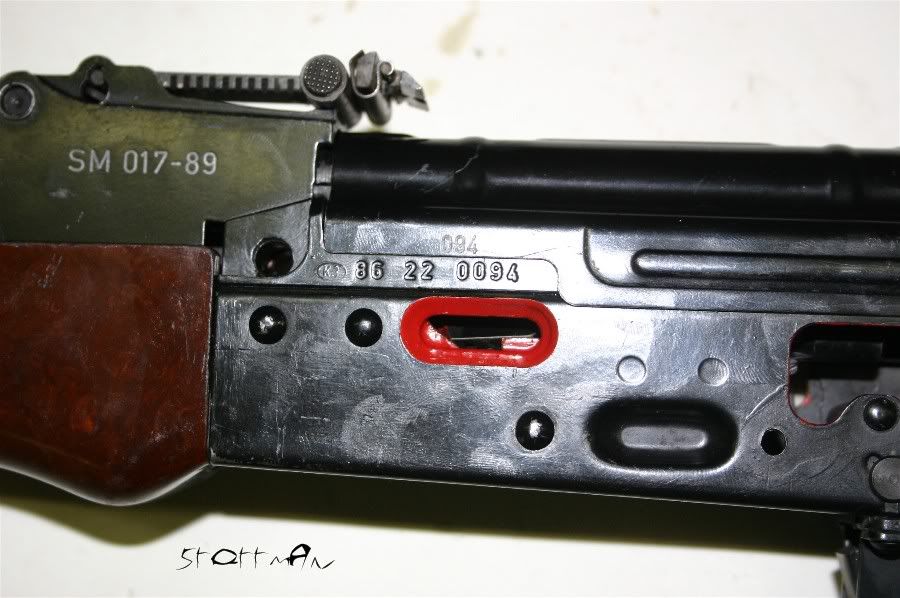 Poland[/size=3]
PMK-MS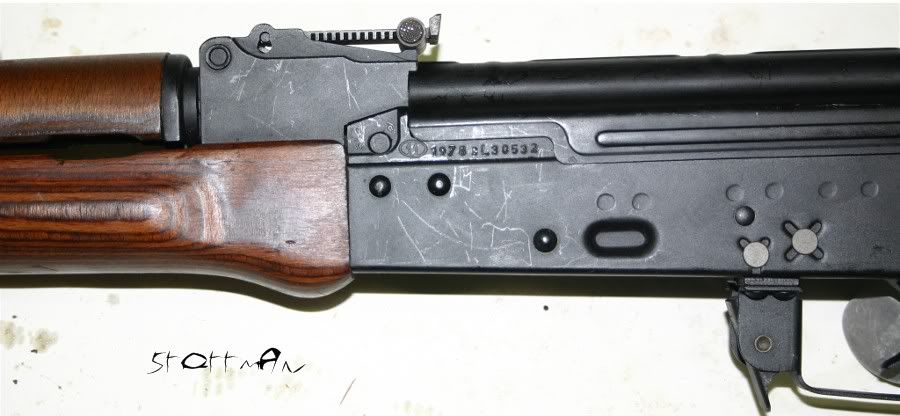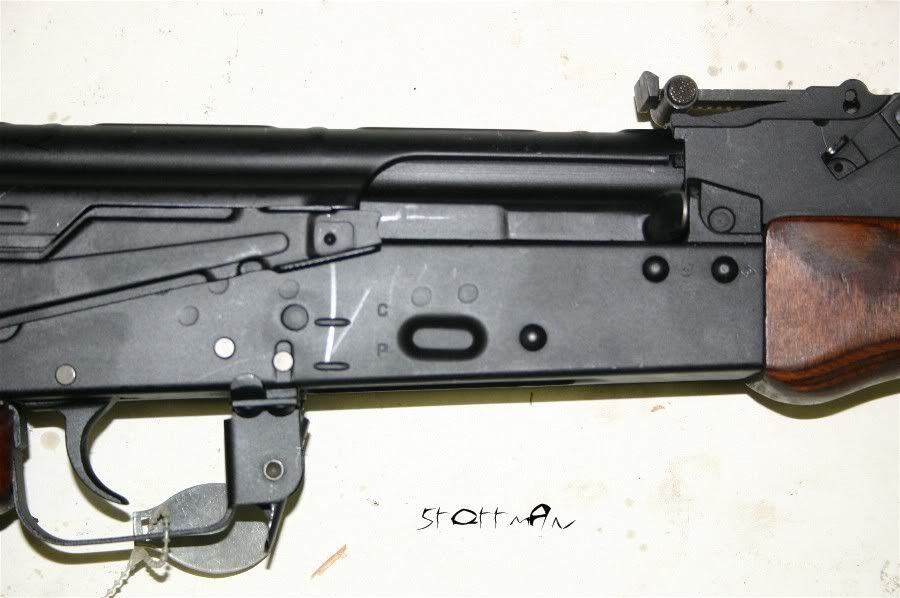 This one has an rear site in Arabic-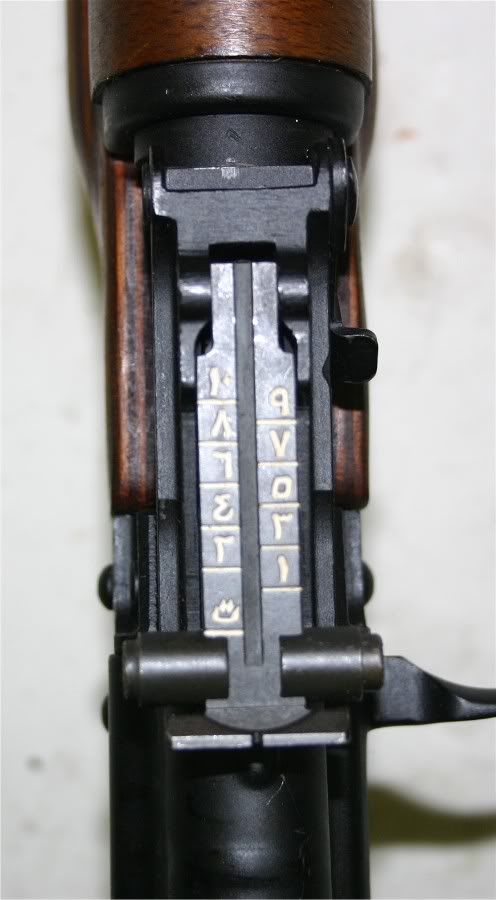 Bulgaria[/size=3]
NEW[/size=6]

Ak-47. First model built using Russian parts. Has both Russian and Bulgarian stamps.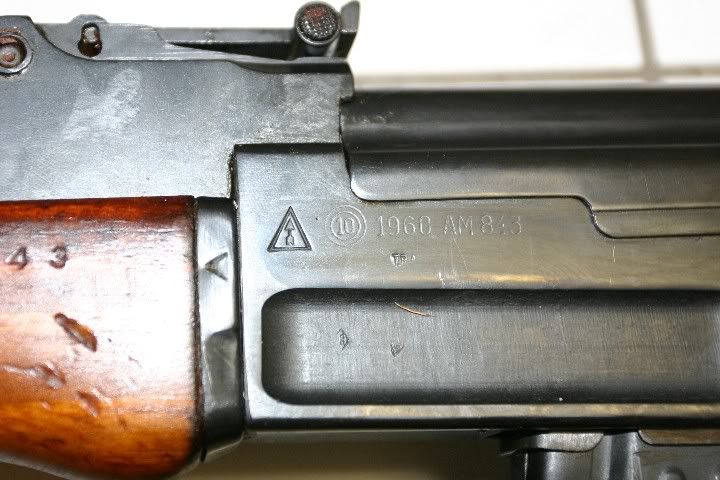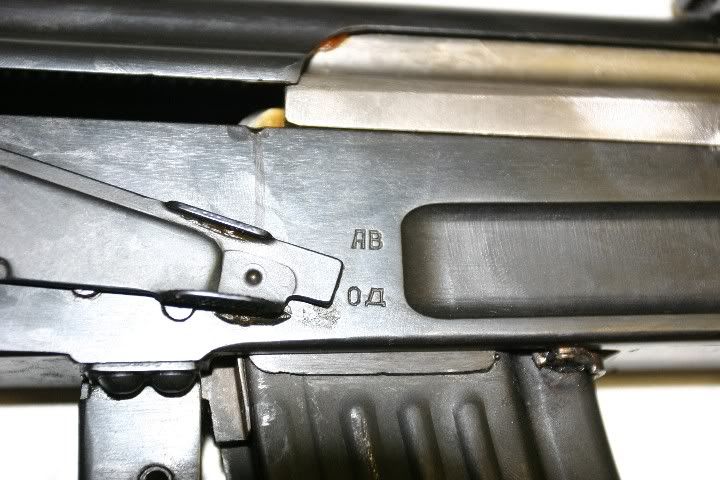 AK47 [/b}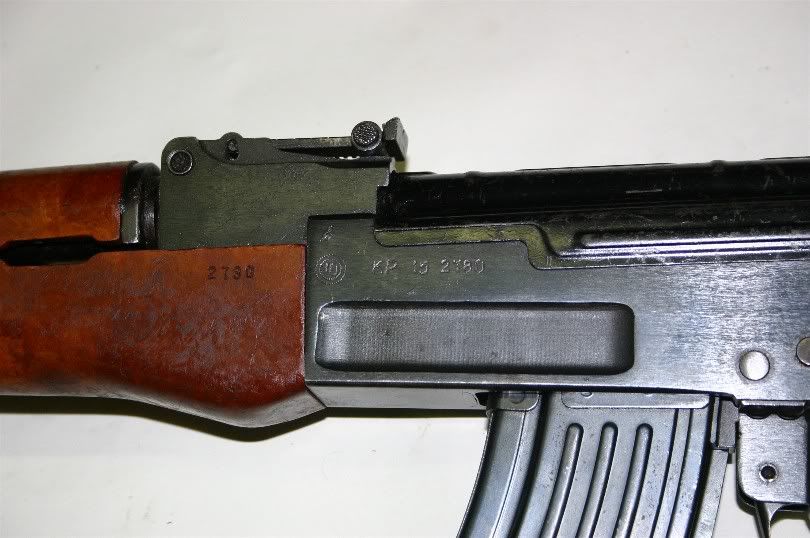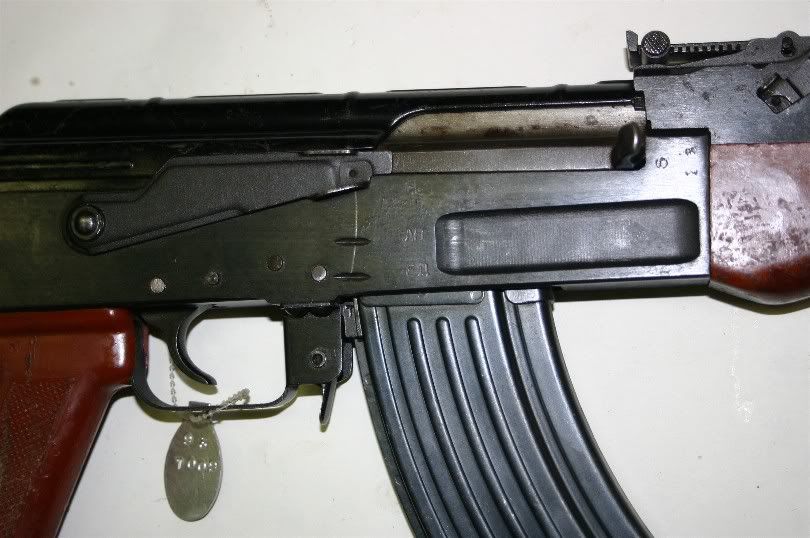 AKT-47
AKT-22. This is a bulgarian AK-47, made from Russian parts that has been recently converted to fire .22 for training purposes.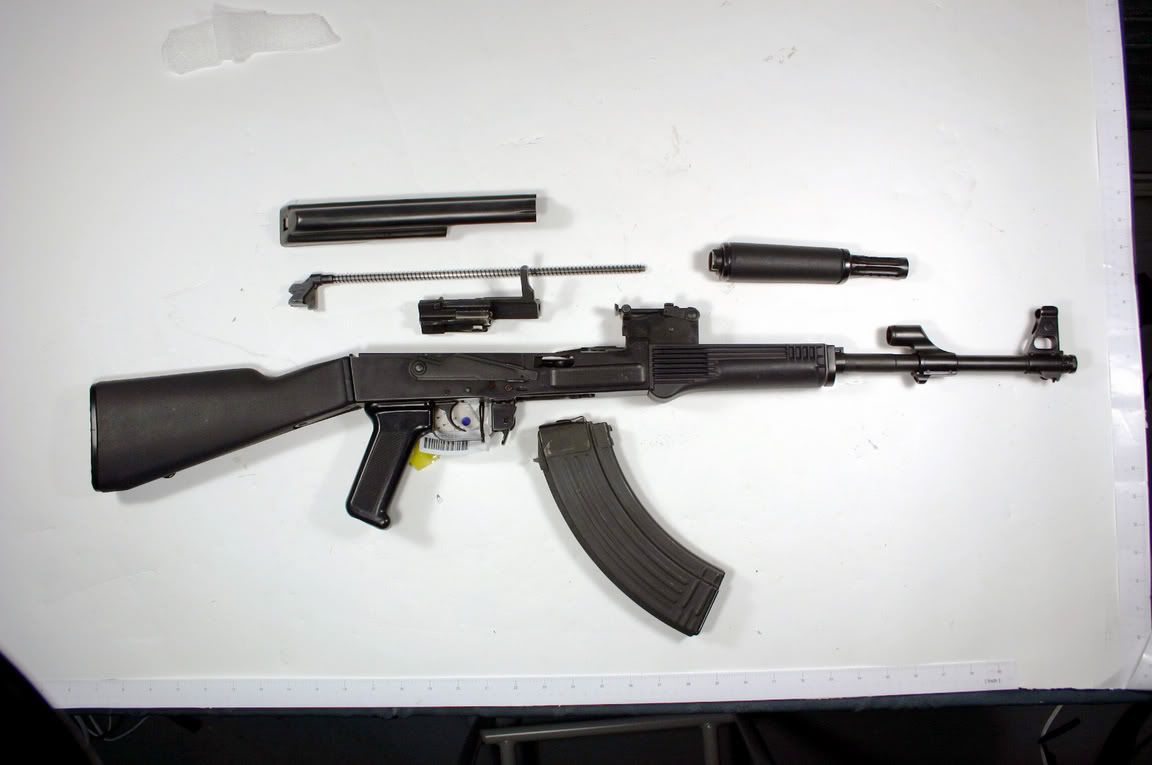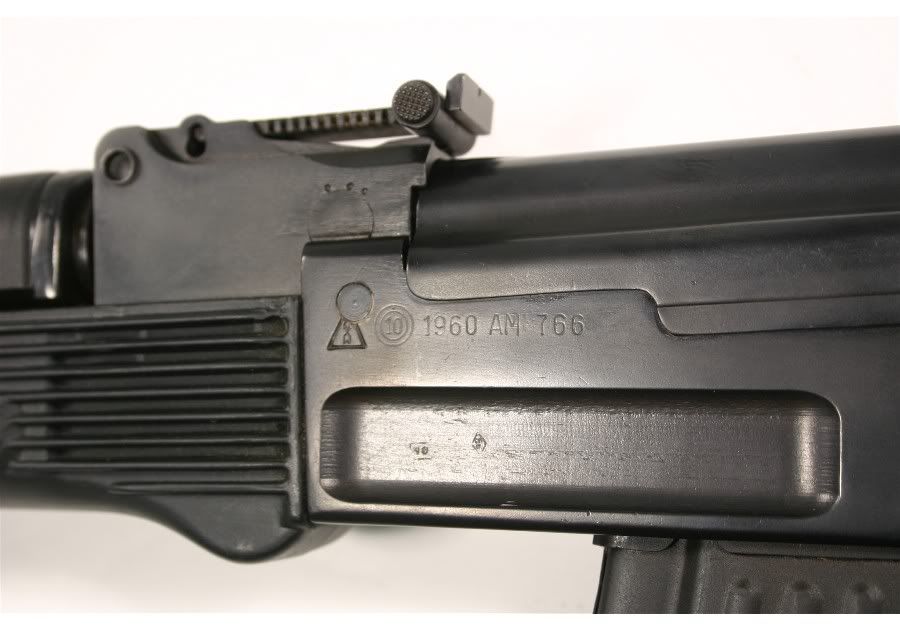 AK-74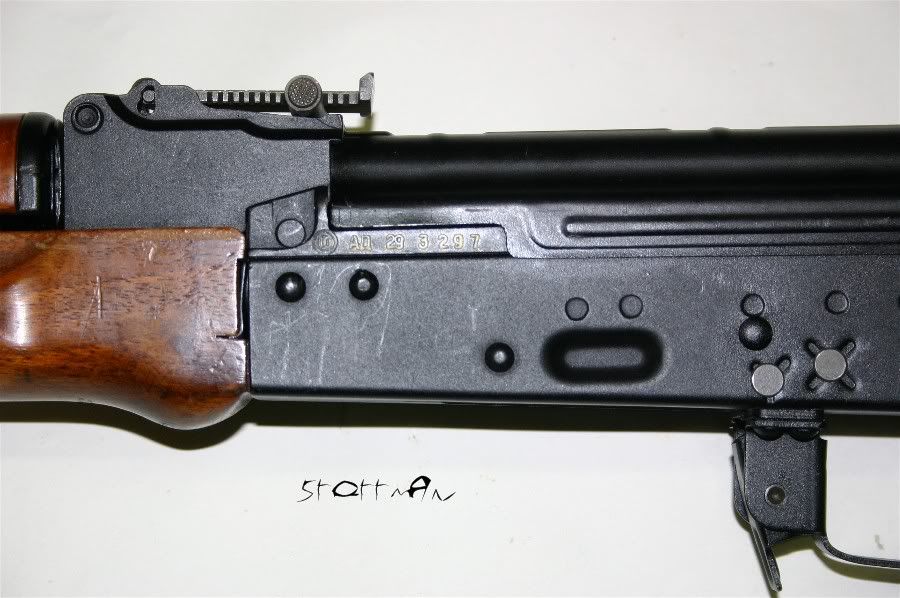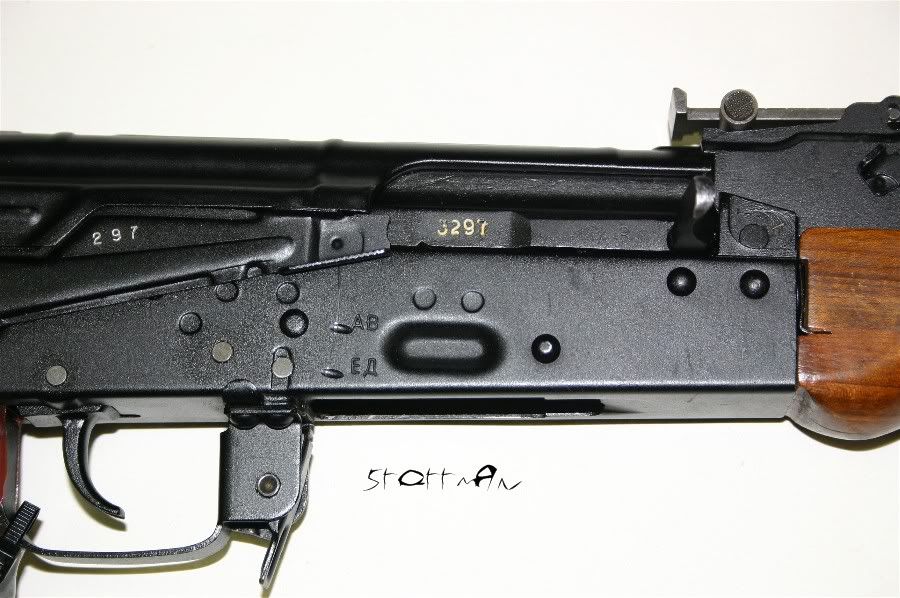 AKS-74U

This one looks like it was made from Russian parts.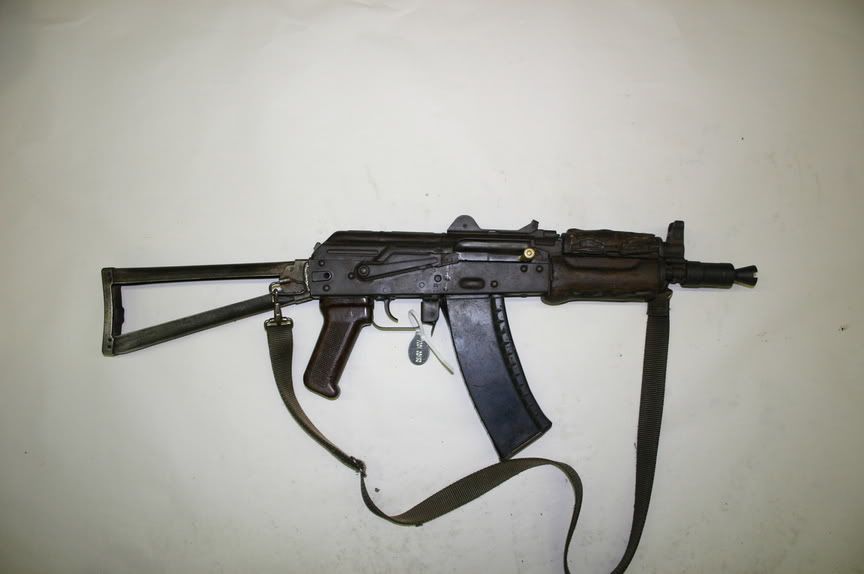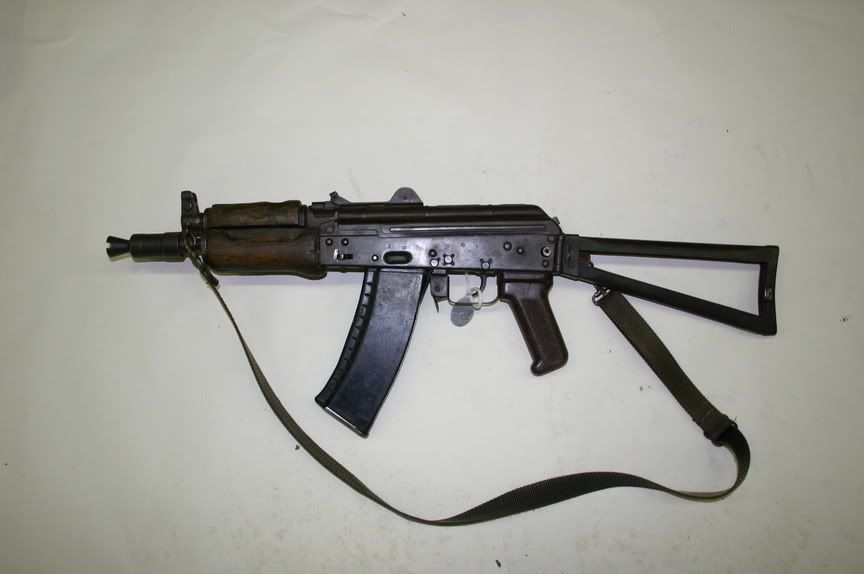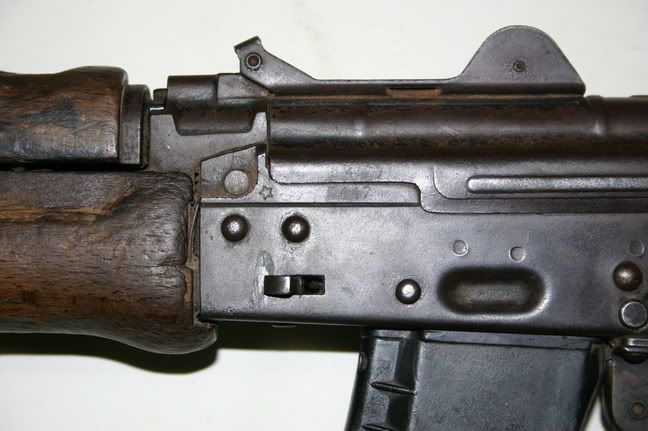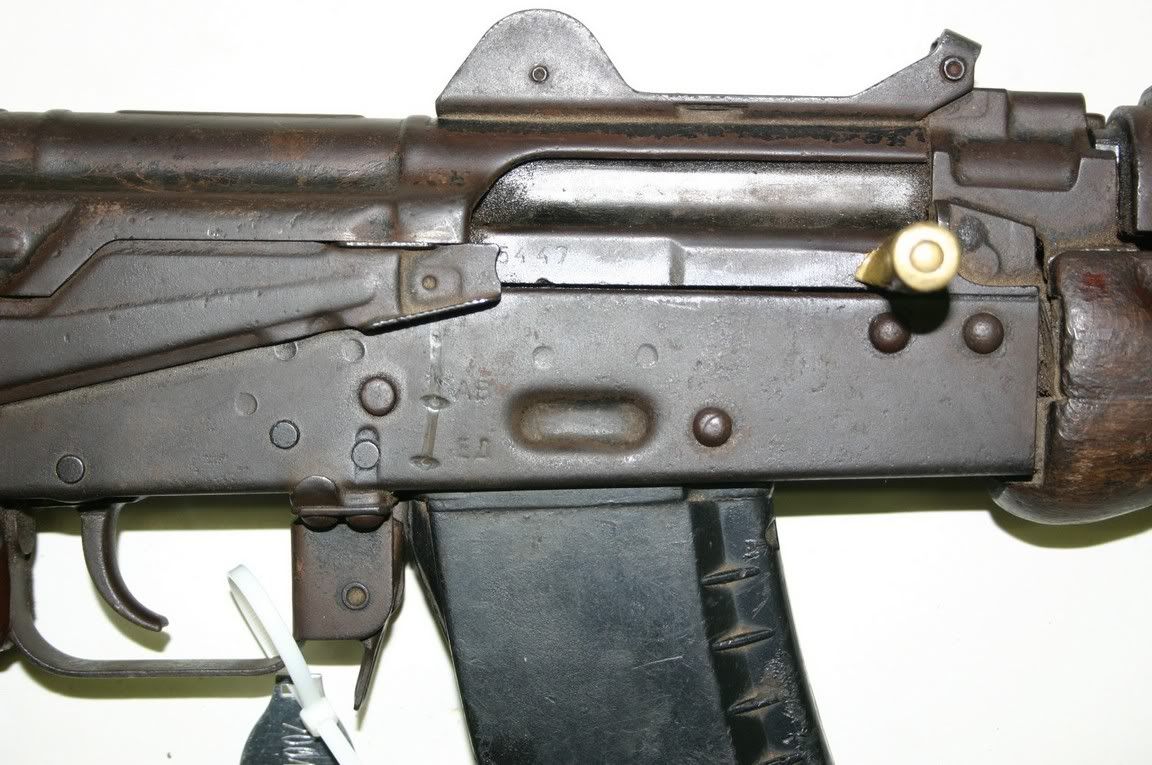 Yugoslavia[/size=3]

One of the problems Yugos have is the barrel. They are not chromed lined, and are often in horrible condition. Soldiers in the 3rd world or groups in the Former Yugoslavia dont really take care of their weapons like they should.

M70






Yugo guns have the serial number on the right side, rather then the left.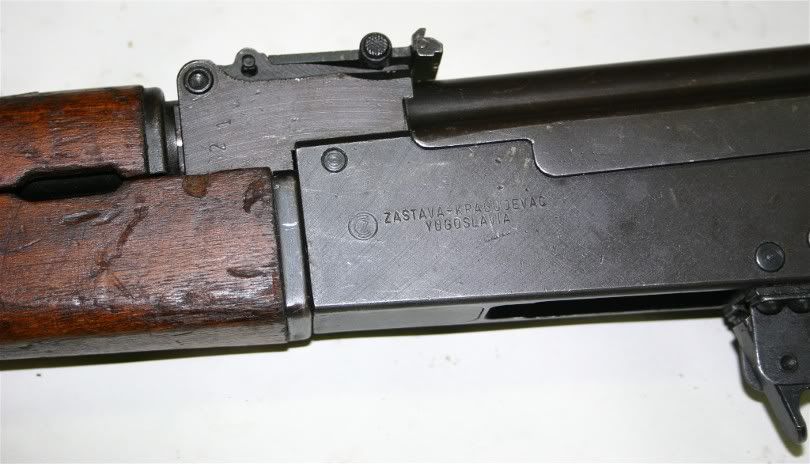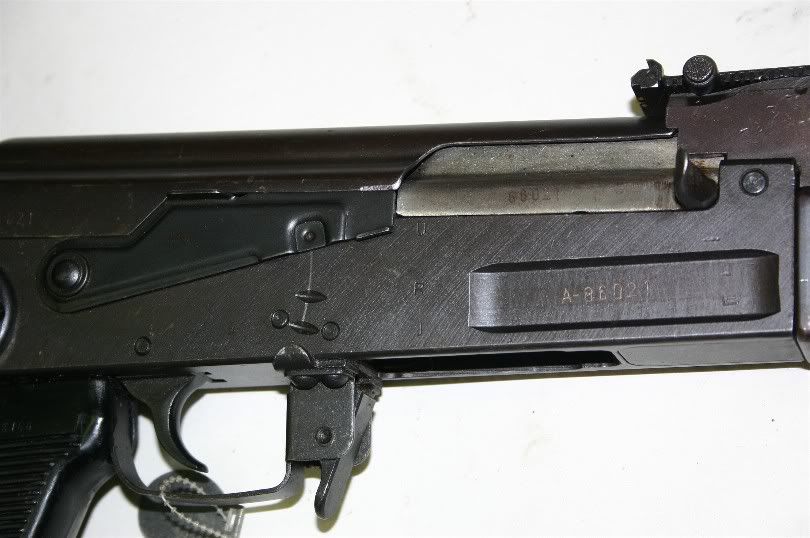 M70A

This one has a grenade launcher



M70B1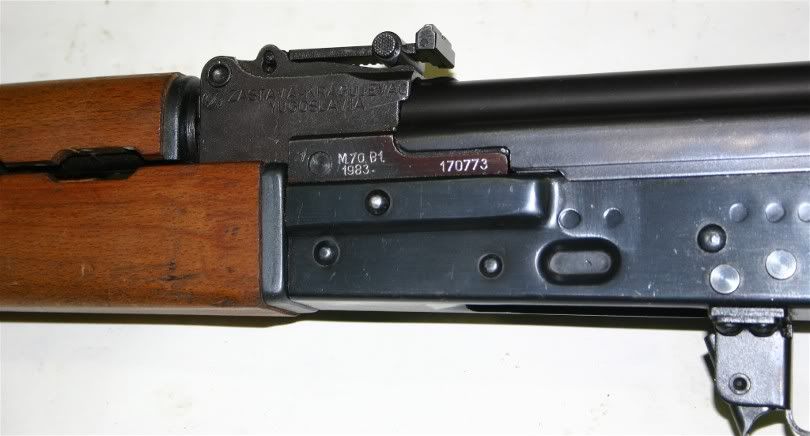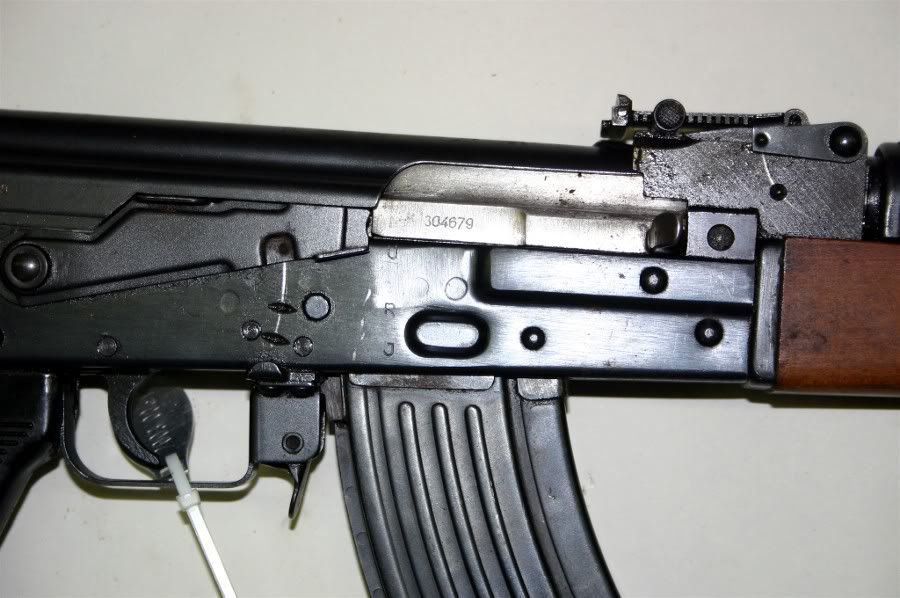 With the launcher site extended-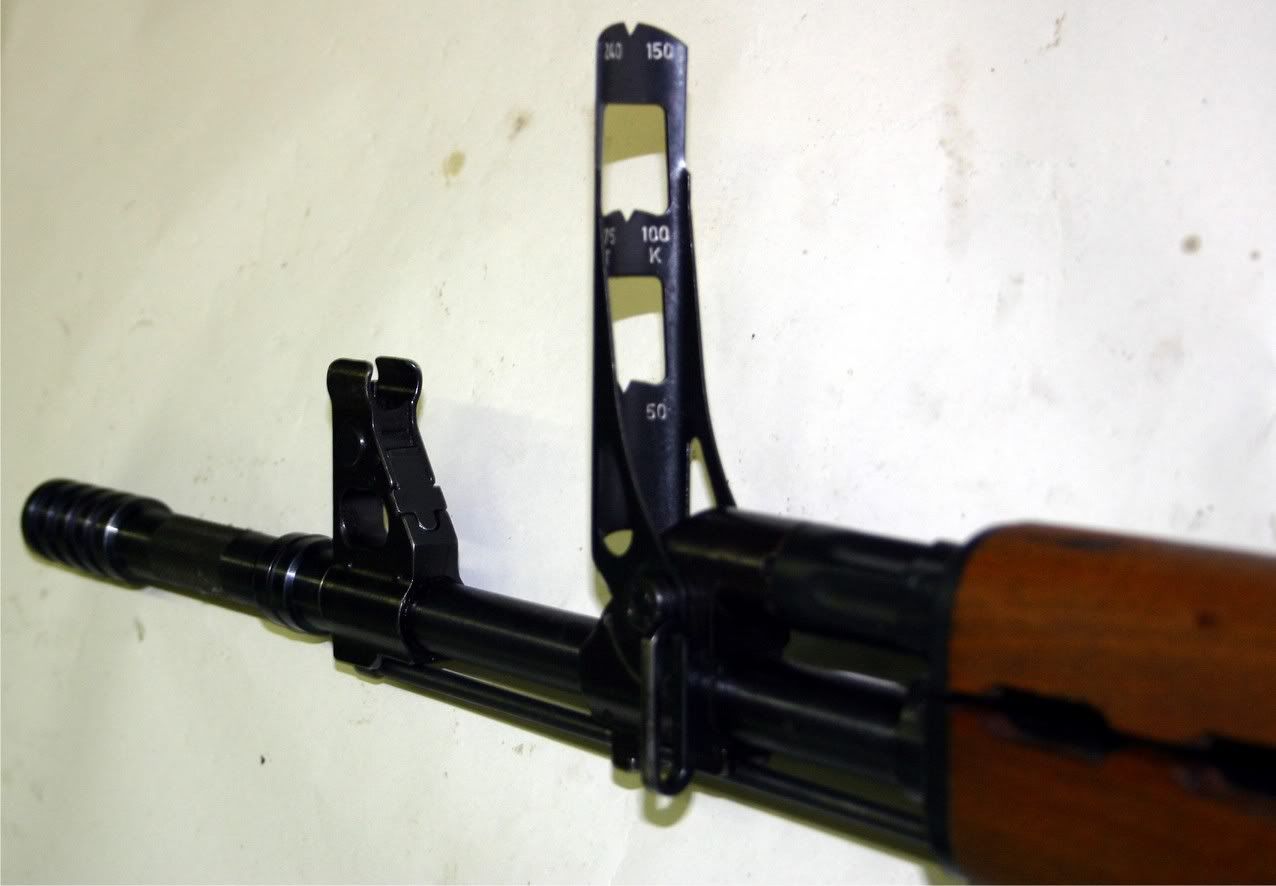 M70B2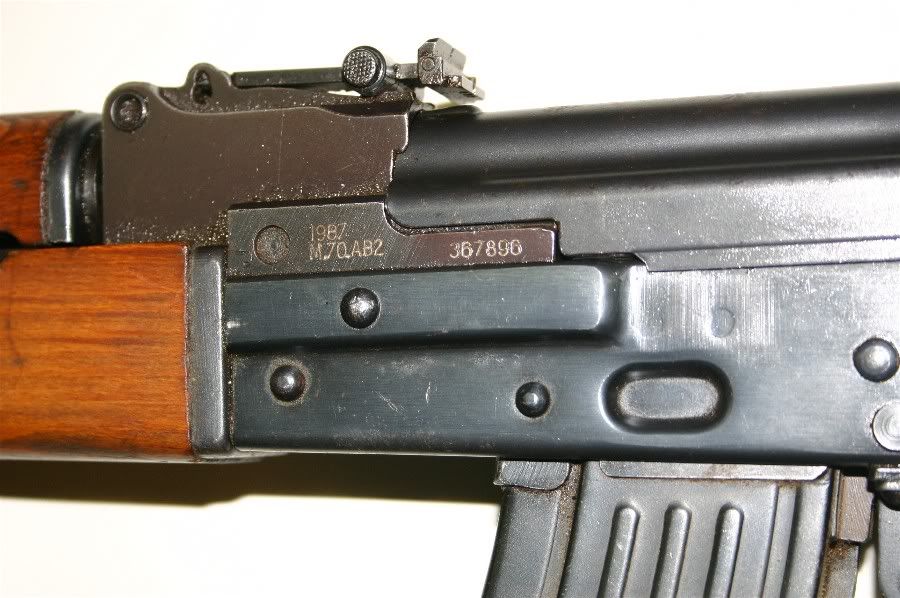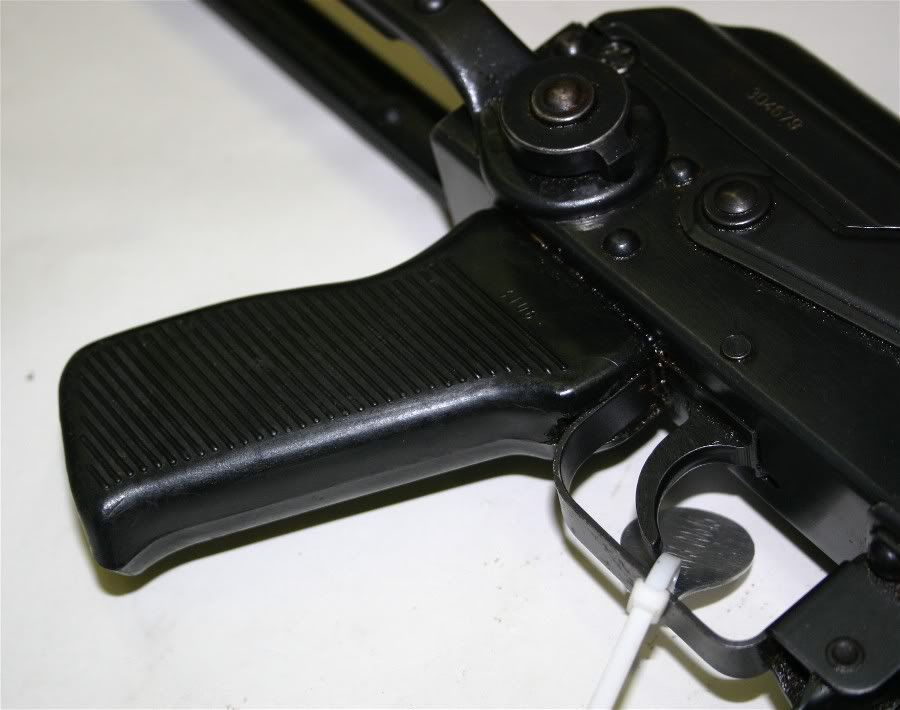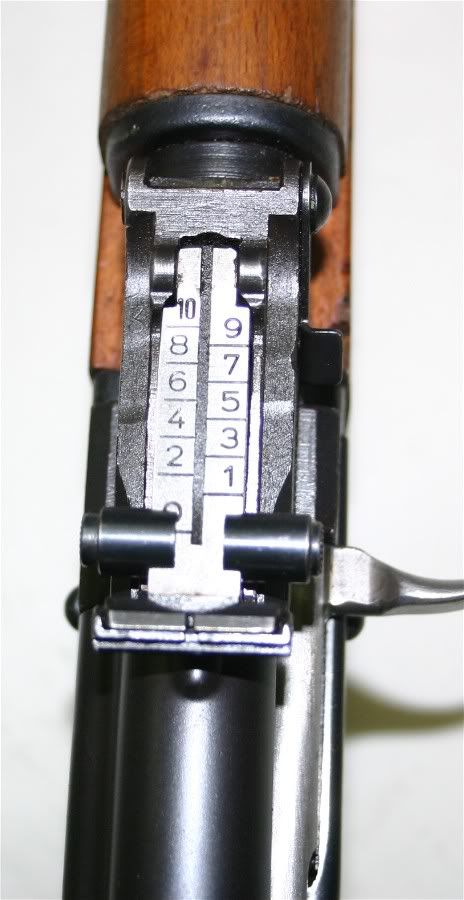 M65A




M72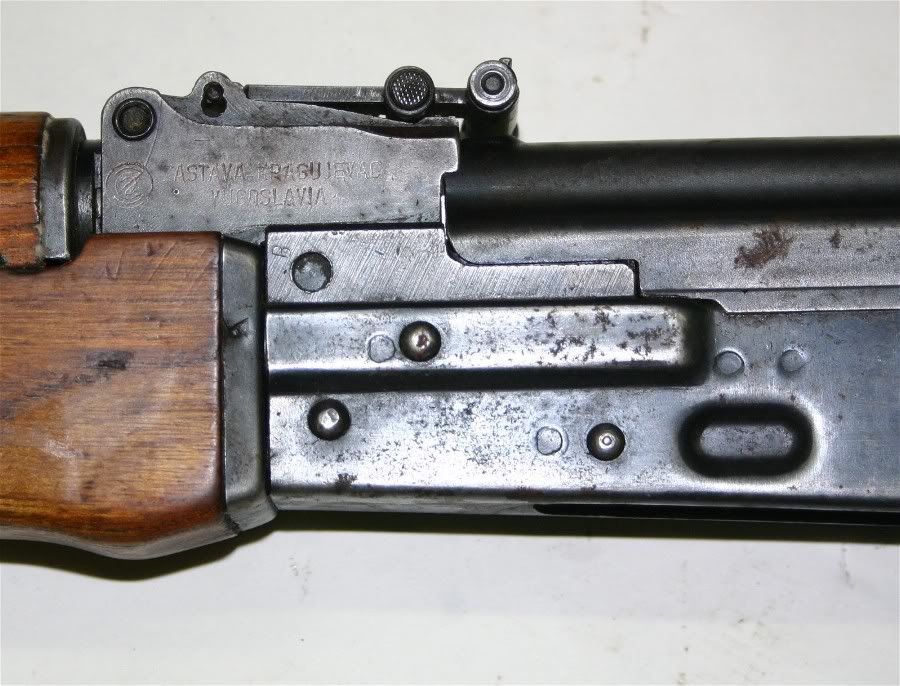 These details are the same in both the milled and stamped models.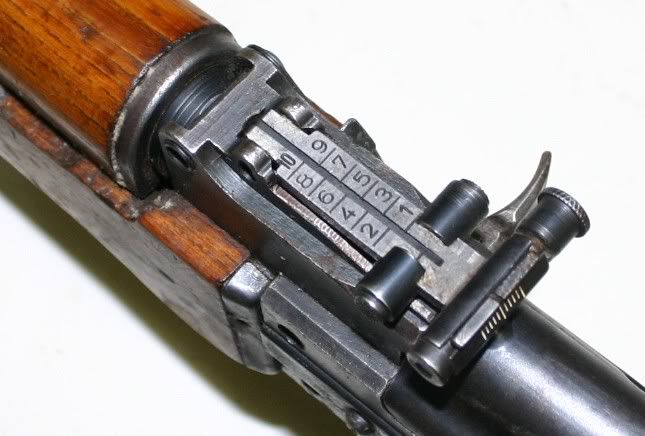 North Korea[/size=3]
Type 68 (AKM)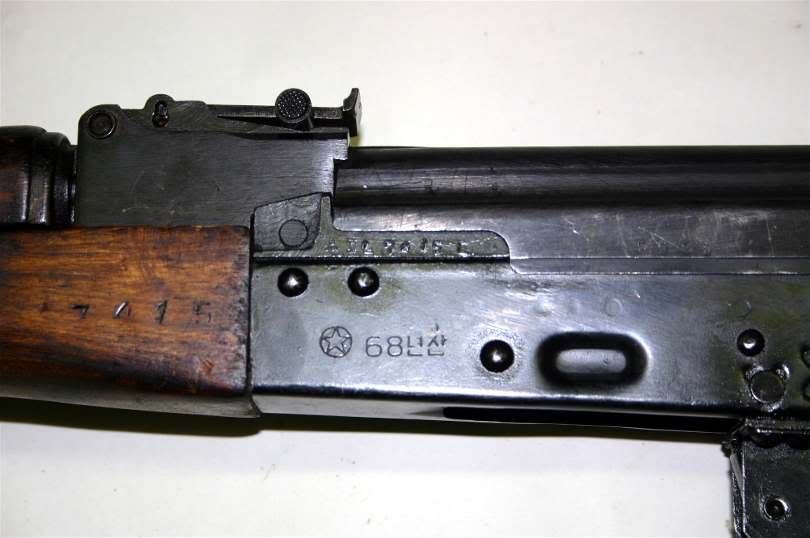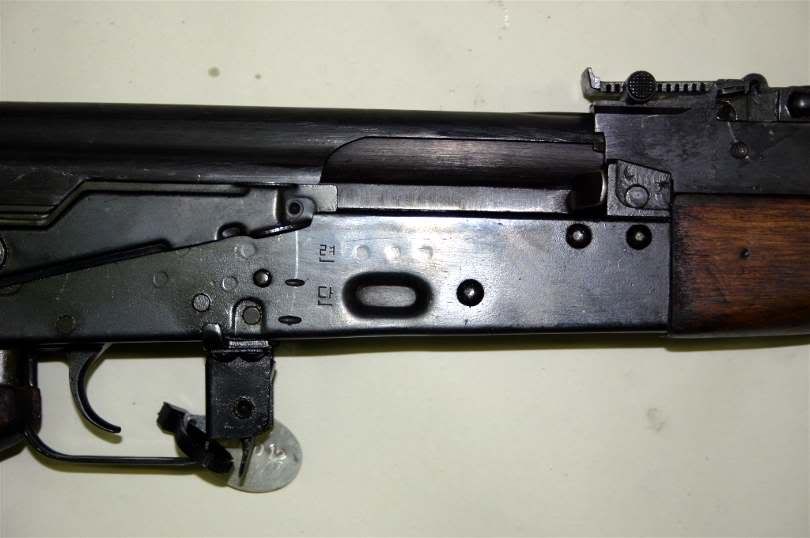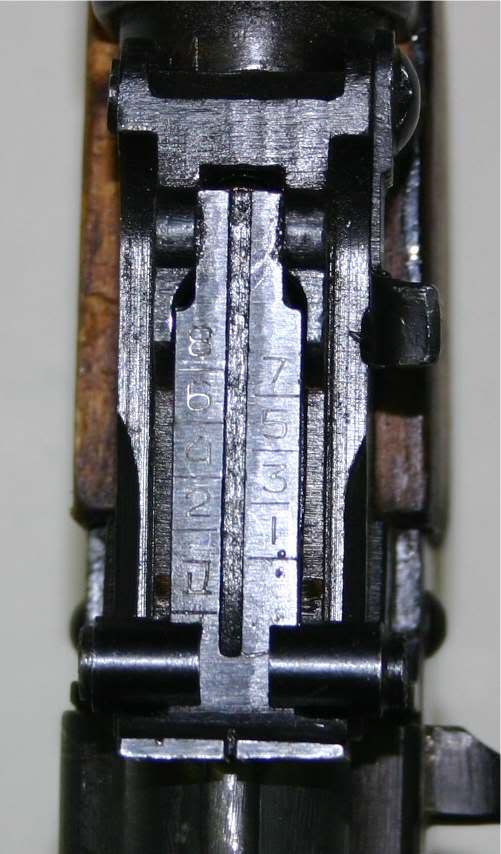 Pakistan[/size=6]

This what looks like a locally modified Russian gun; It was captured by British soldiers in Afganistan.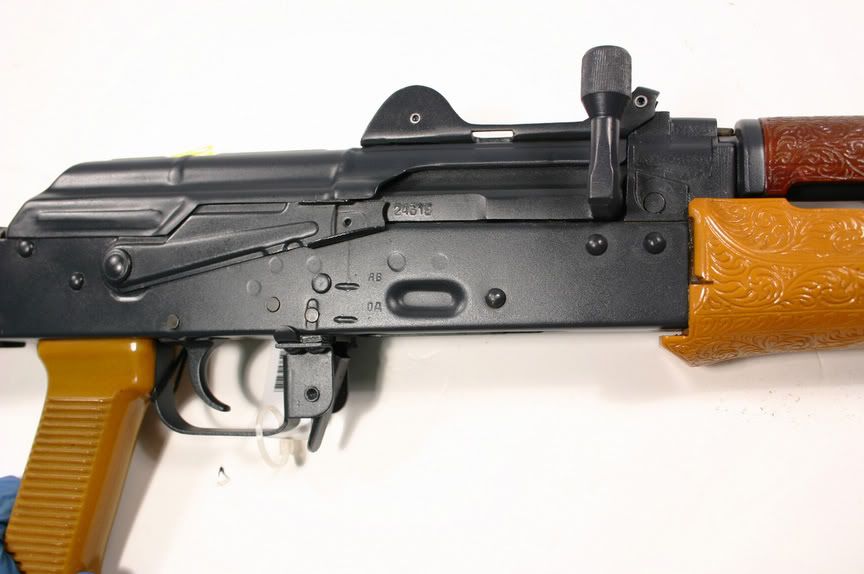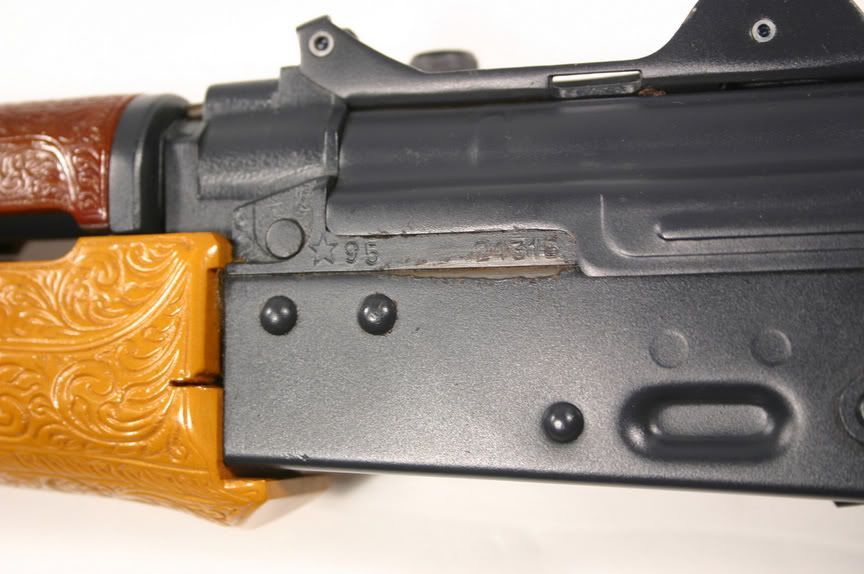 Egypt

Arabic marked full stock: Yes, it came with the aluminum mag; Allot seem to leak out of Egypt..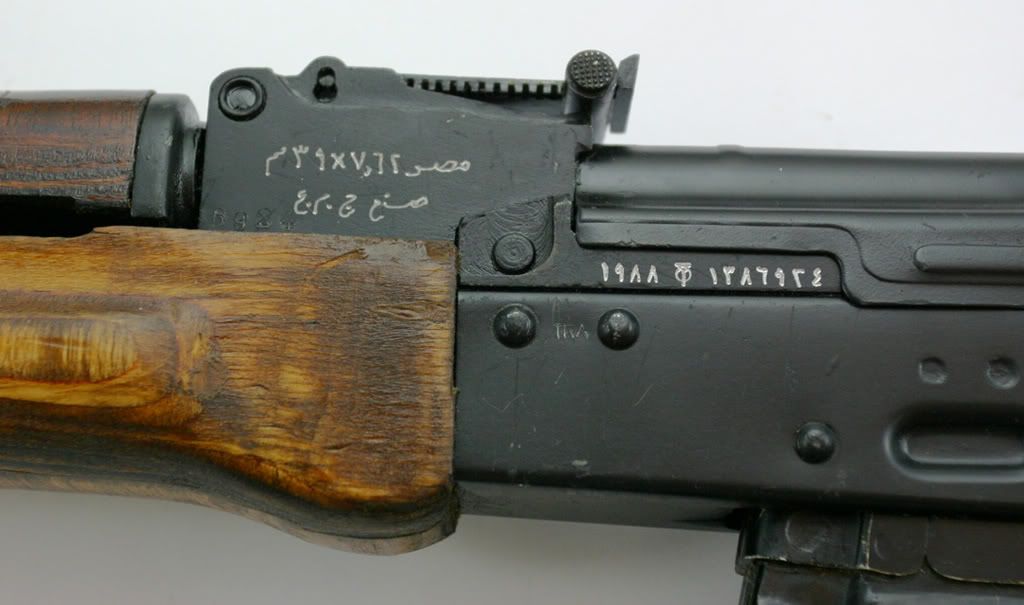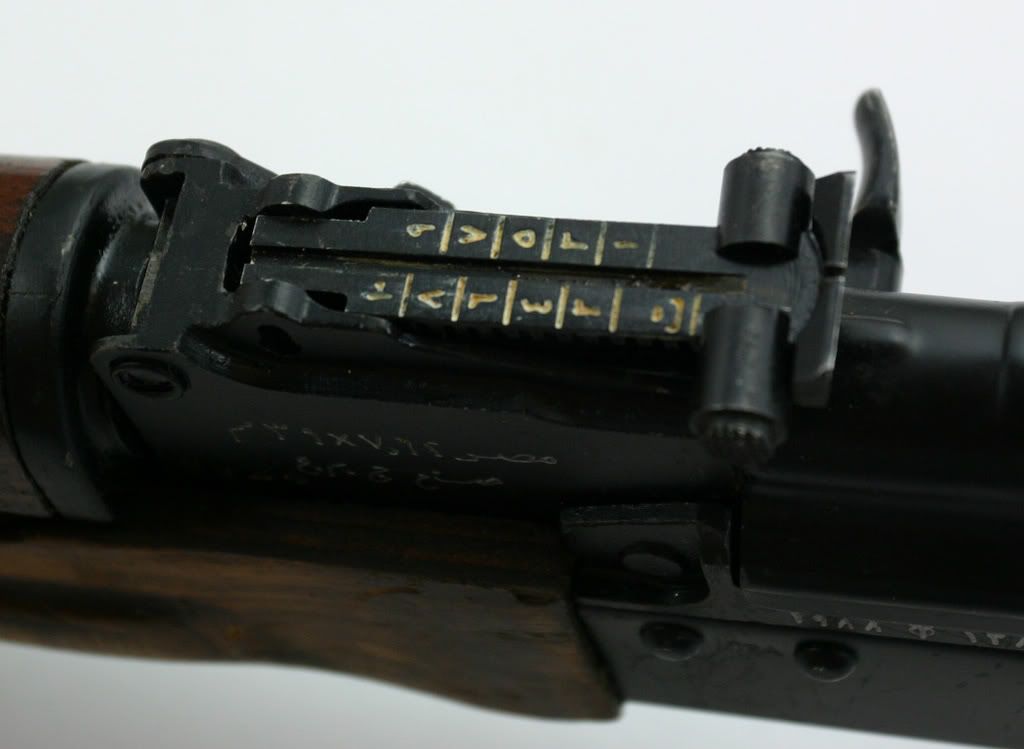 Export marked side folder: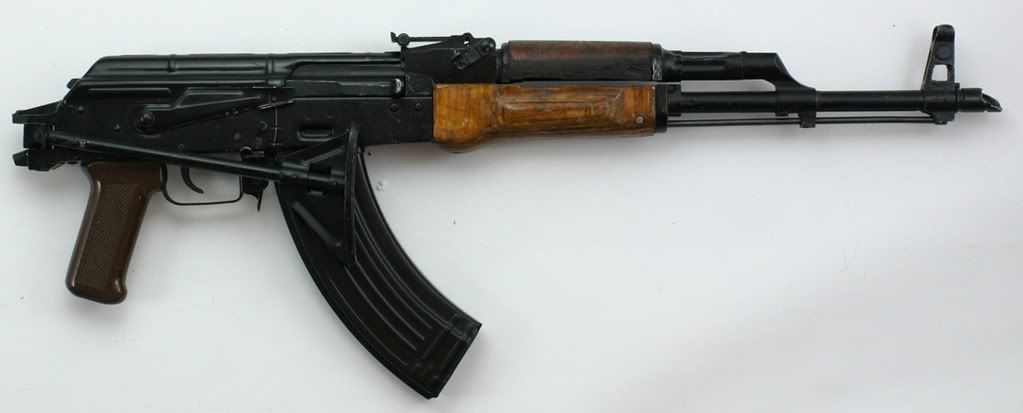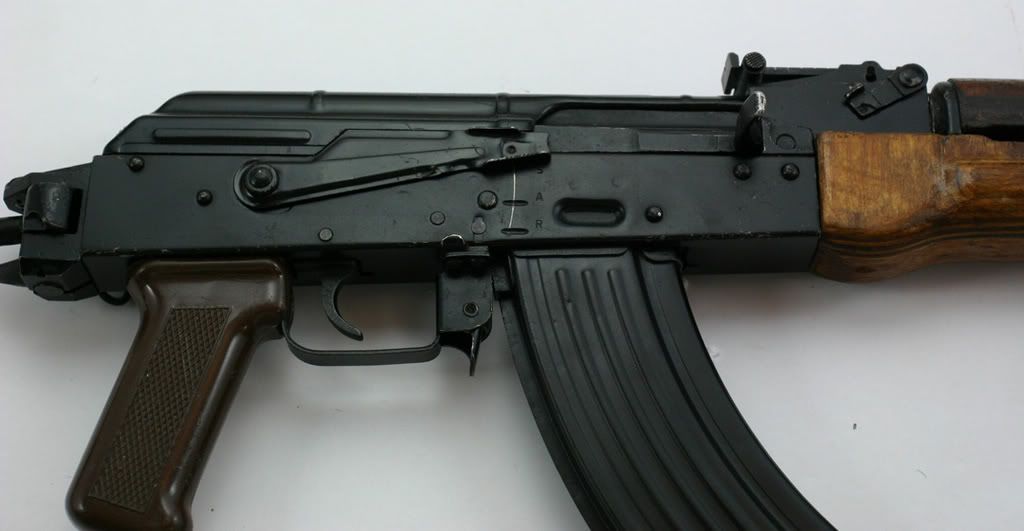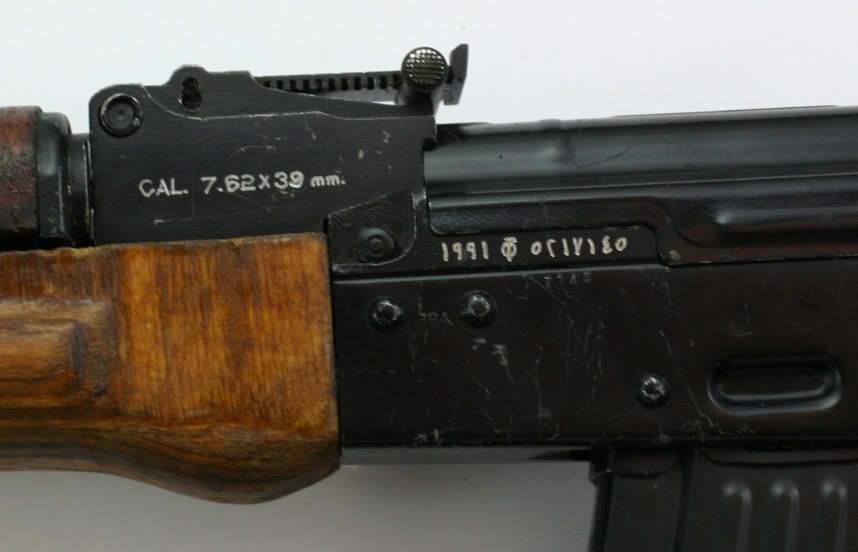 Rear site is the same as below:


Export MAADI; What was interesting the lack of factory markings, and that numbers match, unlike the 12+ Arabic and export with factory marking marked guns I have seen.. The black pistol grip seems to be interchangable, with no pattern.. Have seen it on all varietes..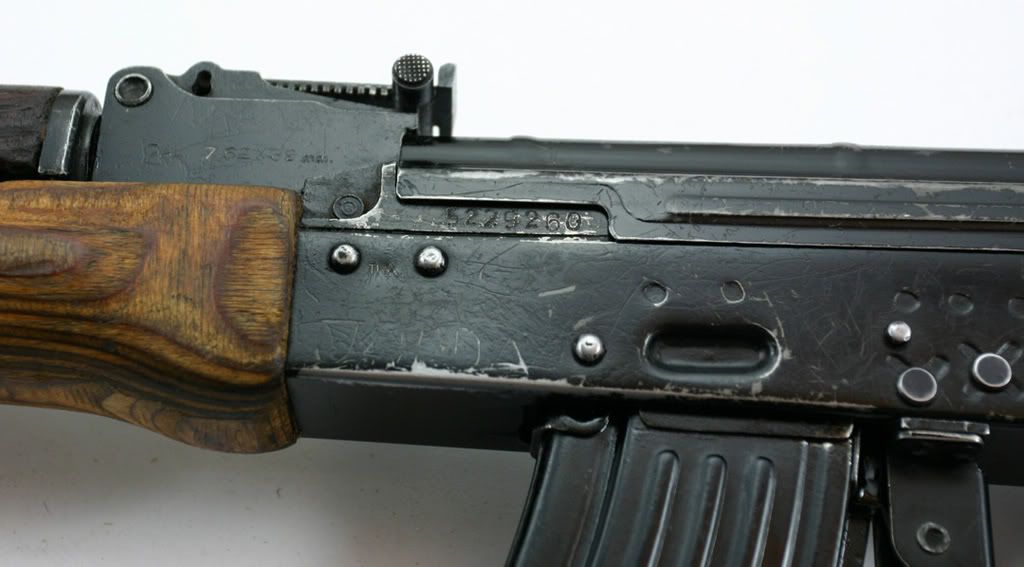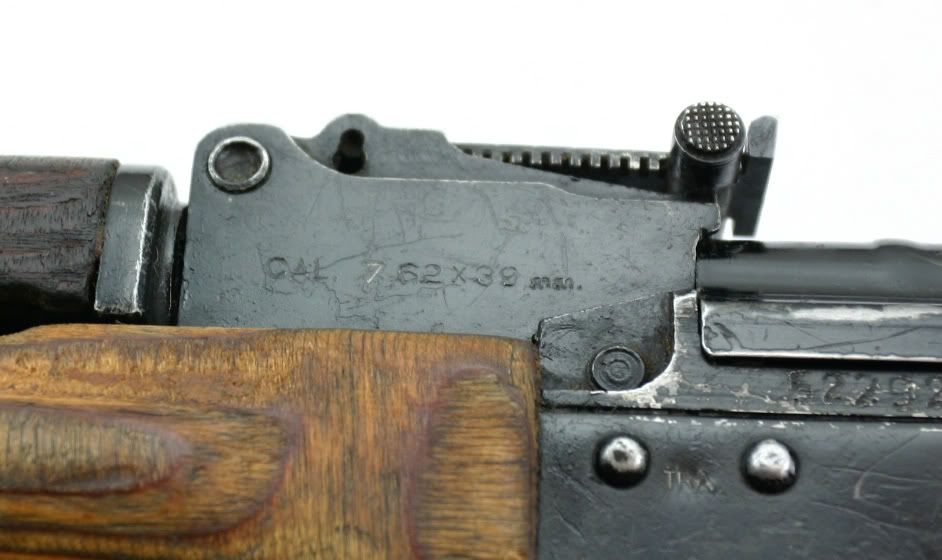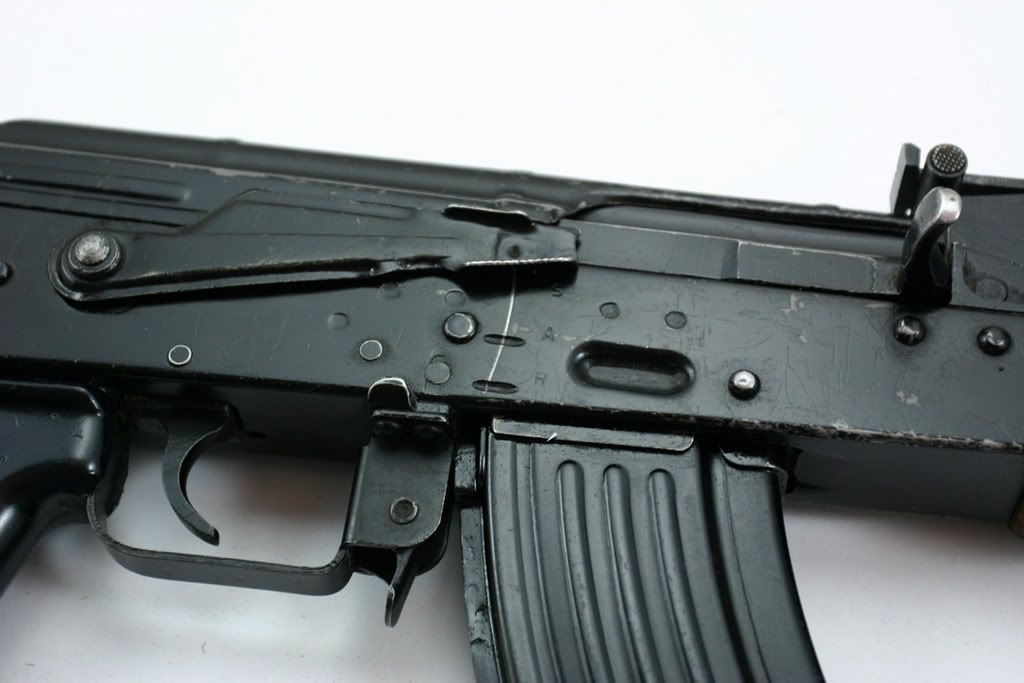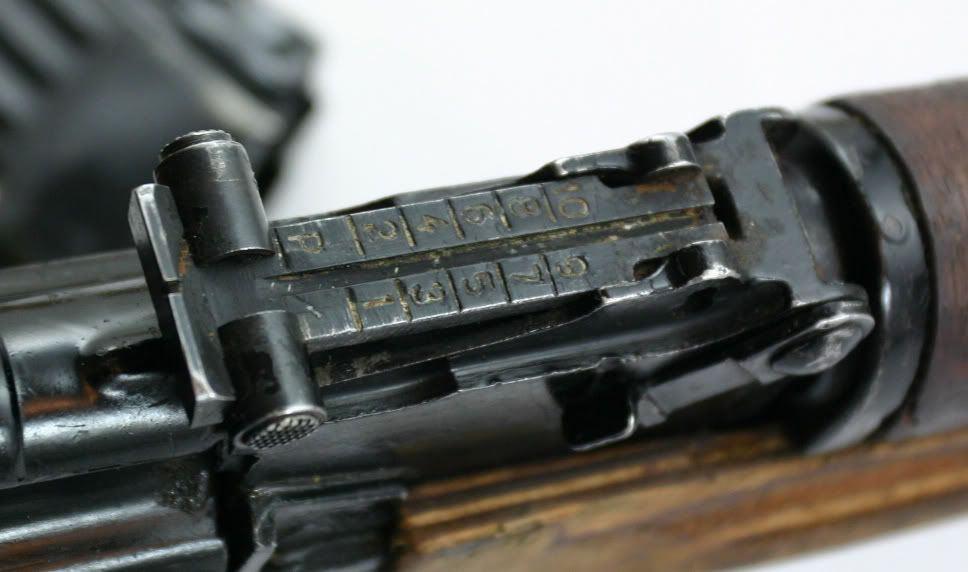 I know of at least 2 other varietes; Some guns will actually be marked "gift from the people of Egypt" or something like that on the RSB.

Others are actually disguised as Romanian guns... Romanian selector markings, trunnion markings, handguards, etc.... Just the unique receiver and pistol grip give it away..


Soviet Union[/size=6]

AK-47, T2, 1951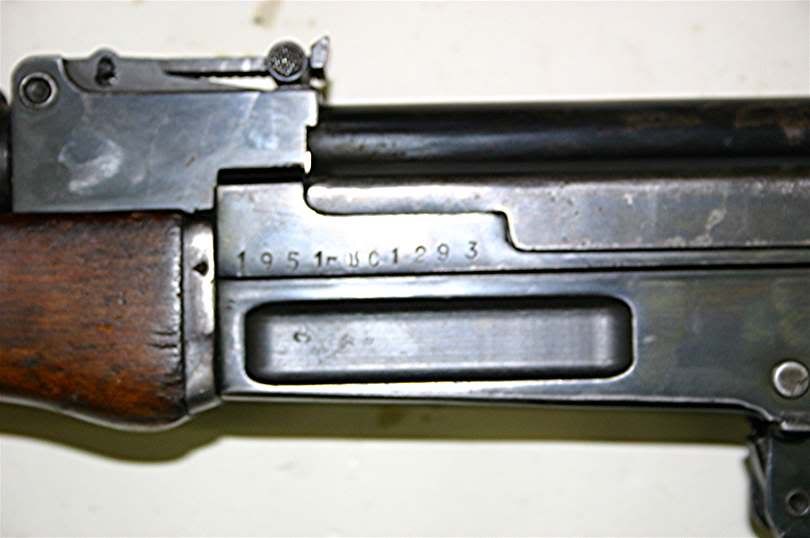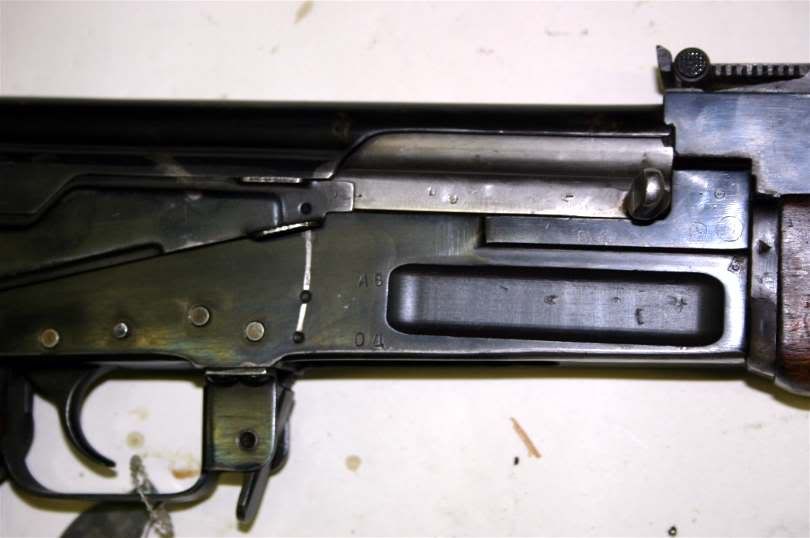 AK-47, T2, 1954
1954 is a very common year in Western firearms collections.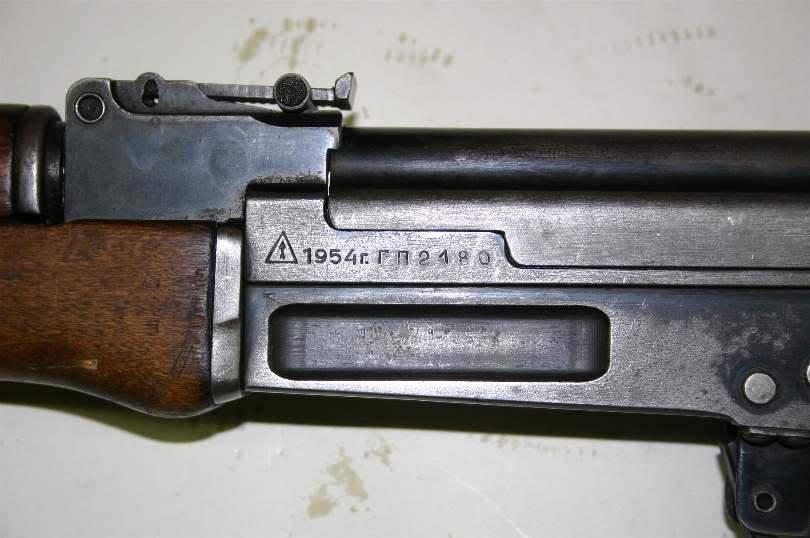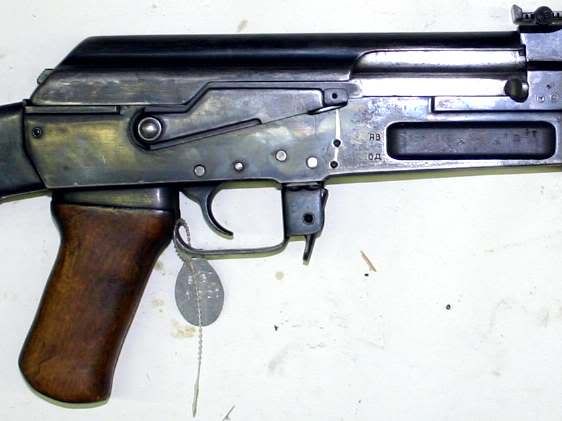 AK-47, T2, 1954, #2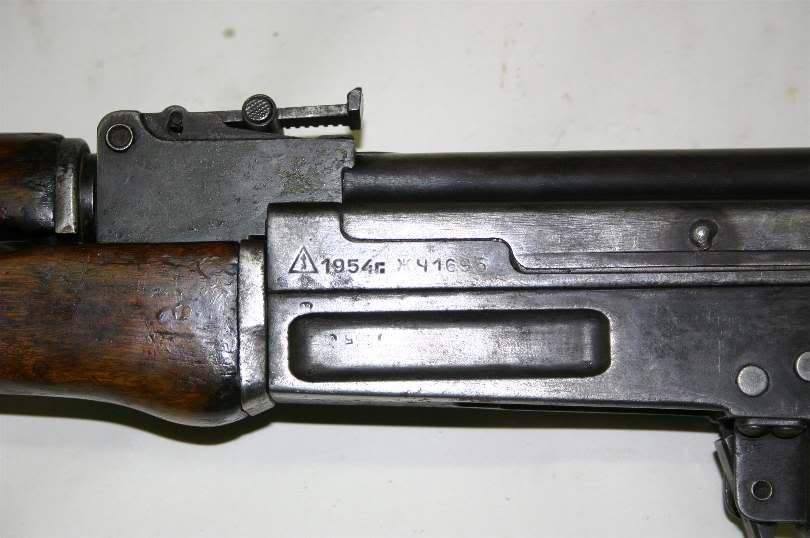 1960 Izhmash
Matching numbers, to include the recoil spring. Pistol grip and buttstock, I am pretty sure are original. Handguards look to be the right era, but dont have a serial number, so dont think they are original.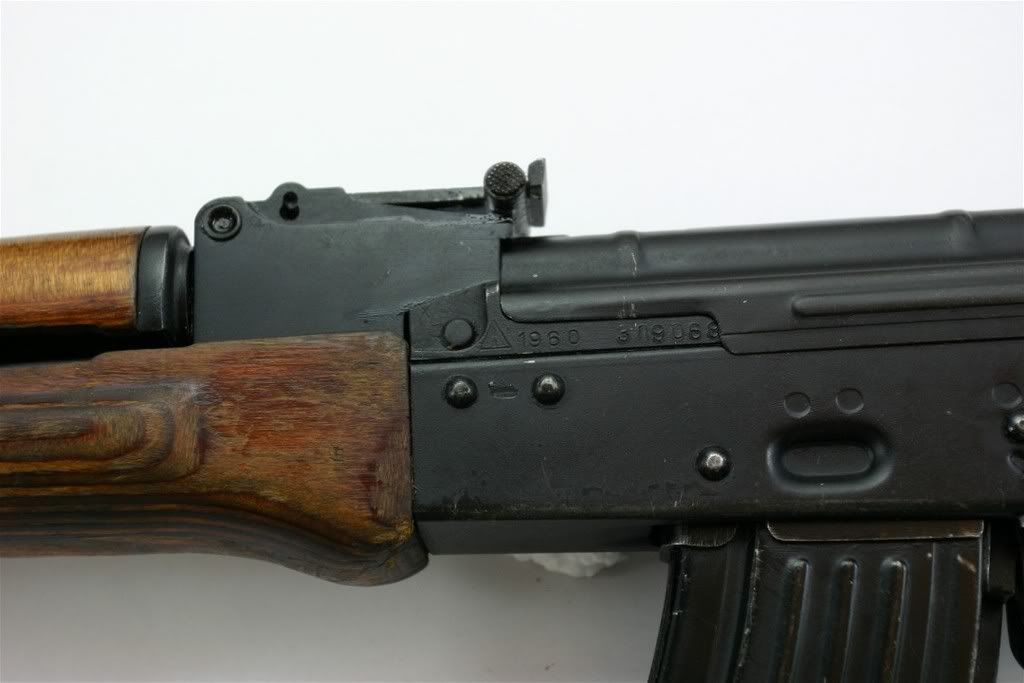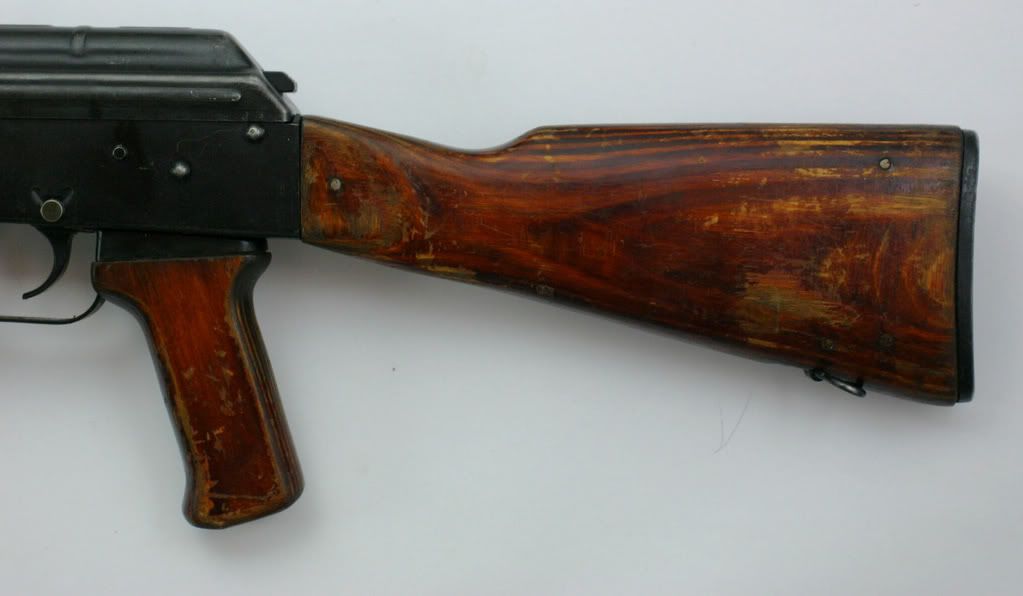 1961 Izhmash
Earliest all original rifle I have played with. All matching numbers, original wood, though not the best condition. Same as a 1960...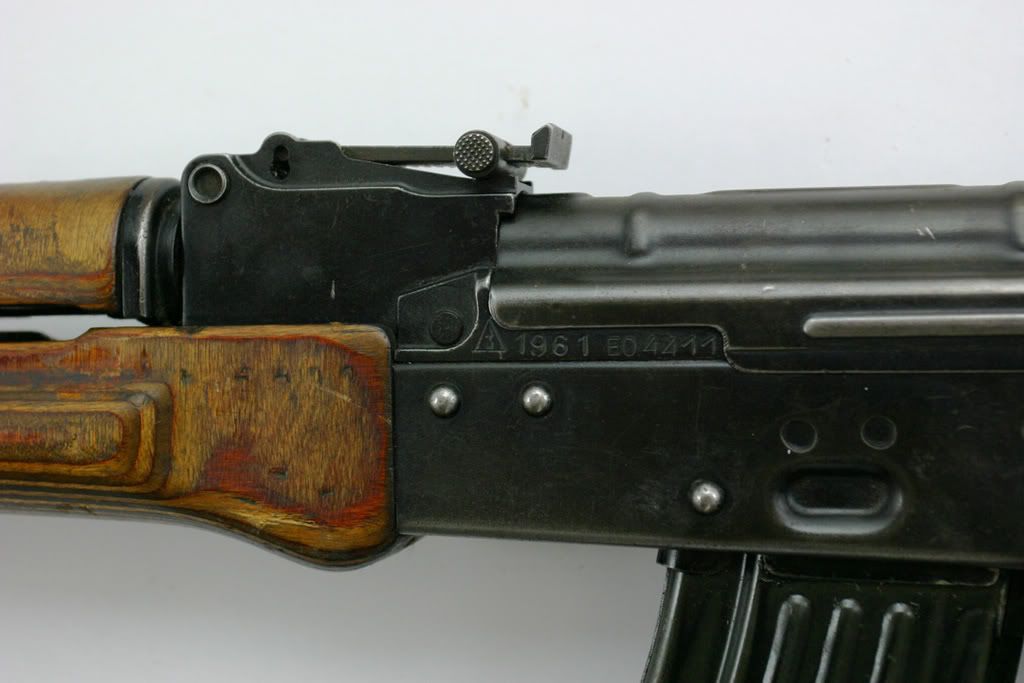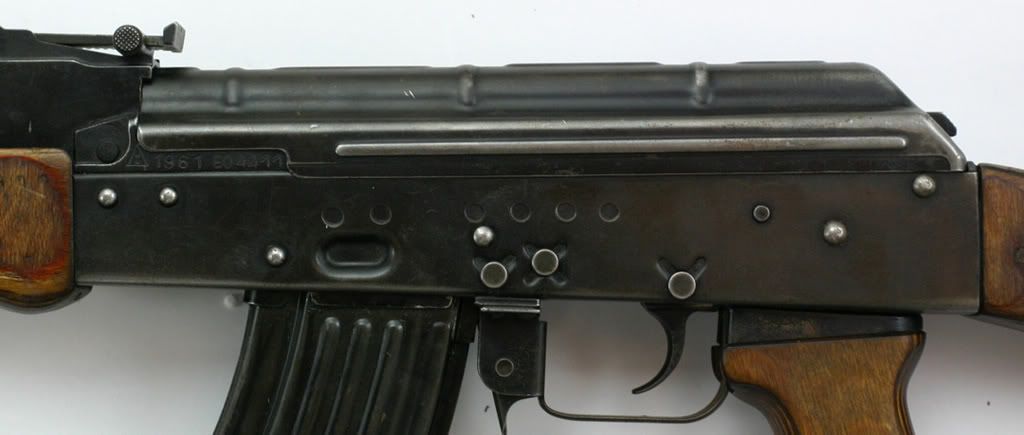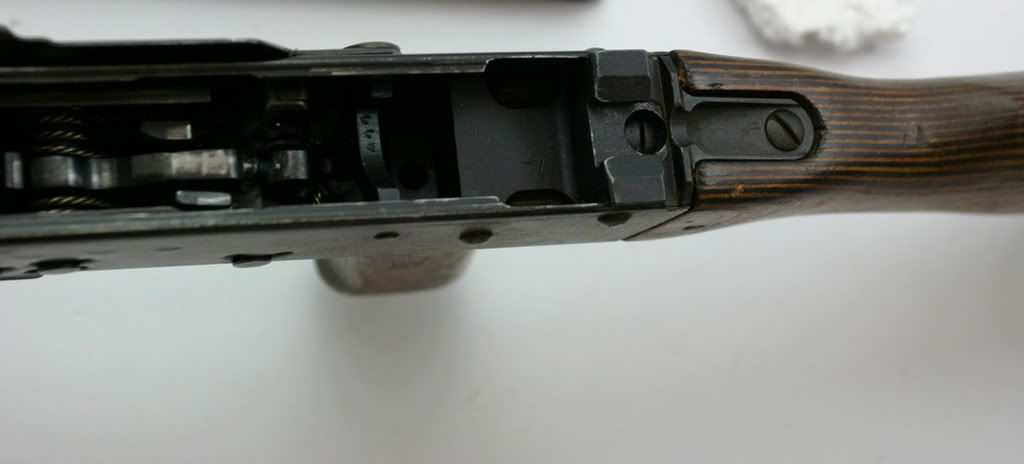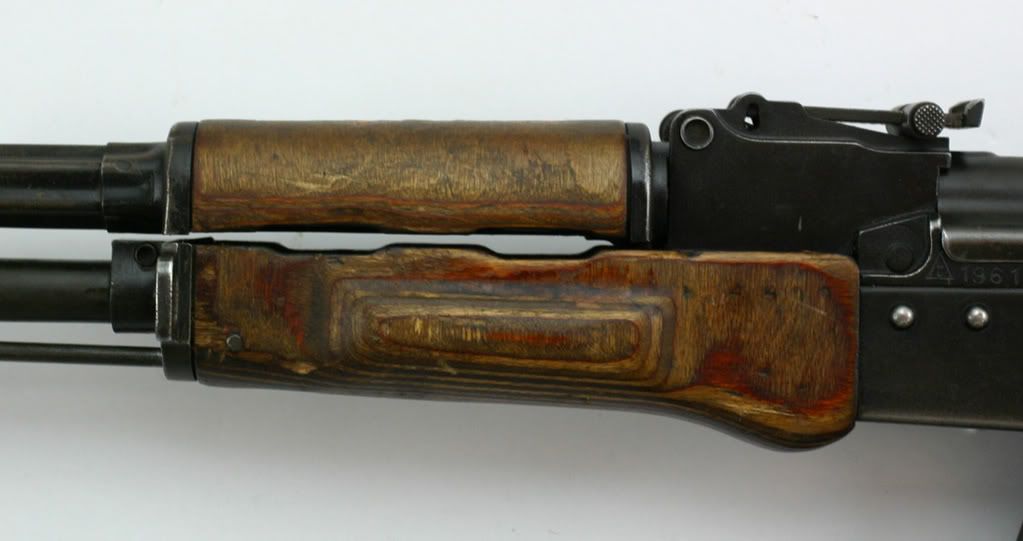 1961 Tula
A Ukrainian "MMG" (basically Russian for model). All matching numbers, but was repainted and a mix of stock parts. I threw on a decent set.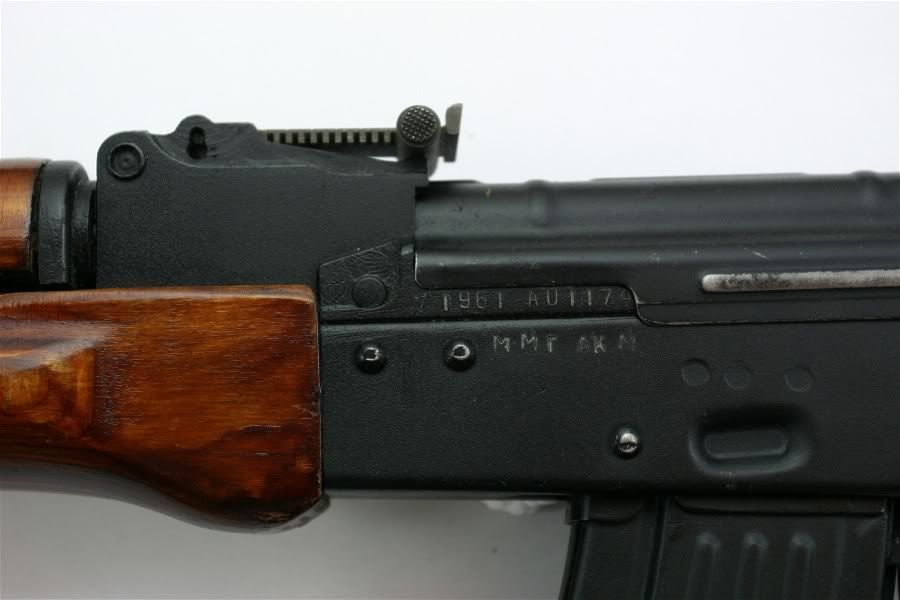 1962 Izhmash
Earliest all original AKM I have for myself. All matching, wood appears to be original. Not sure if you can see it, but the lower HG still has the serial number, though faint. Here, the Russians have already started to change out parts.. Last AK47 style carriers being used. The first one is the rear trunnion.. They have changed to the O style, vs the early I shape.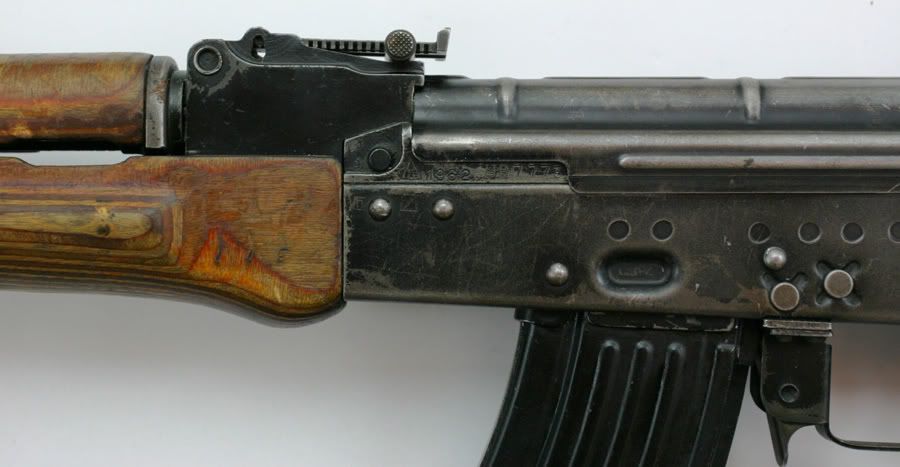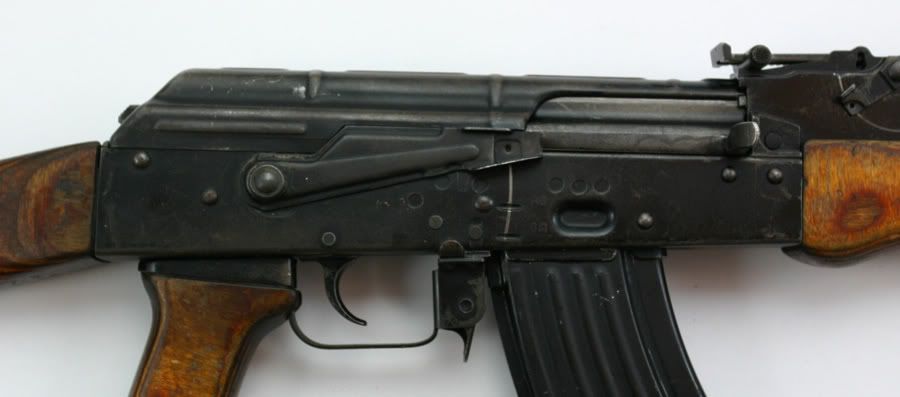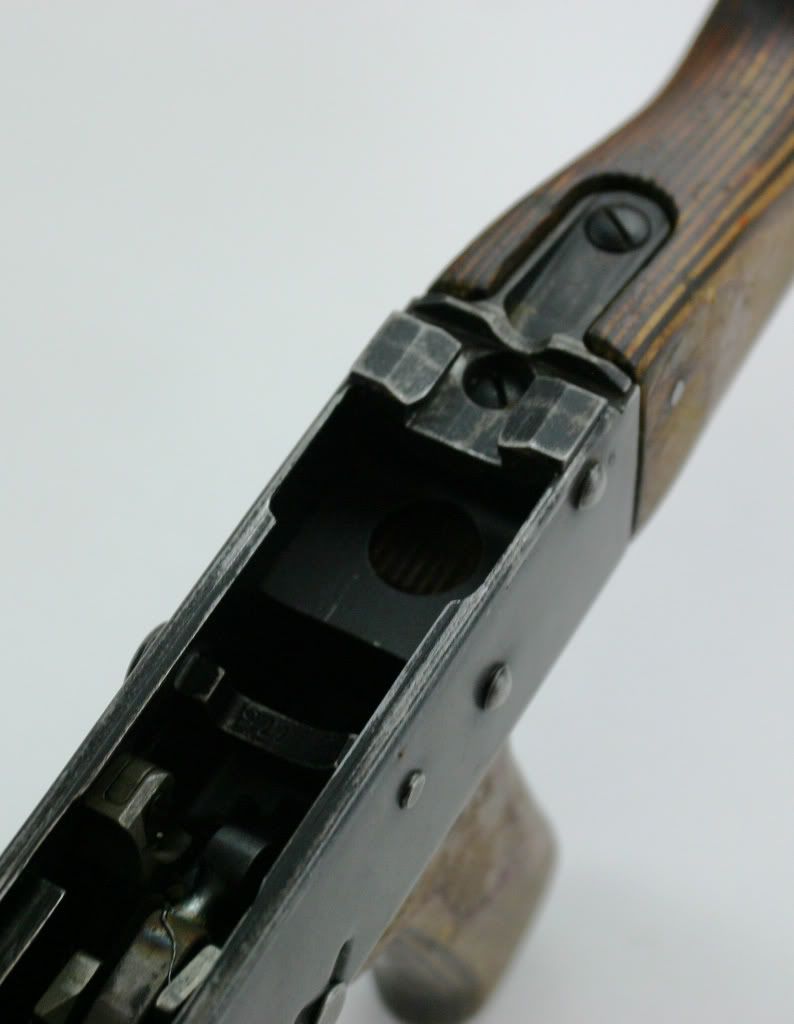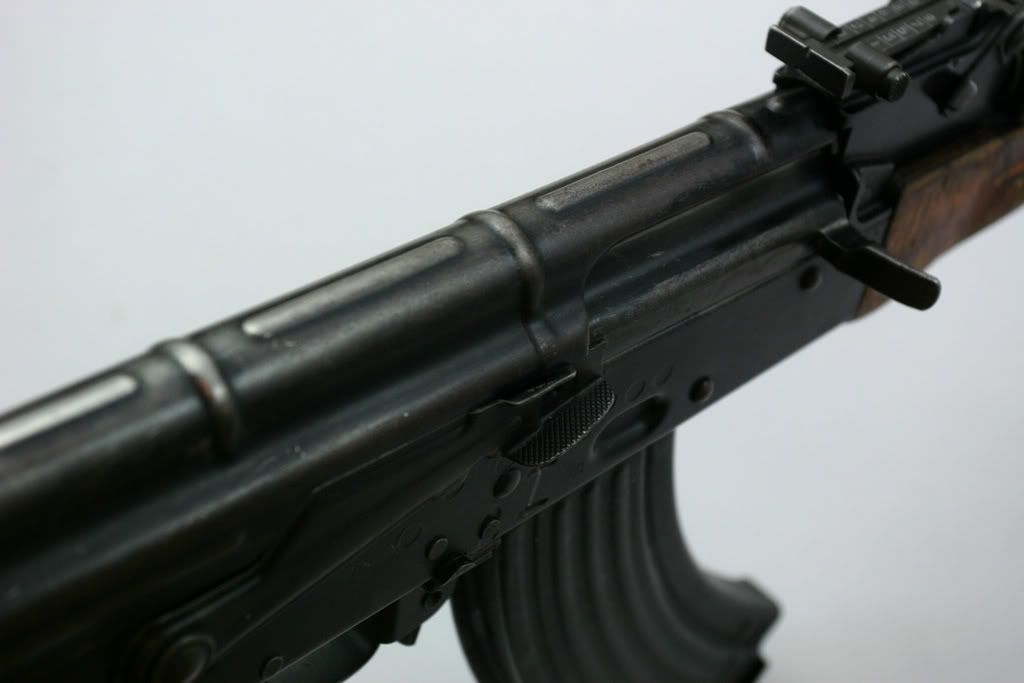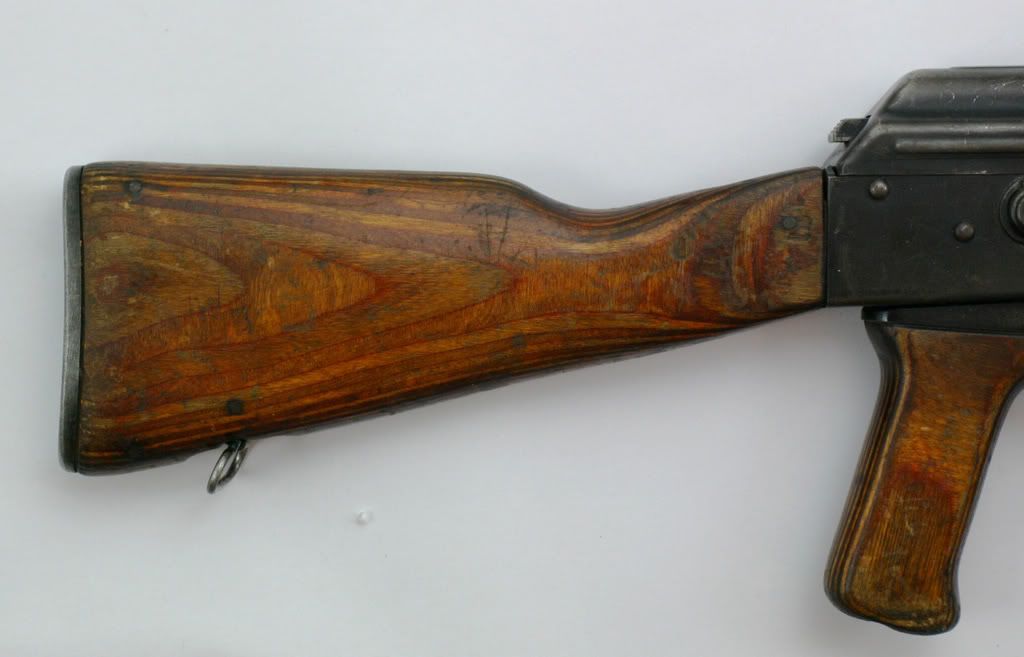 1963 Izhmash
Not the original wood, but only one of two 1963s that I have seen; A missing piece that I really need to find an original of. Anyways, major changes. Updated carrier, lightening FSB. Still with three spot welds over the dimple.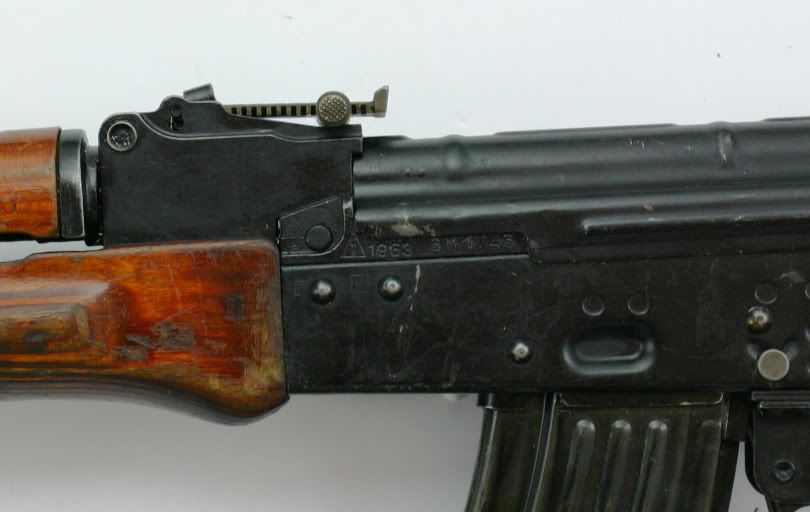 1964 Izhmash
All matching with original wood. Serial on lower handguard matches, but is faded. Appears some sort of clear varnish was applied to the wood, and has worn off. Basically the same as a 1963..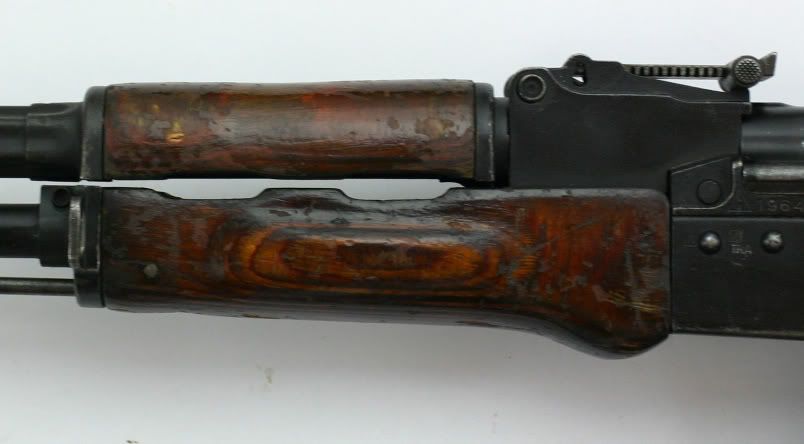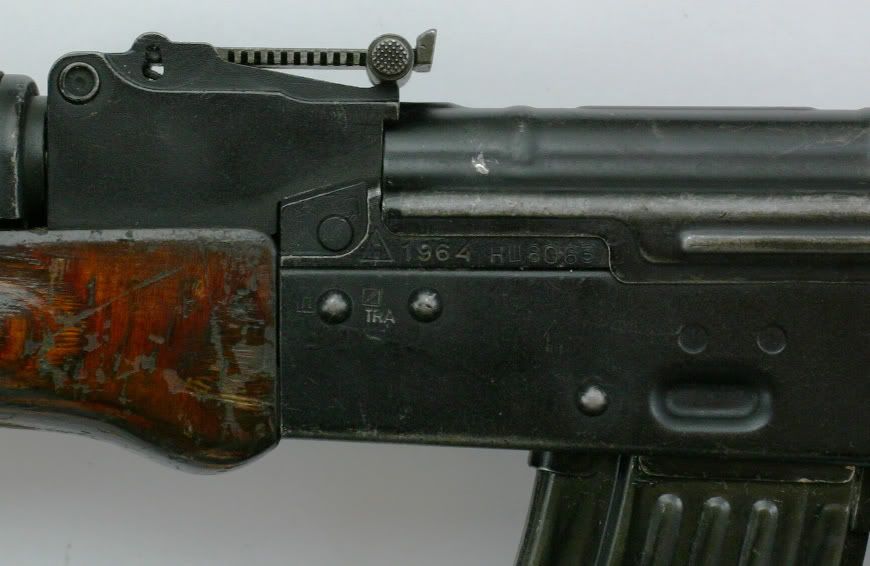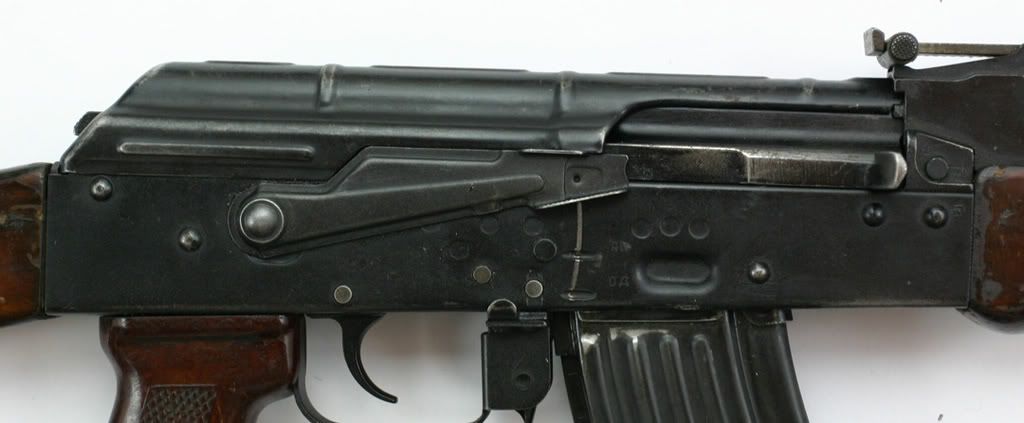 1965 Tula
Not the original wood, but still gives a look at one.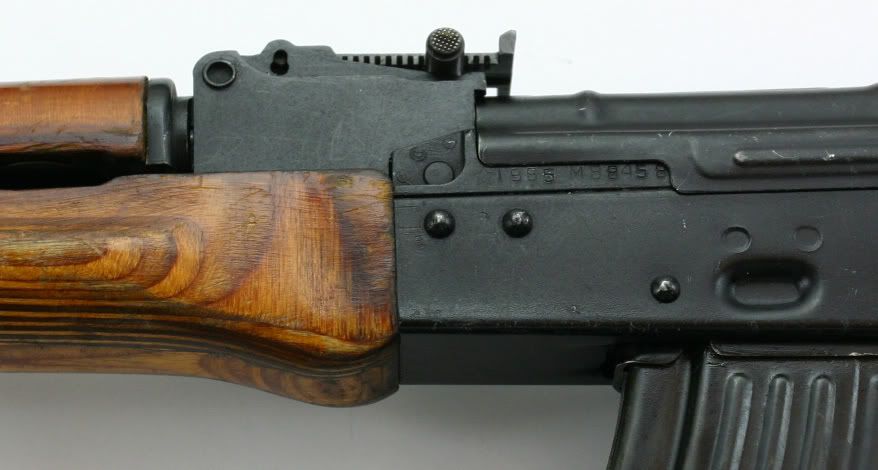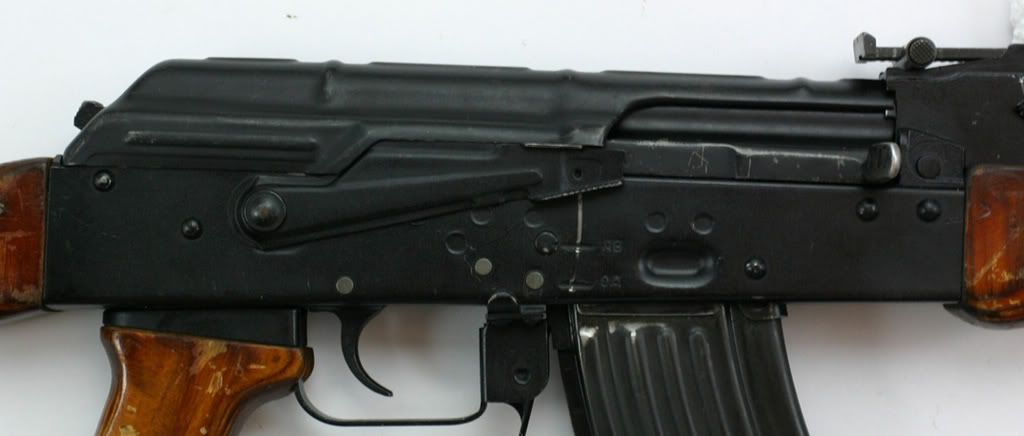 1966 Izhmash
Basicallly, a standard "mid production" gun. These are the only year I have seen with the flat sided slant brake, but have not seen 100% all original guns from 65, or 67, only altered examples.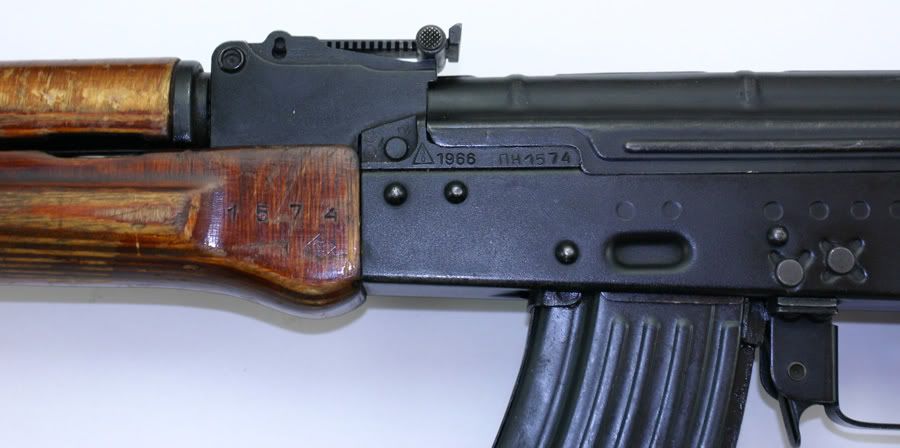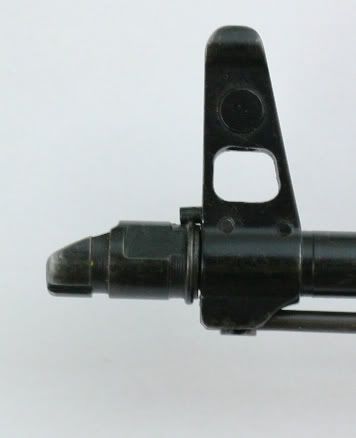 1966 Tula
All original, matching numbers down to the recoil spring. With the early, flat sided slant brake.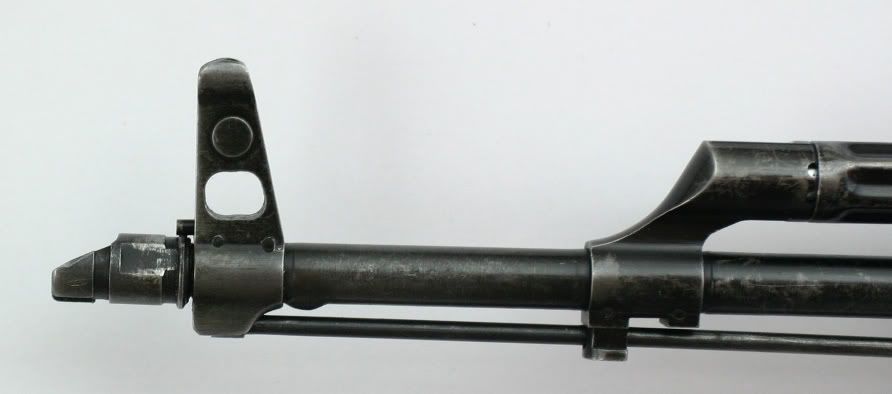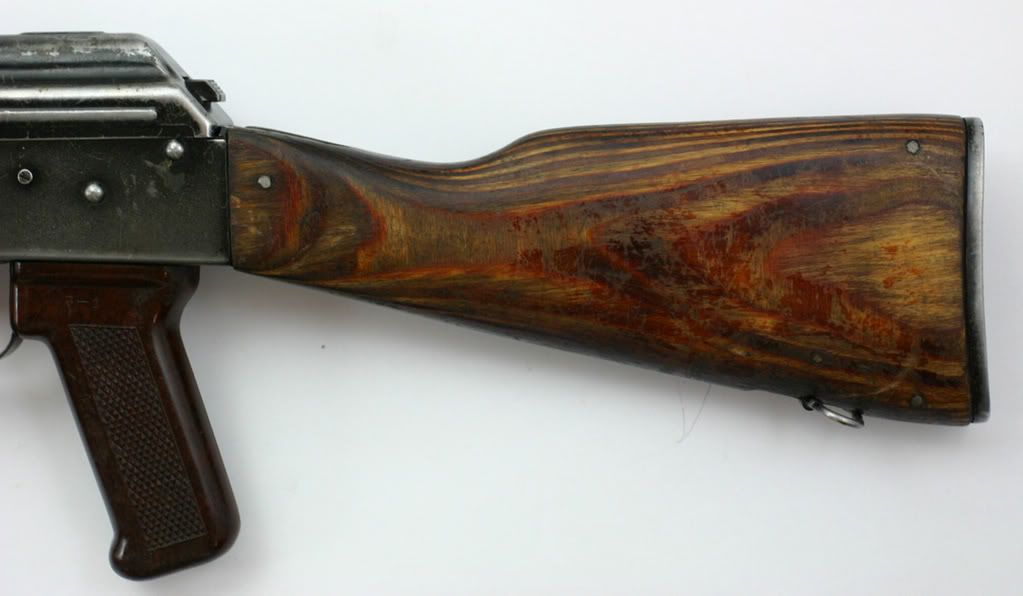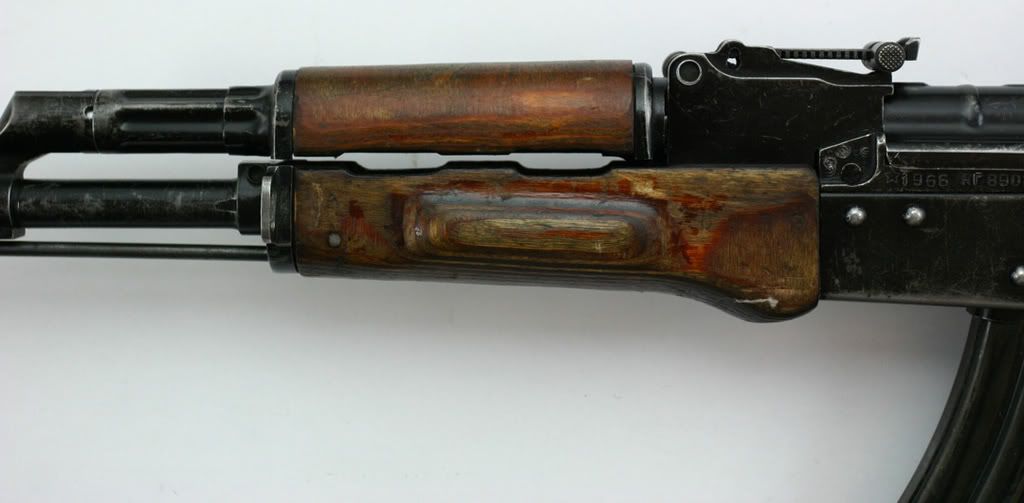 1967 Tula
Not the original wood...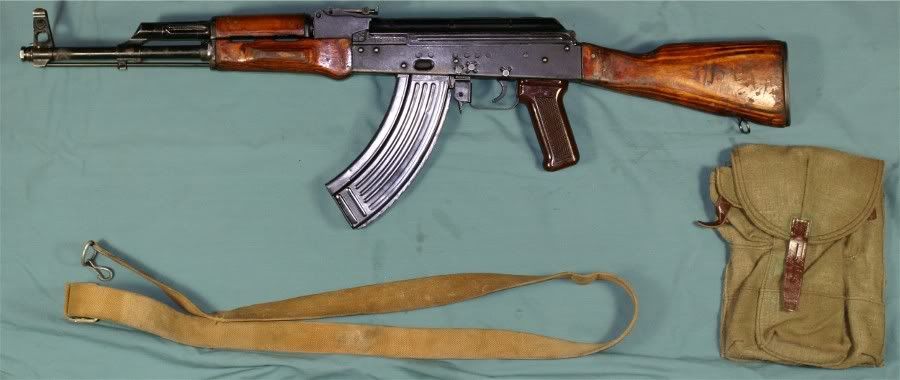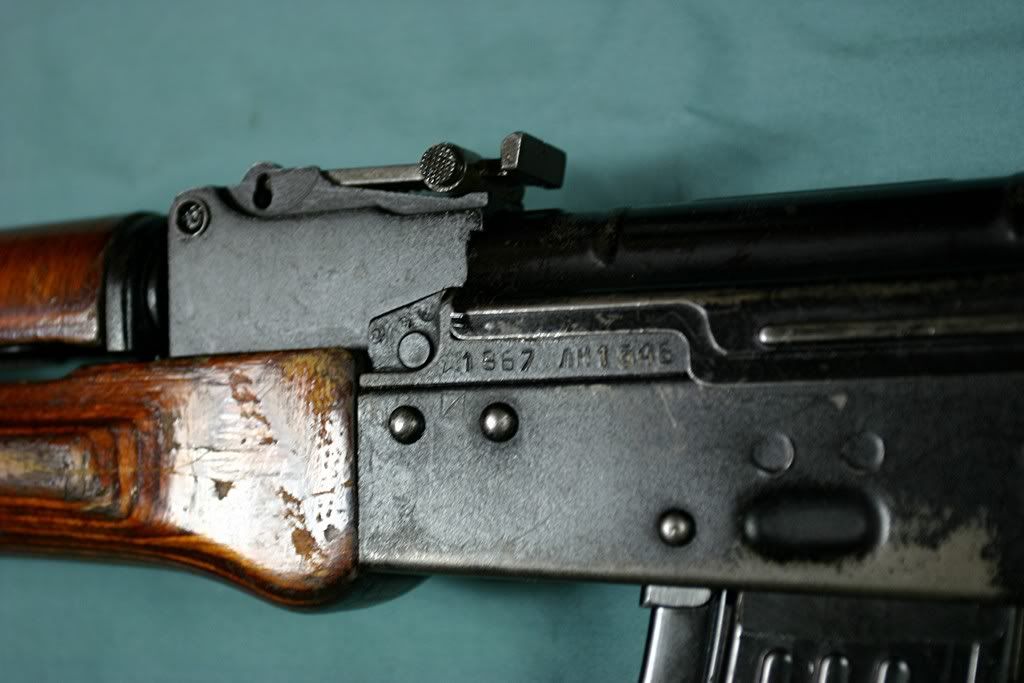 1969 Tula and Izhmash;

1969 Izhmash; Typical "Mid production" as I like to call it. Bottom swiveled buttstock, serial numbered lower HG, lightened FSB, donut trunnion, non flared top cover, etc. From 1964/65 to about 1971/72, Izhmash AKMs followed this same pattern. The slant brake might have changed in about 66/67, but thats all...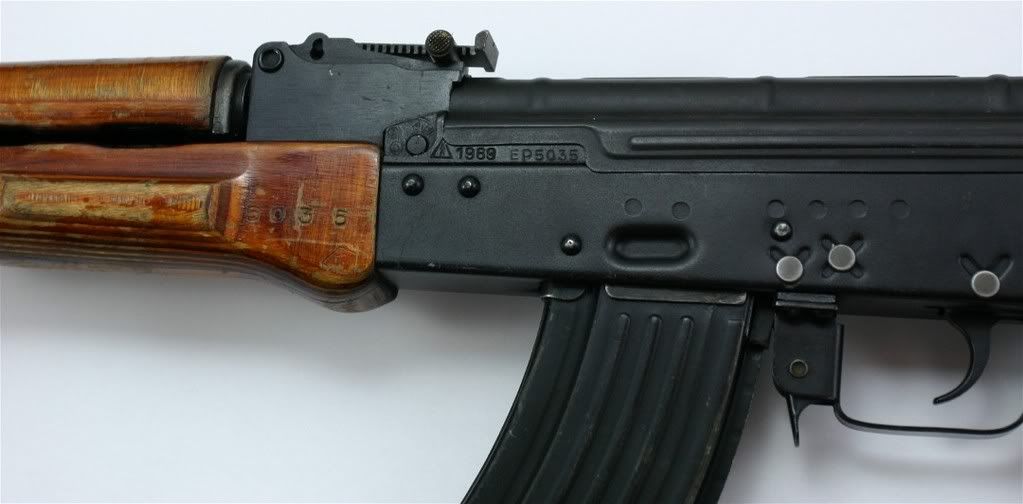 1969 Tula; Basically the same as Izhmash, but with little Tula differences like stocks, rear site, rounded handguard bulges, etc. Tula did have some receiver changes during this period. You can see that the small Tula dimple has started to appear, as well the hunchbacked buttstock.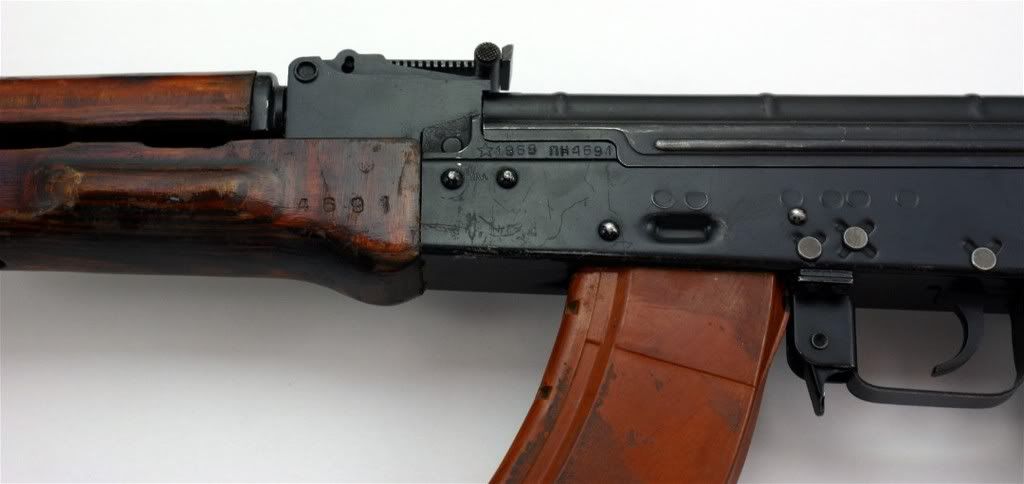 Parts comparison; Other then the stock sets, and receiver, not much difference between Tula and Izhmash. Minor stuff, just manufacturing variation, not anything intentional.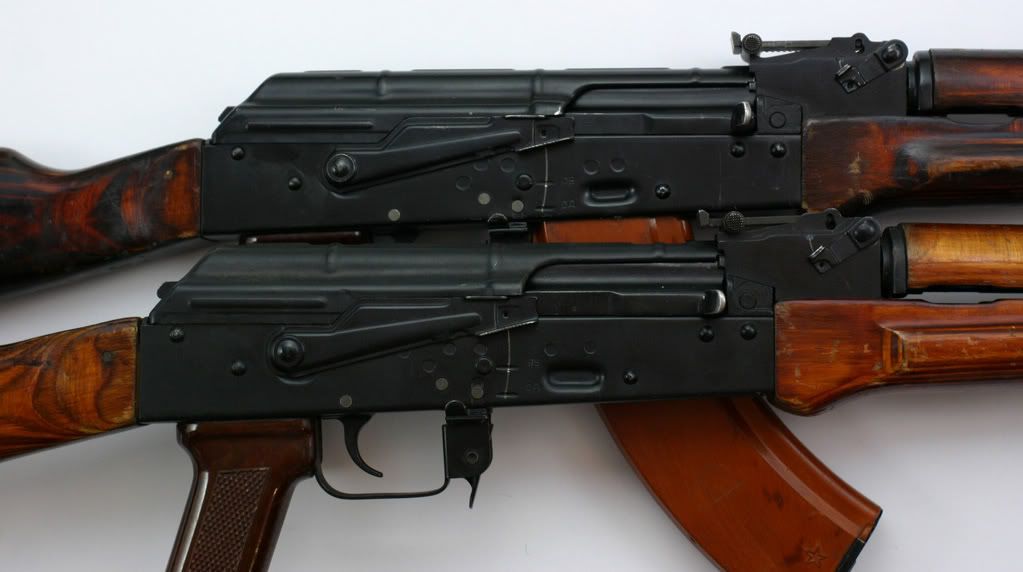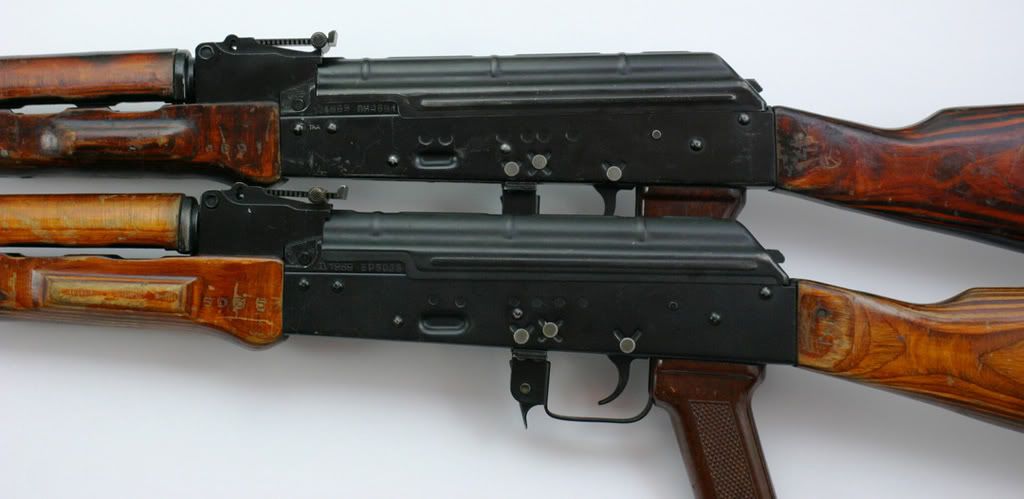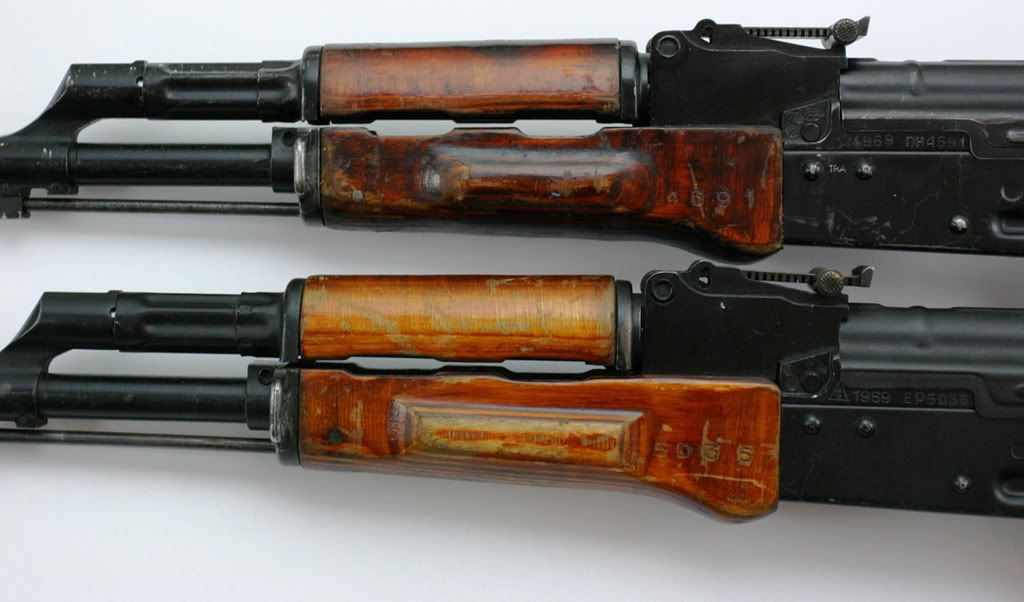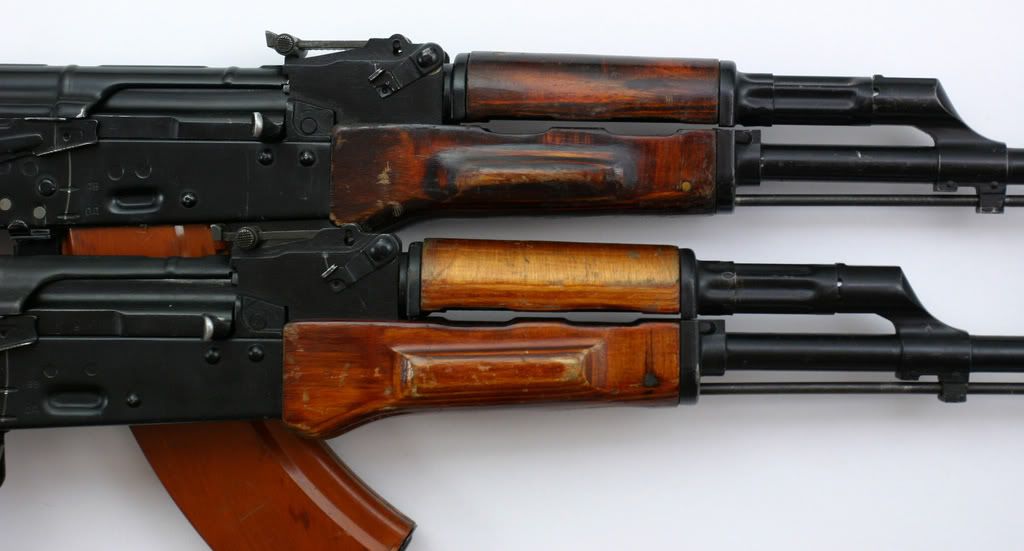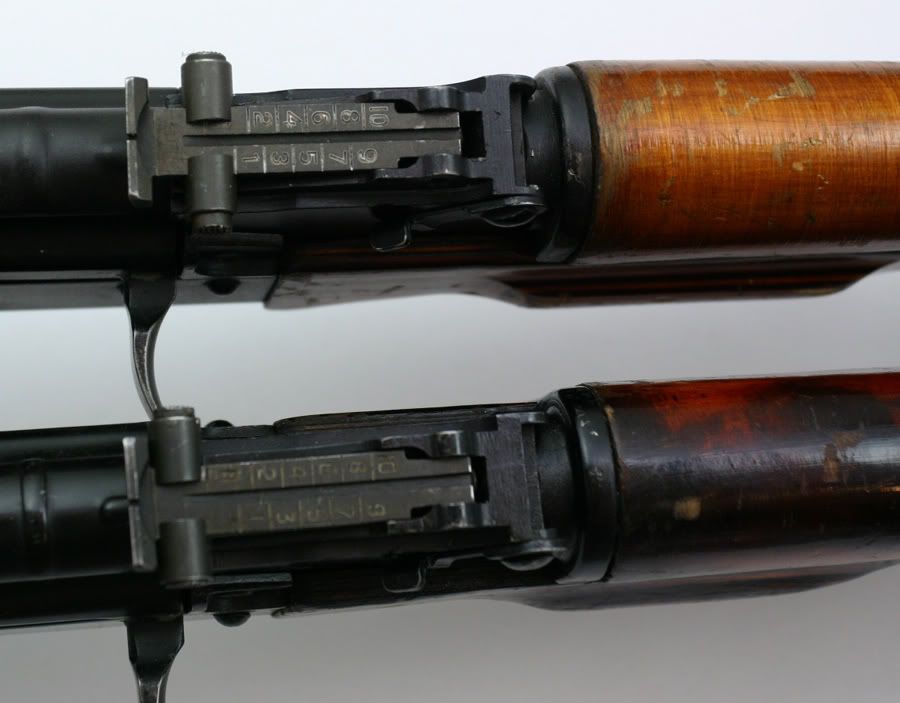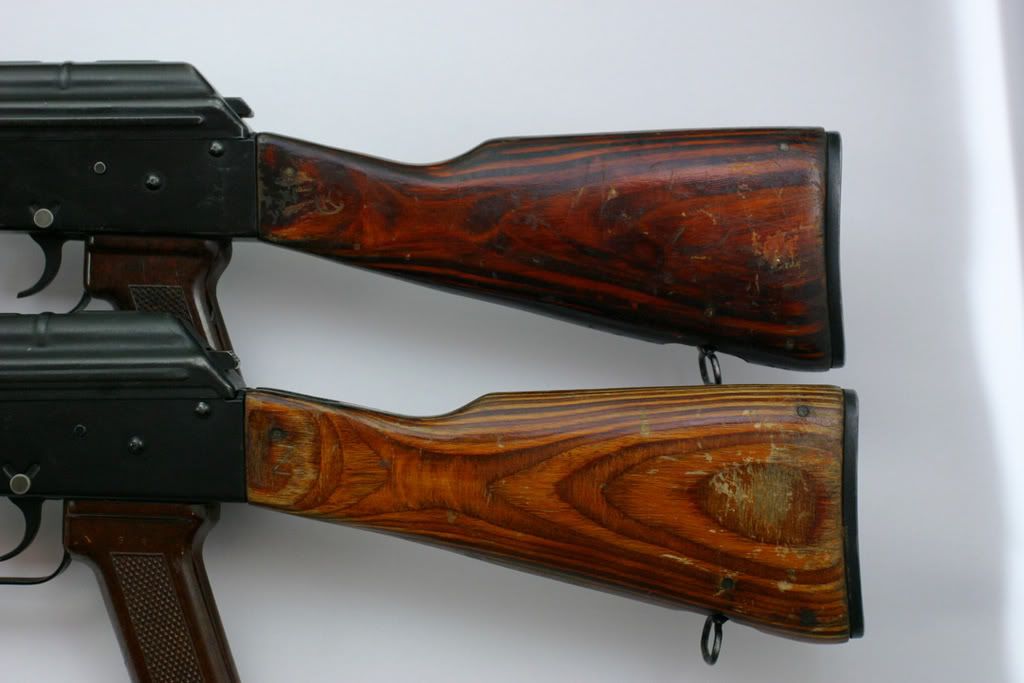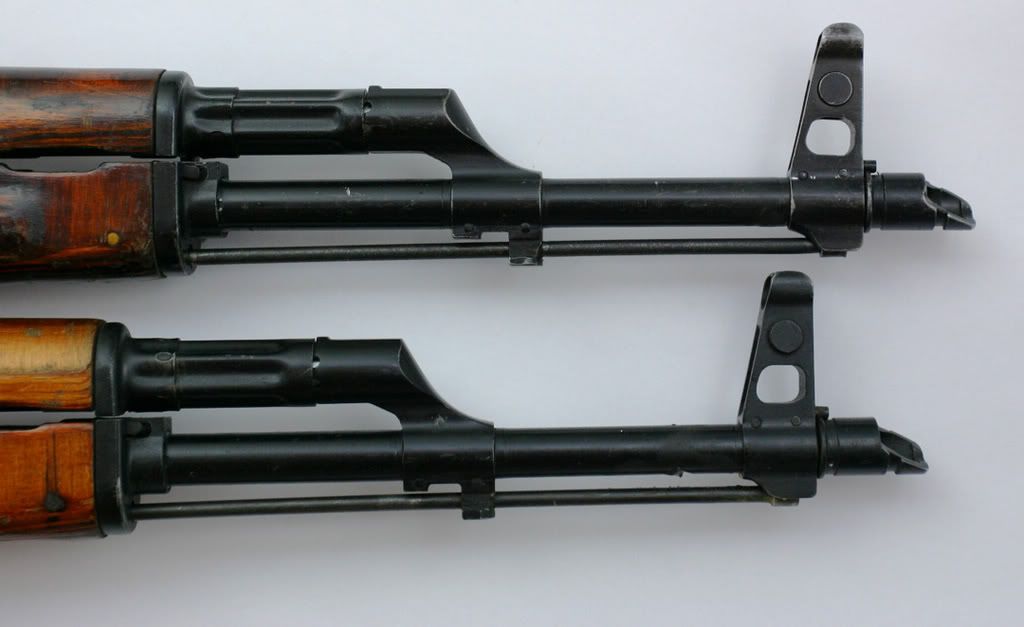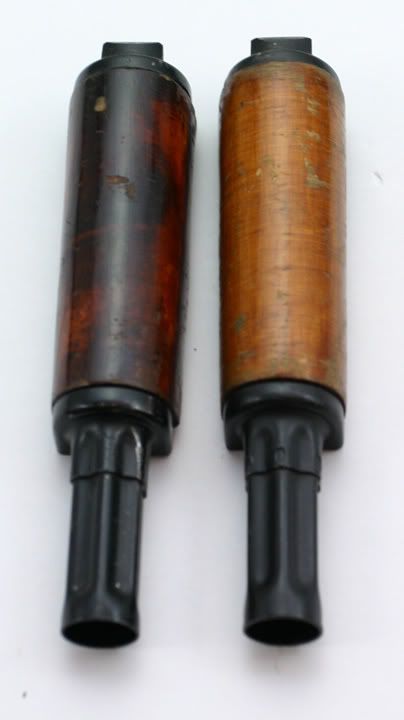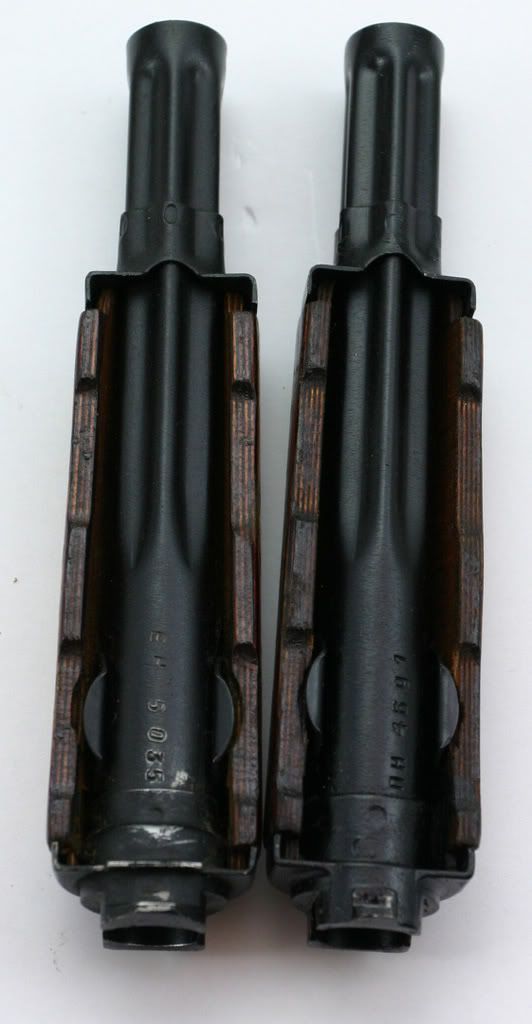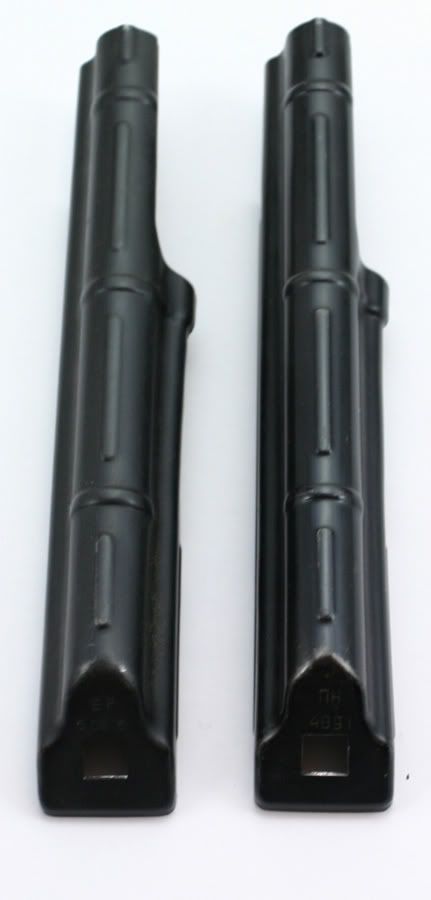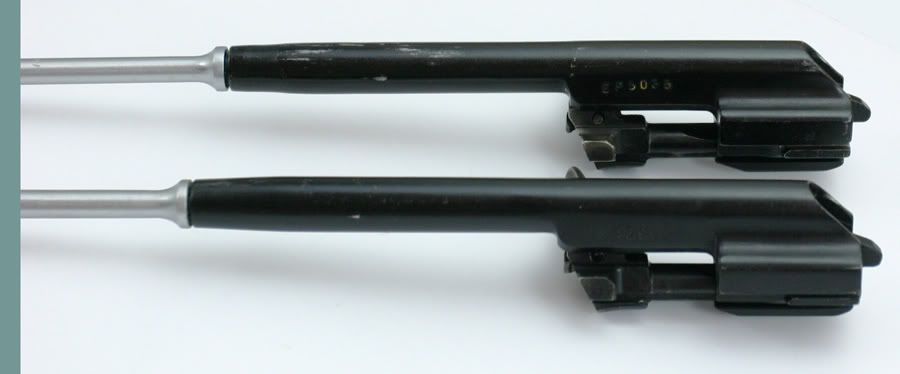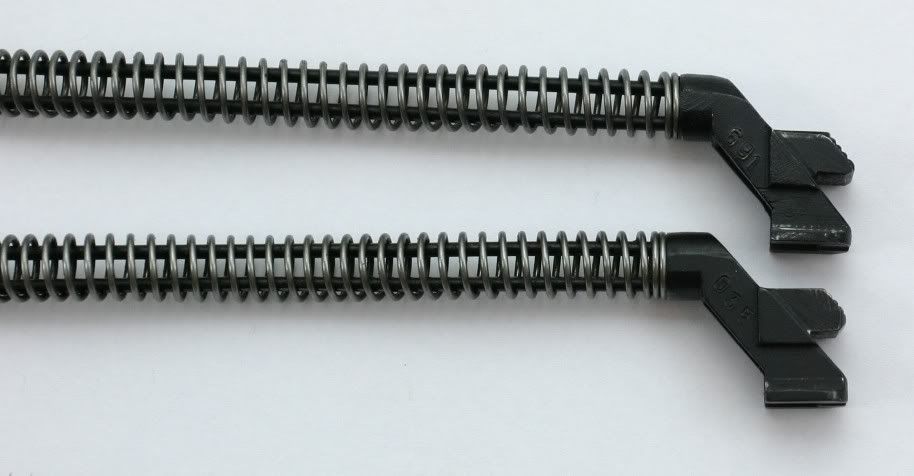 1970 Tula
All original... Parts from 71 Tulas were supplied to Egypt, who used them to build the first MAADIs. Notice the dimples are still changing...I forgot to take a pic of the left side, so retook it this morning, hence the different mags.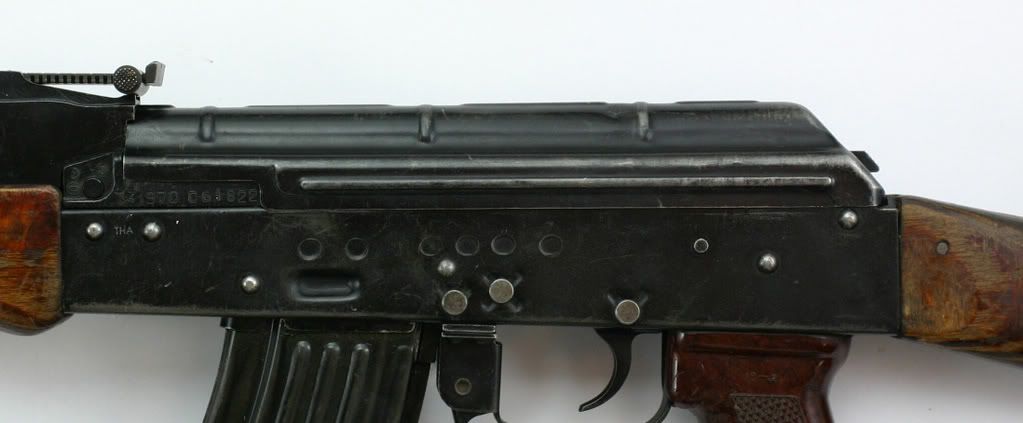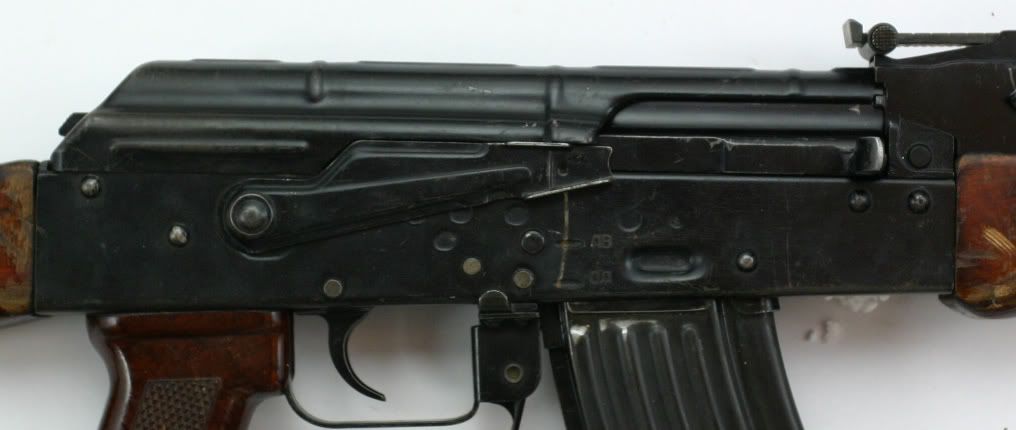 1972 Izhmash AKMS
Pics were very dark, Photoshop helped a little bit.. Appears to be all matching. From the MOD pattern collection, was a GW1 capture.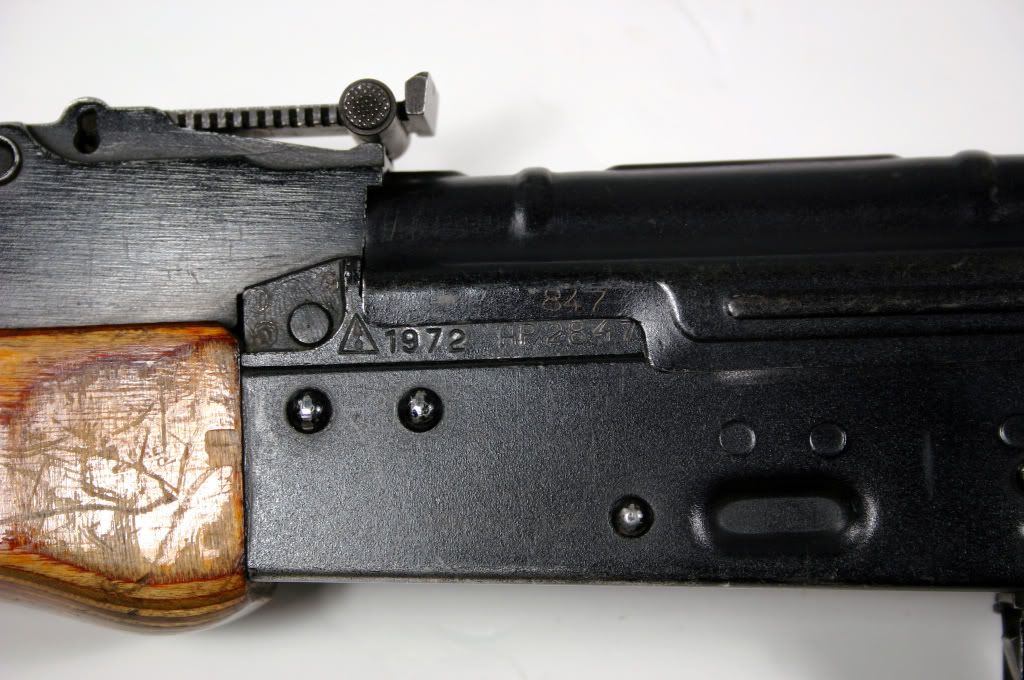 1972 Tula
All original, transitional gun; Tula has already started to use the buttstock with side swivel, but continues on with the early barrel parts and non flared top cover.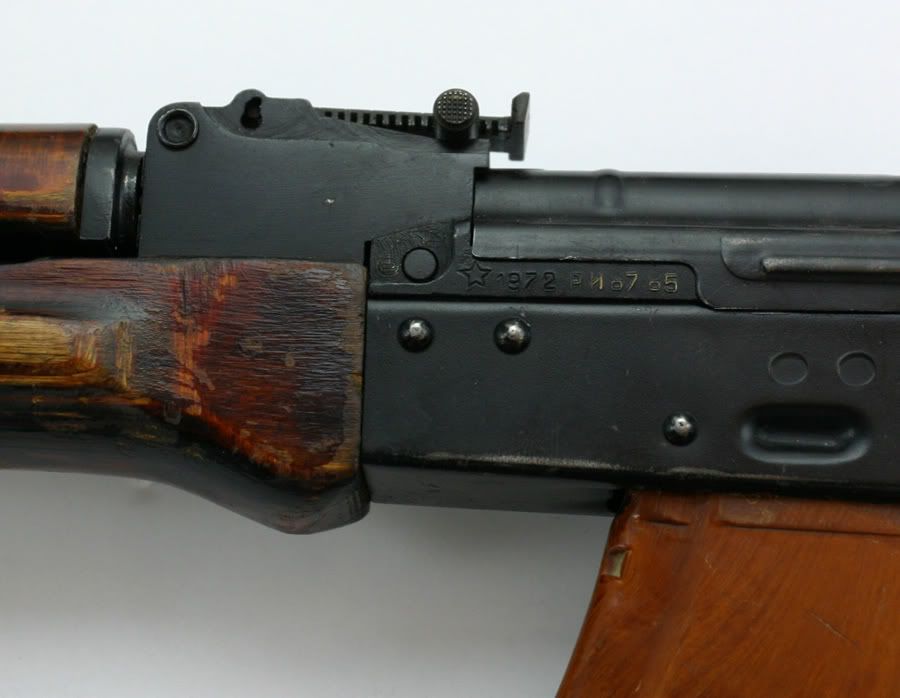 1973 Tula
Tula still has not changed to the cast barrel parts.....This happened by 1974; For those that have either been to the MTK museum in Izhevsk or seen pics, the Tula looking gun there is a 1974.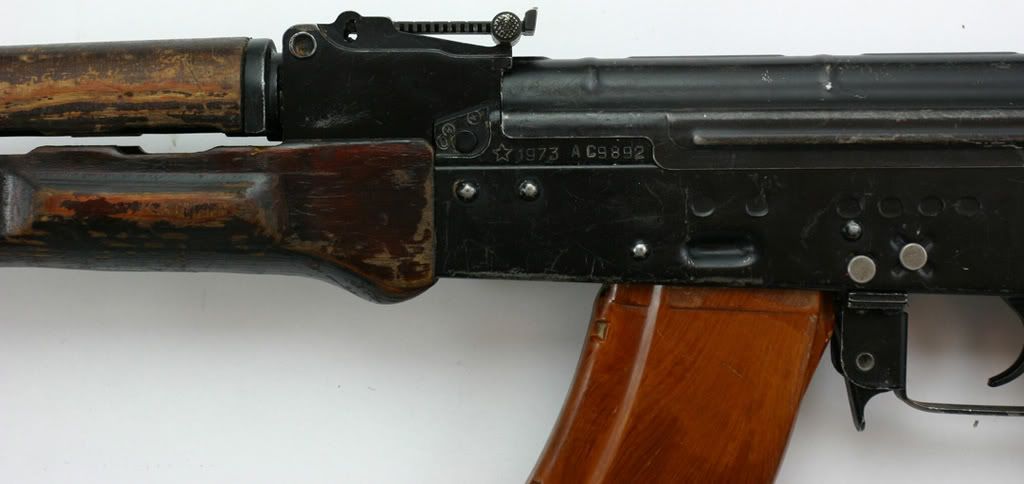 1974 Izhmash AKMS
Pics were very dark, Photoshop helped a little bit.. Appears to be all matching. From the MOD pattern collection, was a GW1 capture.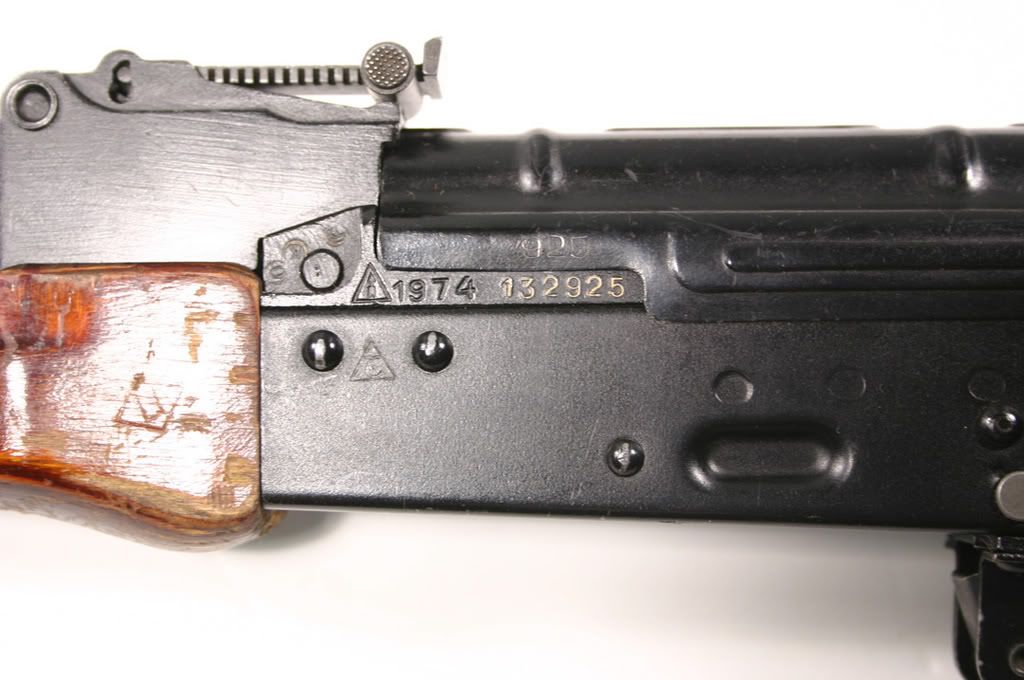 1975 Izhmash
All original, typical late production gun. Standard late features. Side swivel buttstock, no serial on updated handguards, cast barrel parts, flared top cover, etc. For those that have visited the Izhmash museum in Izhevsk, the AKM in the display case is also a 1975.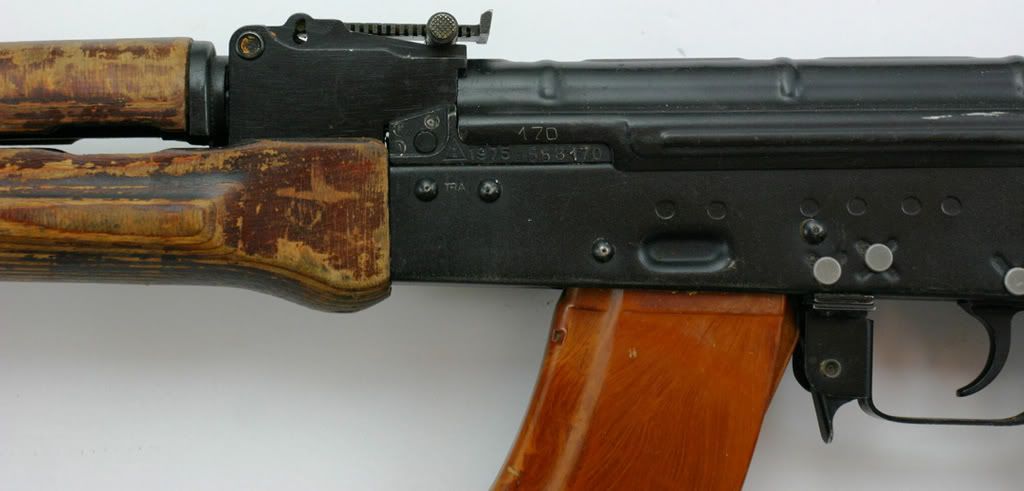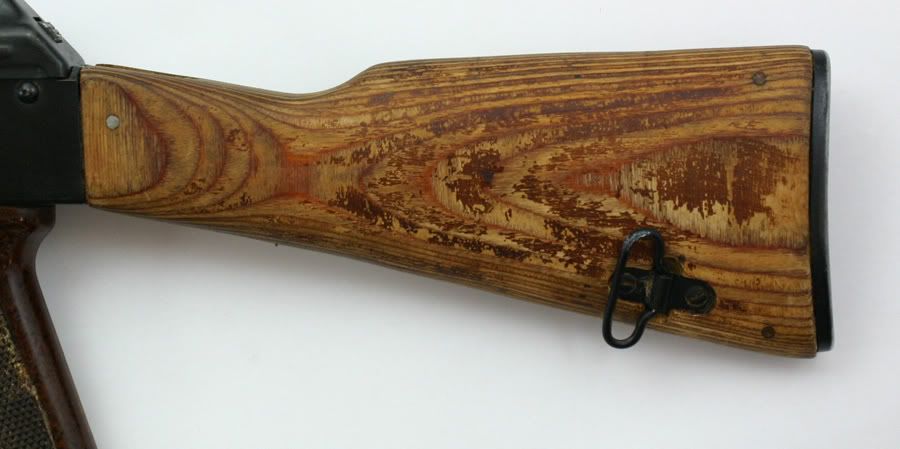 1976 Tula
Same rifle we are used to seeing from the Tokoi book. Standard late Tula.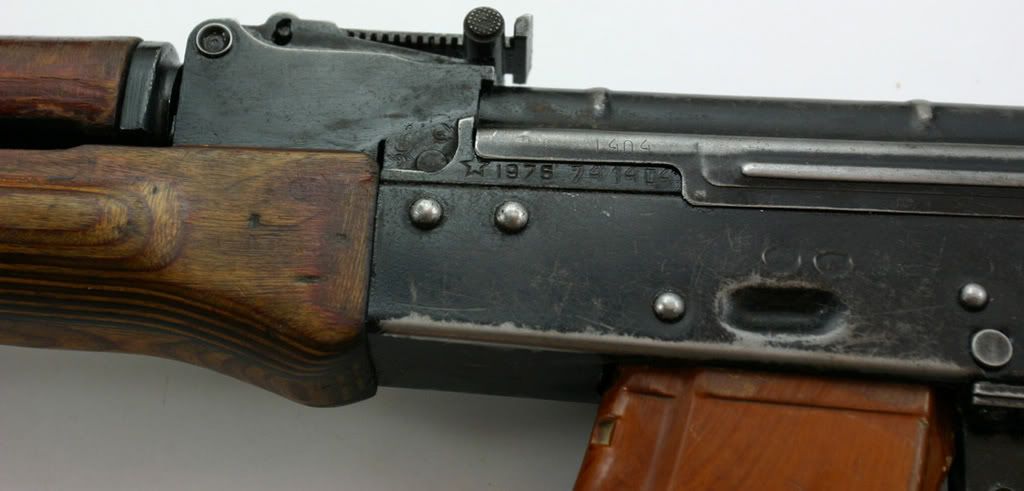 1977 Tula
Handguards are mid production Izhmash, but the rest of the gun is a nice, late production Tula, and the last year of production.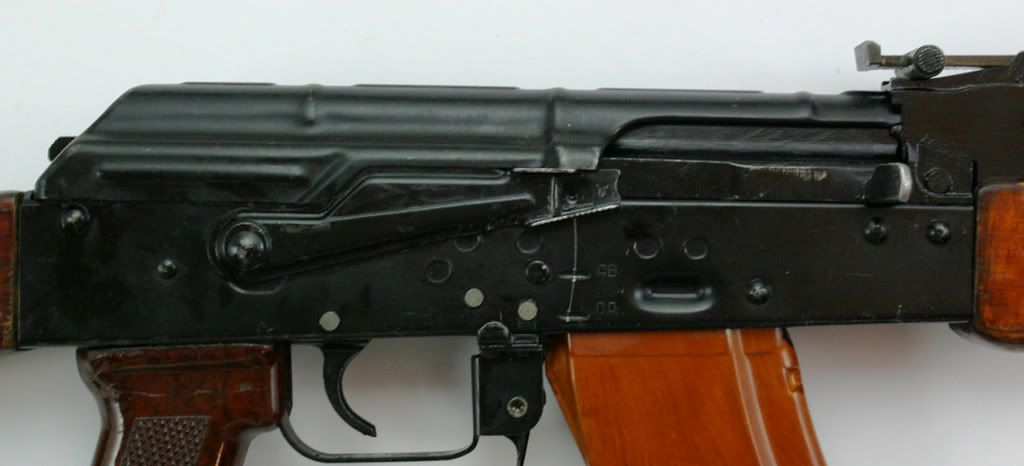 AKM, Izhmash 1970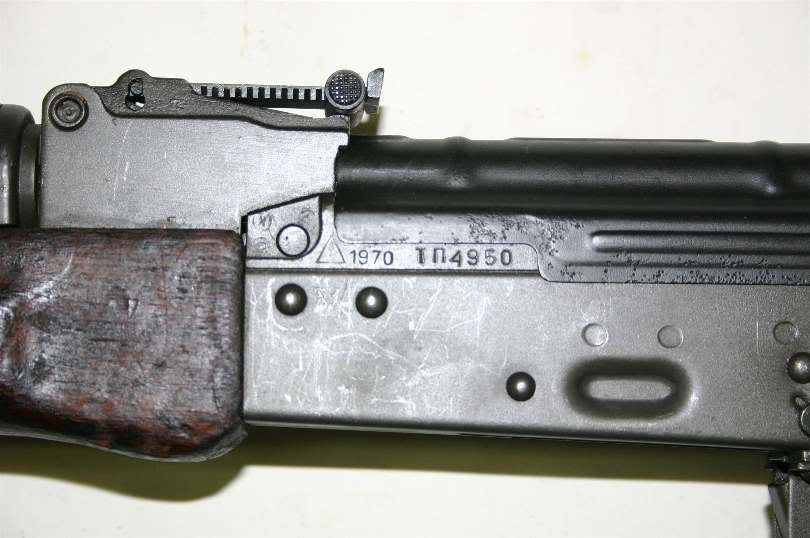 AKMS, Izhmash, 1977
For those that were lucky enough to get a like new kit from Brad, here is what they looked like before they were cut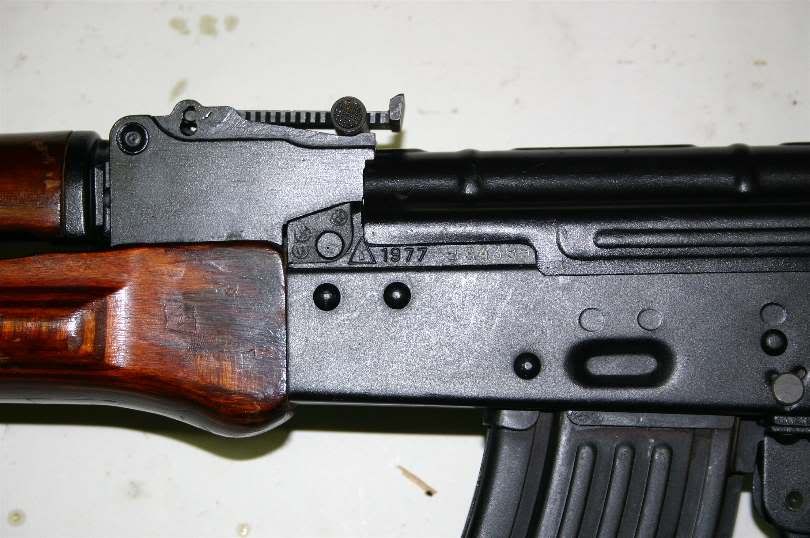 RPK, Molot, 1972
The Star in Shield is the mark of a true Soviet RPK.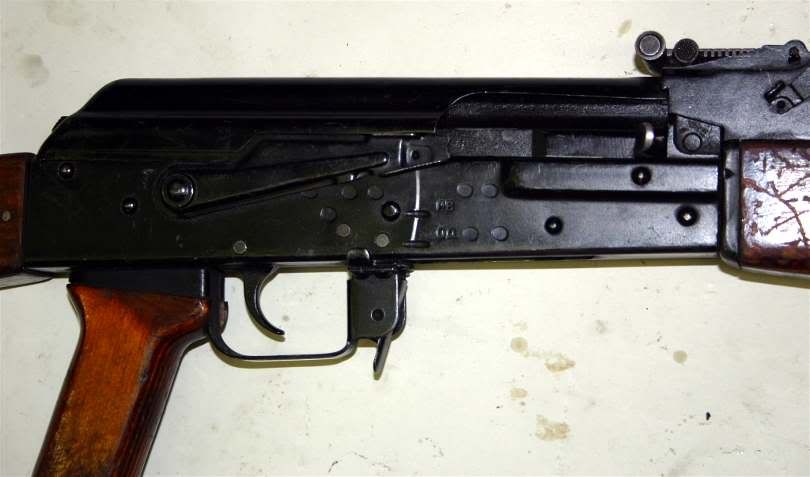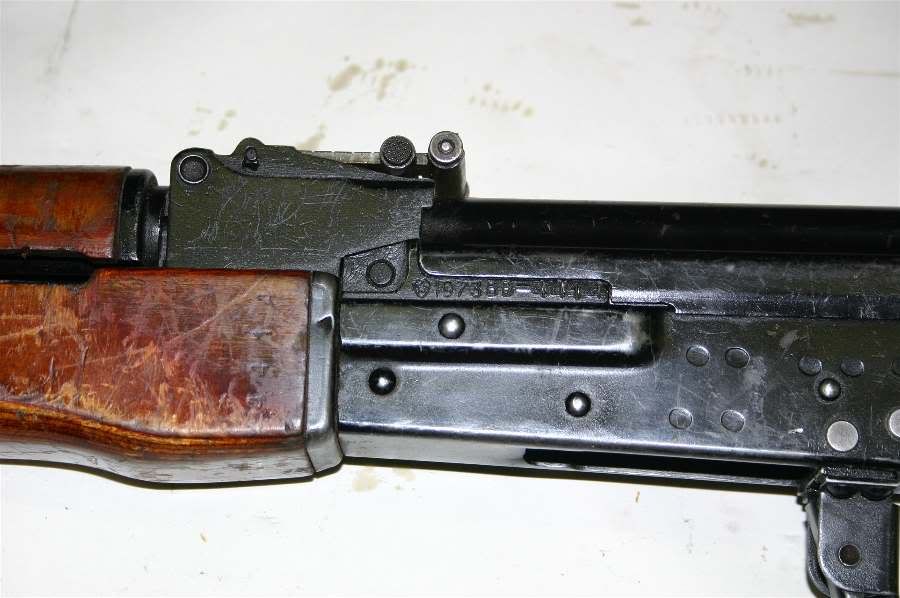 NEW, 25 Jan 2005[/size=2]


RPK74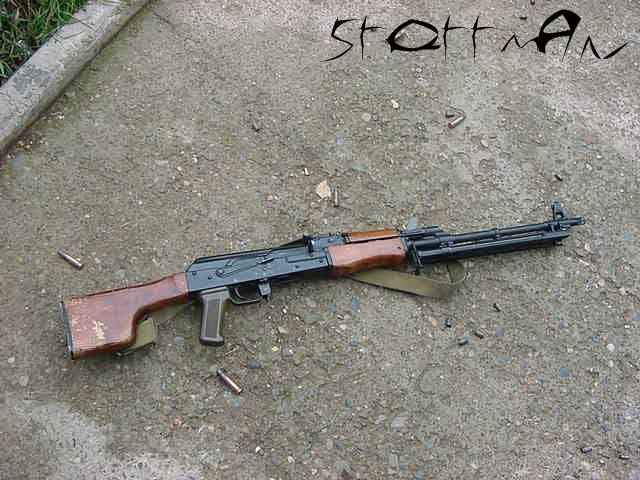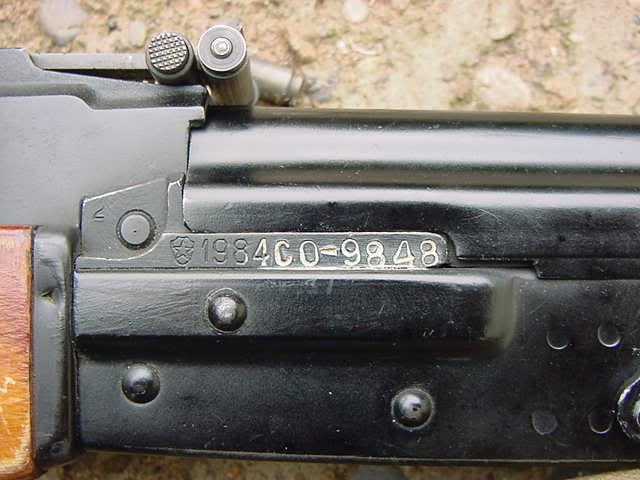 NEW[/size=6]
RPK74M in 5.56 (not sure of actual name)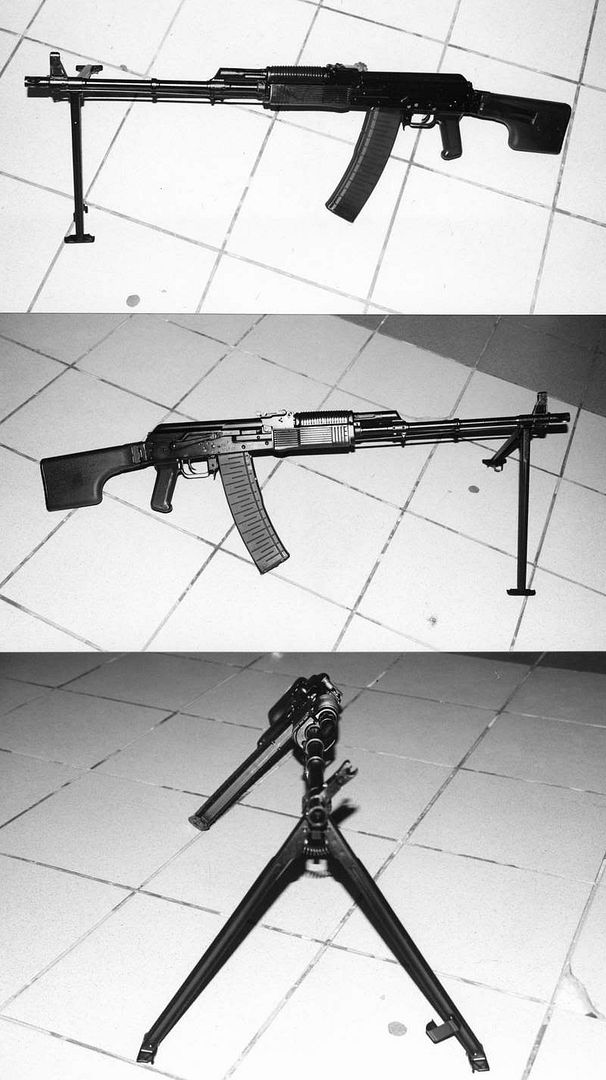 AK-74M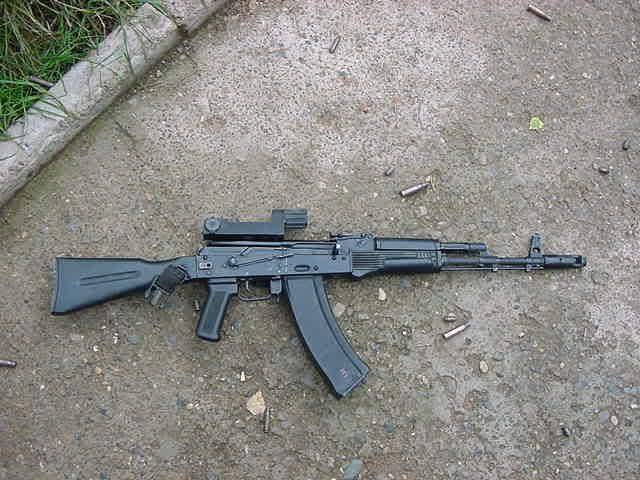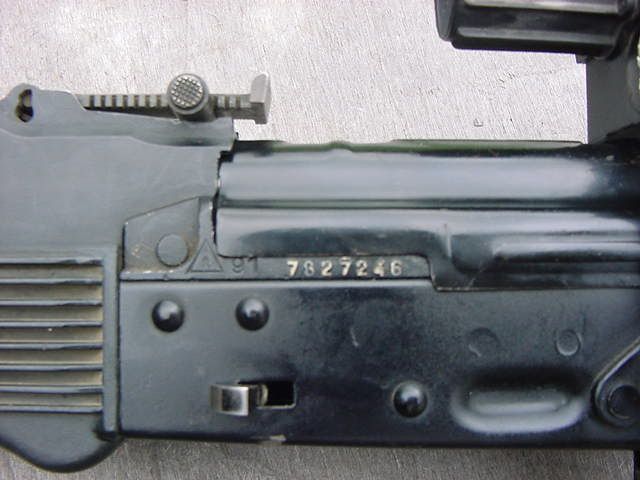 AKS-74U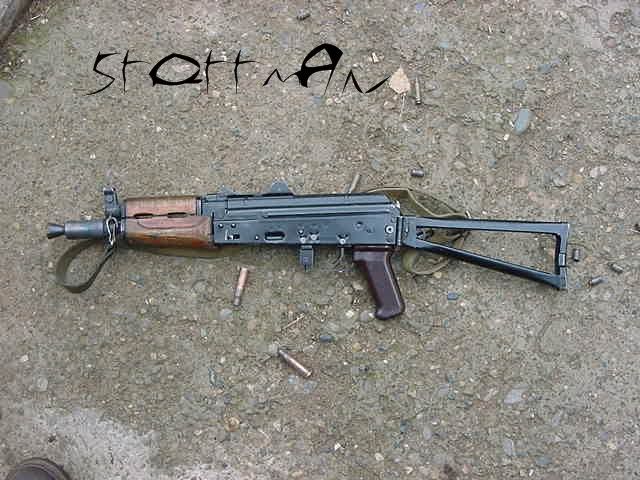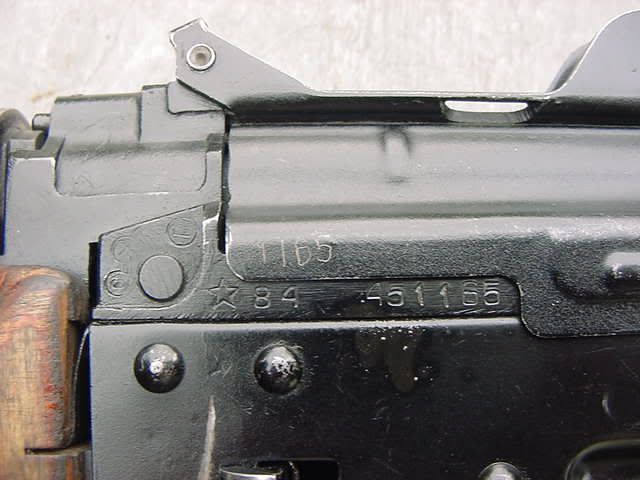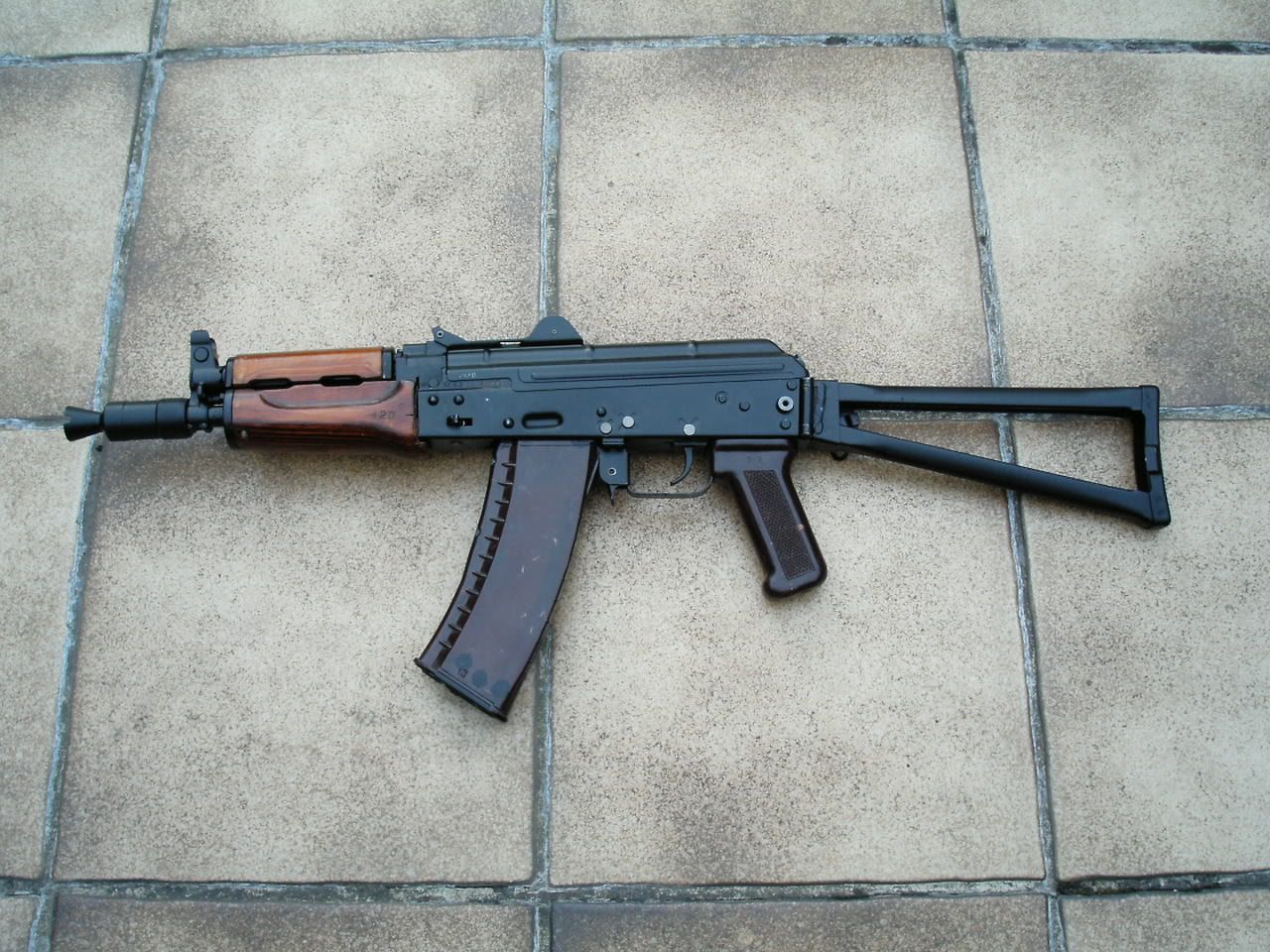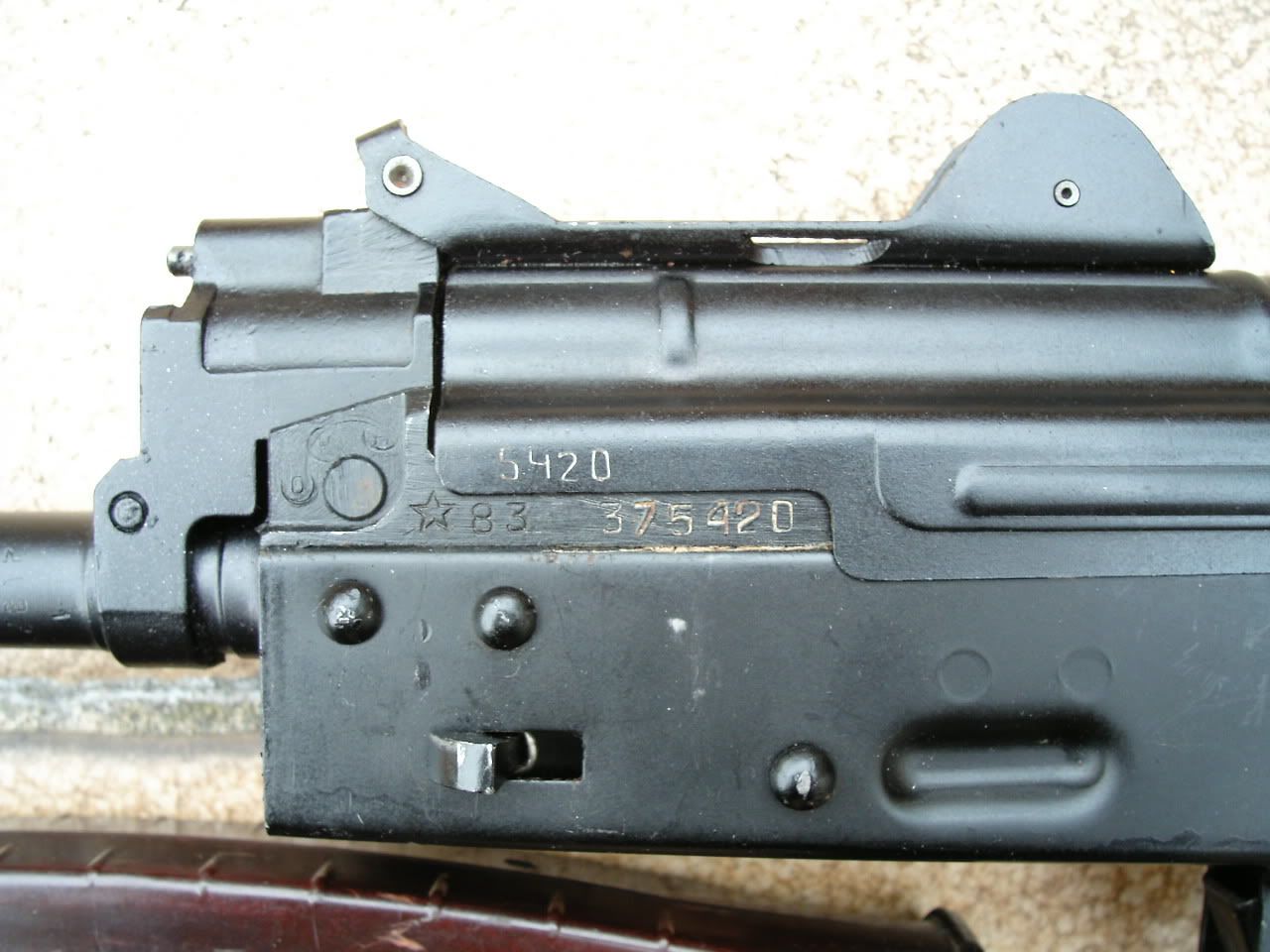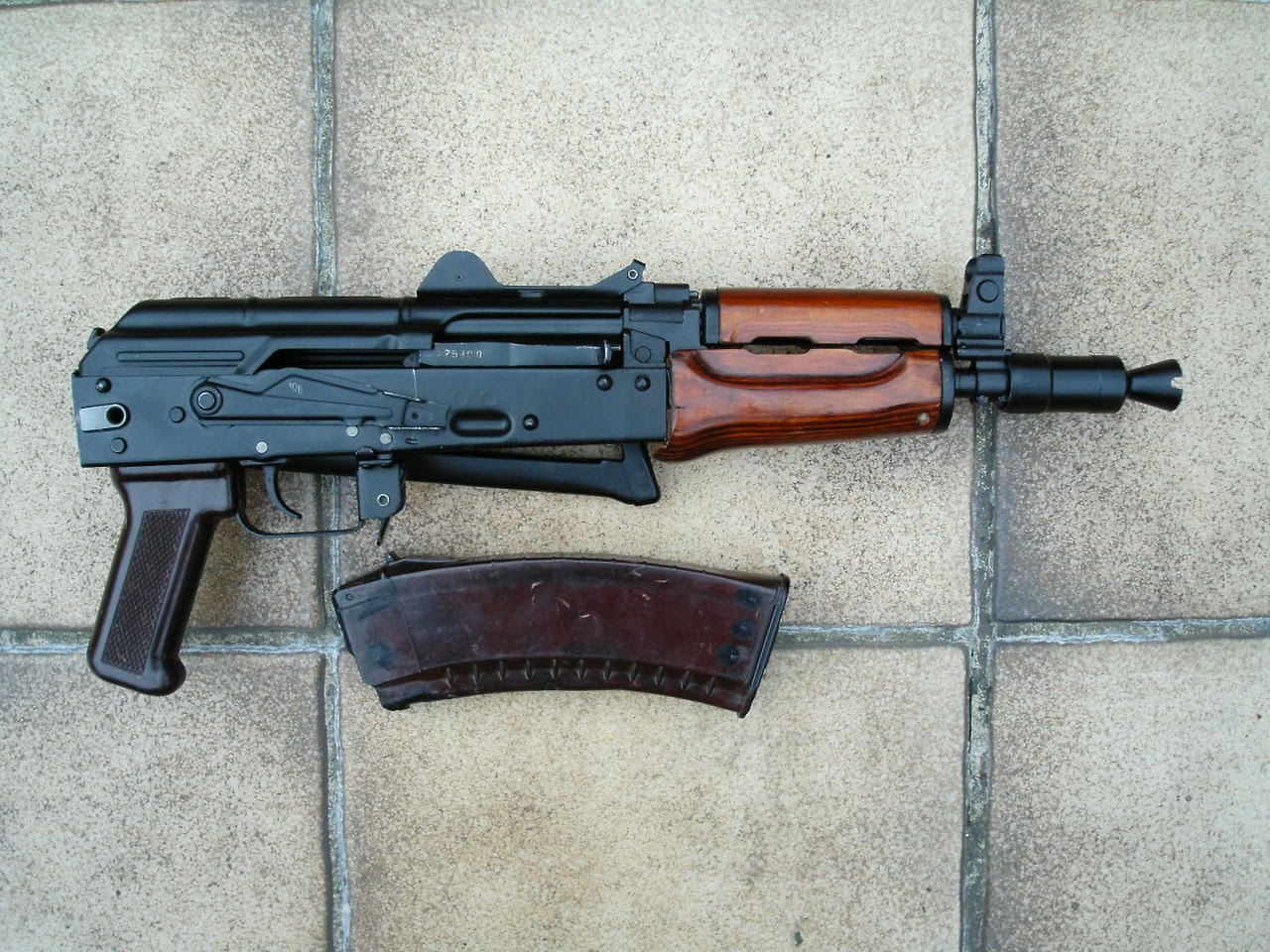 Another AKSU, belonged to a normal Russian policeman-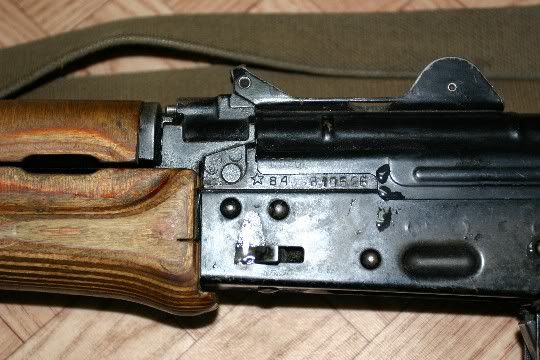 Bison SMG in 9x18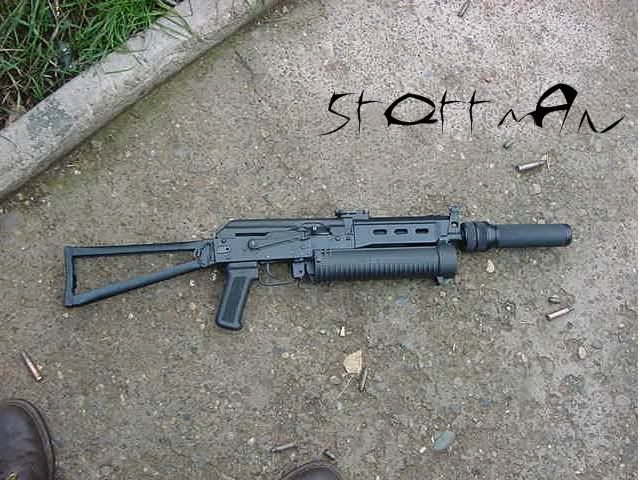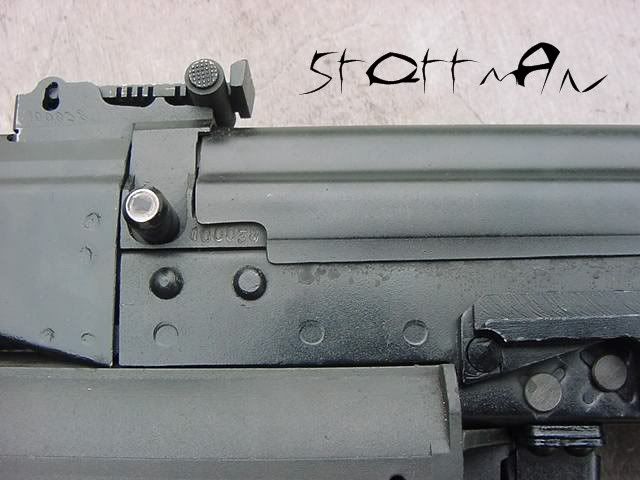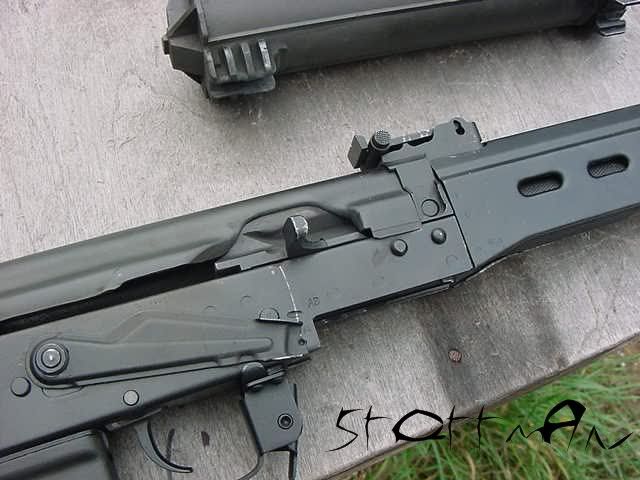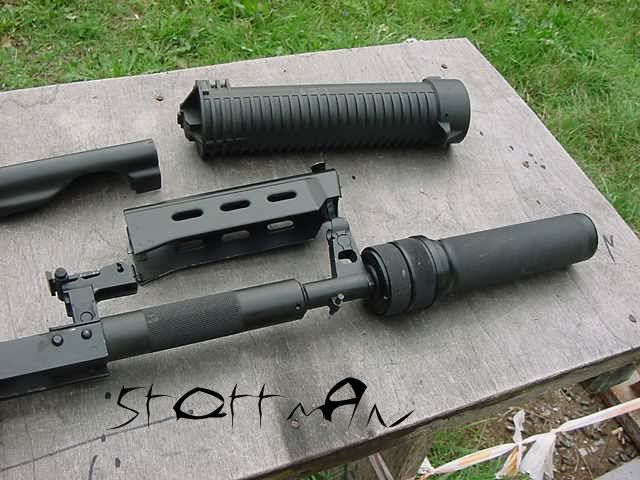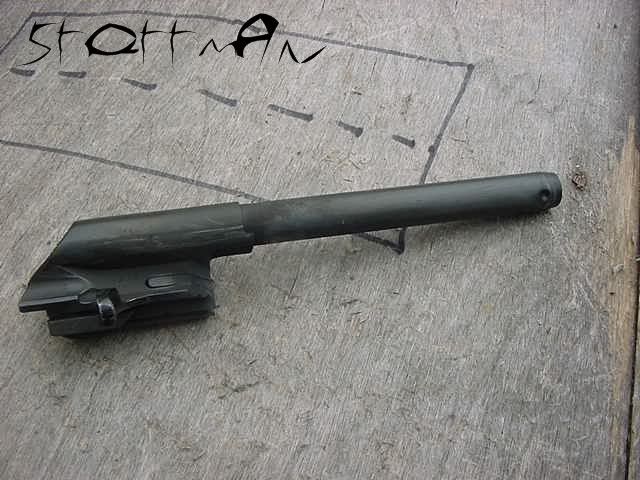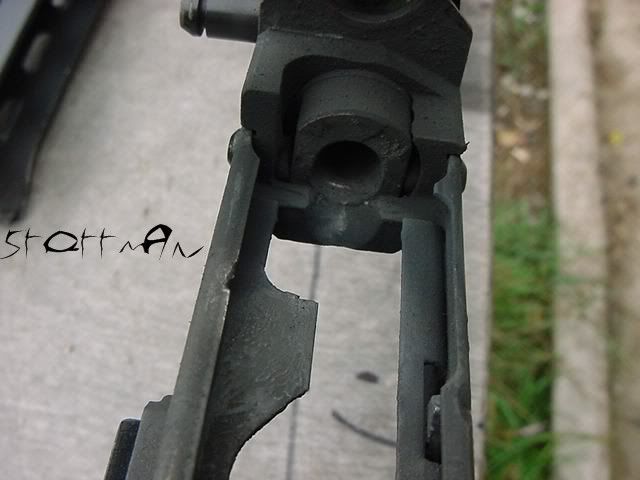 Peoples Republic of China[/size=2]

T-56, Milled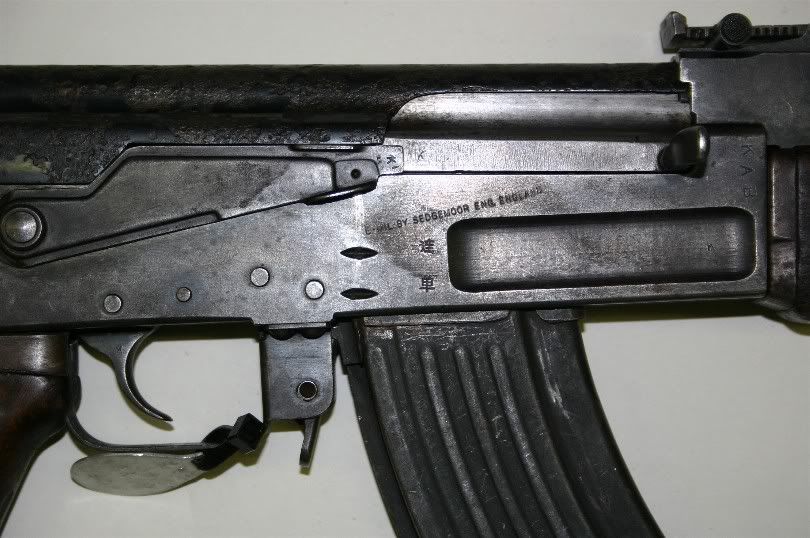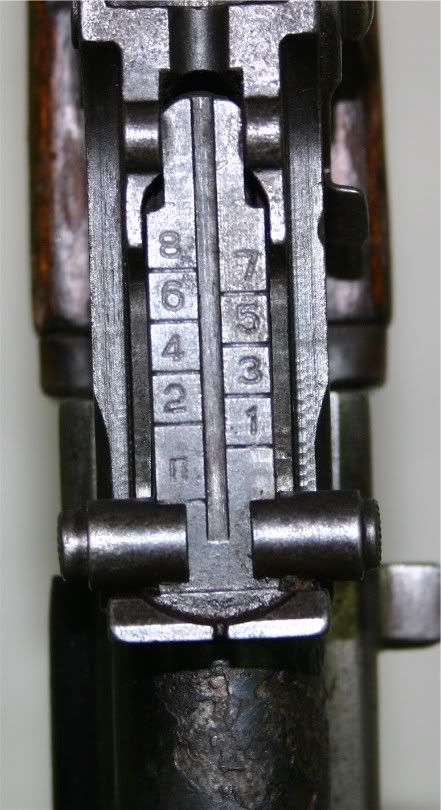 Another-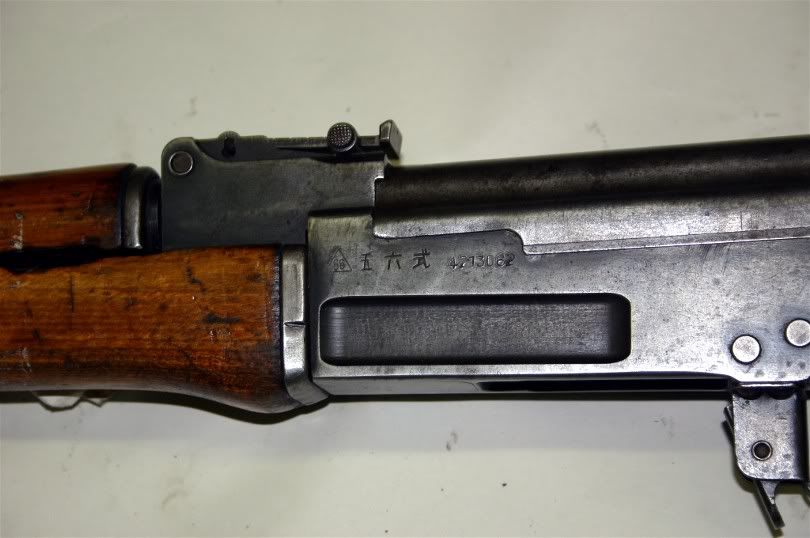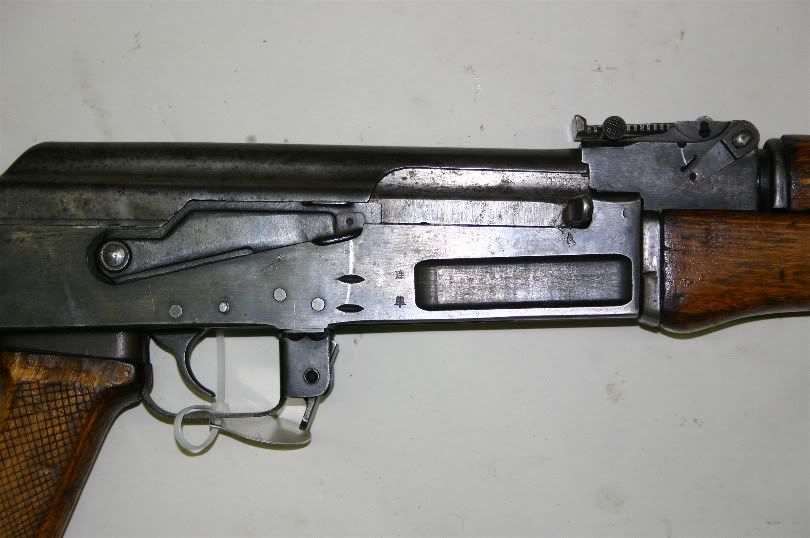 T-56, stamped-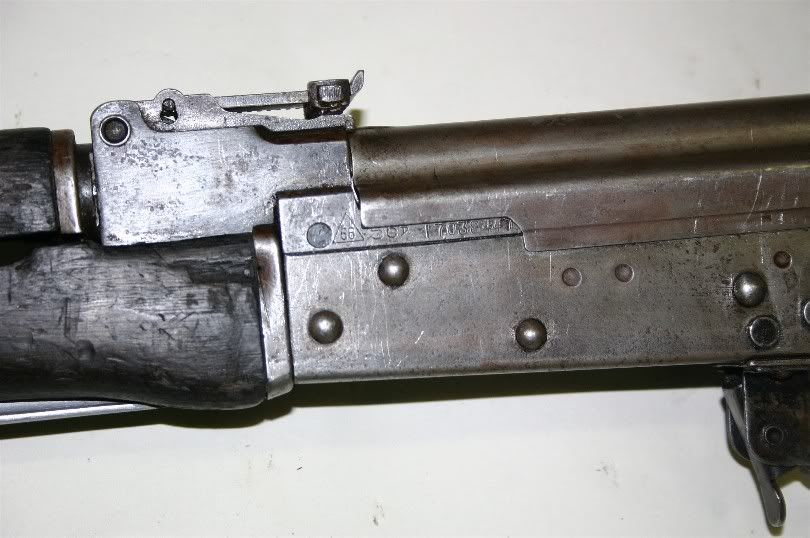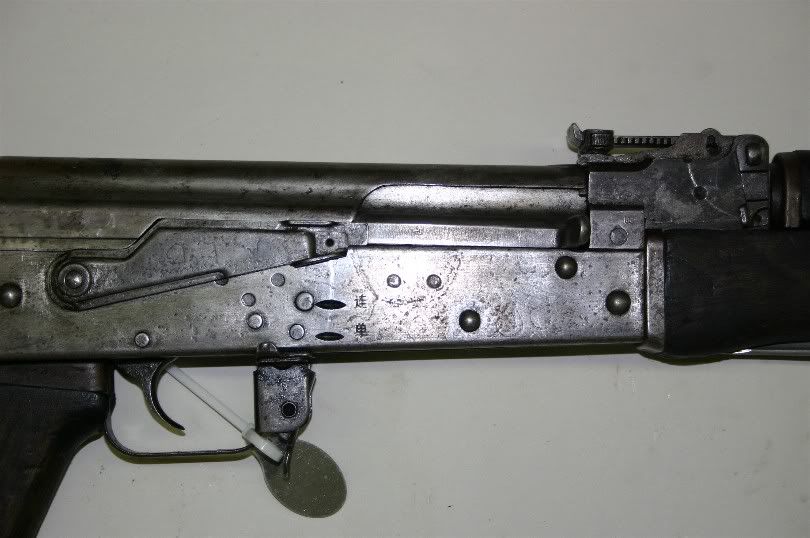 T56-1, stamped-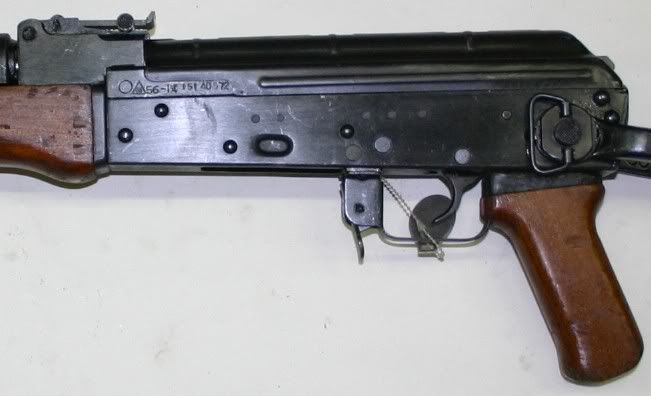 Export selector markings-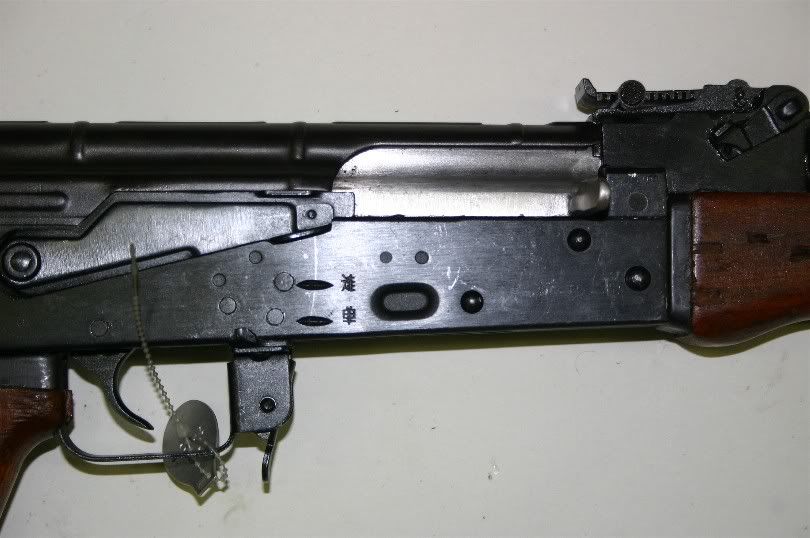 T56-1, stamped-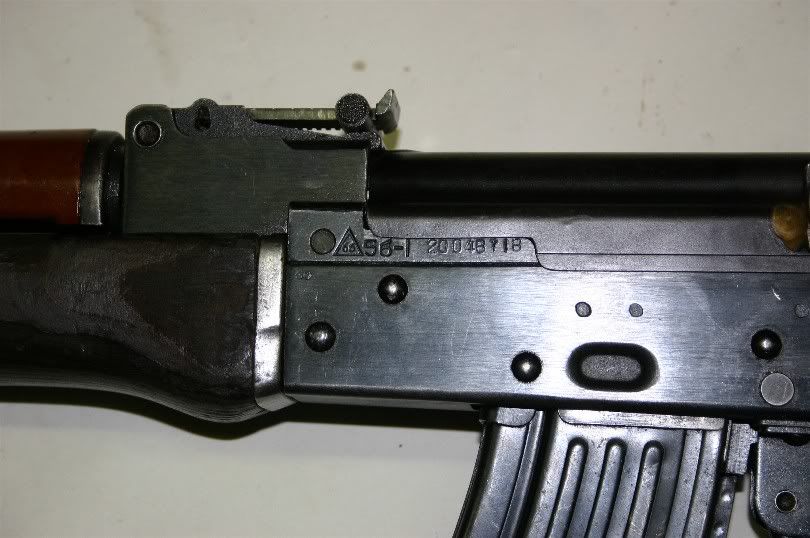 Chinese cutway-



NEW PICS, 19 Oct 04[/size=6]

Here are some pics I took this past Memorial day weekend at an AK museum exhibit in Holland. They have been posted before, but will share again.

Russian AKS-74, AKS-74U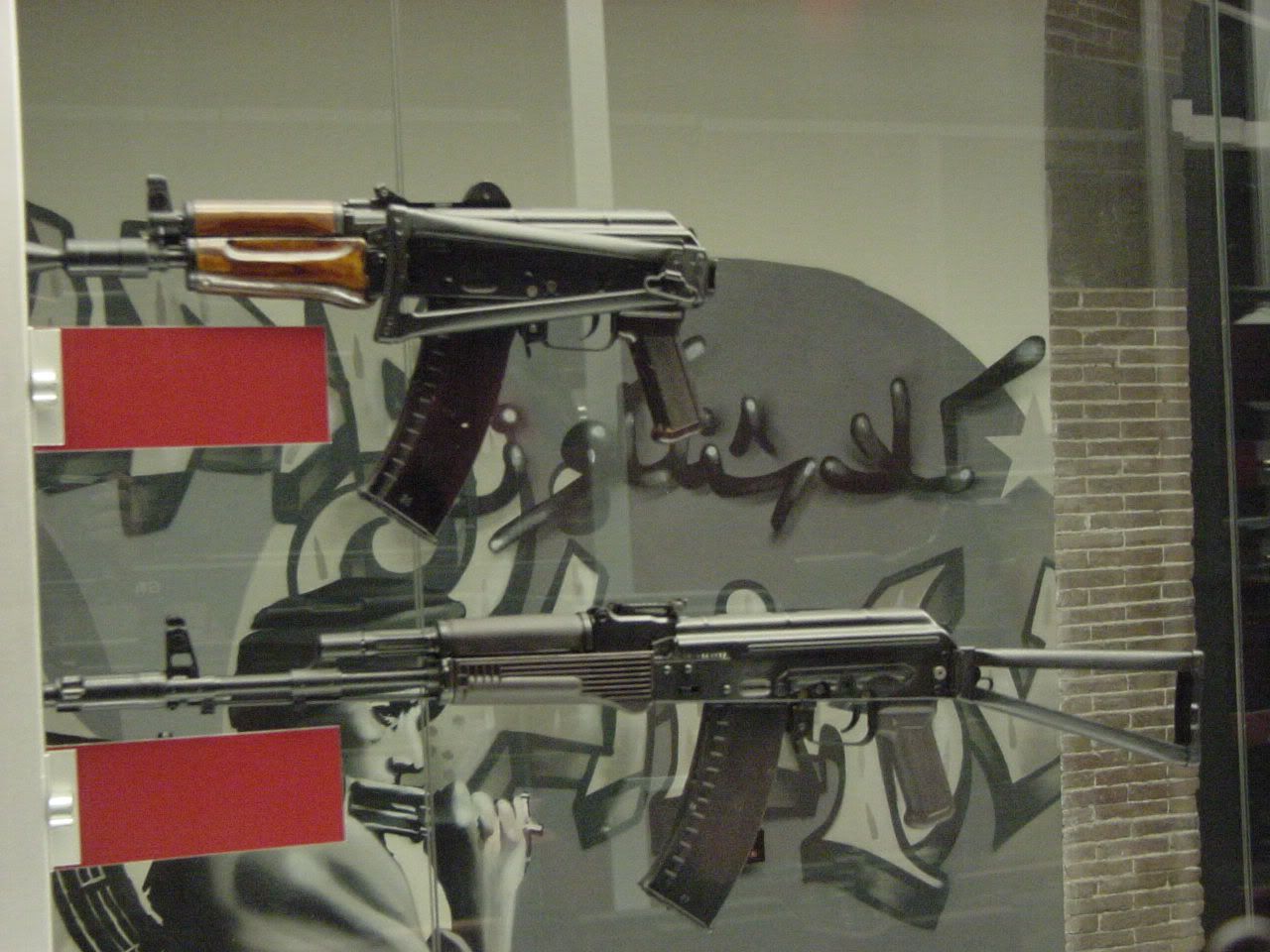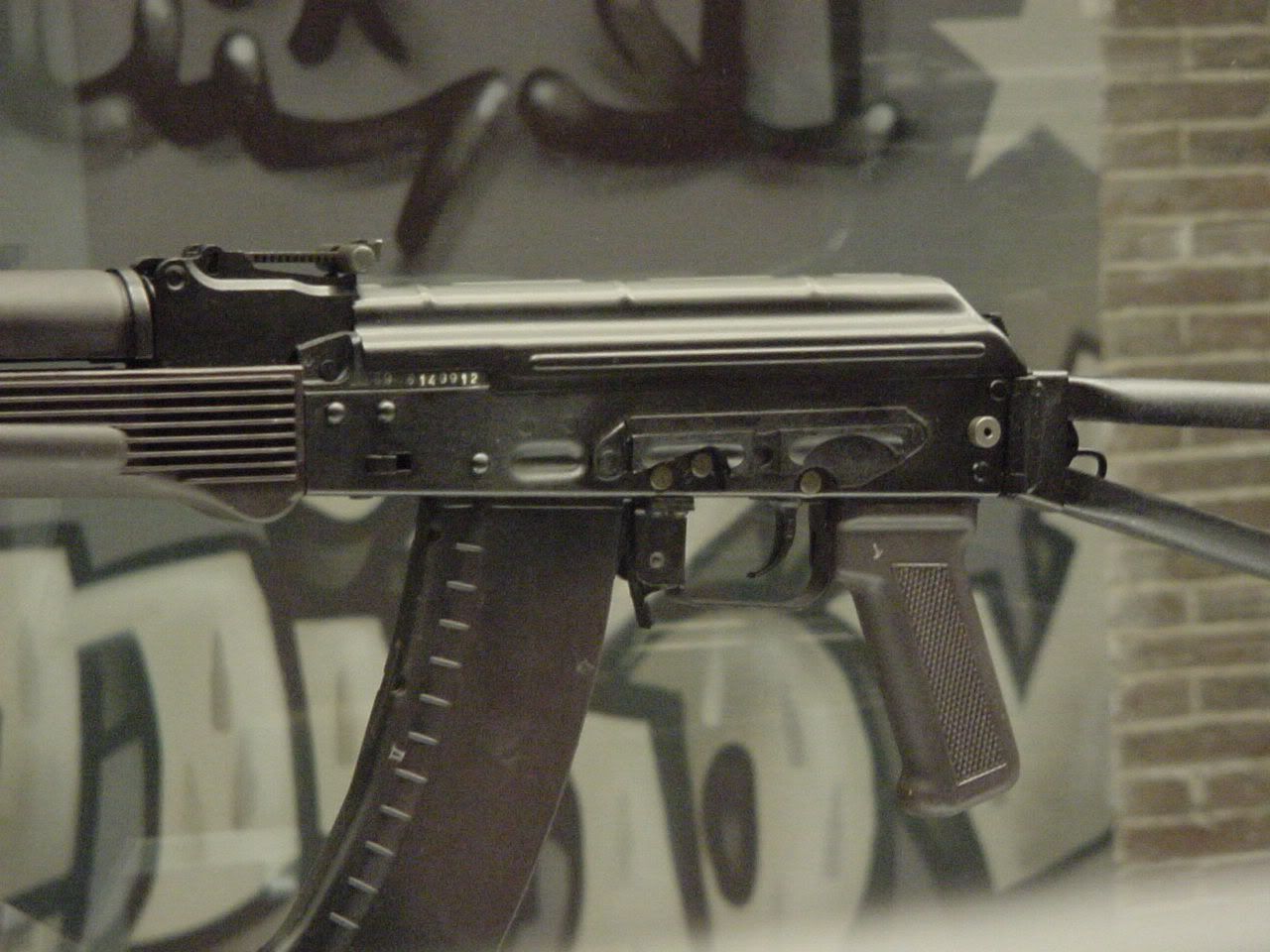 Russian AK74, RPK74-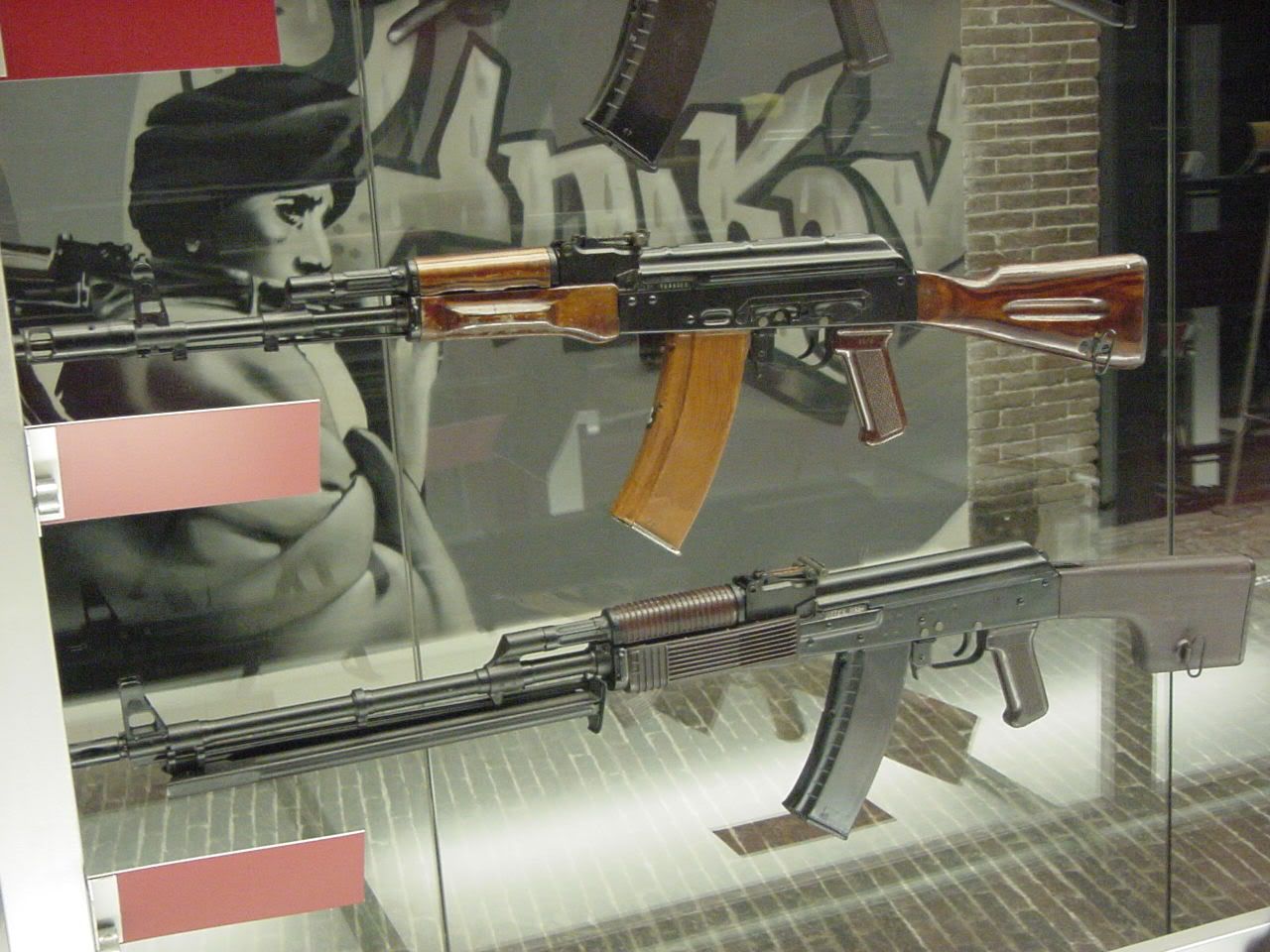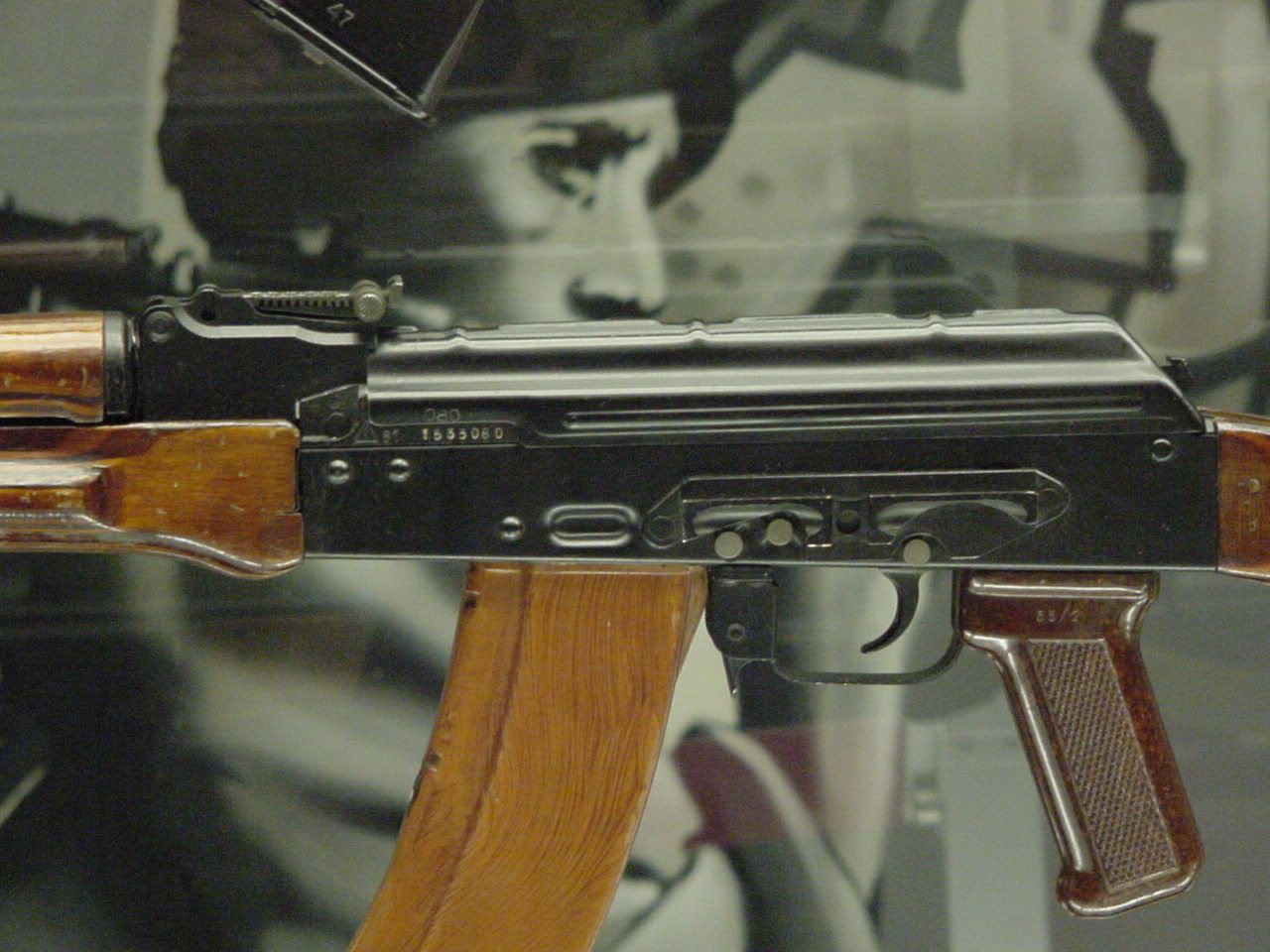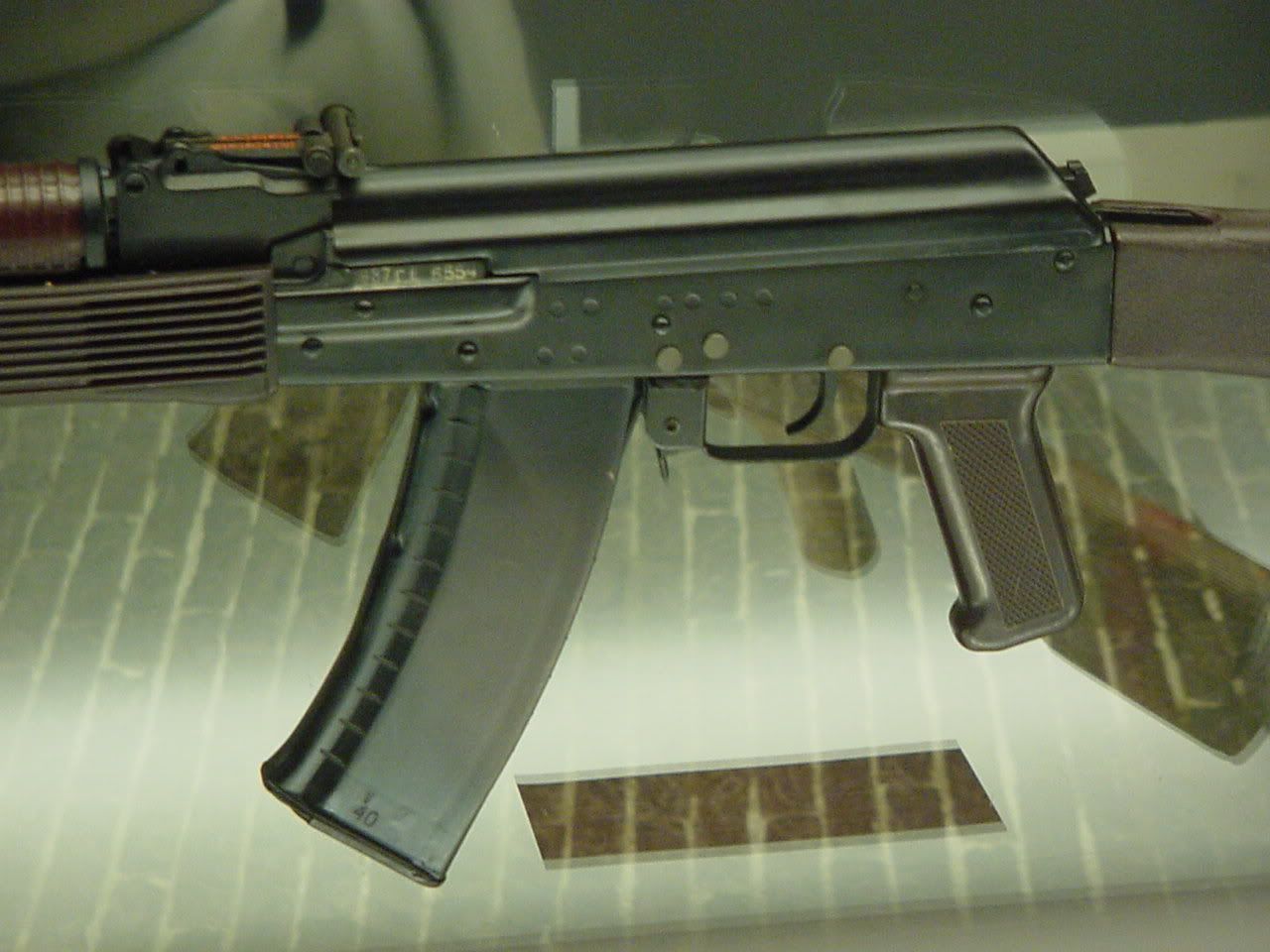 Russian AKMS with PBS suppressor-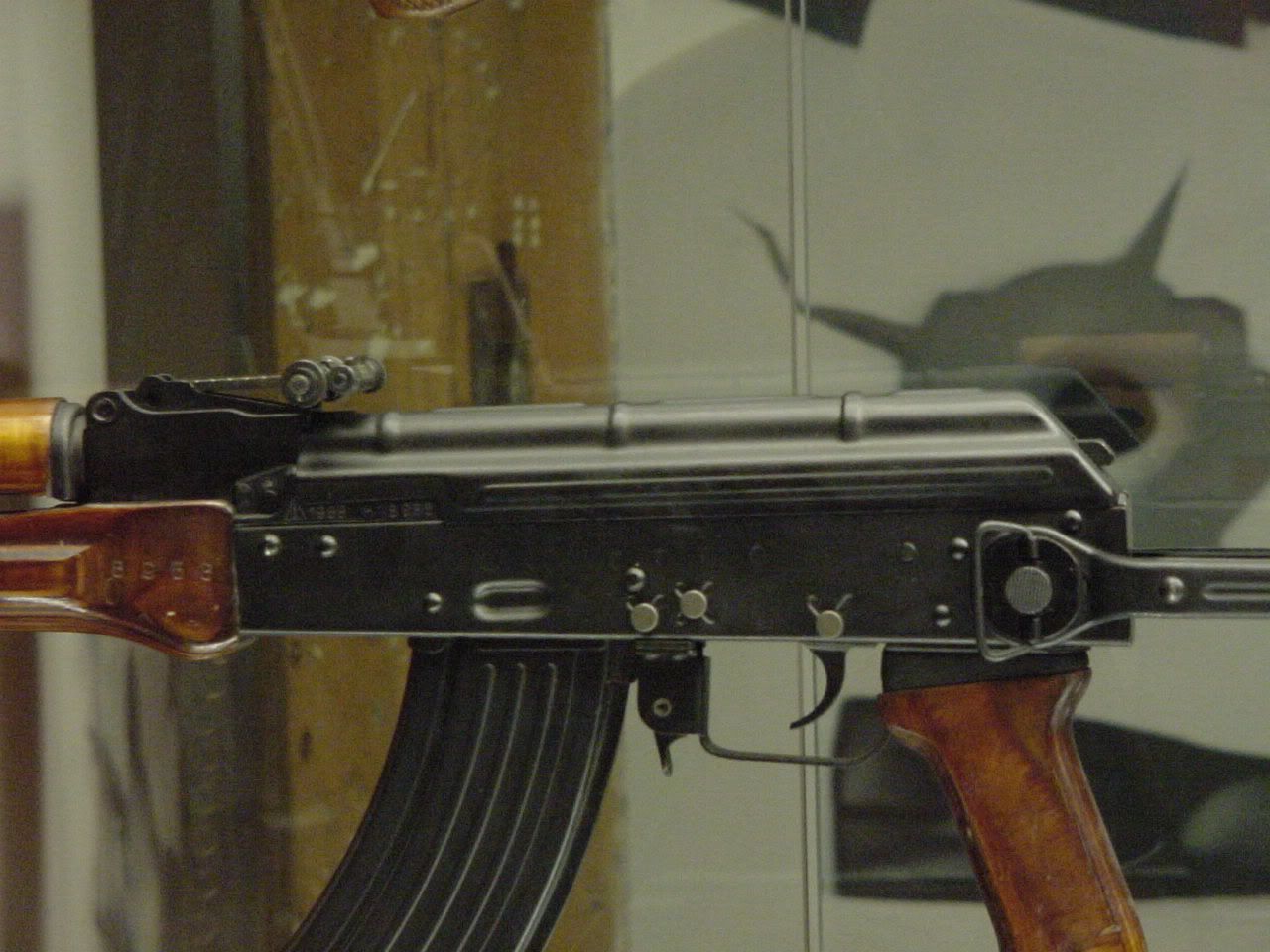 Russian AKS-47-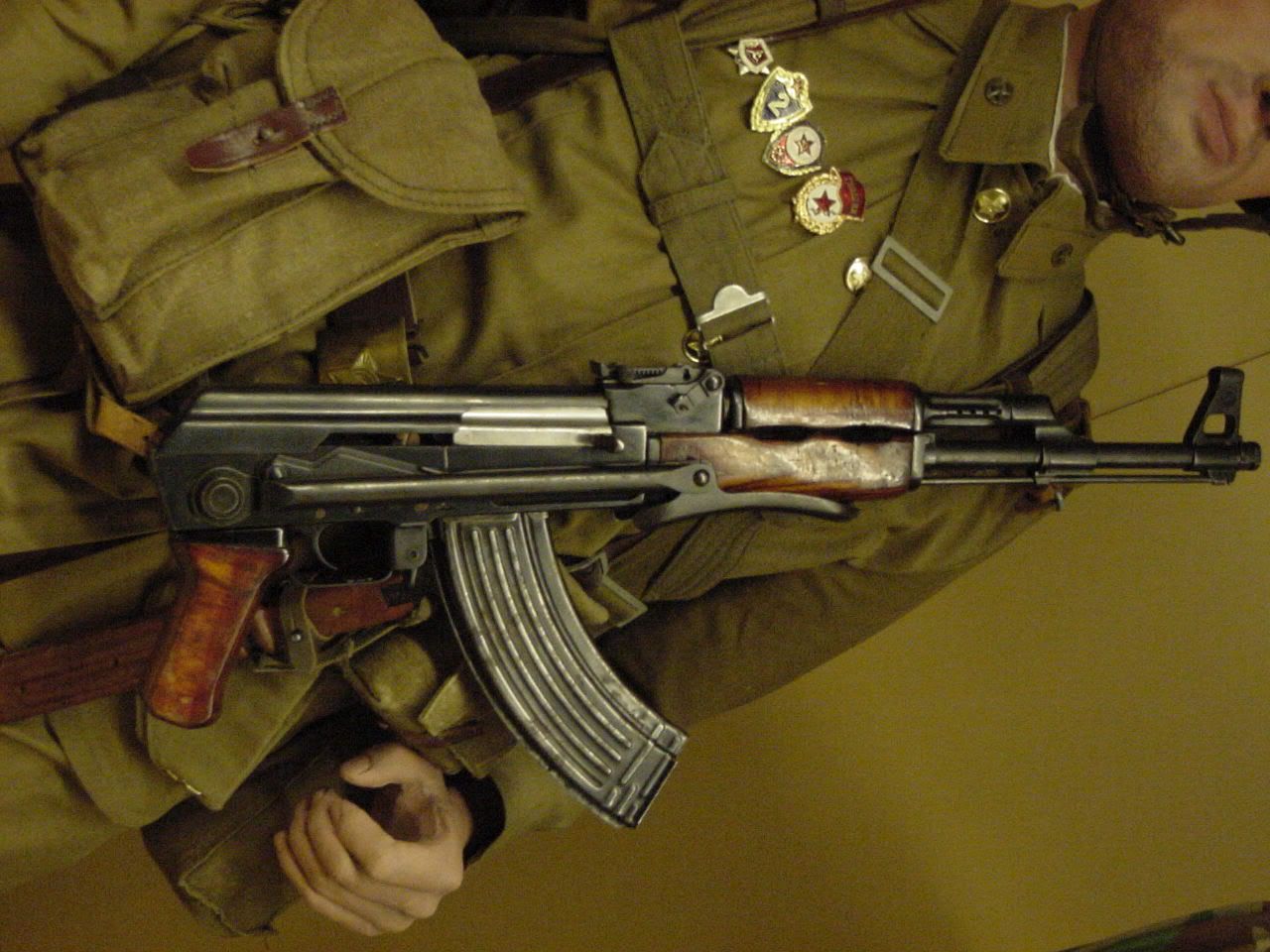 Russian RPKN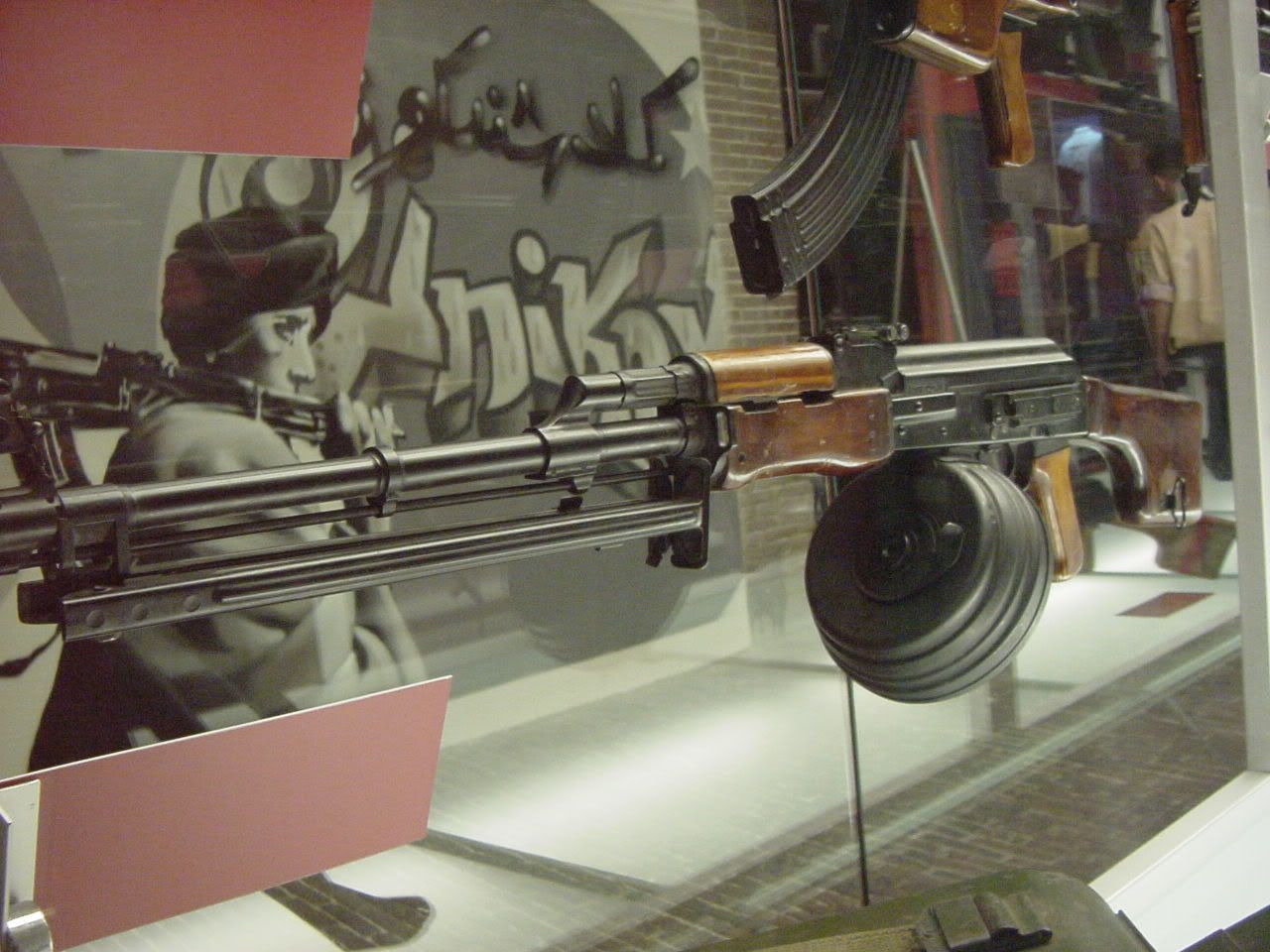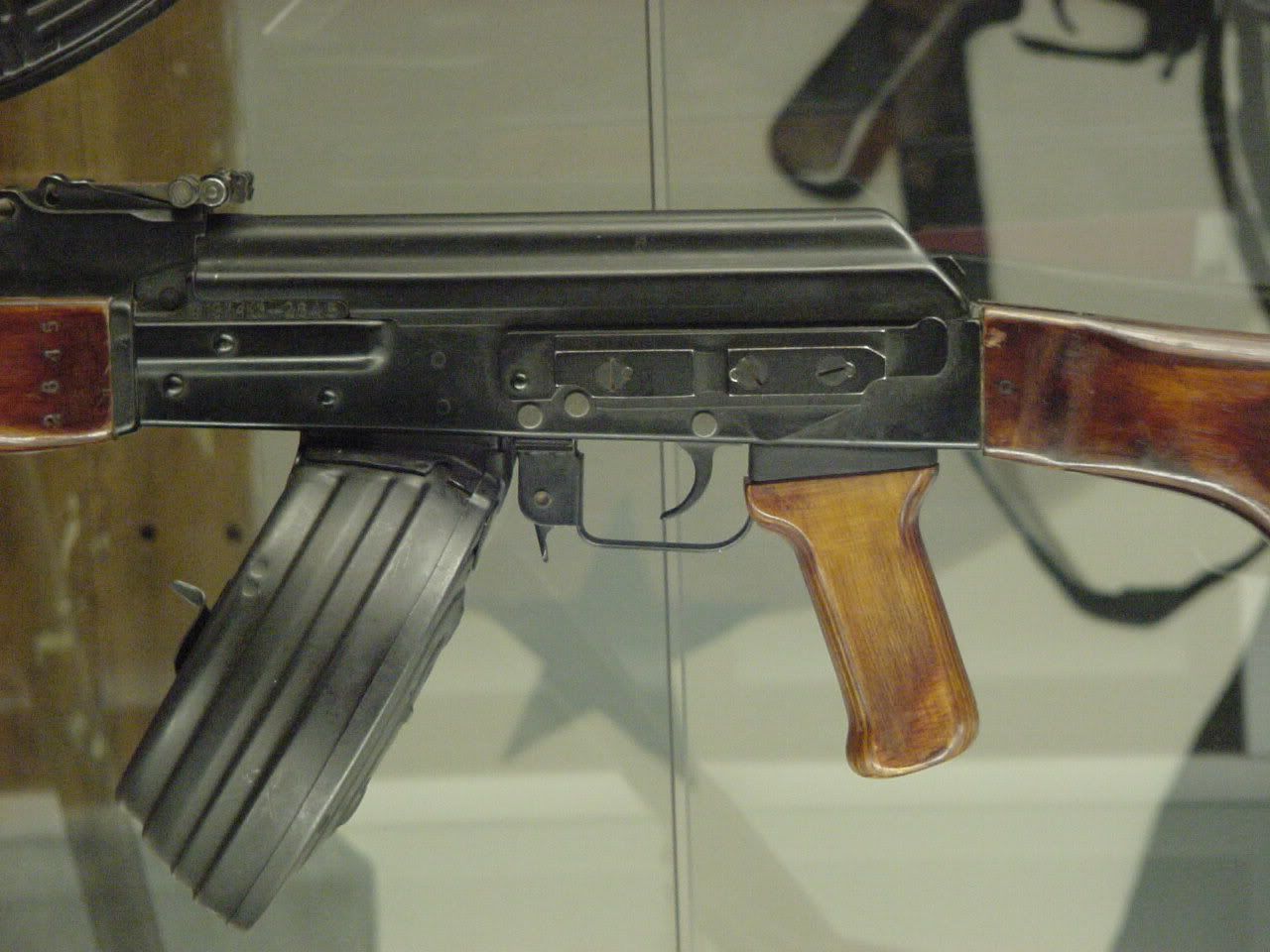 Russian RPKS-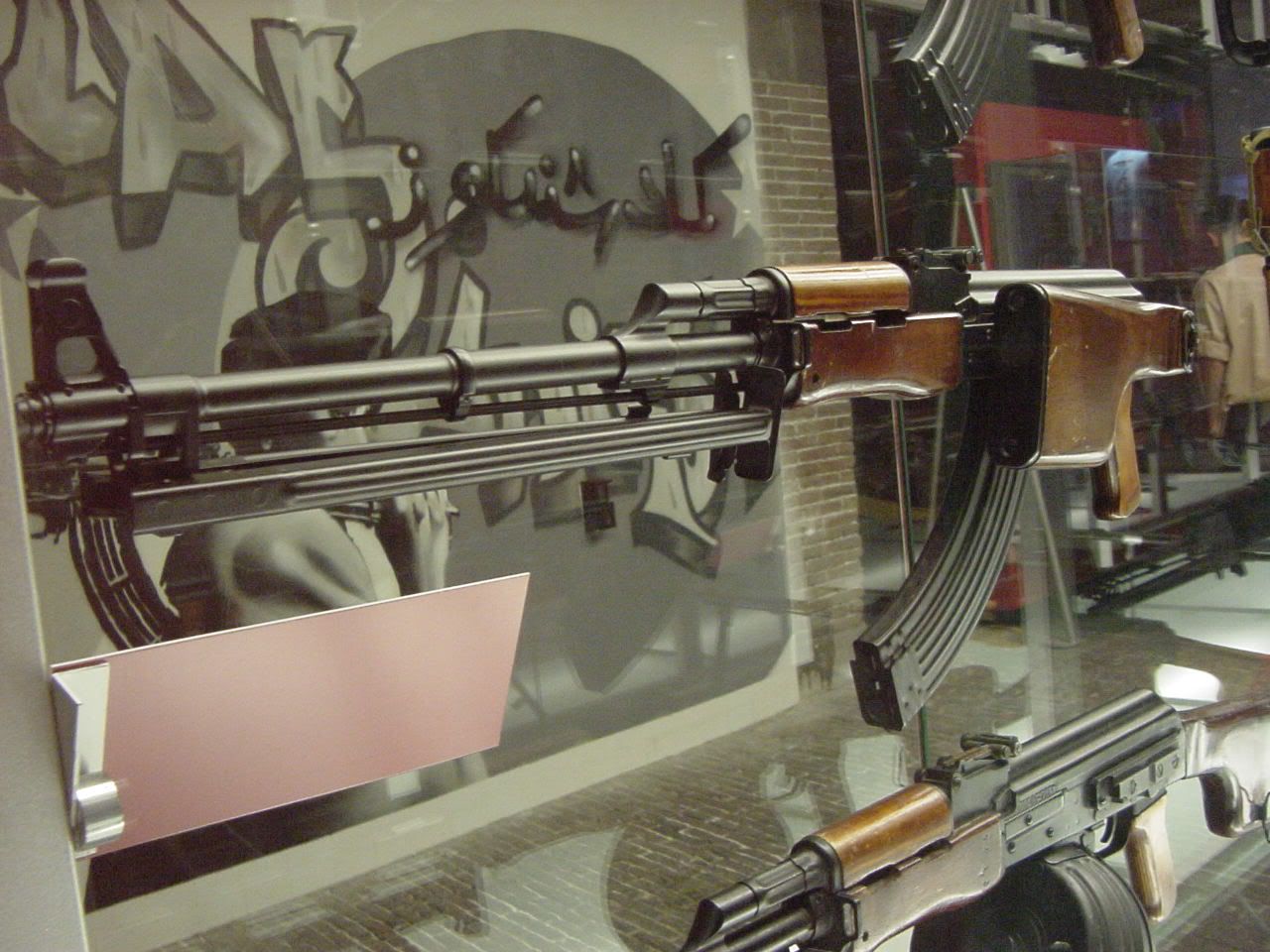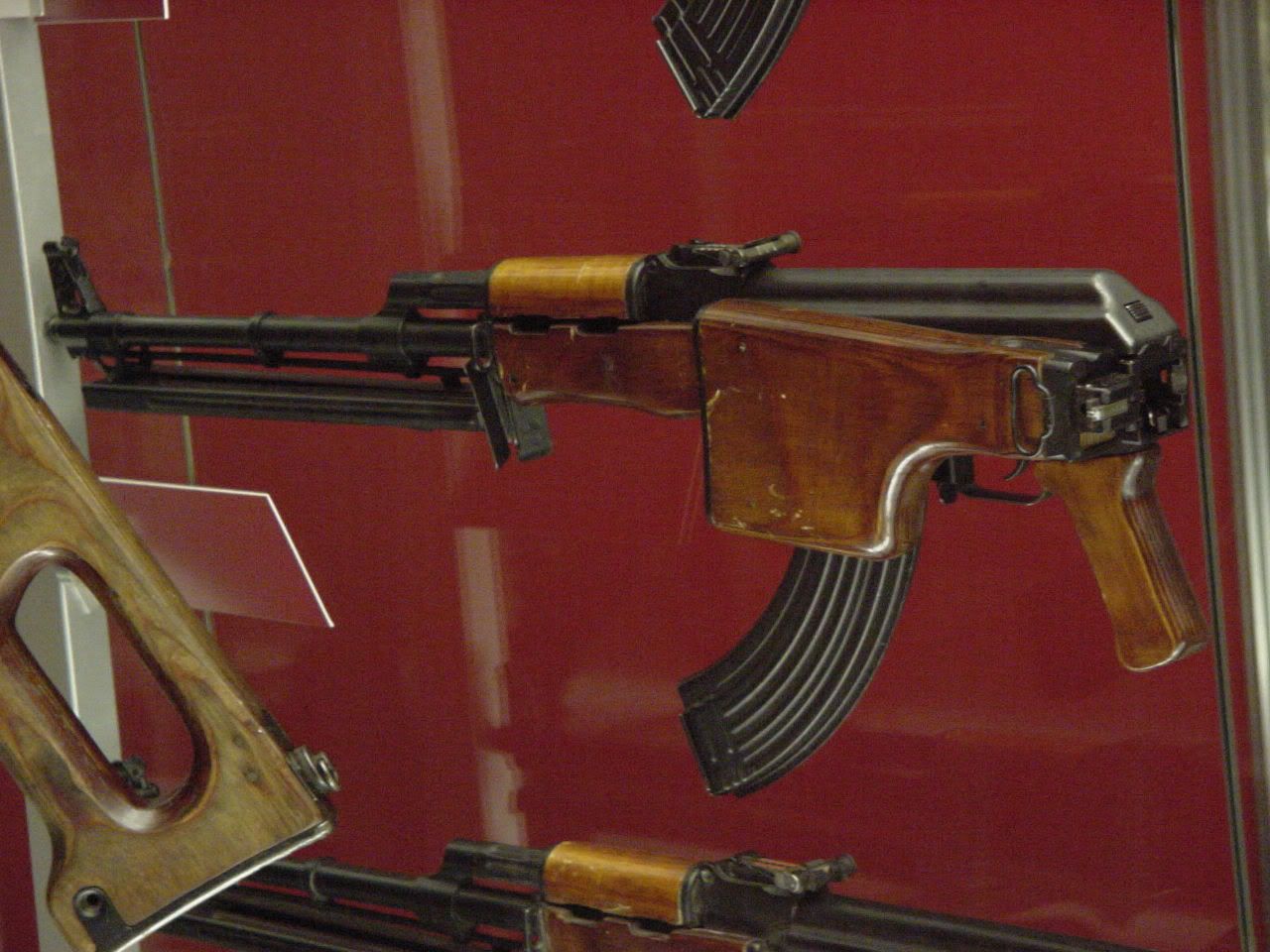 Hungarian AMD-63, AMP-69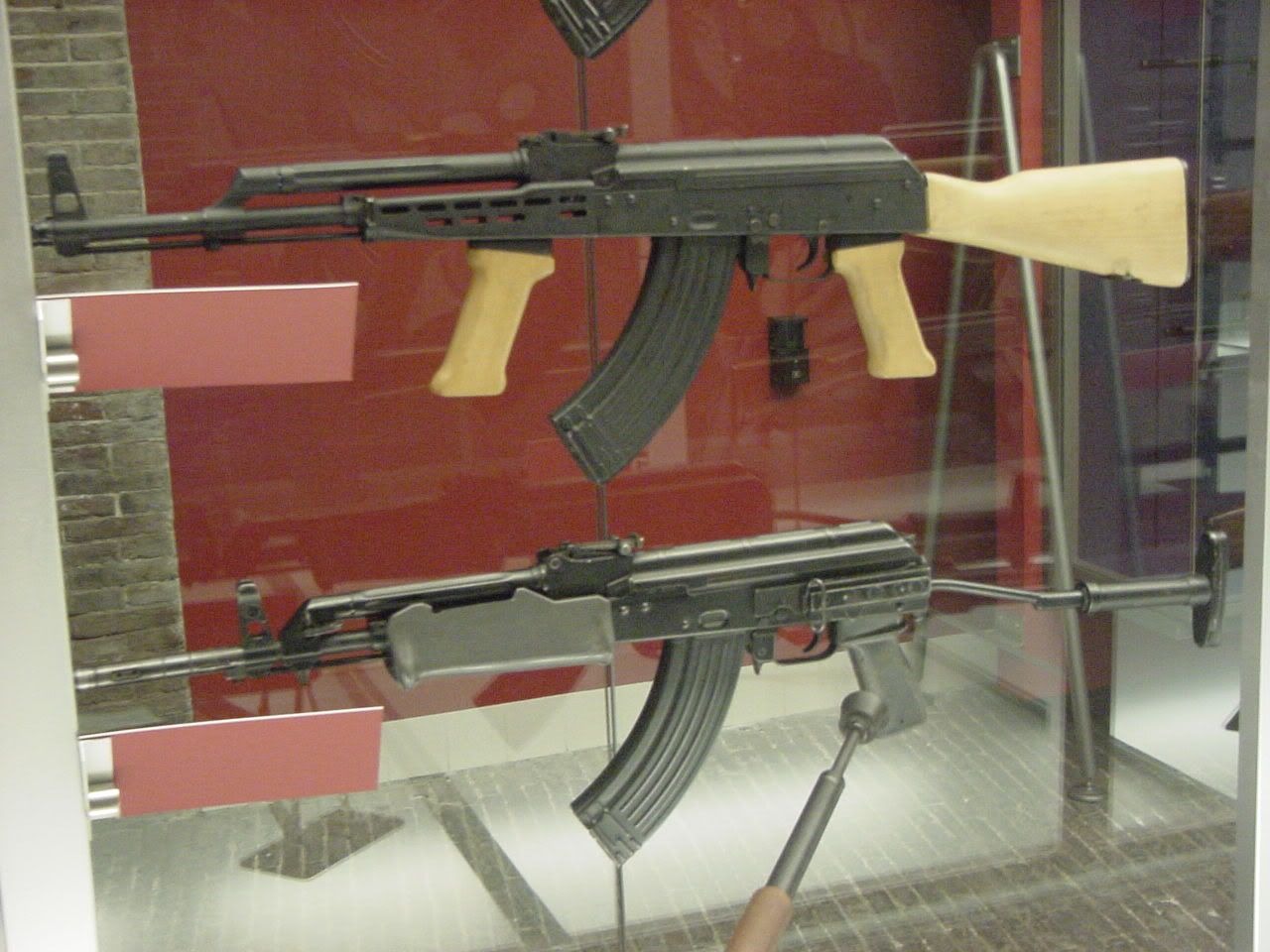 E.German AK-74, Polish WG-GS-4 riot control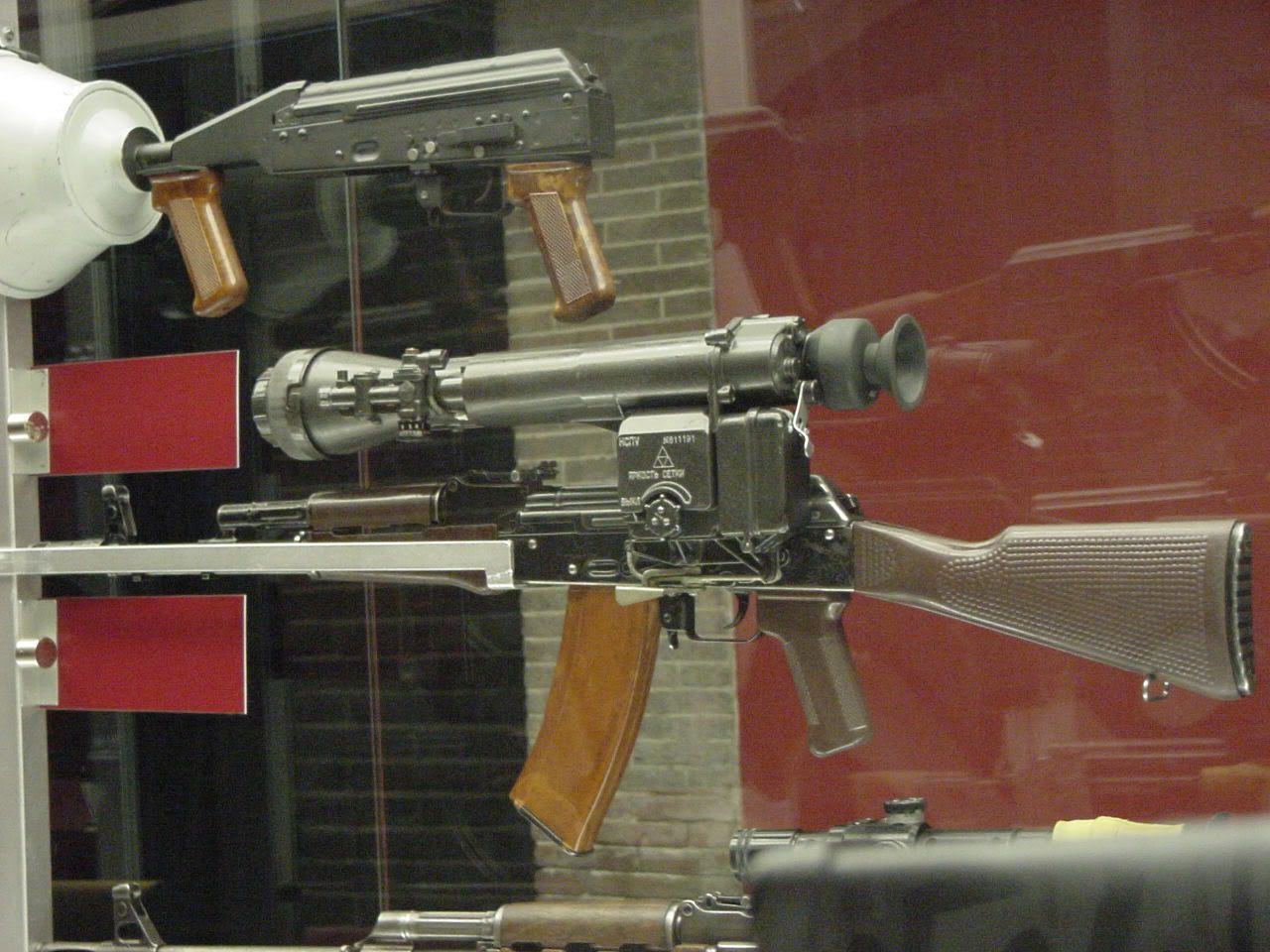 E.German short AK-74. Sometimes called the AKR-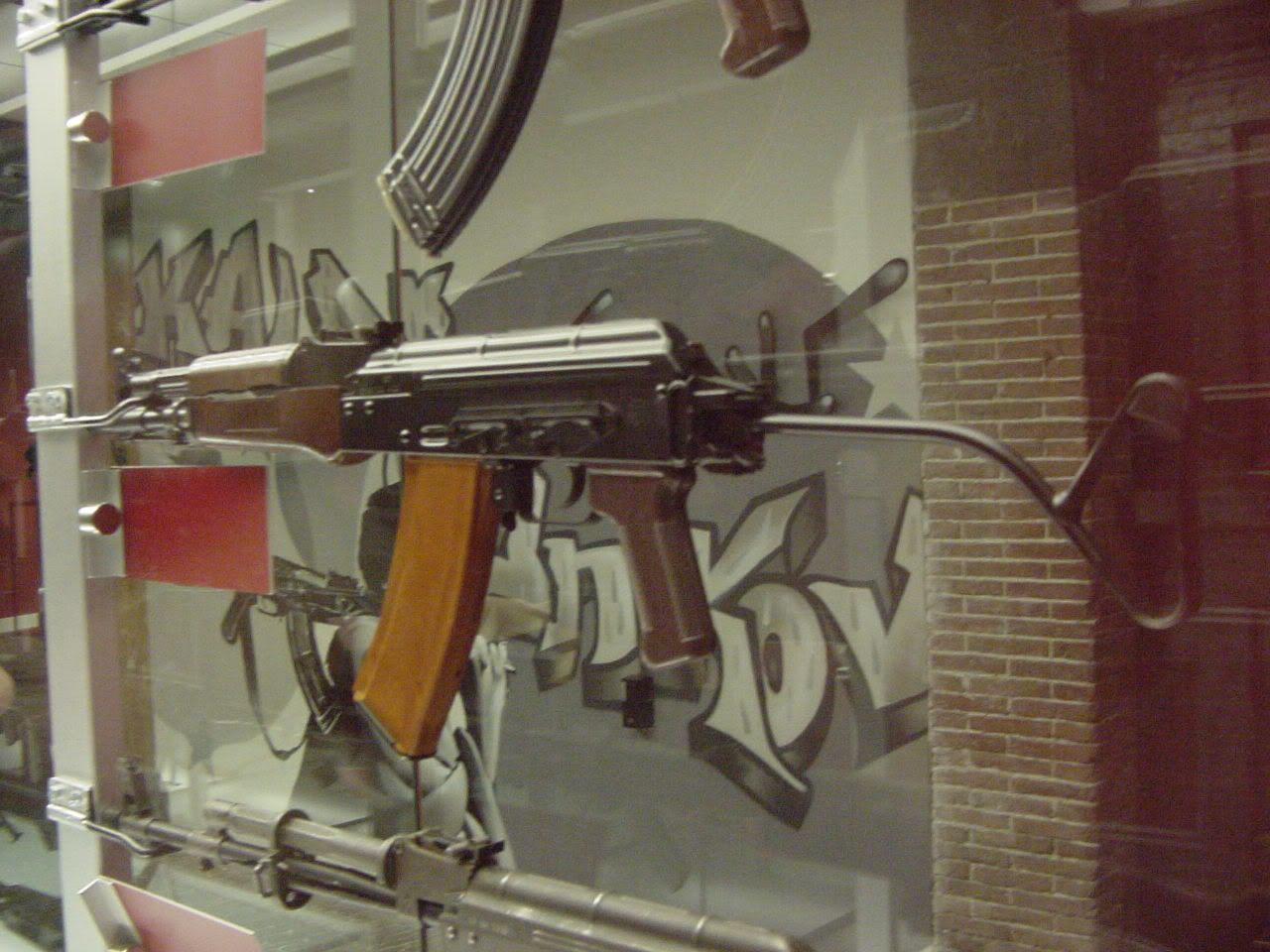 E.German AKM sidefolder, short suppressed AKM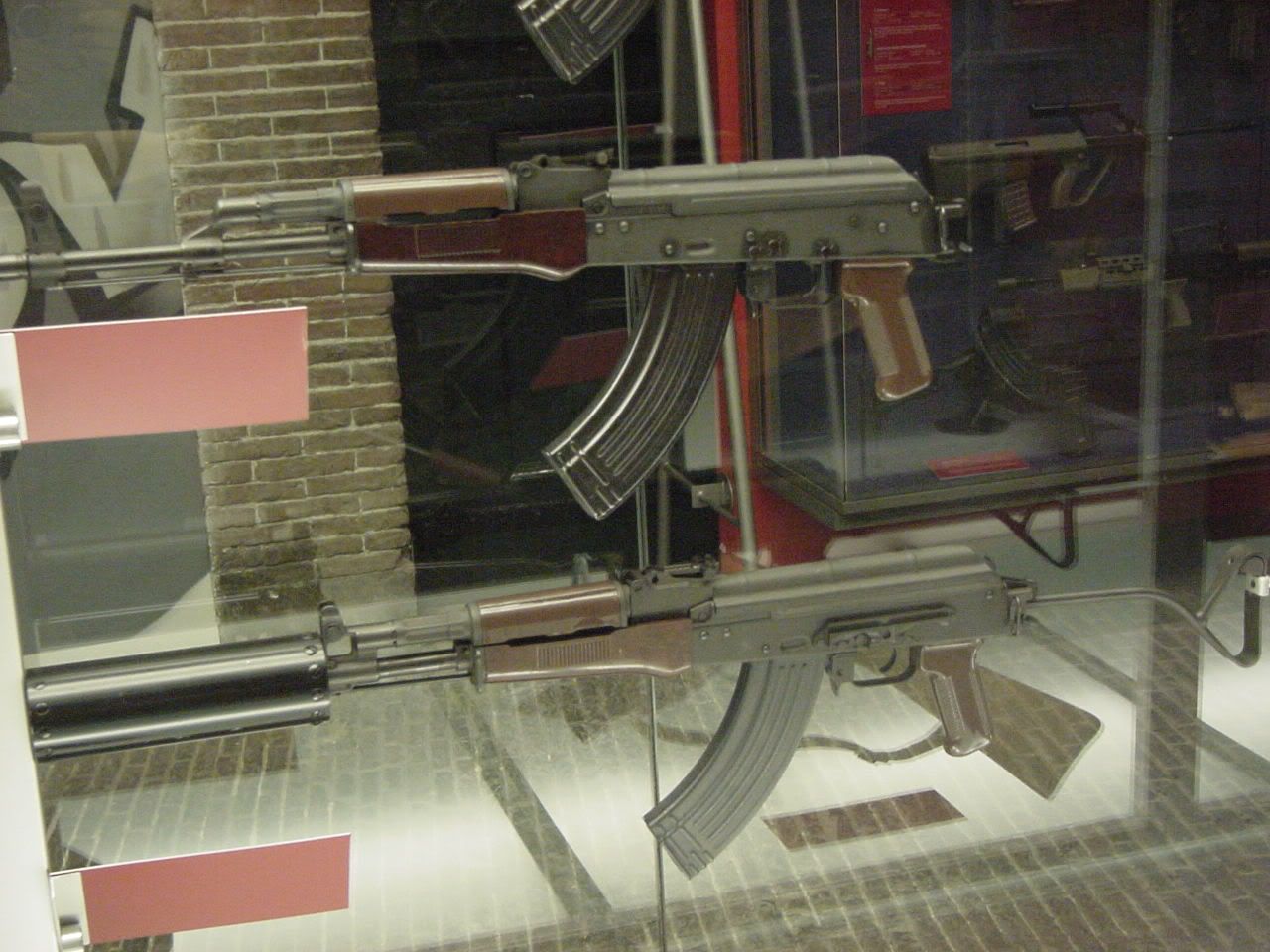 The one millionth E.German AK-



Finnish Valmet, Romanian AKM-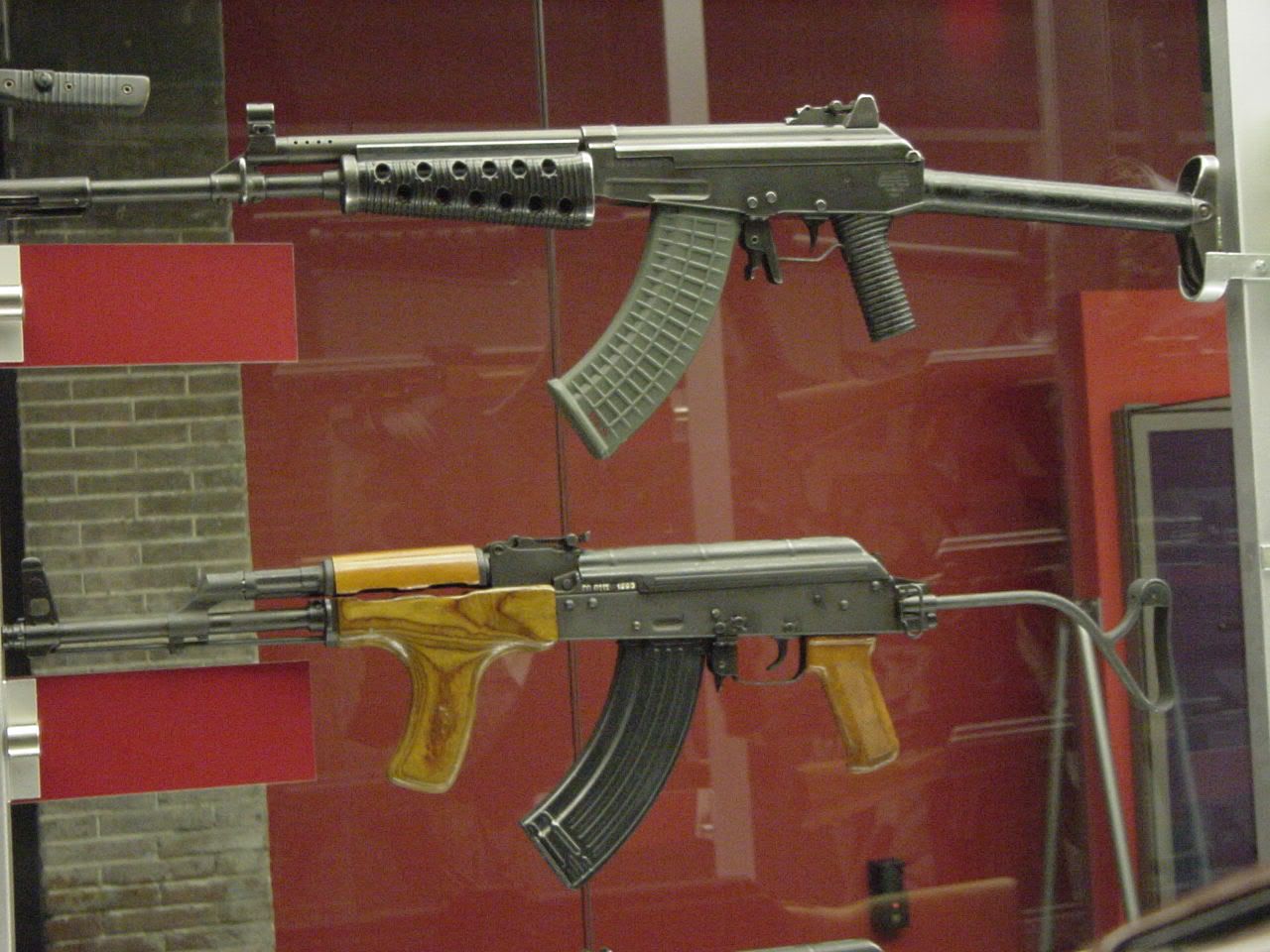 "Soldiers" with AKs-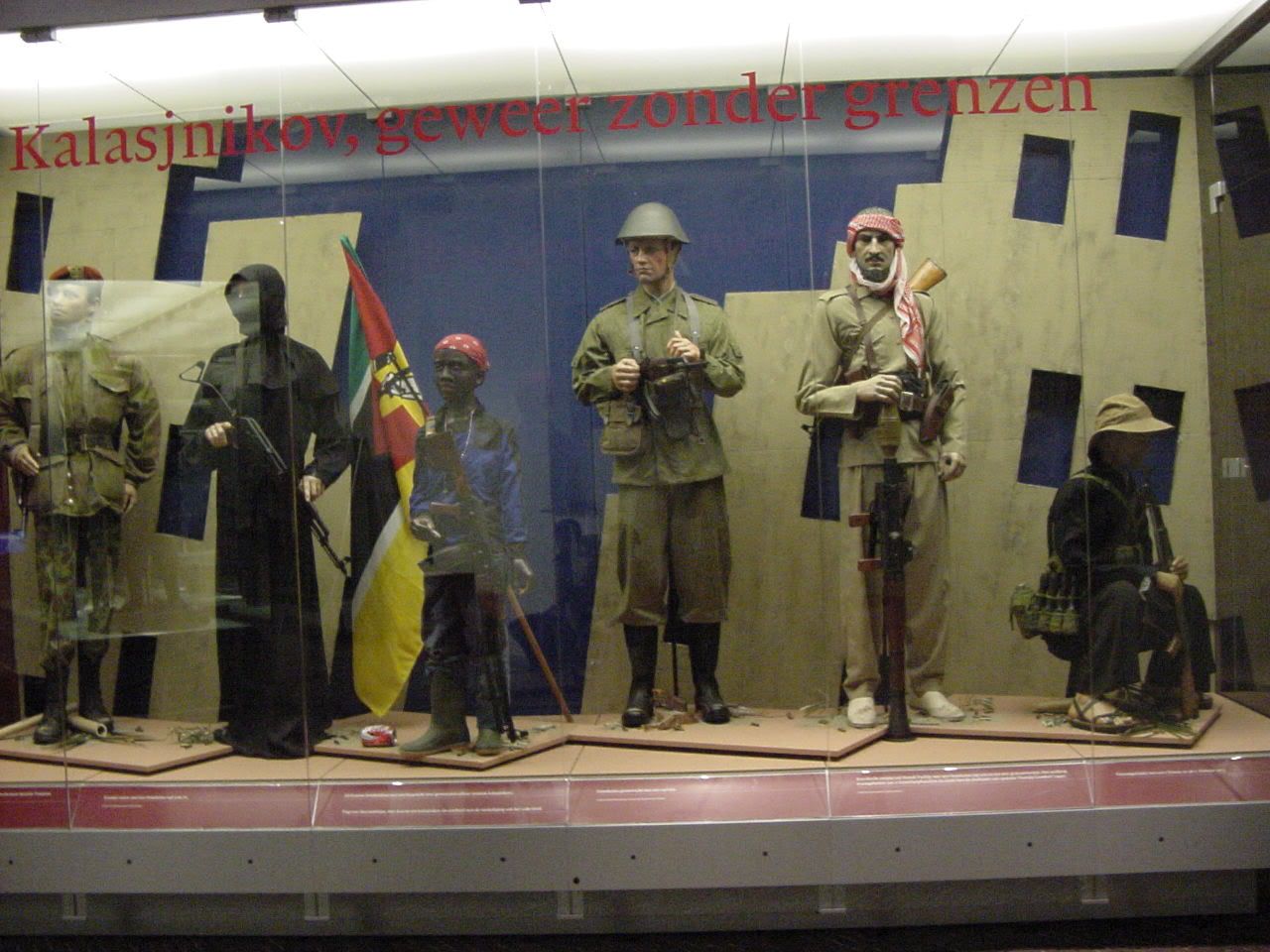 German Army museum in Dresden-

E.German infantry weapons-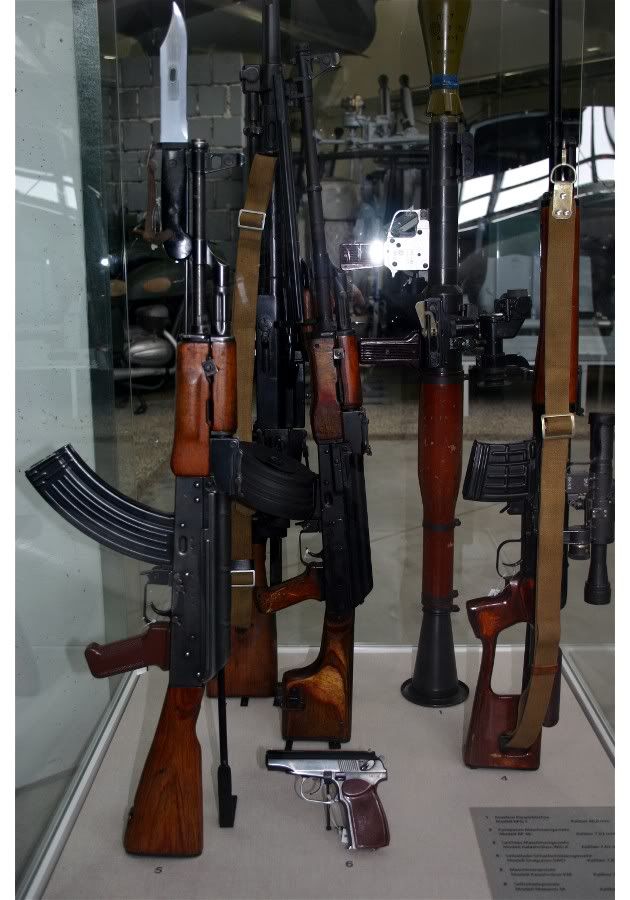 E.German AKS-47-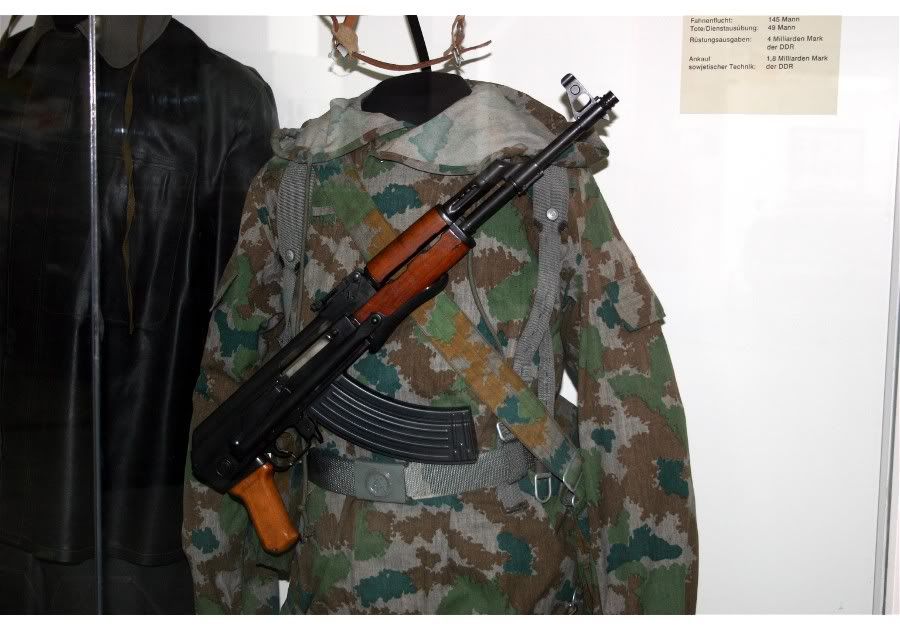 Warsaw Pact uniforms with the National AK (or CZ-58)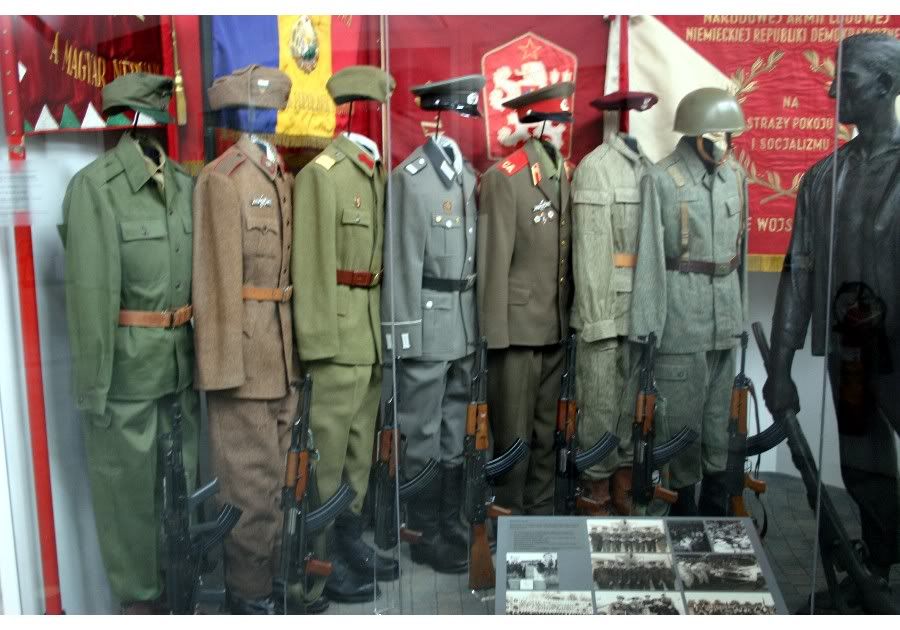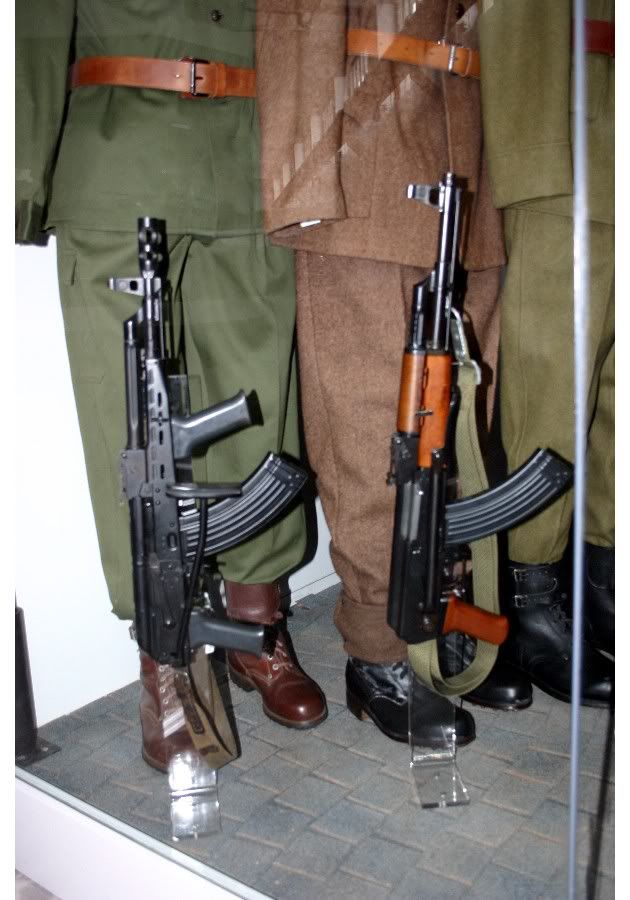 War technik museum Koblenz
Well worth the trip!

Romanian RPK-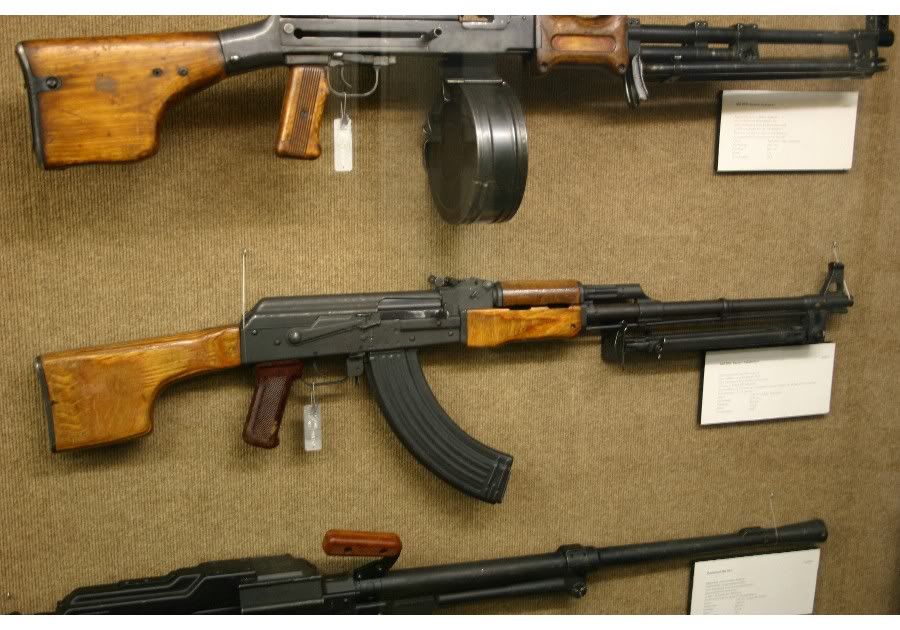 Main hall of firearms- Everything from prototypes of the G11, and FG-42 to the AK.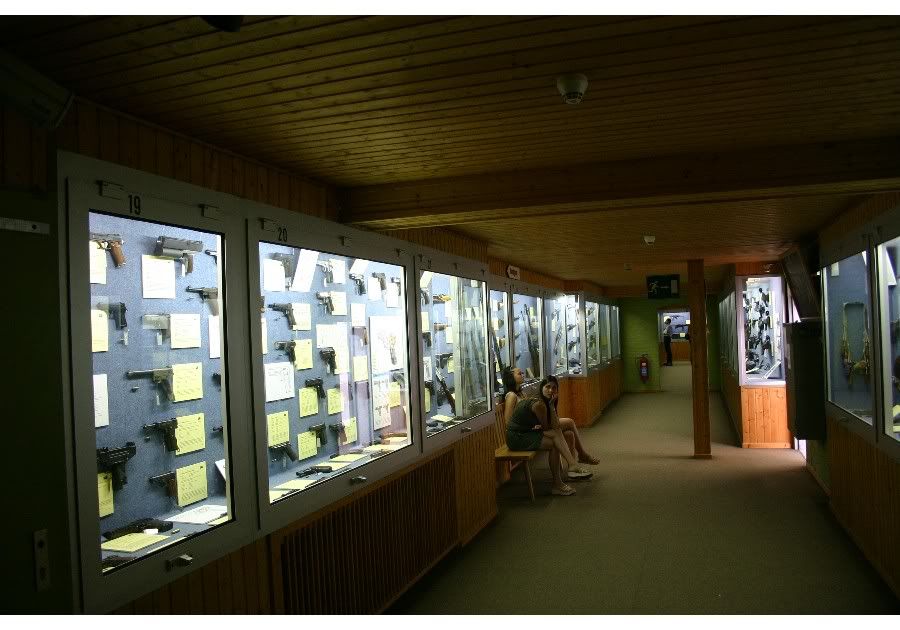 Russian underwater assault rifle-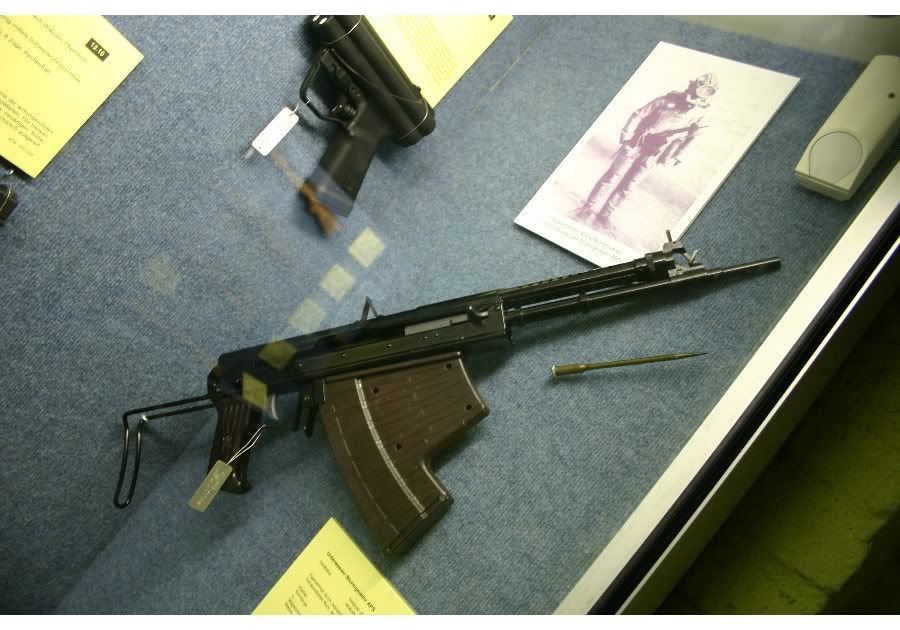 E.German sniper AK-47-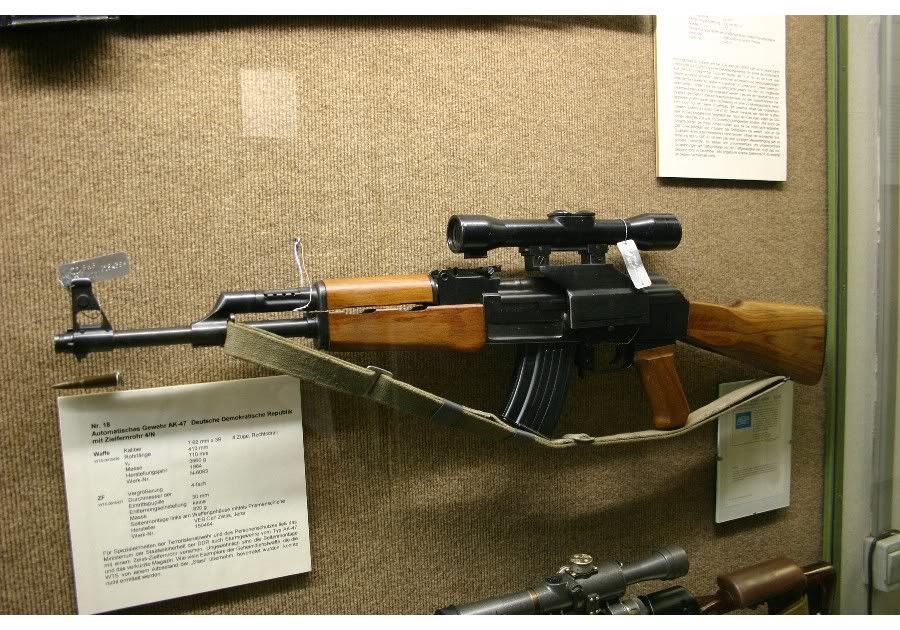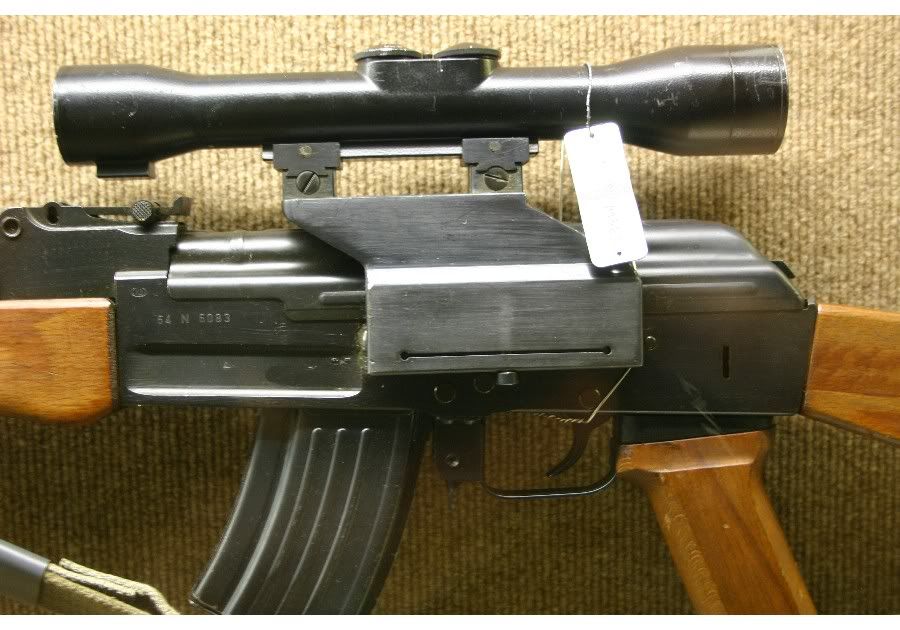 ComBloc sniper guns-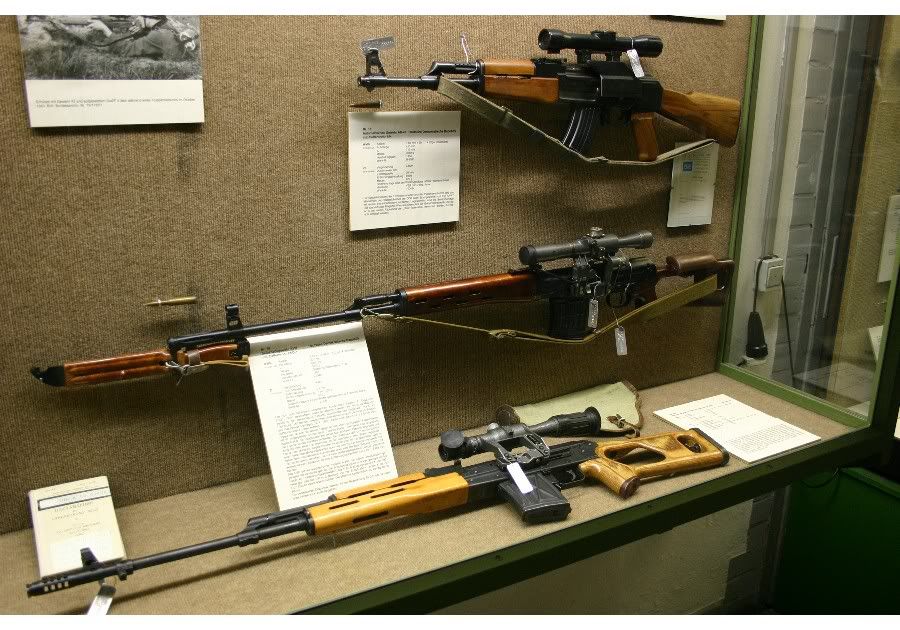 AKs-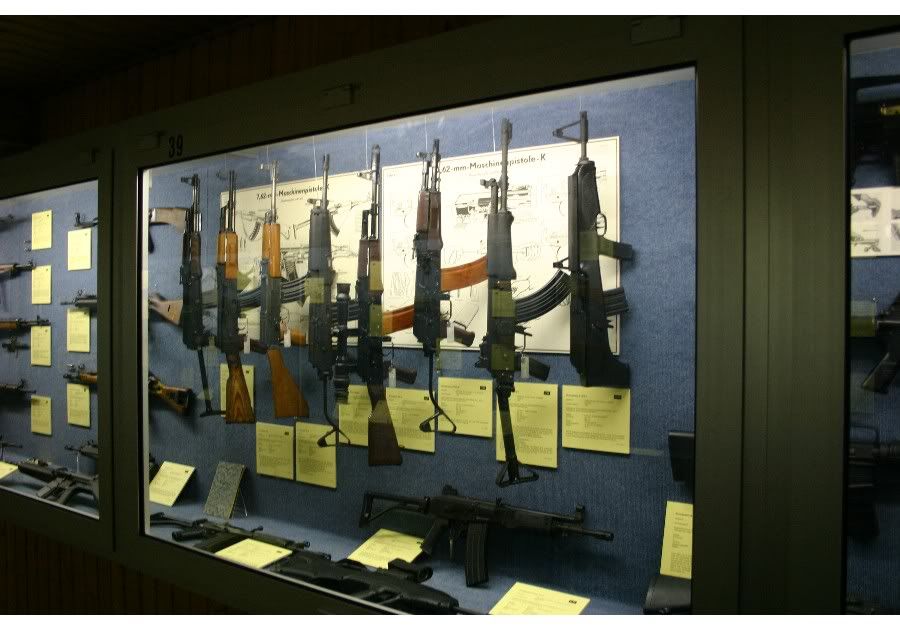 Early E.German AKM (actually a 1961 Russian gun)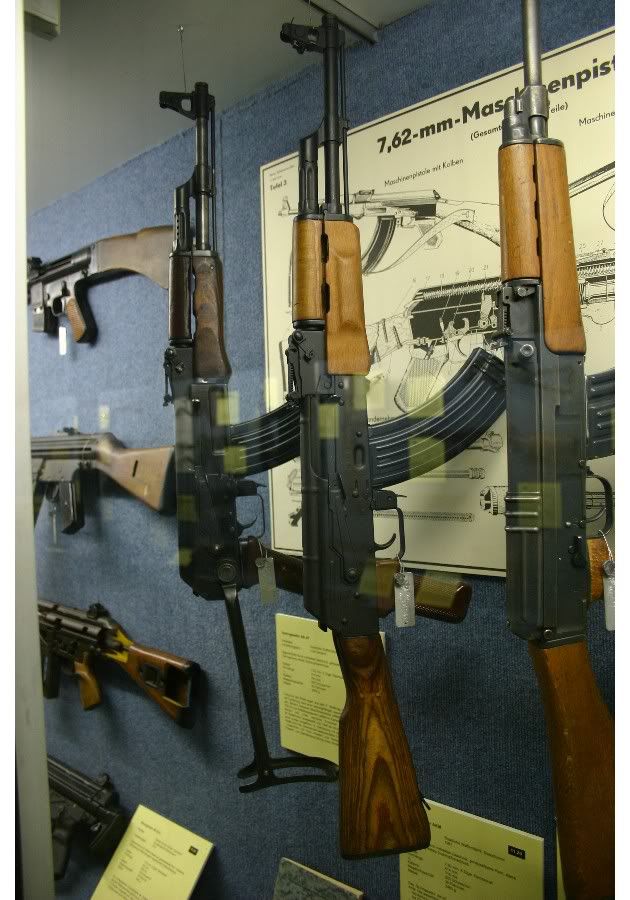 NEW 12 Dec 2005
[/size=6]​


Pics from St.Petersburg Russia AK exhibit-

Pre-production AK-74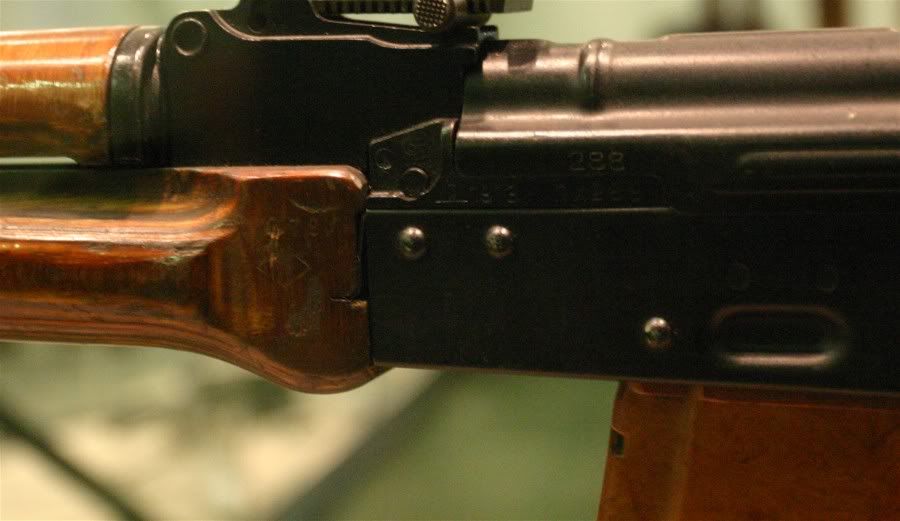 1979 AK74N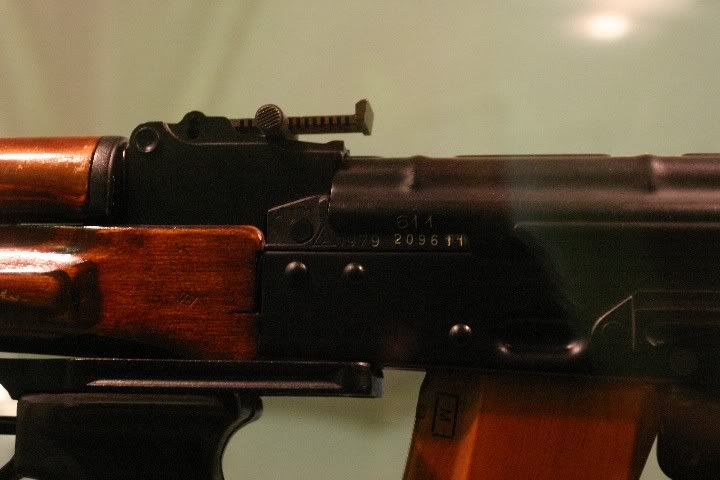 1981 dated Izhmash AKS74U with PBS5 and silent grenade launcher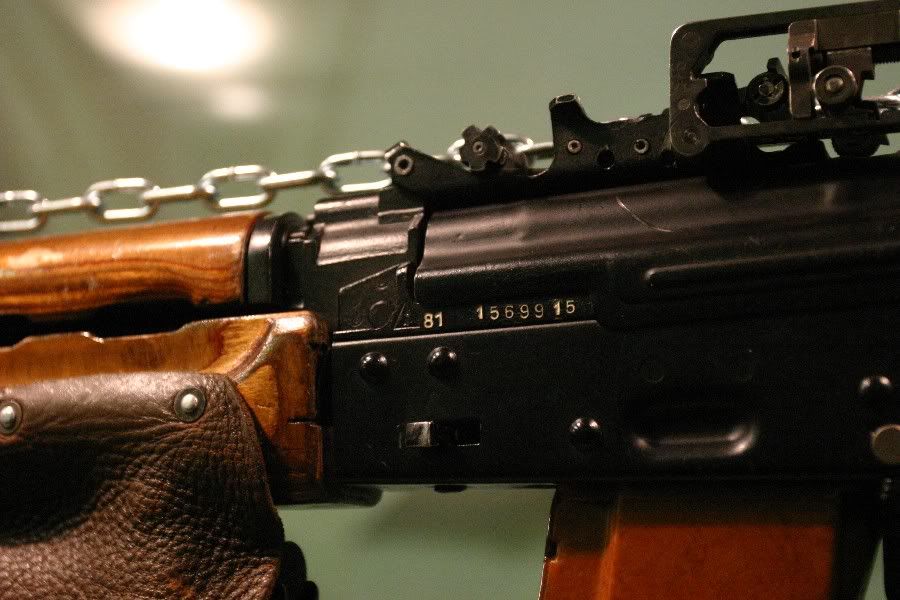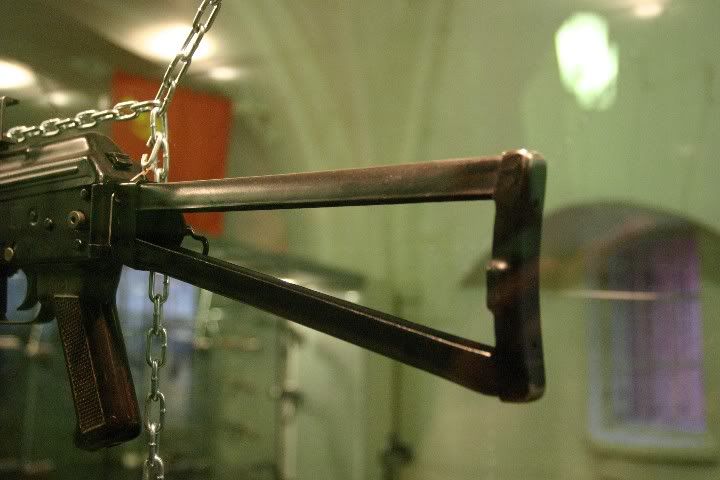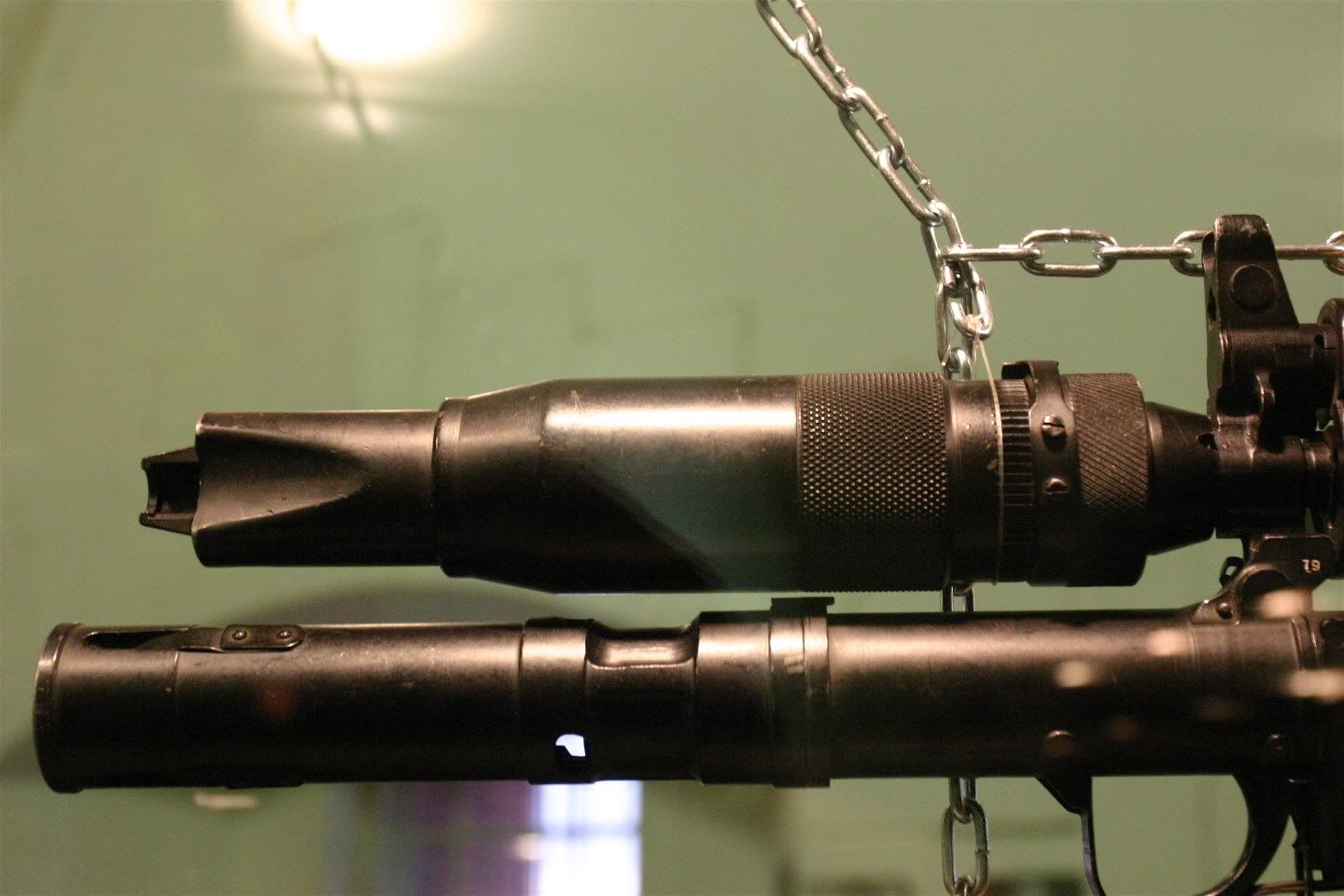 1984 AKS74U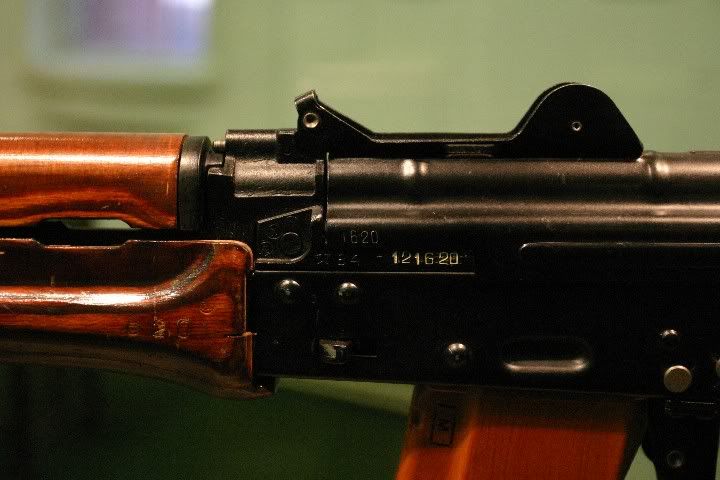 RPK74M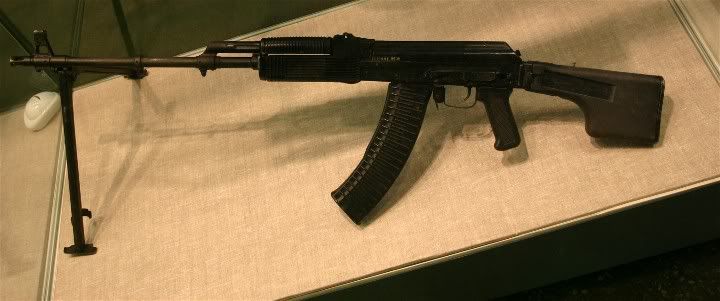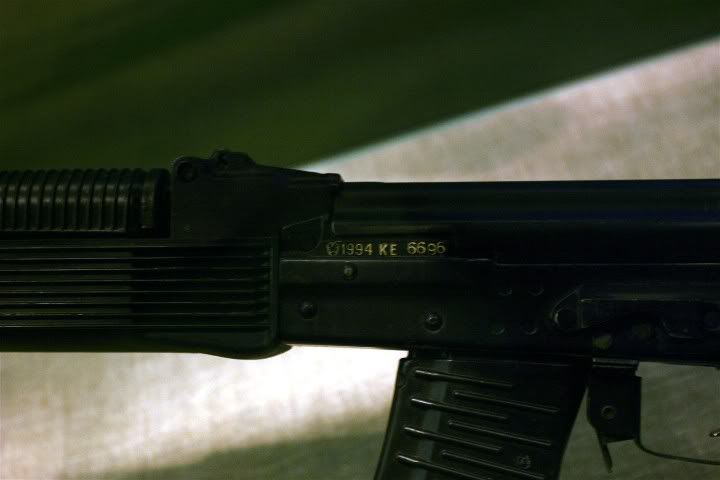 RPK74N