(detail to show brush strokes)
(color and gloss comparison)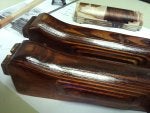 Okay, edit of my original post so these show up front page. Today I received the dyes that I needed to color my varnish. If you notice the detail in the photo, The gloss as well as the texture matches the part with the genuine factory applied finish. Many years ago, I suspected that the materials I had in mind would match those features even more so than shellac. Shellac has a higher elasticity, and thus up to this point every shellac finish I have seen matches color well, but not gloss and texture. Russian parts have three elements; gloss, color, and texture.
The finish you see was applied with a fine painter's brush over a sealant, with no steel wool or other procedure.
Today I find my results even more compelling and would like to know where or what source declares the original finishes are shellac. What I have used is quite far from natural ingredients. Let me know what you think.