Discussion Starter
·
#1
·
I got asked in a PM about the tooling for setting the large, flat head, rear anti-slap trigger guard rivet you can get from K-Var (
The Largest AK-47/74 Rifle...
). This rivet works with any "AK-74" style trigger set, of which the K-var AK-922S is an example (
The Largest AK-47/74 Rifle...
).
I used a 1" peice of round stock as a bucking bar, and cut it an at angle to match the bottom of the receiver:
I used a flat end mill to mill a flat bottomed 'cup' in the bucking bar - just deep enough to contain about half the depth of the head. The idea is the cup should be sized appropriately to support and contain the head so the head won't deform when crushing the formed side of the rivet. Be careful though, don't go too deep with the end mill - If the hole is too deep, the flat head will actually "form into" the cup, and it will be very difficult to separate the bucking bar from the rivet after completing the 'crush'.
Note that the angled cut of the bucking bar means that there is a 'proper' orientation of the bucking bar that needs to follow the angle of the receiver bottom. However,
that was me overthinking things
. You don't need to do this if you shim the receiver to make the bottom of the receiver relatively level when you crush the rivet. See the following photo:
Notice that I'm using a wooden shim to set the bottom of the receiver level relative to the press force. If you do this, then you don't need to cut the angle into the bucking bar.
I tried a couple of methods for crushing that rivet, but in the end, I settled on simply using a scrap piece of half-inch bar stock set on edge as an 'anvil' to form a flat rivet head. The Russians formed that rivet flat for the -74M and -100 series rifles: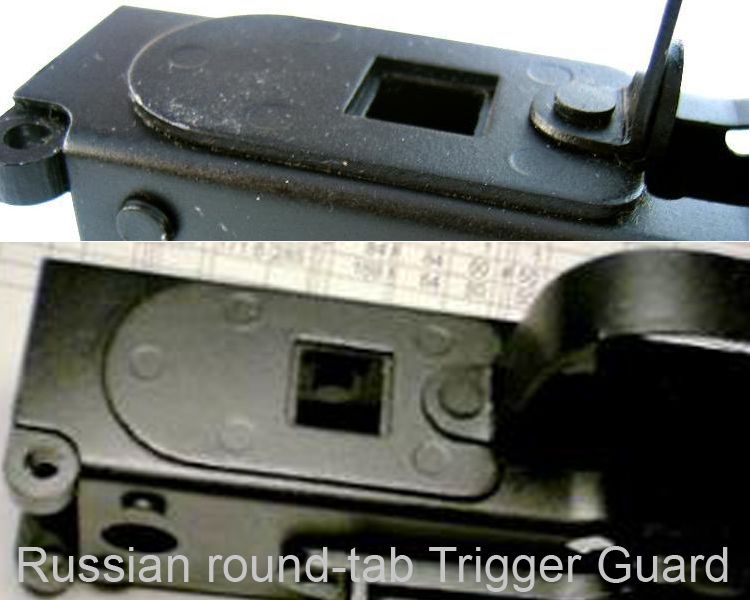 Probably the key to this "bar stock anvil" method is that big honking press wobble eliminator you can see in the picture. It basically translates the press force into a very constrained secondary ram, which can't wobble since it's moving in a friction-fit sleeze. With the anti-wobble fixture, the press force is delivered vertically onto the workpeice (in this case, the bar stock anvil), which prevents the bar stock from getting spit out sideways as soon as you start ramping up the press force. That thing has been pretty useful.
-Thirtycal