ALL SOLD
Current production Russian True Black AK74 5.45 mags for sale, they are sorted by condition. Almost all of them have the silver proof stamps or at least a partial stamp. A few have some clear tape on them or small numbers painted on them, nothing that would effect function and can be easily removed by the buyer if they so choose. Some have a shiny black finish and some are more matte. NO RUST!
Rules:
-First "I'll take it", gets it. PM me after you post please!
-CROSS-POSTED so time stamp rules
-I accept discreet PayPal (no gun words!) or USPS Money Orders
-If paying via USPS MO, shipping is FREE unless to ban state
-If you have any questions, please PM me.
-Offers considered on multiple mags
-Minimum order is $50
-Shipping is $7 for 1 to 4 mags, and $14 for any more than 4.
For Ban States
- Shipping to ban states will be $14 flat for up to 8 mags as I will ship the mags disassembled as parts kits. I will ship at your own risk- no refund if your order is seized.
PACKAGE DEAL - The last 4 mags (G2, G3, VG2, and VG3) for $140 shipped!
Good Used
- $34 each + shipping- Good condition used with scratches. No rust!
G1 Mold #45
G2 #45
G3 #43 SOLD
Very Good Condition
-$37 each +shipping - better condition than the above used mags
VG1 Mold #45 SOLD
VG2 #48
VG3 #55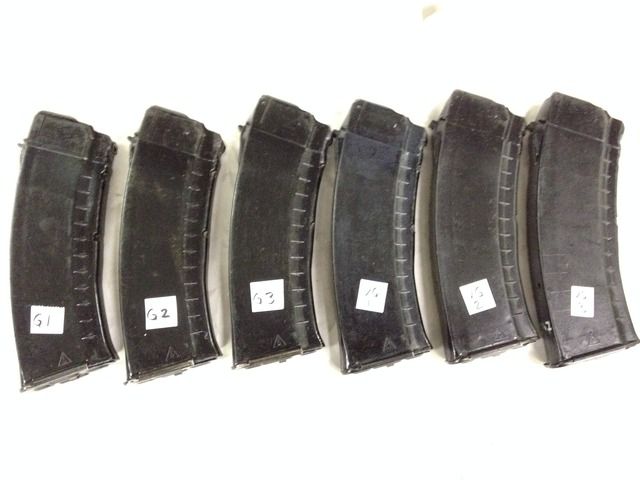 NOS- with storage wear
- $42 each + shipping - New condition with some wear from storage such as light scratches.
NOS- 1 Mold #51
SOLD
NOS- 2 #51
SOLD
NOS- 3 #45
SOLD
NOS- 4 #43
SOLD
NOS- 5 #29
SOLD
NOS- 6 #50
SOLD
NOS
- $47 each+shipping - New condition, very little storage wear.
NOS1 Mold #50
SOLD
NOS2 #48
SOLD
NOS3 #49
SOLD
NOS4 #57
SOLD
NOS5 #56
SOLD