Item #2; Romanian "G" Parts Kit 1984 dated, with INTACT original military barrel, from MINT unfired gun, all matching numbers including rear sight blade, All parts less FCG, torch cut receiver with no damage to re-used parts. Excellent original finish. Best quality Romanian kit!

Add a receiver and FCG and you will have a great Romy AK, or use parts for donor on Soviet AKM rebuilds, and also have a matched set of Romy takeoffs!
$600,

(SPF to docwade!)

plus actual USPS shipping costs. Discount available, see below...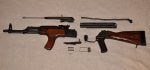 New bits, kits, and pieces listed 2015...
Special! send funds within 24 hrs for a $25 discount!!!
Hi folks, I've been away for quite a while, but I'm back again, with a few critical parts and kits to sell... I am the same Five Four Five that always found the best Soviet wood AND hard to find items, and I'm now going to be offering kits and other parts... Stay tuned for more items that I'll be selling in the next few weeks!
Up for sale are several rare and hard to find parts kits and accessories for guns issued from the 1970's to the 1990's
Please post "I'll take it" per Forum rules and follow up with a PM, in your PM, be sure to let me know:
1) Your on-line name, as posted.
2) Real name and address for postal delivery by Priority Mail or other agreed to option, if a larger/bulky item (I will work with you on options as long as they are provided with a tracking number per Forum rules).
3) Item number from these new 2015 listings.
I will reply with the actual shipping costs and payment info, either
discrete
PP (+3%) or Postal Money Order, and an order acknowledgment.
4) FFL dealer information (one that will accept shipments from non-FFL holder, for items with receivers in the sale).
Please, no requests for sales or shipping outside the lower 48, and no sales to states or localities where any of the parts in a kit and/or item offered are banned.
Contact me for combined shipping on multiple items, etc.
Please note that I can accept Postal Money Orders or
incredibly discrete
PP only! If you need to send any other form of payment it will be subject to delay until deposit can be made and funds have cleared, thanks!
Thanks for looking, and I hope I can help you equip your valuable builds and collections!
-Five Four Five