Discussion Starter
·
#1
·
These are industrial strength steel "Easy Squeeze" rivets and do not require countersinking the holes for proper seating like swell neck rivets do when using bolt cutter type crusher.
SET #1 - REG FIXED STOCK

13 per set, 11 - 5/32" x 3/8L and 2 - 3/16 x1.5"L These are also for the AMD-65, Tantal.



SET #2 - REG UNDERFOLDER

16 per set, 15 - 5/32" x 3/8L and 1 - 3/16 x 1.5"L These also work for the M92 Yugo, Bulgarian SF Krink or AKS-74, Soviet AKMS UF, and Khyber Pass SF.
We now have YUGO fixed and underfolder sets available for
SET #3 - FIXED STOCK YUGO

14 per set, 8 - 5/32" x 3/8L, 2- (front trunnion) + 1 PG 5/32" x 1/2"L, & 3 - 3/16" x 1.5"L. Also for Fixed Stock RPKs & PSL/FPK.



SET #4 - UNDERFOLDER YUGO

17 per set, 13 - 5/32" x 3/8L, 2- (front trunnion) 5/32" x 1/2"L, & 2 - 3/16" x 1.5"L . Also for Underfolder RPK
The 1.5" ones require drilling out all type rear trunnions and lower front hole on Yugo's front trunnion with a 3/16" bit, but will not "snake" like some of the others sold. Works great with bolt cutter type squeezer. Also they are a slight bit longer than "original" metric rivets are.
Reg Fxd & Undfdr Price is $8.00 delivered !!
YUGO Fxd & Undfdr Price is $9.00 delivered !!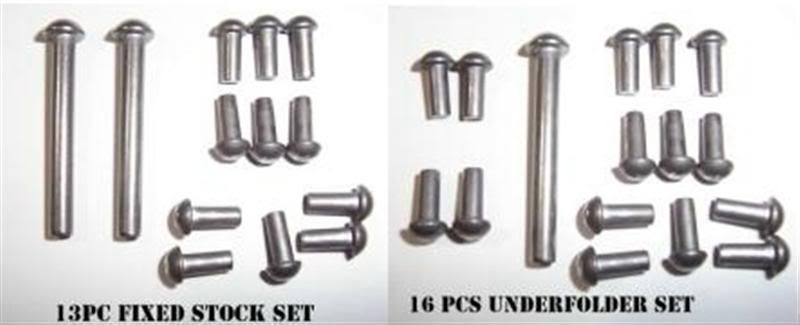 Please post your order here first, then IM or email me and please mention your screen name with your order and address and which type set you need.


Money orders or Paypal accepted. PM or EMAIL me for instructions.
PAYPAL
accepted
DISCREETLY.
JUST PUT "RIVETS" IN THE DESCRIPTION AND DO NOT PUT WHAT BOARD IT'S FROM ON YOUR PAYPAL PAYMENT, EMAIL ME YOUR QUANTITIES OF EACH SETS. PLEASE DO NOT GET MY PAYPAL ACCOUNT LOCKED AGAIN........


PAYPAL Address paypalme @ carolina.rr.com (remove spaces)