Rare parts; SVDS kit, Russian clipped UF trunnion & Stock, V12 gas blocks, AK100 rods
Found a few more parts, figured I would bring everything together one last time before I head to the sand box. I want to get everything gone in the next six weeks so nothing is left behind. Meaning that, unless specifically stated, every price is negotiable as I want everything gone in six weeks.
This add will be crossposted, so time stamps do matter. All marketplace rules apply. I can accept Postal money order, Personal check (item will be held until the funds clear, and (my preferred option)
Paypal (goods & services = +4%, or Friends & family = 0 additional cost)
If using paypal, put
NO GUN WORDS
in the comment box. Shipping will be based off the smallest flat rate box or padded envelope that I can fit it into. If it is odd shaped I will try and get it into a smaller box to save as much as possible on shipping. If desired insurance will be extra, as I will not be held liable for lost packages. I have not had one go missing yet, but there is always that chance. I will ship from Lacey, WA. First unconditional "I'll take it" gets it. I can provide more pictures upon request.
1. Incredibly hard to find Izhmash AKM folding stock with most of the trunnion! Unfortunately, it has been clipped, but it is nothing the talents of several on here cannot repair. The stock paint is 100% with no signs of rust/wear at all. Stock is fully functional. - Want
$500
for it -
SOLD
2. My last remaining SVD gas regulator -
$250


3. Only 6x New, undrilled VEPR 12 railed gas regulators -
$200
each
4. 5x NOS AK 100 series pushbutton recoil rods -
$100
each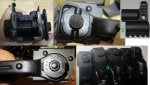 5. SVDS conversion kit for your Tigr hunting rifle. Regrettably, I need to sell off my SVDS conversion kit for my TIGR. It took me about two years to acquire everything needed to for this conversion, at substantial cost and time hunting through multiple Russian sources. This is your chance to get the whole kit needed for a rear SVDS conversion, with real Russian parts. This kit will give you everything you need to convert the rear of your Tigr, Correct Rear sight, Correct gas regulator, Correct smooth receiver cover with recoil rod, Polymer SVD handguards, Two different styles of pistol grip, and correct flash hider. All you will need to to do is shim the flash hider to properly fit on the OG Tigr barrel. You will also need a front sight post, the flash hider combo does not have one. Reduced to
$2,500