Discussion Starter
•
#1
•
Well, this post has been a long time coming. I always see new guys and older members asking if one part or the other will interchange between a milled and stamped Yugo. I hope that members will be able to go to this thread to have their questions answered without having to make a new post. Fact is, nearly everything will work fine on either a stamped or milled rifle. However, they will not always look correct.
I have tried my best to photograph every difference and variation I can find between the milled and stamped Yugo AK's. I will also throw in some variations in parts that occur between the same type of rifle either in year of manufacture or just manufacturing variations between workers at the factory. Most of the time, I will offer a small introduction, then just let the pictures speak for themselves to cut down on words. If you have any questions, PM me, and we can work through it.
Nearly every one of these pictures is taken by me of my parts. Occasionally, I will put in a picture that I collected from another source. I will give every effort to make sure credit is given.
While there are many variations between calibers and rifle types, this comparison is only dealing with Yugo AK carbines. No m72, no m92, no m85, no m90/95, no m76, etc. Just 7.62x39 AK's and AKM's. I know for sure that I will miss a few things at first, so I will probably add to this thread off and on. I consider this part of my "giving back" to the forum that has been so helpful to me during my membership. So, let's get it on!
One thing first off. Early Yugo parts are marked with a part #. Many parts on an m64 are marked with a 4 digit number (many begin with a "3"). Milled m70's lack these numbers except for the grenade sight and pistol grip. Stamped m70's only have a numbered pistol grip. I use this system to identify early made parts.
1. Receiver types
Let's start with this. First came the m64 (milled receiver, scalloped side on the left for the BHO mechanism, 1 lightening cut on the right). Then there was the milled m70 (straight left side, 1 lightening cut on right). There are 2 variations of this type. The first has the area around the barrel pin milled out like a standard AKM trunnion and the other, more common one has this area smooth with the sides of the receiver. Then came the "slabside" (1mm receiver, standard trunnion). Finally came the "RPK" type (bulged front trunnion and 1.6mm receiver)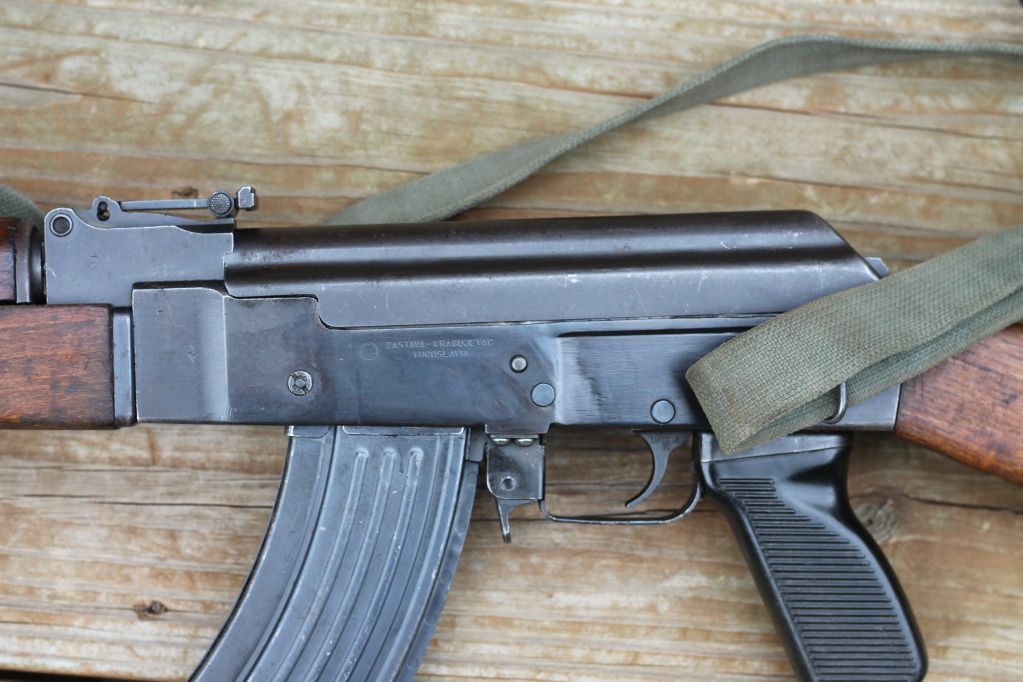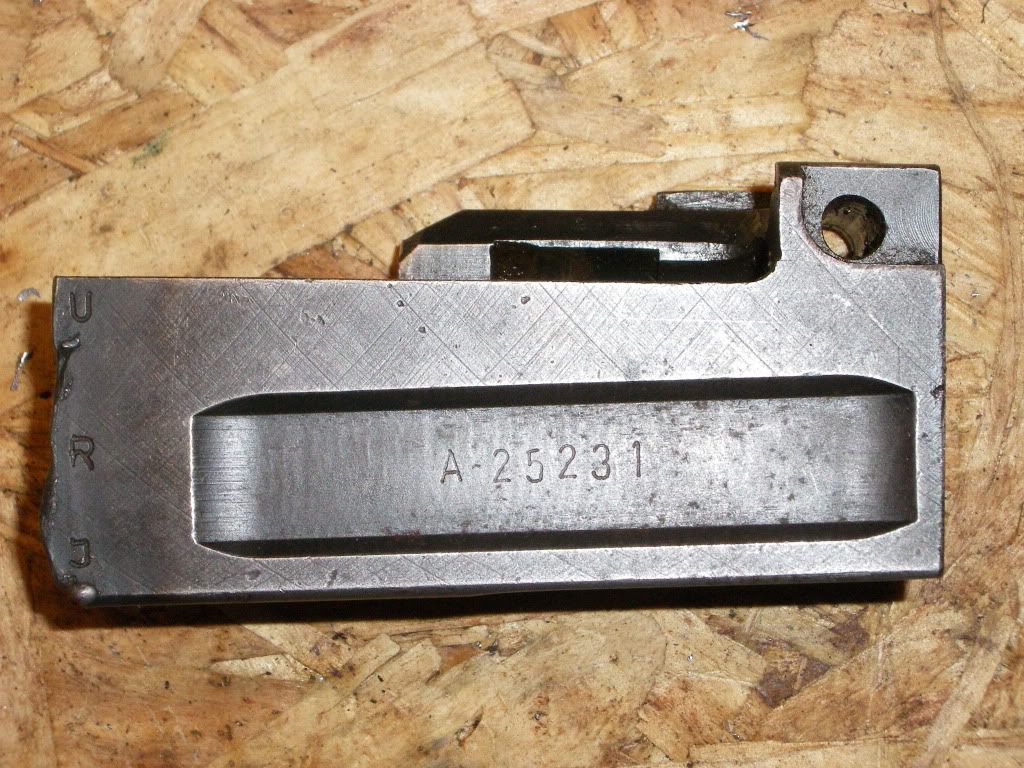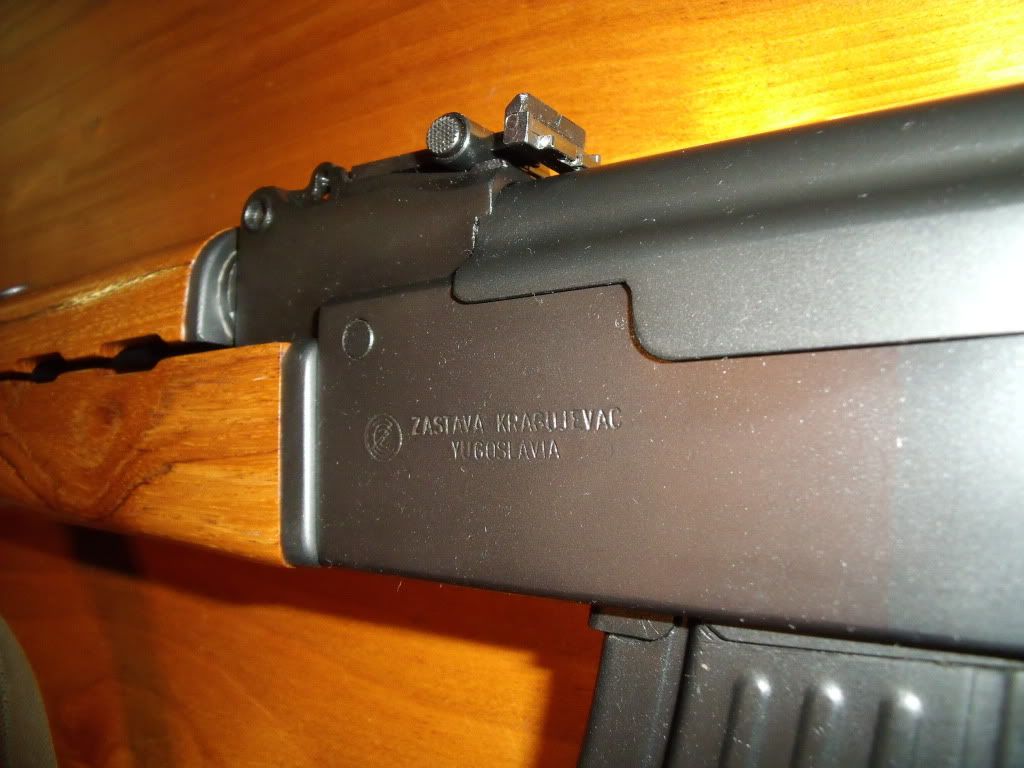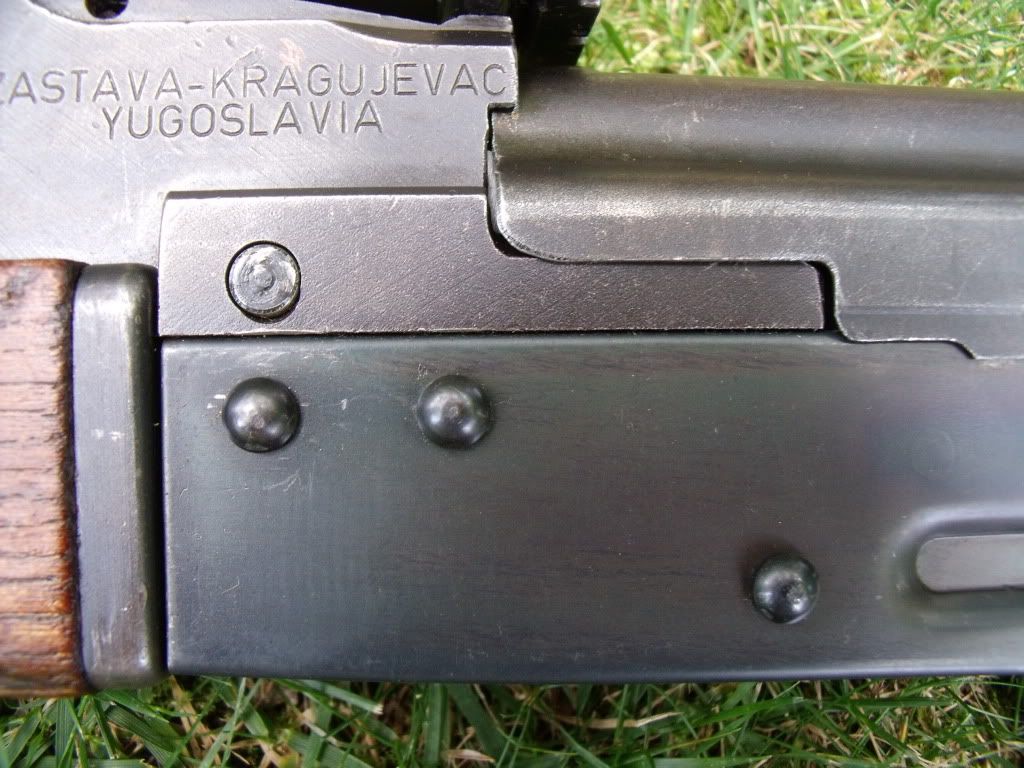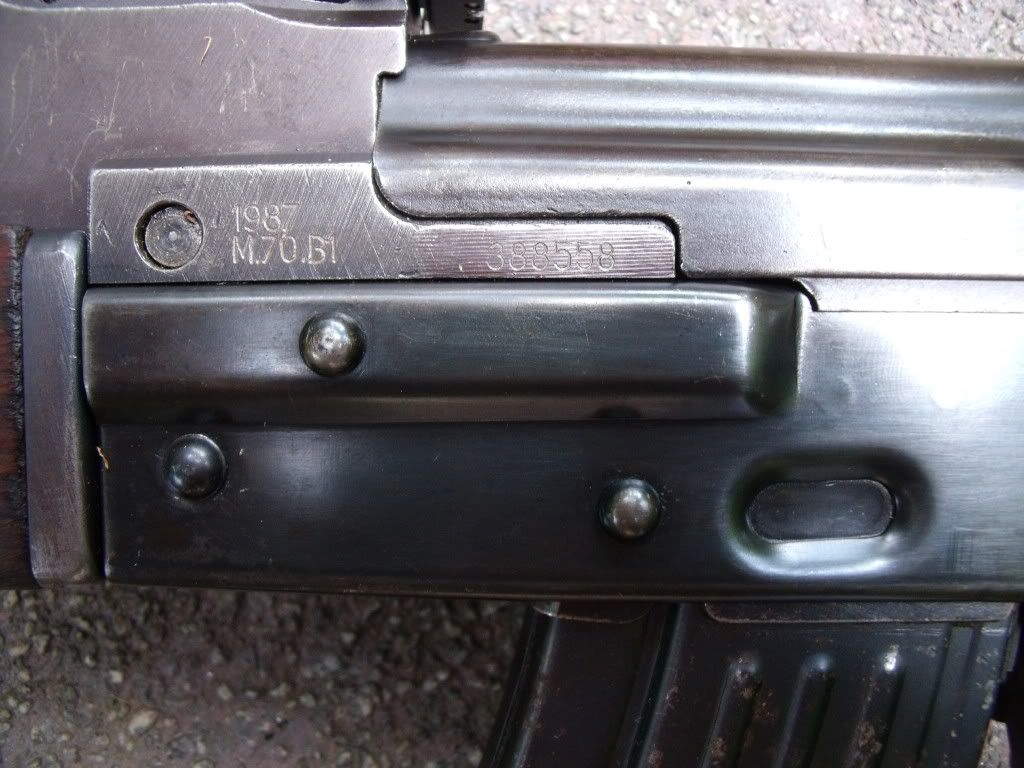 2. Front sight bases
M64 has a slope to it while milled and stamped m70's have the slope cut off. Also notice the pins on the M64 FSB are spaced further apart.
3. Gas blocks
GB's from milled rifles have s cut out where the sight slides up and down and no vent holes at the rear of the block. GB's from stamped rifles have no trench—just a dimple on both sides of travel and 2 vent holes on each side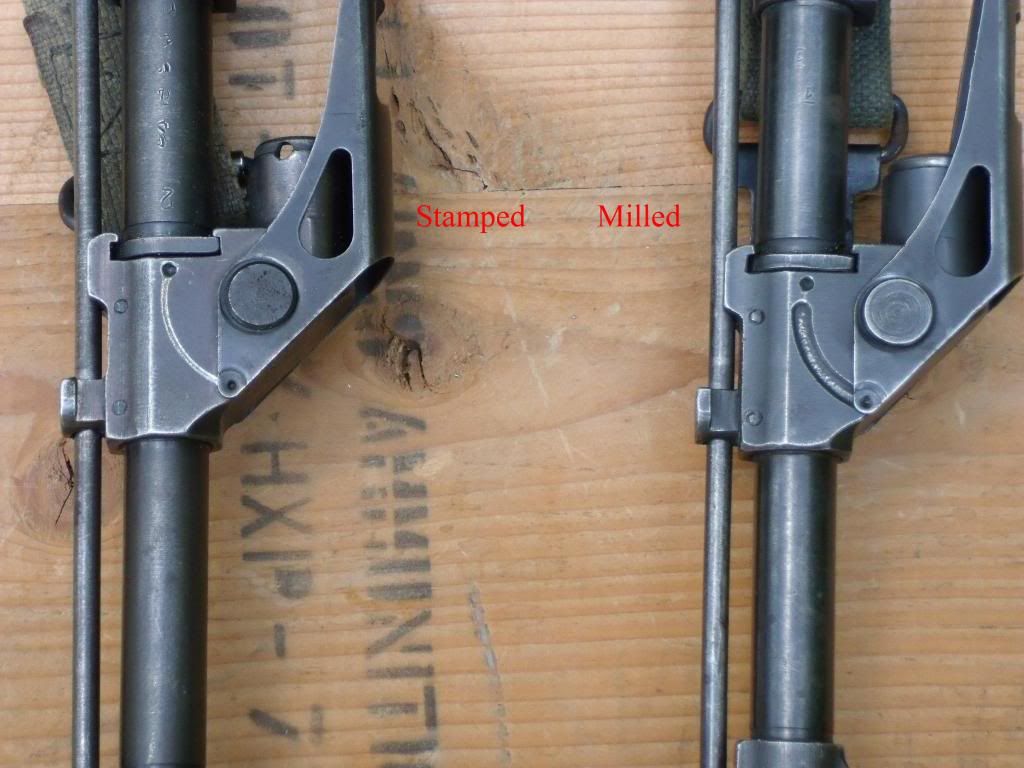 4. Gas Tubes
Milled rifles have 3 vent holes on both sides of the gas tube (for use with the milled GB above). Stamped rifles use a gas tube without vent holes--they vent excess gas through the GB instead)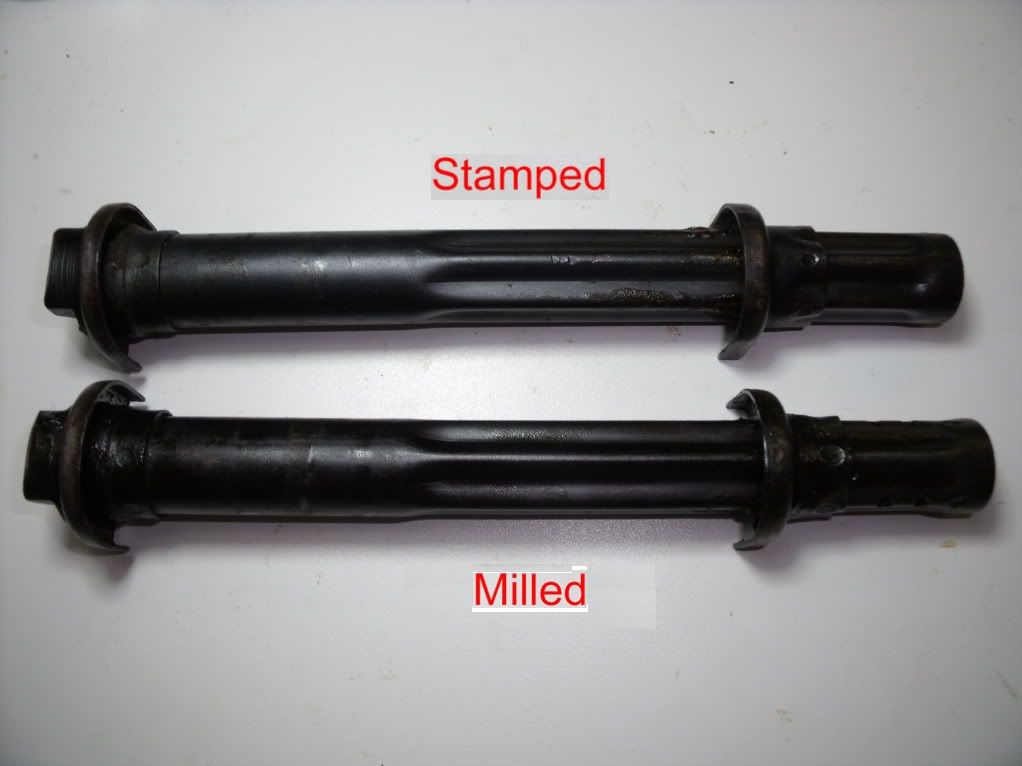 5. Rear sight base markings
From what I gather, early RSB's were blank, then they had the info electro-penciled, later it was switched to a stamping, then I believe it was reverted back to no marking. I have a 1982 M70AB2 with stamped info, but my 1987 M70B1 has none. I think it switched around 1985/86. This can be nailed down for sure if a few people can check their kits/rifles and report back to me. I just don't have enough dated rifles. Further complicating matters, many milled rifles have marked RSB's which leads me to believe that they were switched out at an arsenal for some unknown reason.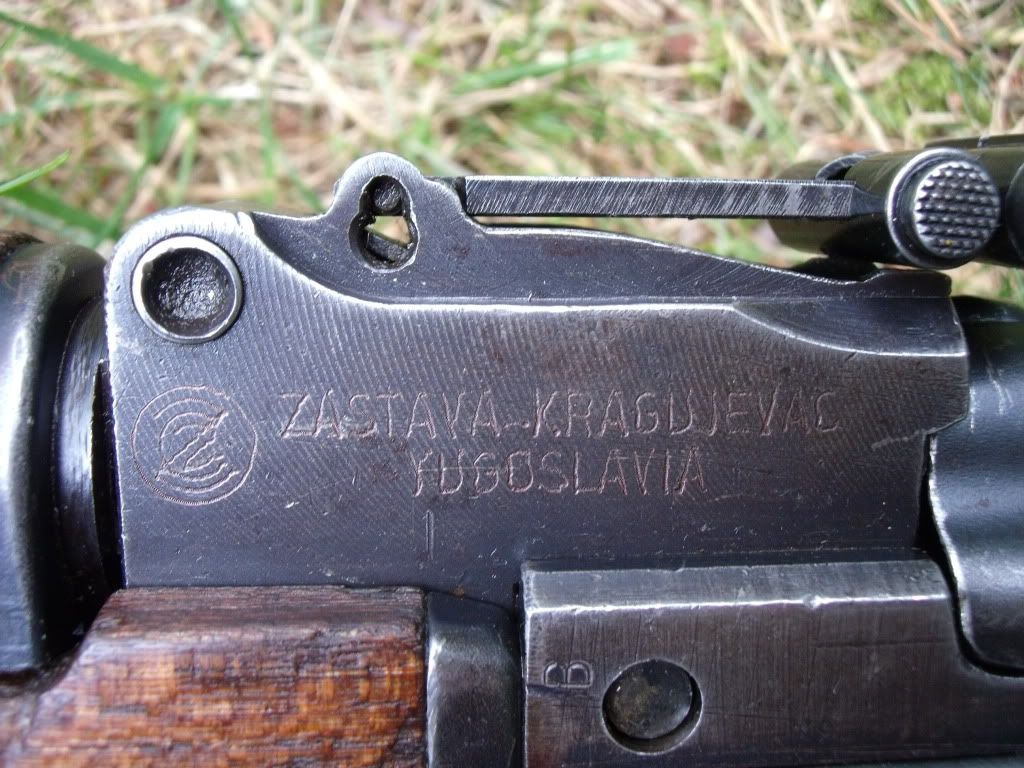 6. Trunnion Markings
There was a switch somewhere in which the models had periods between the letters and numbers. Early models had no periods (M70B1); later models added it (M.70.B1). Finally, I realize that they dropped the periods and began spacing everything out (M 70 AB2). Thanks to INFANTRY for the last picture.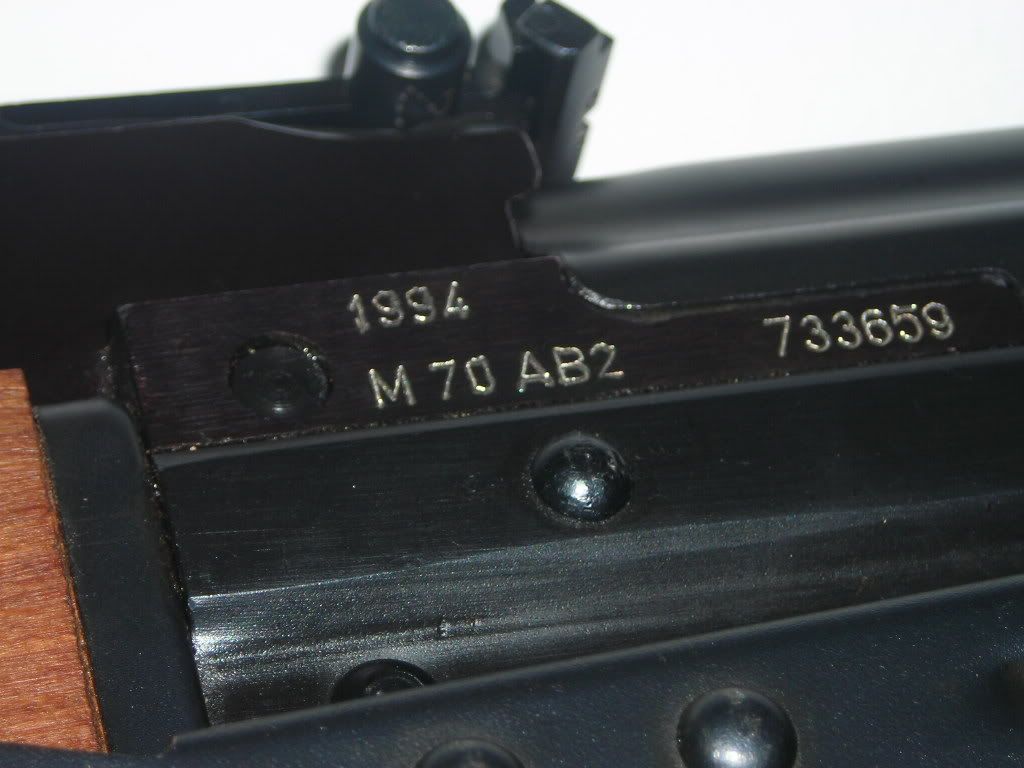 7. Bolts
Bolts from milled rifles have no lightening cuts; those from stamped rifles do.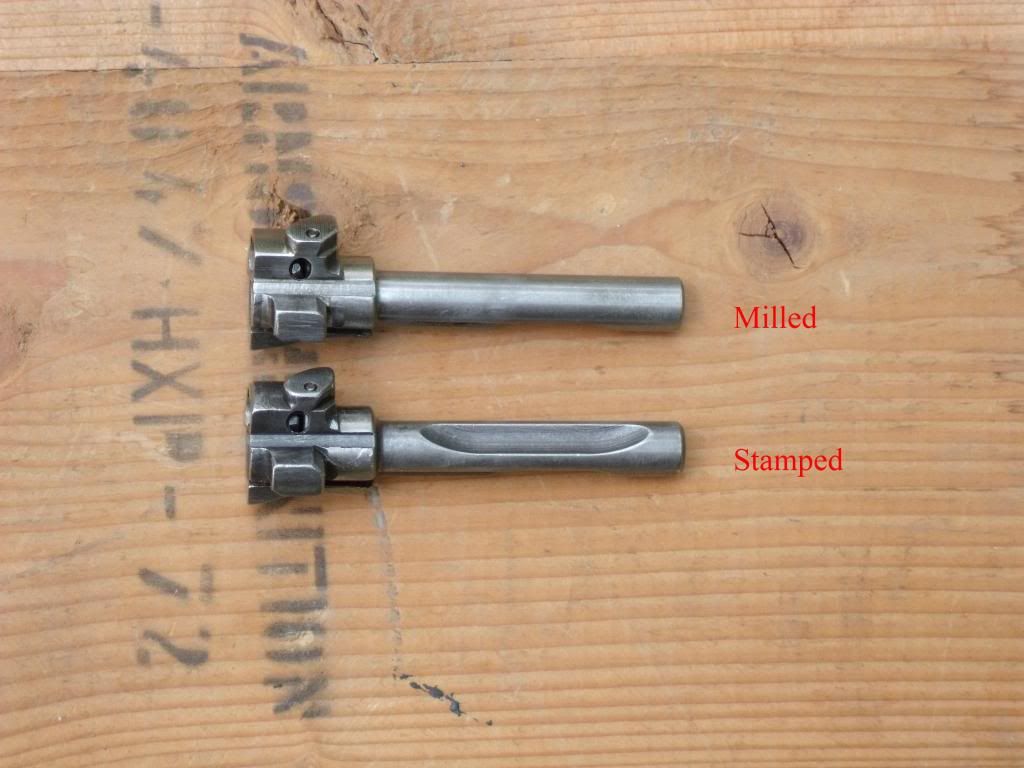 8. Bolt carriers
Carriers from milled rifles have a smooth right side and a rounded hump at the bottom; those from stamped rifles have a scallop cut out of the side and a flatter bottom.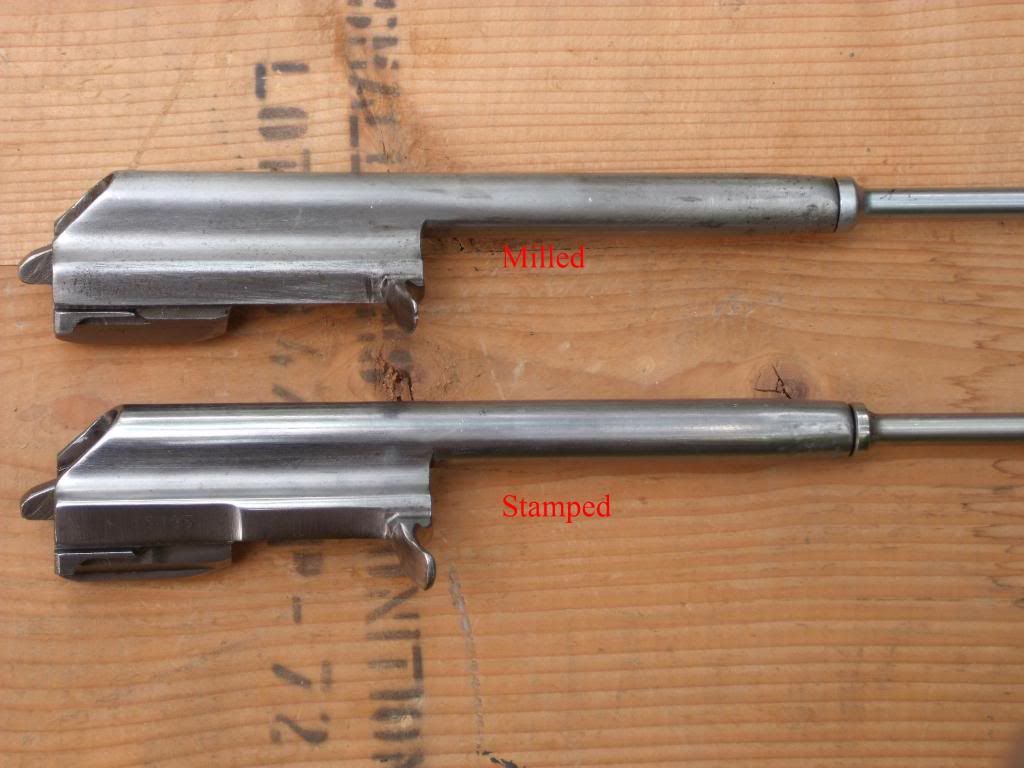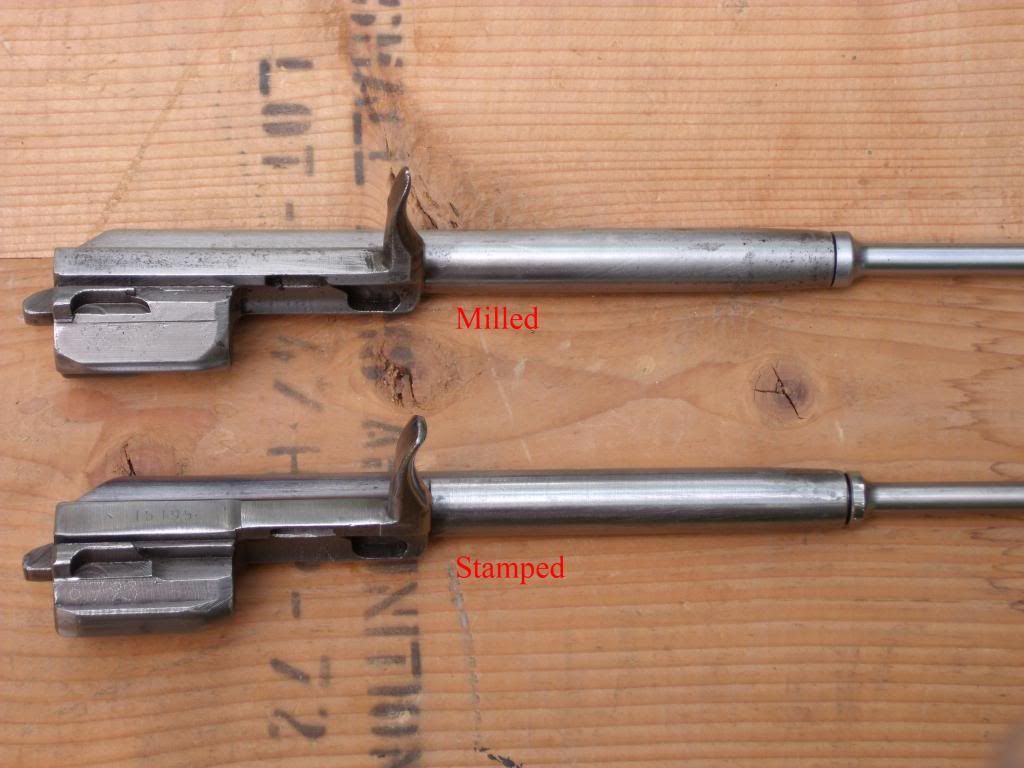 9. Top covers
Top covers from milled rifles are thicker (~1.5mm) and have only one cut out on the left side. Stamped covers are thinner (~1mm) and have an extra cut to clear the bulged trunnion. Also they have a hump at the top front to keep it snug against the RSB. Widths vary based upon where the measurement is taken and can vary about .2mm.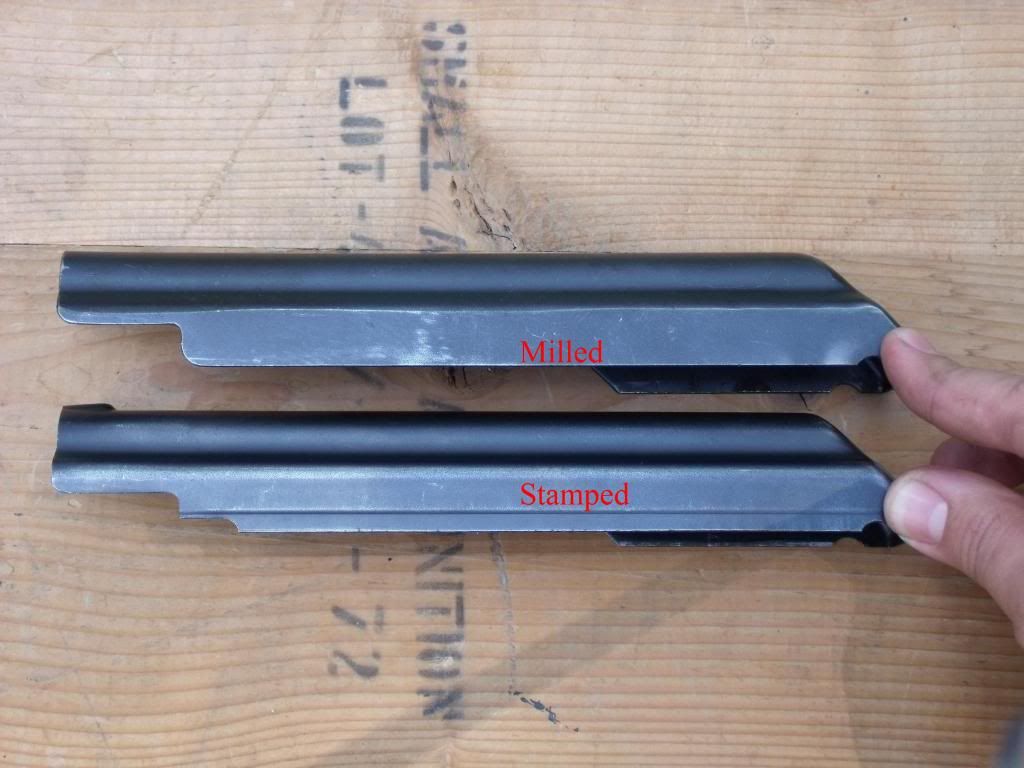 10. Trigger guards
TG's from milled rifles have a milled mag catch while those from stamped rifles have a stamped mag catch.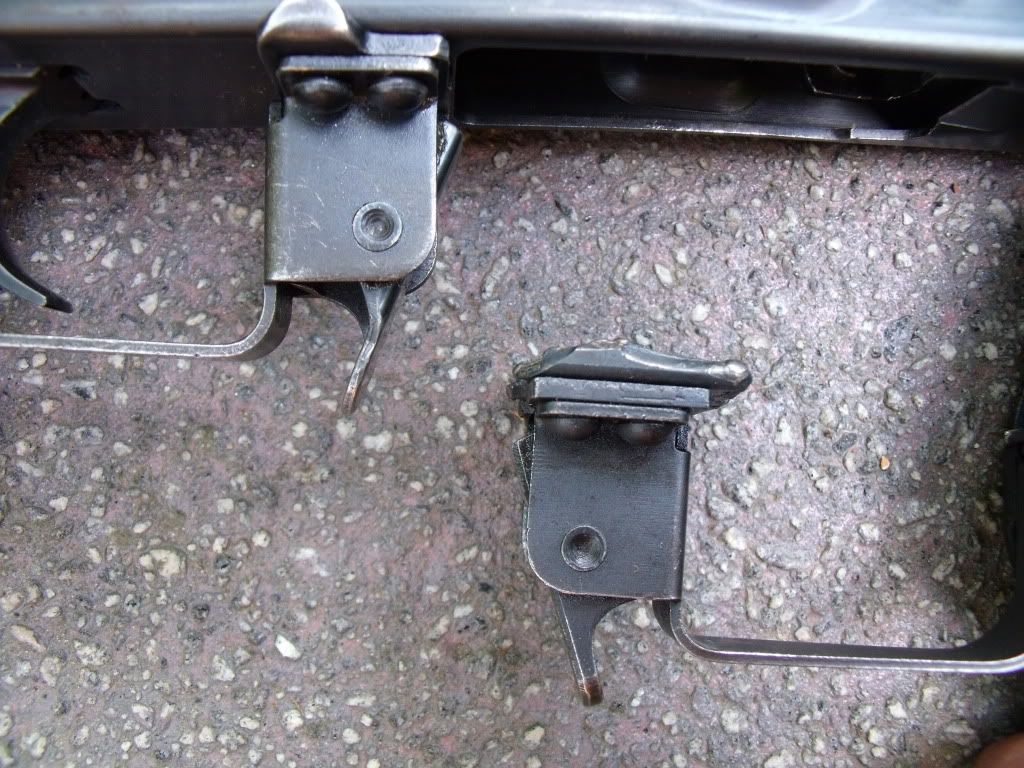 11. Axis pins
There are 2 versions of the axis pins. The first comes is used on the bulged area of the M64 receiver. This is the hammer pin and sear pin. It is longer to compensate for the extra material on the bulge. The shorter pin is used for the trigger pin on the m64 and all 3 pins on the rest of the milled and stamped rifles.
12. Pistol grips
Early m64's have a ferrule at the top of the grip, while all later versions lack this.
13. Fixed stocks
M64 stocks have a tang attachment system and a deeper angle than M70 stocks. M70 stocks, of course, are attached with a long bolt and are more straight.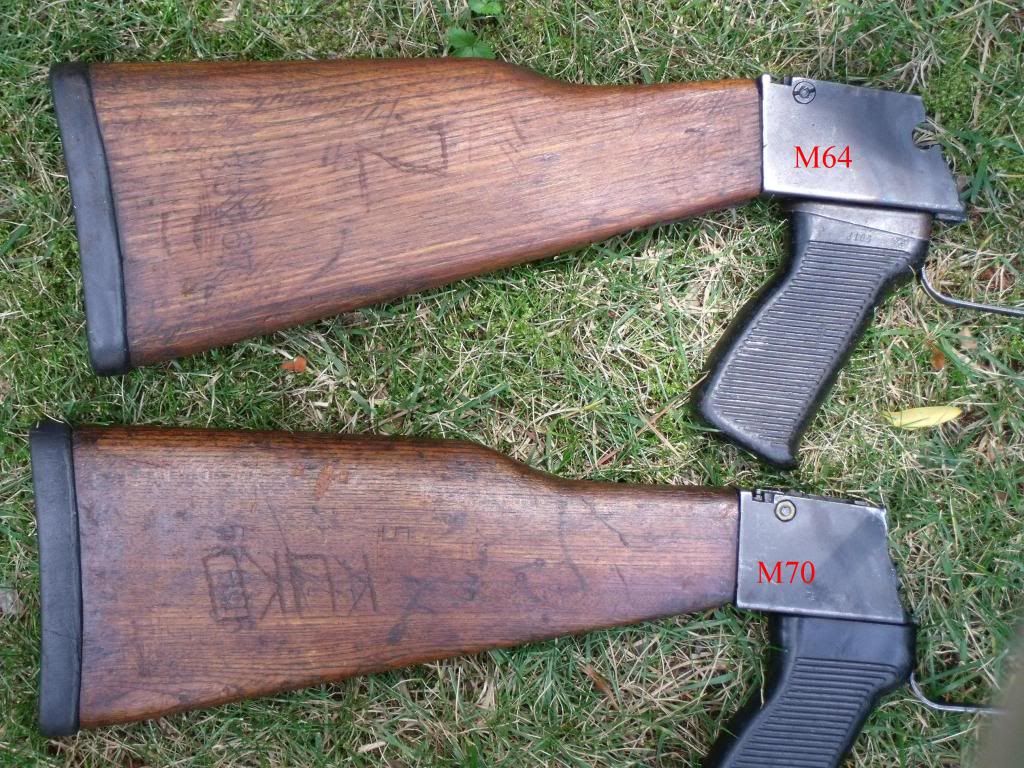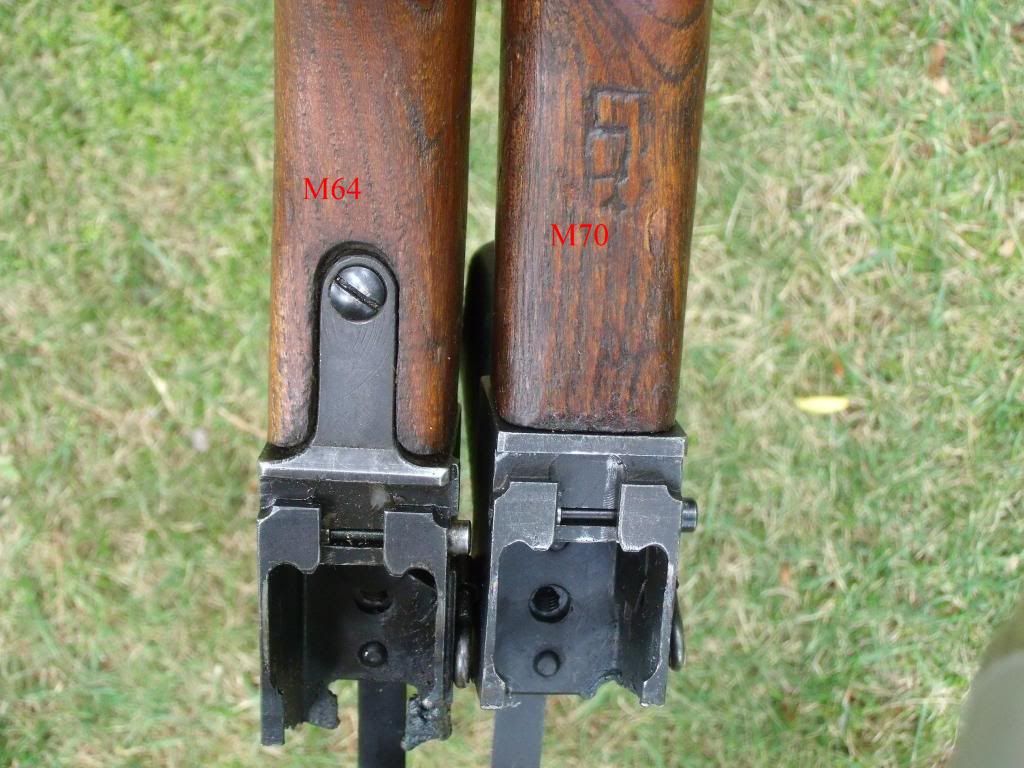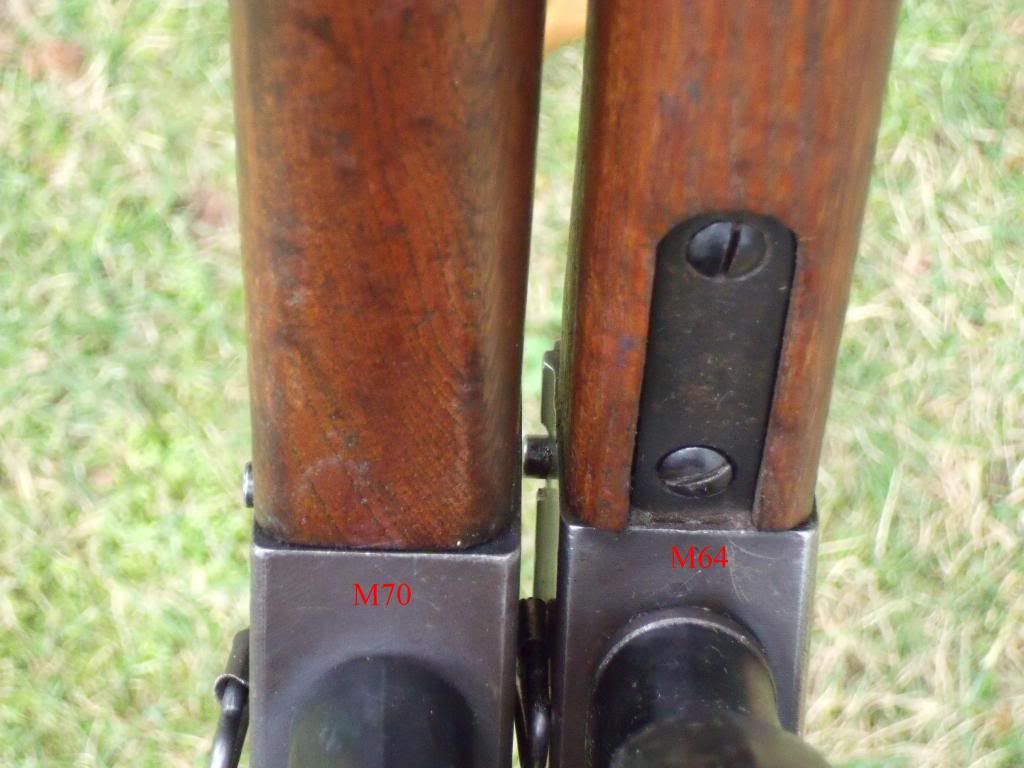 14. Underfold stocks
Early stocks (milled rifles) have 3 rivets on each side and a small clearance cut for the selector lever. Stocks from slabside receivers have 3 rivets and a slightly larger clearance cut for the selector lever. Later stocks (M70AB2) have 4 rivets on each side with more reinforcement and a larger clearance cut for the selector lever.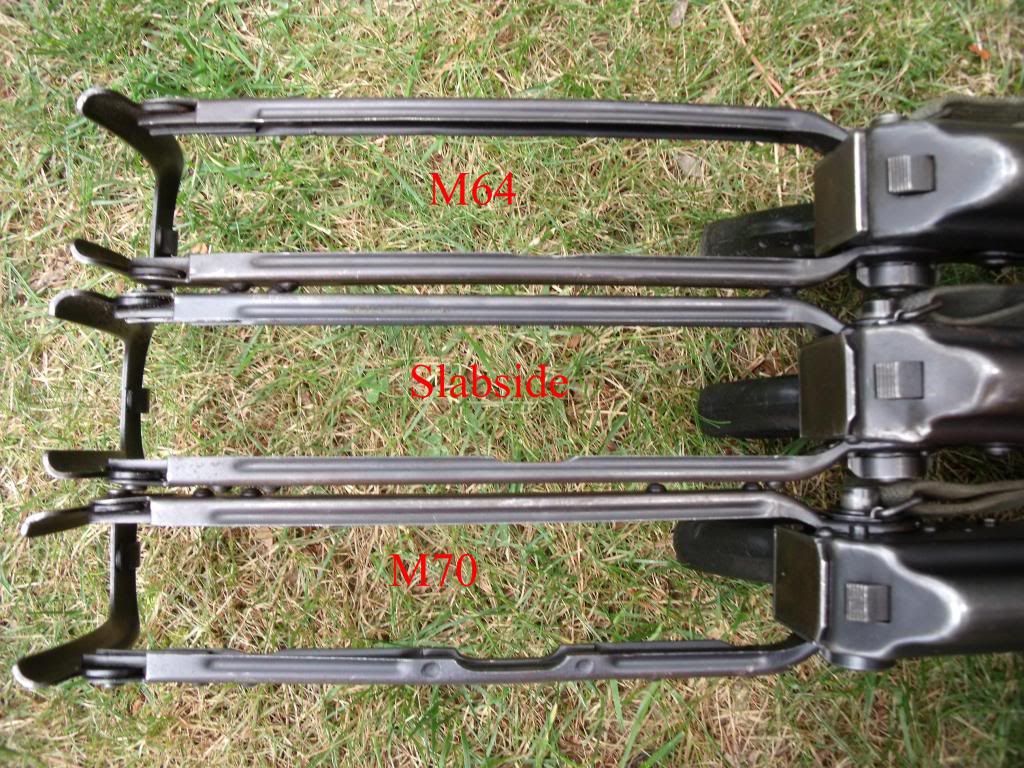 15. Sight leafs
No real explanation here. This just shows different fonts of the numbers.
16. Night sight types
Interestingly, I have seen 3 types of night sights. The first has what seems to be glow "stickers," the second is a glowing paint, while the third has small tritium vials. They are the same size; they are just distorted in the picture.

17. Grenade launchers
The early GL (numbered 3084) has a different slope at the rear of the launcher than the later one.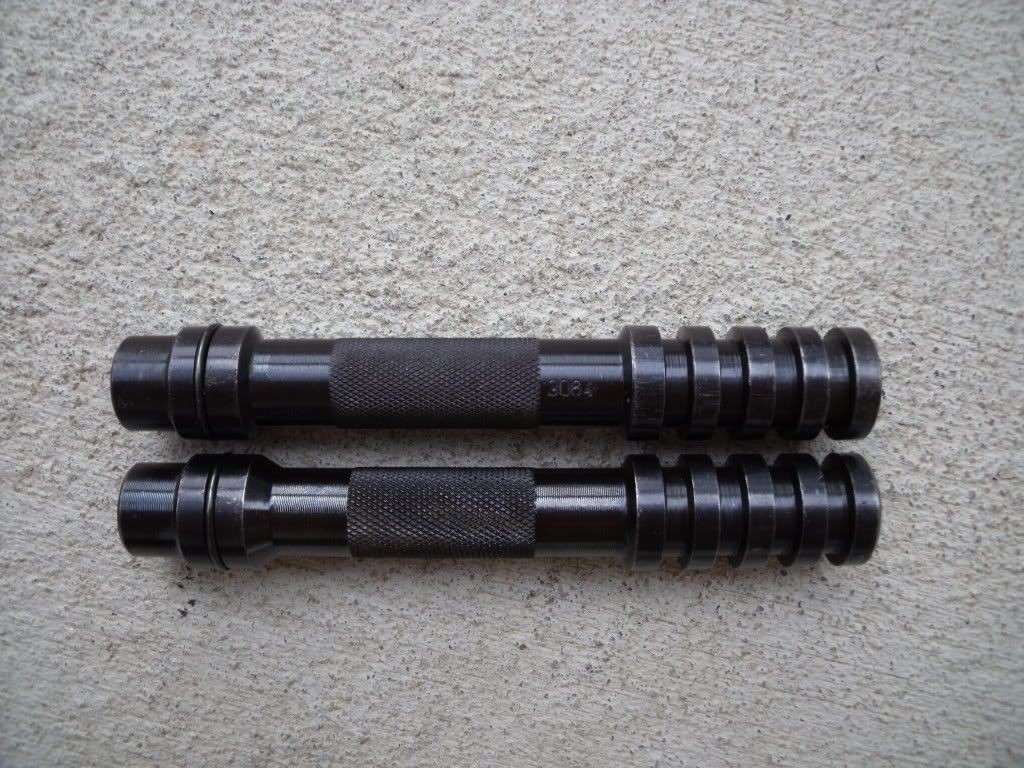 18. Wood color
All these handguards are unadulterated. They are as I received them from importers. Pictures speak for themselves.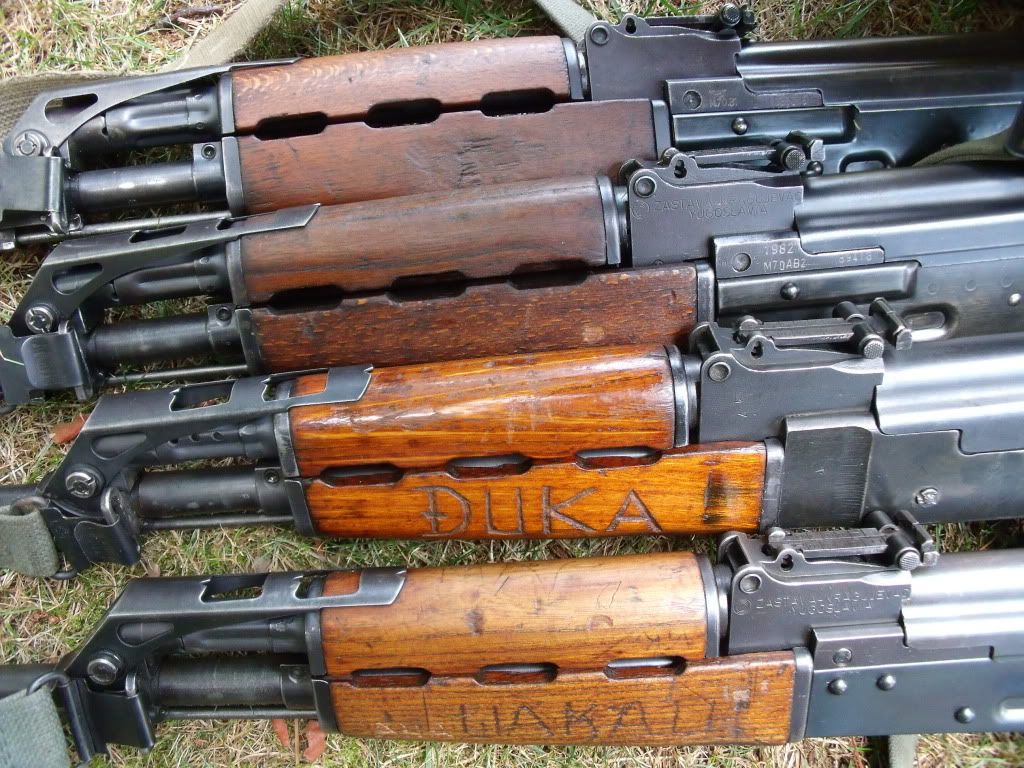 19. Selector levers
M64 UF levers have a small bottom small tab, levers from slabside rifles have a medium tab, while M70 have a large bottom tab. This difference is because of the different stock designs. Early stocks have a small clearance cut for the selector lever, while later stocks have a larger clearance cut allowing for the tabs on the selector to be longer. M64 and M70 levers are similar with the difference being the early levers having a straight stamping at the top while the later ones have a bulge at the top of the lever. This is also true for the UF selectors.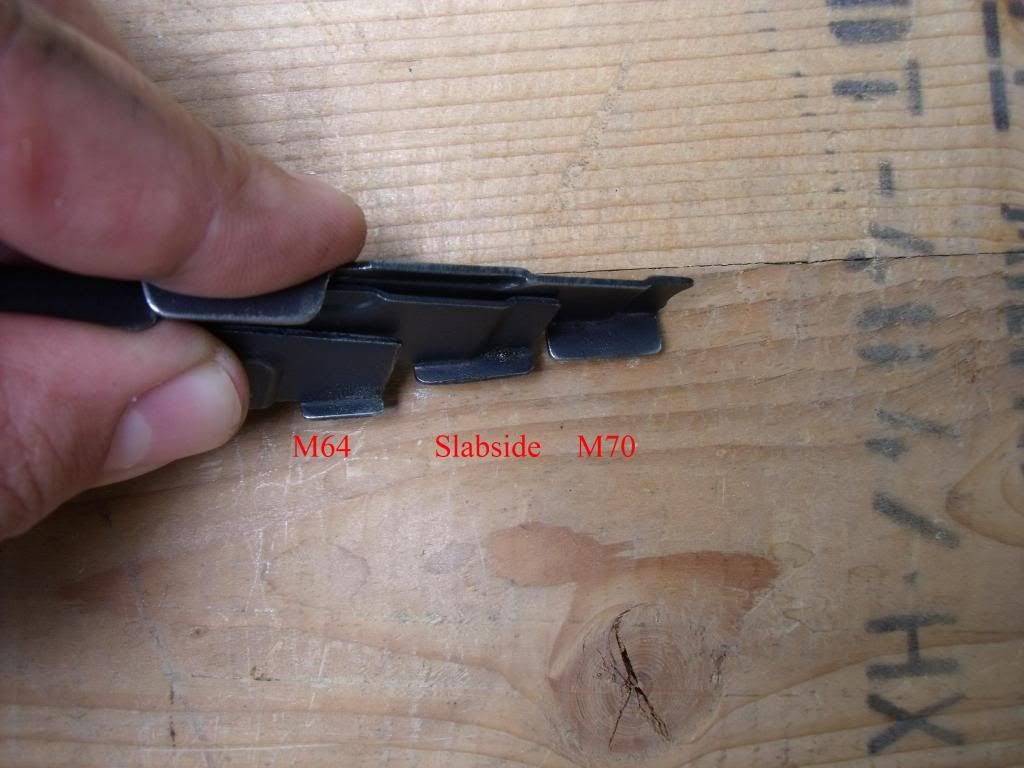 20. Selector markings
Some appear to be stamped, while others are engraved. There are small differences in the "J" and "R." Thanks to INFANTRY for the last picture.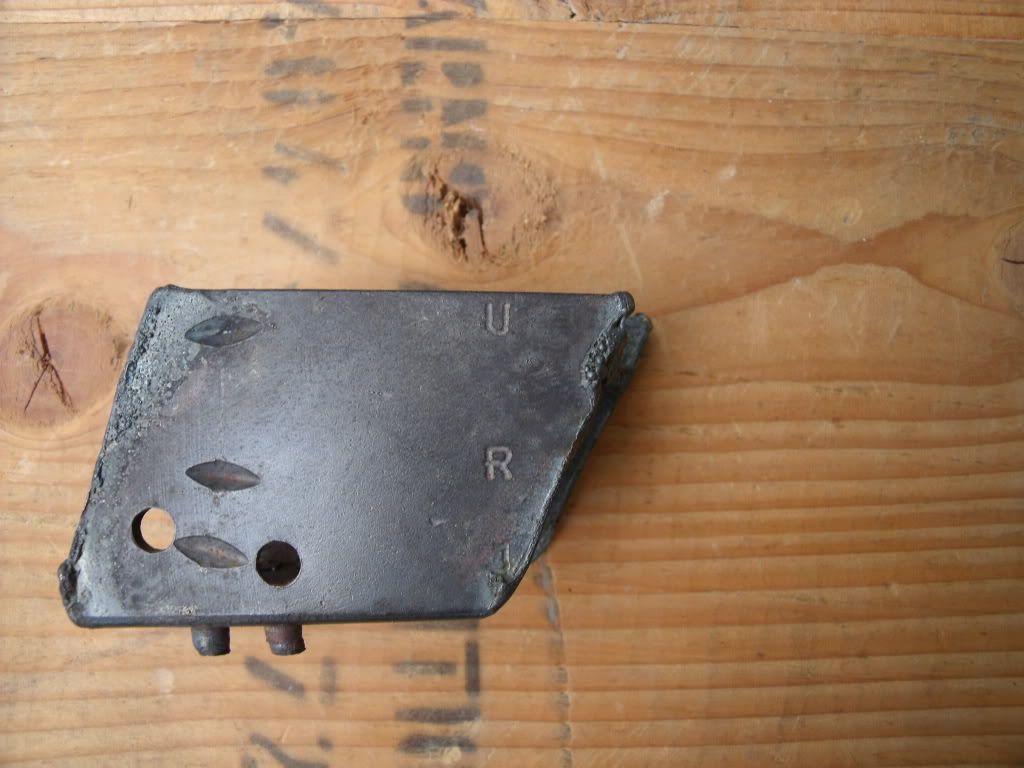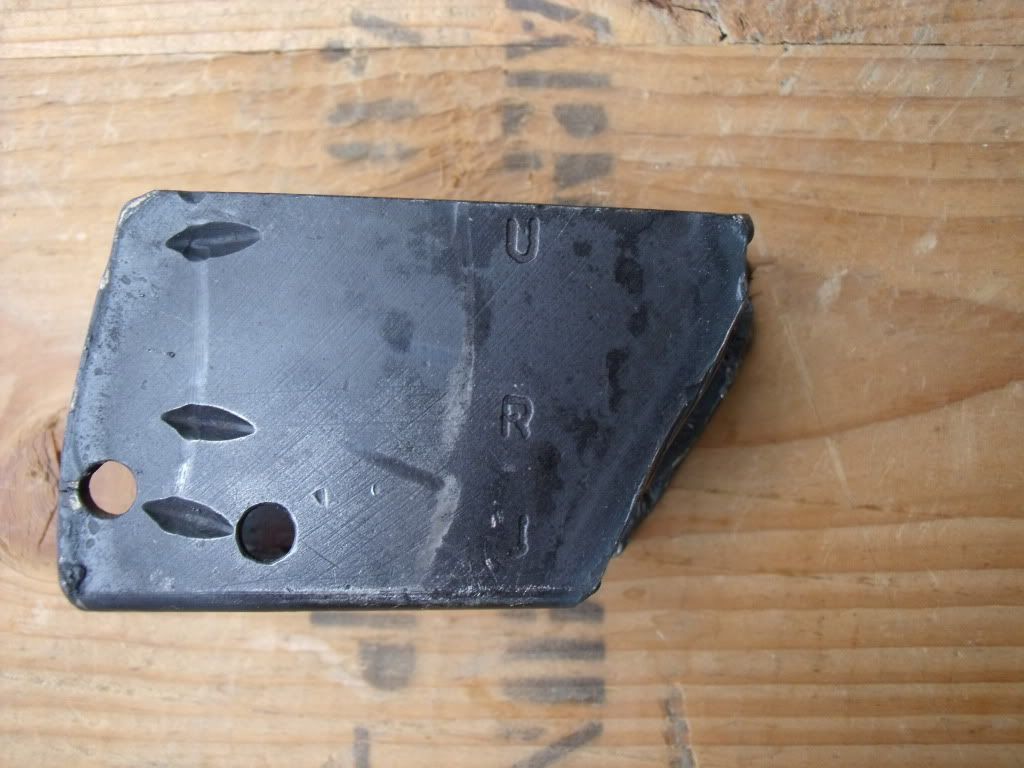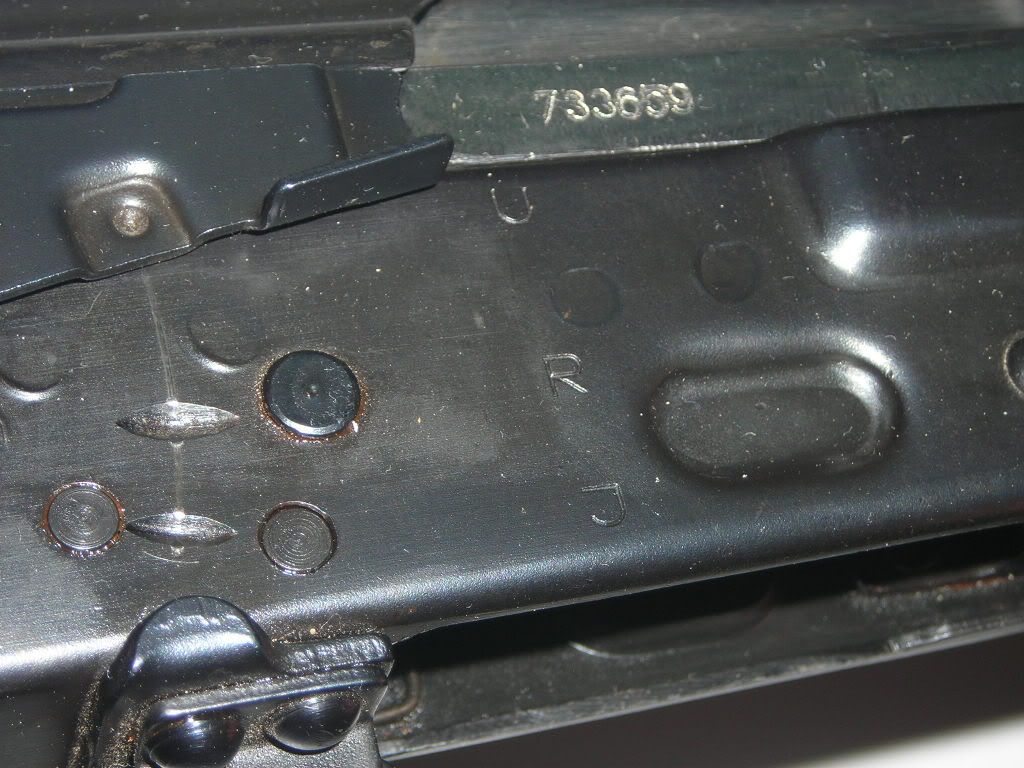 21. Rear Stubs
The m64 fixed and m70 fixed are from RPK's. The design is the same except for the lack of the top cover lock.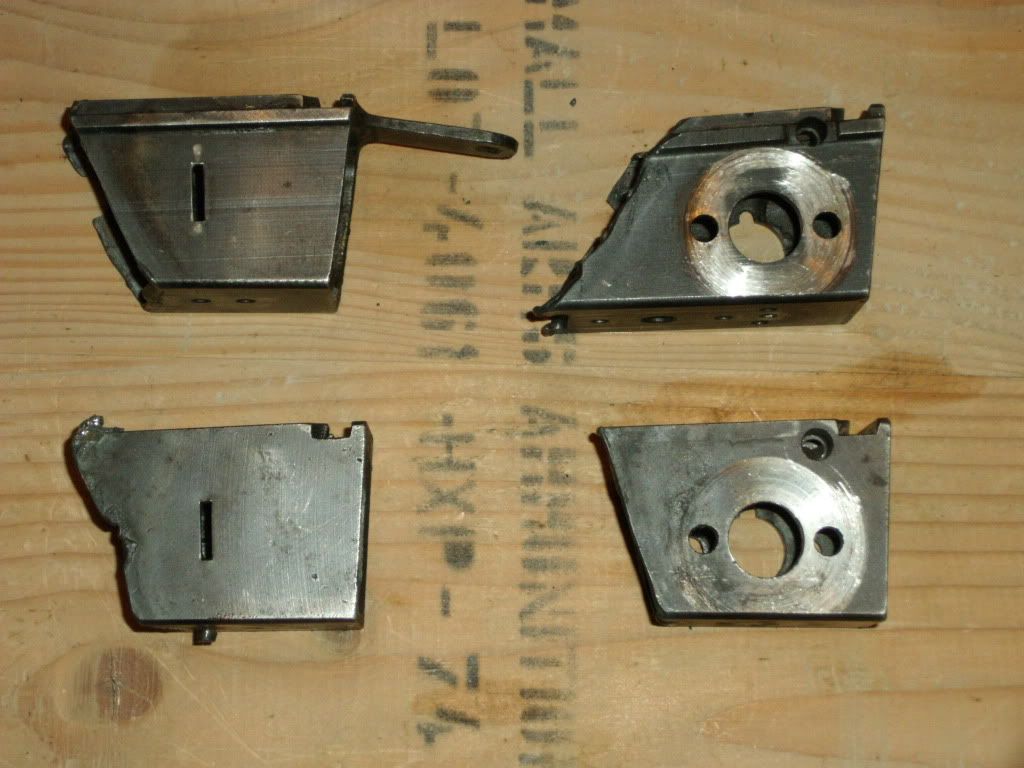 22. Bayonets
There are variations here in the color of the hanger (beige to dark brown), color of the wrist straps (very light green to very dark green), weld on the back of the wire cutter, size of the drain holes, finish of the scabbard (gloss to matte), shape of the handle, and serial number (both # of digits and size). I have one frog that attaches with a snap instead of the brass peg. I have only seen one of these. It came with a Yugo bayonet covered in cosmoline, so I believe it is genuine. I have bayonets with no serial number, 2, 4, 5, or 6 digits.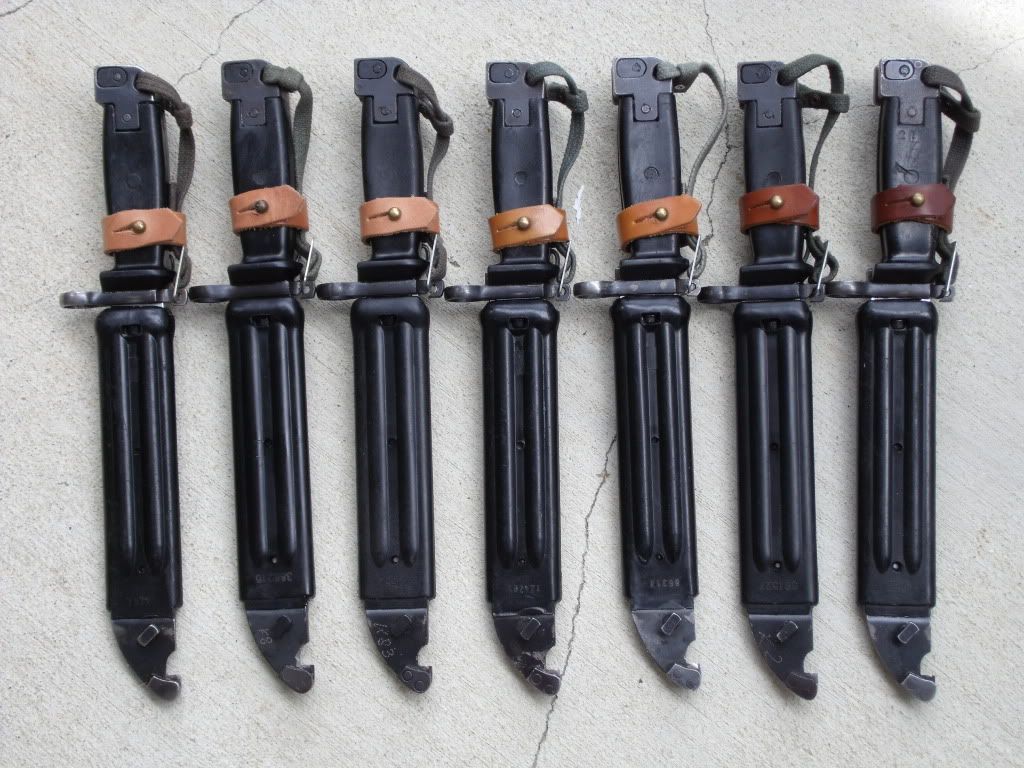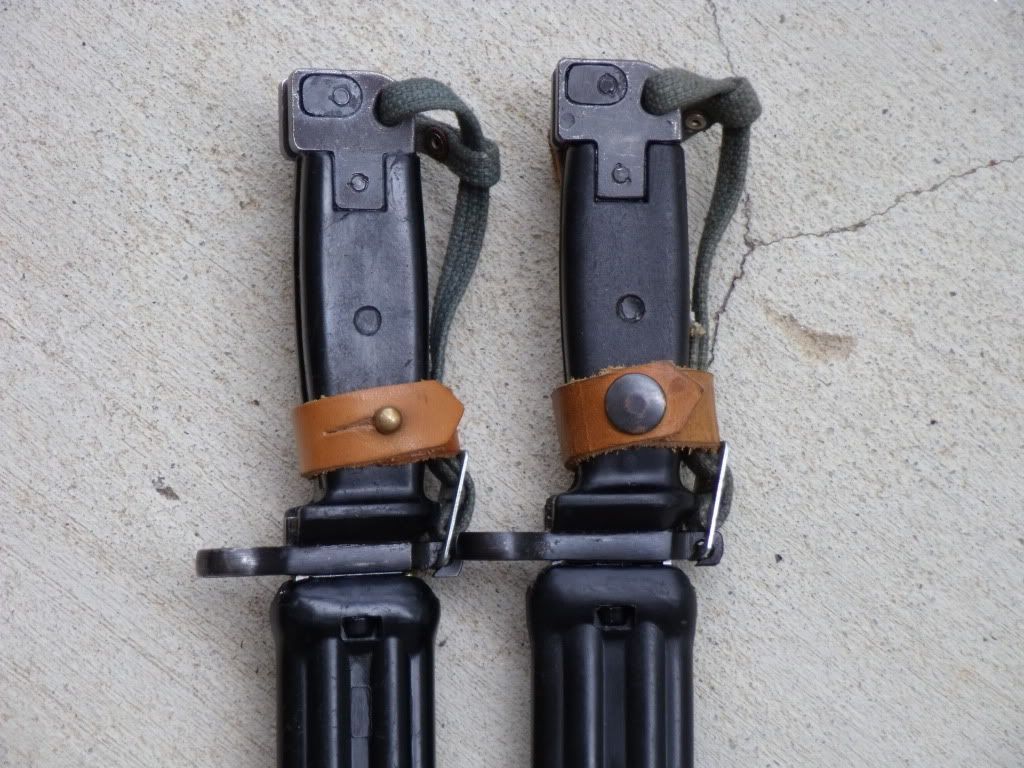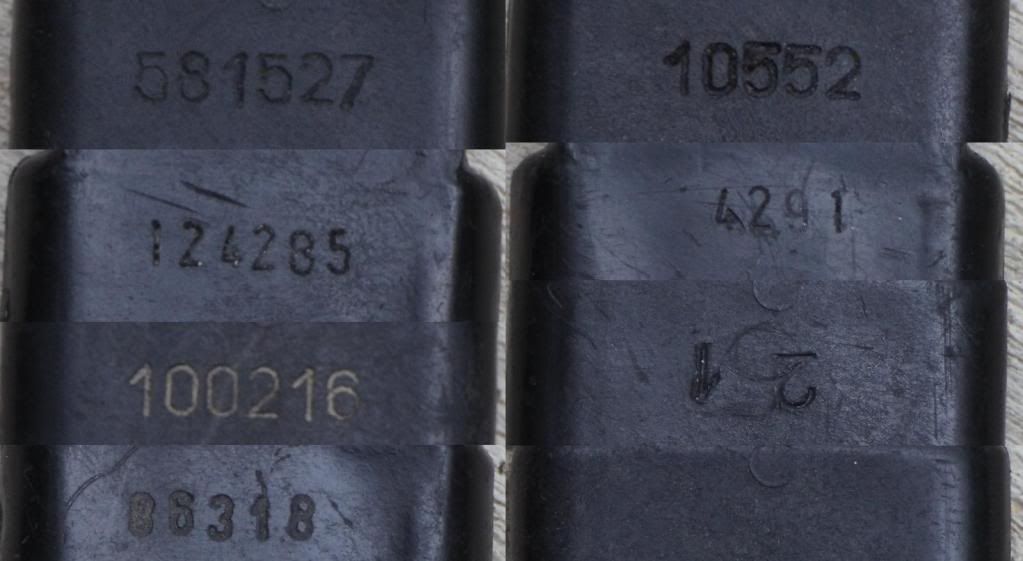 23. Slings
You can see my sticky at the top of the page for a detailed breakdown of the different slings. This picture is just an overview.
24. Magazines
It is my opinion that the matte magazine appeared first. Most of the notched versions I have seen are this way. Of course, notched magazines are for the m64 as they actuate the bolt hold open lever that was removed from many of these rifles. This m64 notched magazine has the 4 digit part numbers on it proving that all the parts are original to this magazine. So, I believe the order is as follows: m64 notched, matte blue, polished blue. The matte magazine typically has a 2 digit number stamped on the right side, at the top of the spine. Some also have a small "TK" in a box at the bottom. There is a version with the triangle witness hole that has several other differences. The follower is slightly different, the lug on the back is different, the stamping at the bottom of the mag is different, and the finish is slightly different. I have no good explanation for where/when these were manufactured.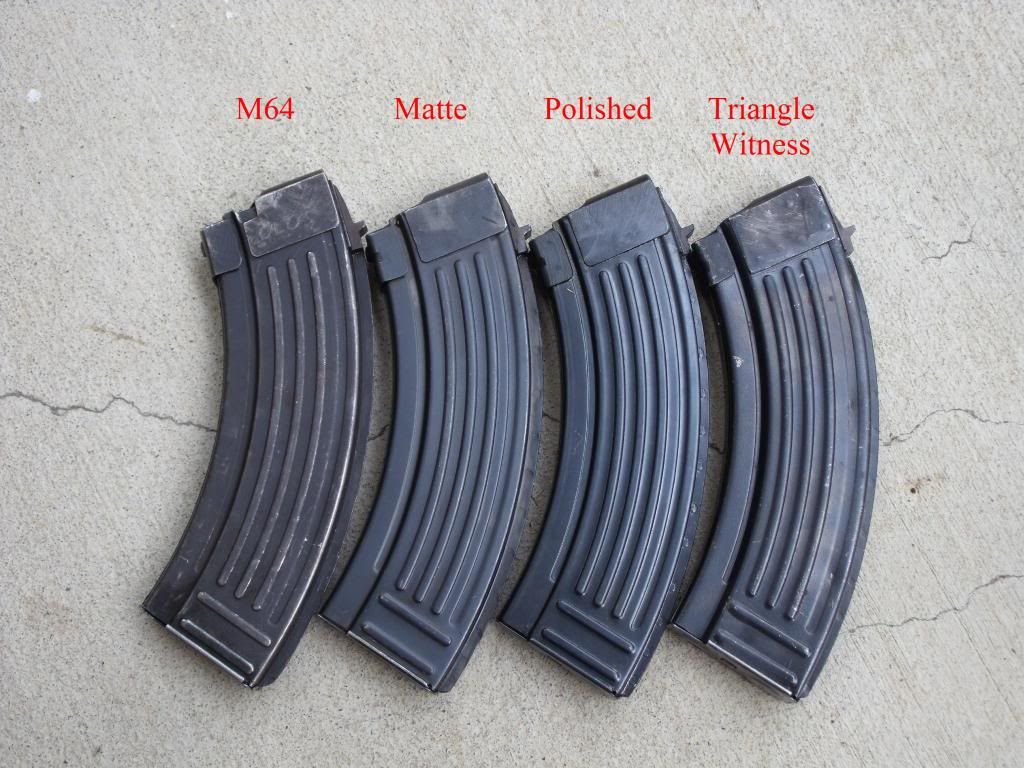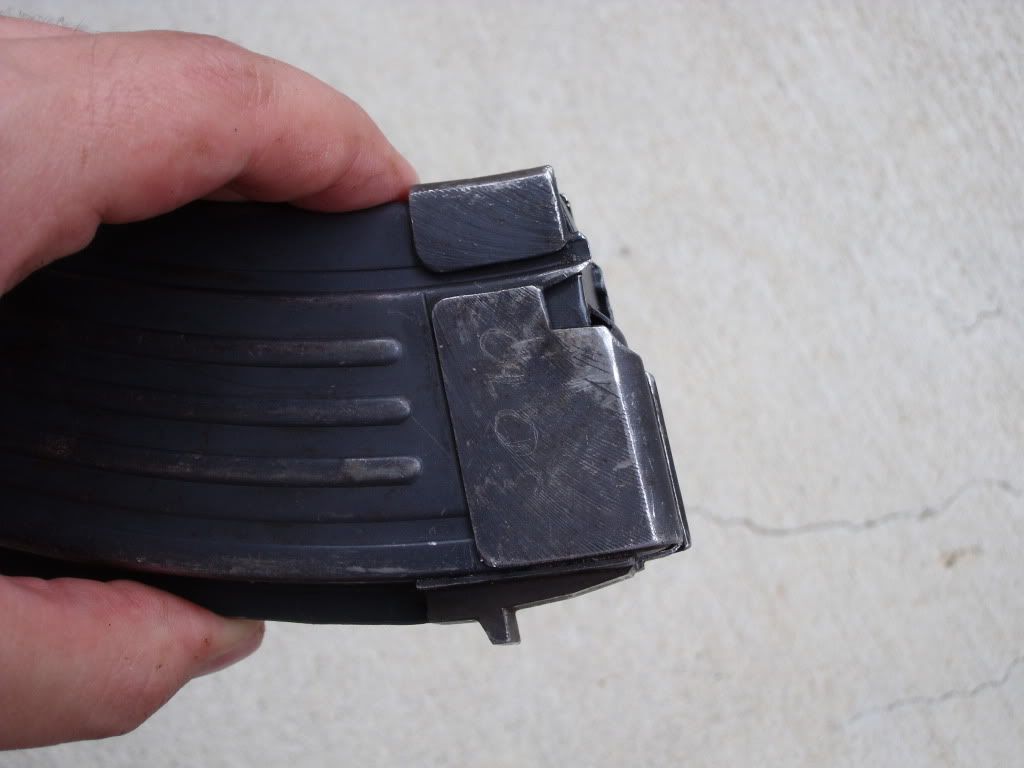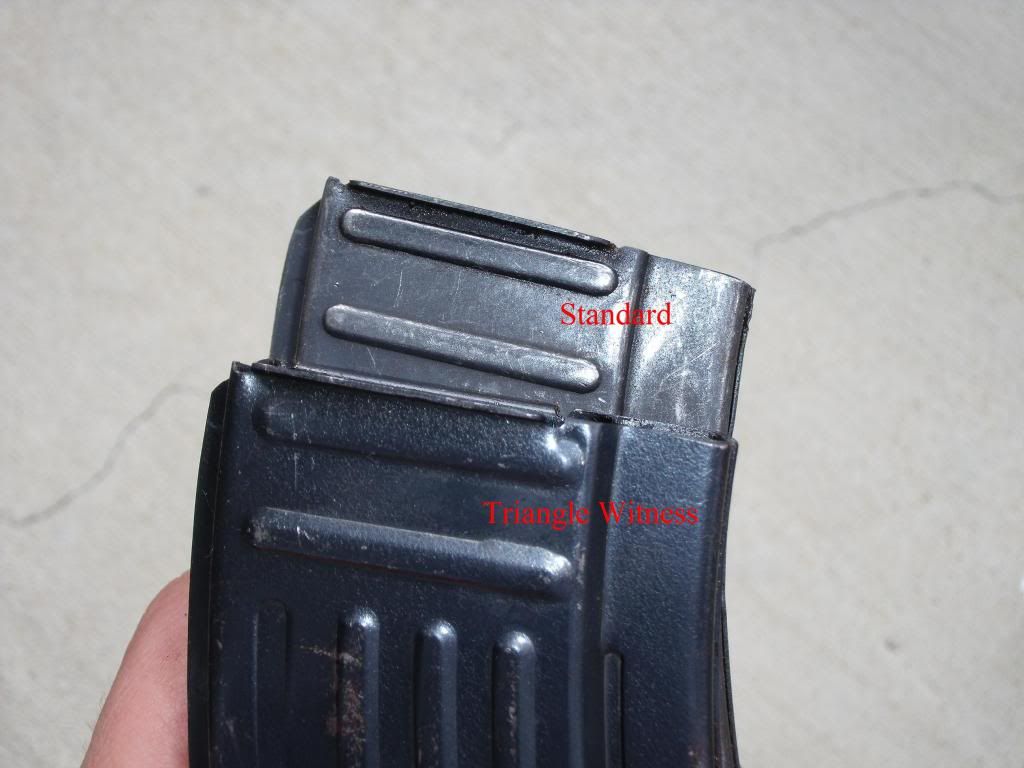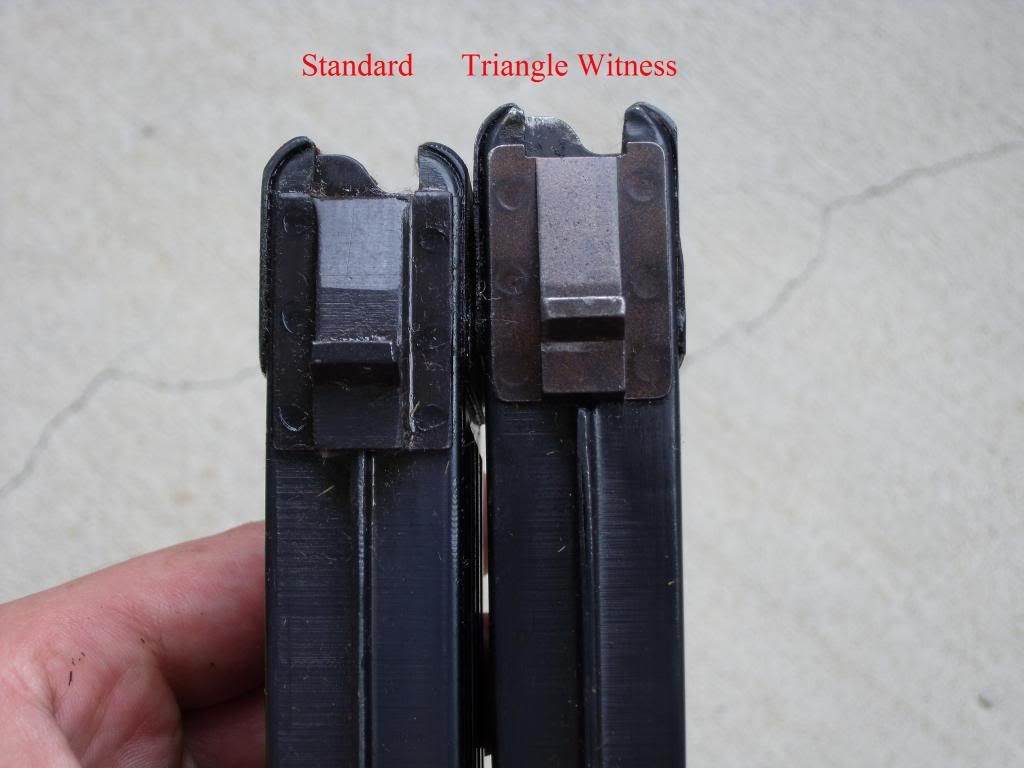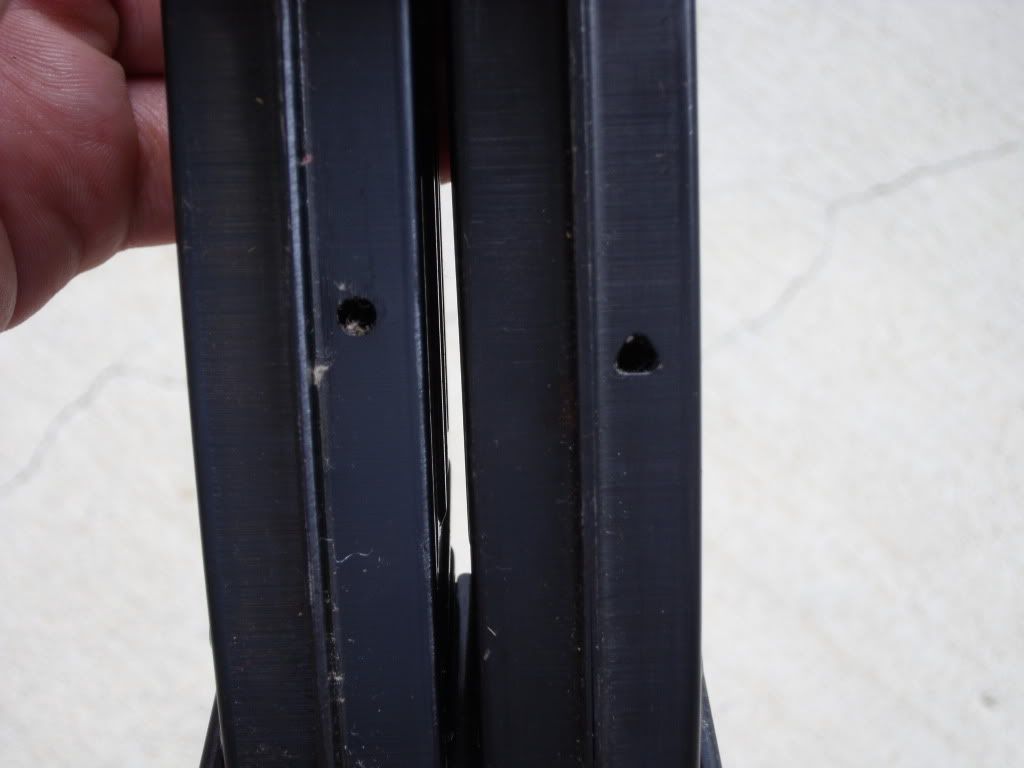 25. Bosnian Mags
This is just for fun as it's not really a Zastava variation. In my experience I have seen 2 variations of the Fleur-de-lis magazine. One has a large witness hole and the other has a small witness hole. Furthermore, some magazines have a unique flat spring while others have a coiled spring. This coiled spring is unlike standard springs. It is not as wide front to back and is much stronger. It can be tough to put one of these mags back together. Note the unique spring/follower attachment. Also, notice how some of these mags can be almost pink/purple in color. The follower in this mag shows the same coloration.