Discussion Starter
·
#1
·
ПФМ-1, short for противопехотная фугасная мина
These are the two examples of each model in my collection. The earth olive tone dated 1983 is the PFM-1. The grass green tone dated 1986 is the PFM-1S. This one is the self destruct variety designated by the cyrillic C cast on the backside of the wing.
Although these examples are totally inert and filled with an oil to represent the liquid exsplosive, it makes you think when hearing it swish around inside, at least to me.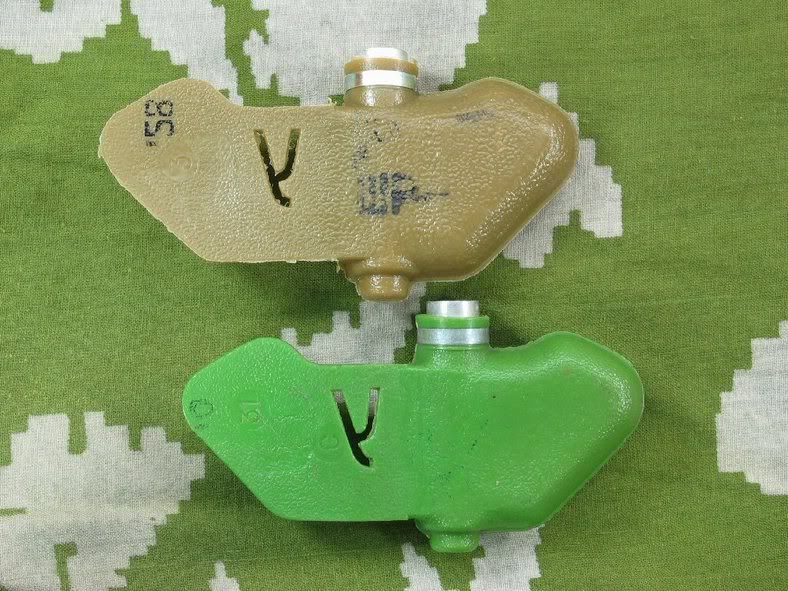 For those not familiar with this mine, here is info taken off a mine website...
PFM-1 is a small, scatterable Anti-Personnel (AP) mine with a body made from low-density polythene. It comes in two varieties, both identical in external appearance other than a Cyrillic C (English S) cast into the plastic on one side of the flat wing. The PFM-1S version incorporates a self-destruct mechanism. In the centre of the mine is a cylindrical fuze made mostly of aluminium; the remainder of the bulbous section of the mine is filled with a liquid explosive. The fuze is sealed into the plastic casing by a metal compression band, with the end of the fuze protruding a few millimetres. The fuze operates hydraulically using the liquid explosive from the bulb. When the mines are packed together in their dispenser, metal strips run through slots in the end of each mine's fuze to retain an arming plunger. The current dispenser is designated KSF-1s; it holds 64 mines and ejects them explosively using the electrically initiated EKV-30M system. Mine laying system options include the PKM, VSM-1, UMZ, RSZO and ASM. These mines are manufactured in a variety of colours, including green, brown and white; some markings are stencilled in black, while others are impressed into the plastic.
Operation
When the mine is ejected from its dispenser, the strip is pulled out from the slots in the end of the fuze, freeing the plunger. This plunger, pushed by a spring at the far end of the fuze, moves through a viscous silicon gel, rotating the detonator into line to arm the mine. After this arming delay (1 to 10 minutes), pressure on the bulbous portion of the mine forces the liquid explosive into the base of the hydraulic fuze. An internal sleeve is moved up until the striker retaining balls are allowed to escape into a recess, releasing the spring-loaded striker onto the internal stab-sensitive detonator. In the PFM-1S, this firing action will be initiated by a spring-actuated viscous delay mechanism between 1 and 40 hours after arming.