Discussion Starter
·
#1
·
Well, another wave of goodies has reached my door. I thought I would post pics.
With the purchase of these boots, I think I have completed a Serbian military field uniform. There is a pair of Serb boots on Ebay from 1966, but the seller wanted too much and they are old. A few weeks ago, these popped up.
I asked the seller about boot markings to make sure they were Serb. He said the only markings were "Euro 44" which constitutes a size of 11 in the US, my size. He said that a friend of his is Serb and recently had to return home for mandatory military drills. They issued him 2 pairs of boots. He didn't want the second pair so he told his friend to sell them on Ebay. $108 plus shipping later, I won them.
There are further markings inside and it may have a date of 12 07 as time of manufacture (see pic). Quality? Ok, but nothing like Czech made shoes. There are also what seems to be cardboard temporary insoles in them which I can't pick out.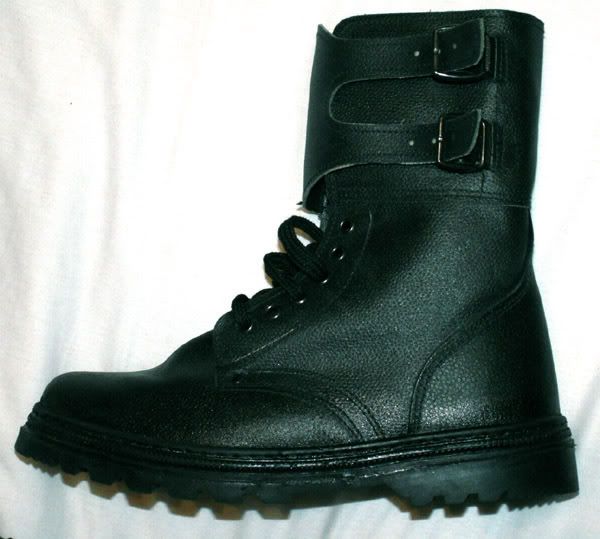 Next: Full set of Arkan's Tigers left and right arm patches. The white one is the winter version.
Next: Serb army issue balaclava cap (dark blue, new) with Chetnik patch...
Next: Serb camo cap, brand new. Size 59. It doesn't fit my big fat head unfortunately unless I shave my head. This came from Commisar Paul in Texas.
Next: Serb field jacket, M93. Brand new made in 1999. Even smells new. $22 + $27 shipping.
Next: Bosnian AK mag pouch from Phil Razz. New. Seems like a copy of the Serb AK mag pouch.
Next: unknown bayonet. Shipped from Serbia. I have another thread on this forum asking for an ID.
When I have some time, I will photograph all of the collection and wear the full garb in pics.