Discussion Starter
·
#1
·
Hi!

Ok, I bought this Maadi Arm back in November. Nice Rifle - Typical Crappy Finish - Muzzle Nut - Thumbhole stock. This thing needed help. Photos in each section will be added. This might take me a couple days to compile them all.
I hate to see I can't find the original pics
#1 - I promptly contacted Z_Recto (Kevin) to see what he had for Russian Furniture and his custom Grips. He mentioned Early January at the earliest. Sounds fine to me. [
] Who am I to argue with an artist.

#2 - Dremelled the old muzzle nut off. Took about 10-15 minutes going nice and slow. Threads looked great once the nut was off.

#3 - Sent the Bolt Carrier & Piston to Glen Riddle at Magnum Gunsmithing. He replaced the piston with a US piston and Gunkoted the carrier to 'FLAT BLACK' my choice that I was going to apply at home. He charged $35 shipped for this.

#4 - Placed a WTB add for a Single Hook G2. An AR15.com member (ViC) down in FL hooked me up promptly! I swear he and I just swap parts back and forth.

#5 - Started taking the Maadi apart. The wood was an absolute mess IMHO. It was promptly tossed into the fire place. Smelled kind of funny as it was burning [}
] .. I know a shame, but it sucked.

#6 - Fire up the compressor to strip the Maadi with Aluminum Oxide. Note: The resipirator on top of the compressor [
]
Note: We also a worked on a new Arsenal 105 something and another. Love the gun - the finish sucks almost as bad as a maadi ... Anyway, the Arsenal and Maadi were to be stripped with aluminum Oxide, Then Parked, Then Gun Koted in Flat Black
Blasting Booth - Nothing special - $90 toy from Harbor Freight. Man do you go through the glass in these booths.
Inside the booth. There my gas tube is. I spent about 2 hours looking for that damn thing!!!

Ahhh. The maadi is all stripped. Disregard all my fal parts (Working on almost 6 of those kits right now)


My long parking tank. This is a must have to get the long barells into. A gentleman on CSP sells these to members for 50 or 55 shipped - was a steal.
My badger 400 airbrush - must have for applying the finish. Oh yea, let me tell you Badger's customer service is 2nd to none. I broke this (dont ask me about dropping it) on a Sunday. Sent it to Badger Priority mail on Monday. I received this Unit Back Thursday REFURBED for FREE. Badger rocks!!!
Out of the park tank - into cold running water - onto a towel. Note: I learned somthing new in this section. I'm still going to oil-up the parts with clp when they come out of the park / and cold water treatment. Oil them up - let them air dry an hour or so - wipe them off and into the oven to bake off the excess oil. I tested this on a part and the final finish under the gunkote rocked big time [
]
Maadi and the Arsenal preparing to be gun koted.
Ok, a little of Z_Recto's magic. Here is the before of my buttstock and HG's
My Buttstock is the third from the top. I can tell by the unusual stamp on the side.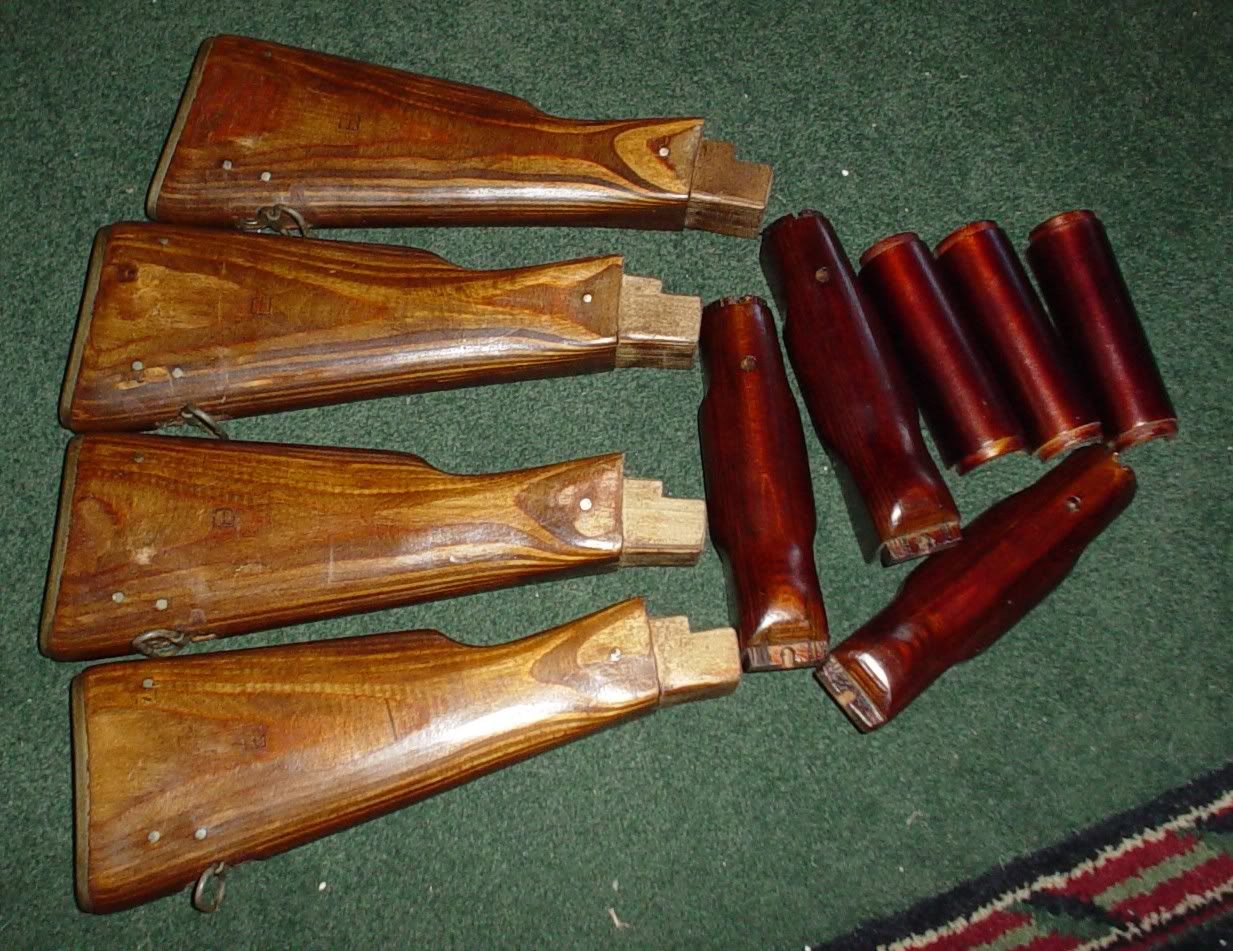 Final Product - So Damn nice!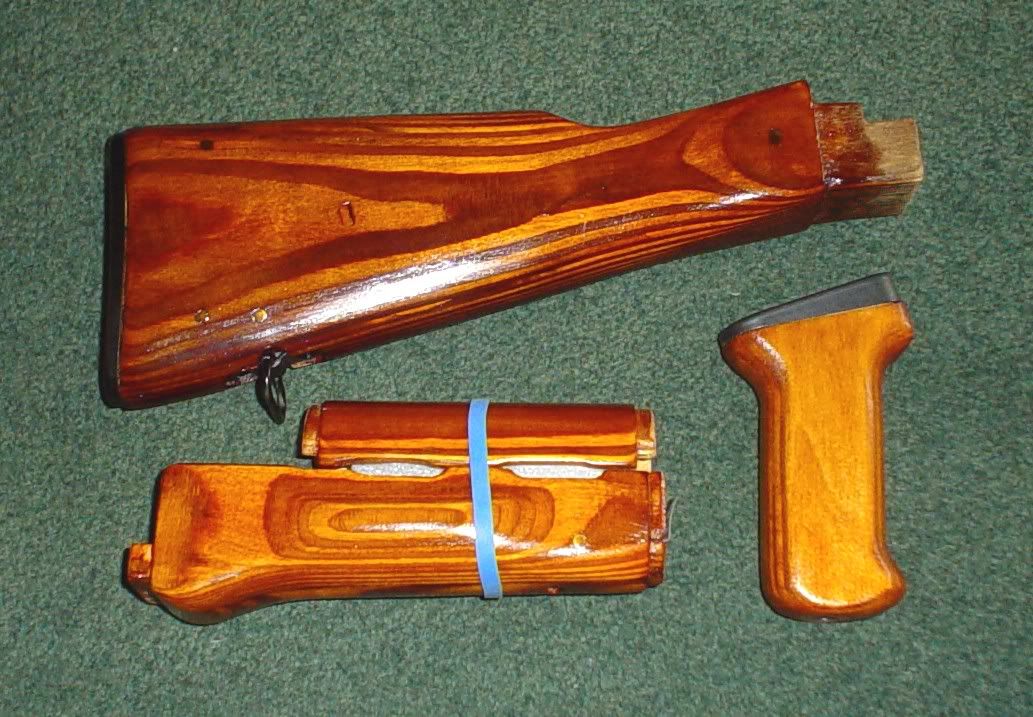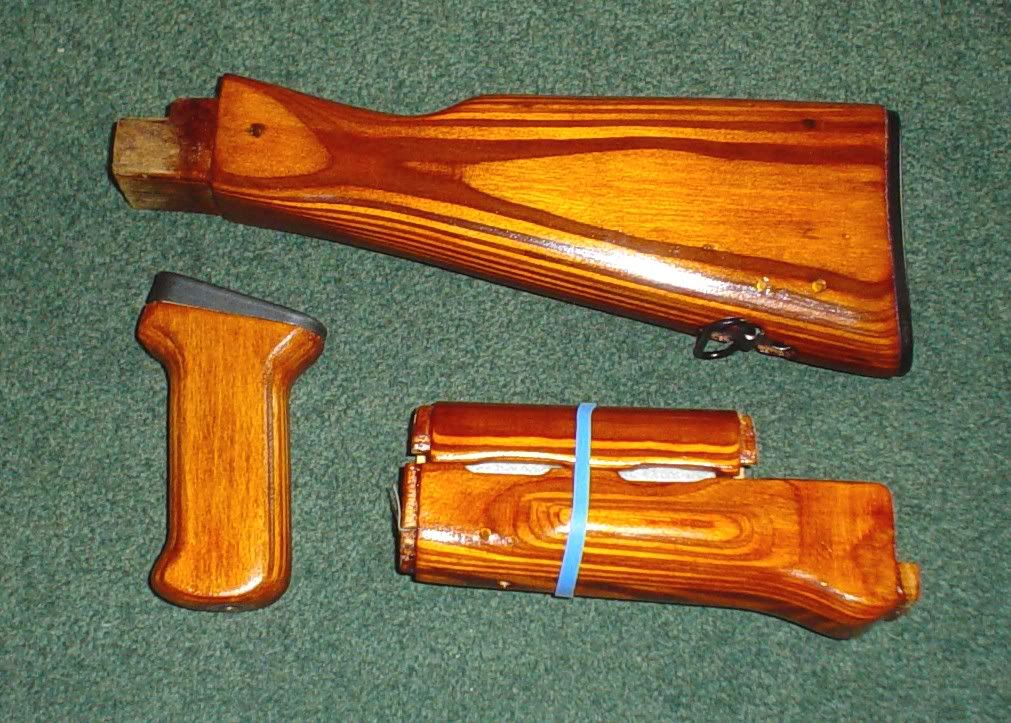 Ok, Tomorrow nite I'll post the final pics of the Maadi. Let me know if you need any further details.