Discussion Starter
·
#1
·
I am posting this in one listing to prevent confusion and because it is mostly AK stuff. I may add more later AK related things later as well.
The terms:
-
All prices are shipped
CONUS with insurance and delivery confirmation, well padded and protected.
-I accept Money Orders, personal checks with a holding period, or that evil online payment option that no one likes.
-PLEASE- no trades. I need to sell these items to pay for a rifle that I need to have.
-Thank you for looking!
1. Two Polish polymer slab-side magazines. These are not the same I had offered before, but of course look the same. Both mold marked #2, and in VG condition. No gouges or cracks, strong springs, and I have not used them. These are a very close copy of the Russian slab-side magazines and thus are great for an AK-103 clone, your SLR-107 or just to have in the collection. Steel reinforced front and rear locking tabs as well as feed lips.
Price is $45 each, shipped.
SPF.
2. Four Yugoslavian AK magazines, bolt-hold open type, two with the bronze rear catch and triangle witness hole and then two with the standard round hole. These are in excellent condition, only one has insertion wear and one has a ding along the back (does NOT affect function) from handling I assume as the body is nearly perfect. These are a great way to round out your Yugo mag collection and these are in well above average shape. No that is not a scratch on the one to the center, it is a dog hair courteously of my Siberian Husky. These look way better than the pics show.
Price is $110 shipped for all four, and a curved 4 cell East German raindrop pouch is included.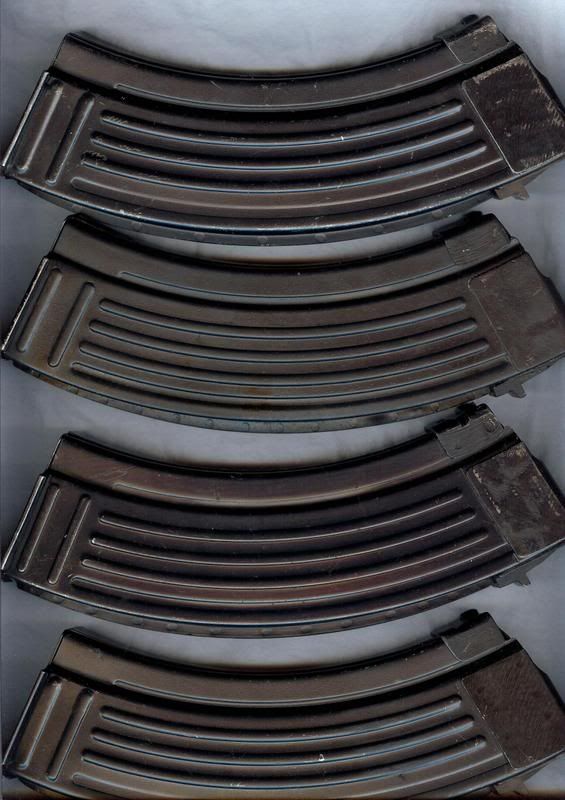 3. Four cell mag pouch, OD green, has velcro and snap closure and a small pocket on the inside, I assume for stripper clips. EXCELLENT CONDITION. I just noticed there was some dog hair on the side, but this has NO SCUFFS or large scratches on it, it looks new. There is also a pouch on the outside for an oil bottle. It was sold to me as Polish by a dealer at a show. Oh, and believe me, this is HEAVY duty. Very thick material, rubberized on the inside. I'd put this against most thick canvas pouches for toughness.
Price is $20 shipped.
SPF.
4. Brand new Chinese Polytech bolt carrier and chromed gas piston (semi-auto). This carrier has never been installed and has NO serial number. It is marked very faintly "China" on the side. The gas piston was expertly removed, so you can add a US compliant piston, or just install the original that comes with it included in the price.
Price is $50 shipped.
5. Two Sig 226 pre-ban factory made (not MecGar) 20 round magazines. These are in VG condition, they only have wear around the sides from insertion, otherwise excellent. These are slightly used, 100% reliable and great for extra capacity or for your German Sig collection. Yex, they have the zig-zag back.
Price is $42 each, shipped or $82 for both of them shipped.
6. Sig 226 .40 and .357 caliber magazine, factory made under contract by Mec Gar. In very good condition, the only wear can be seen in the picture and is from insertion into the pistol. No rust, no pits, no crap.
Price is $24 shipped.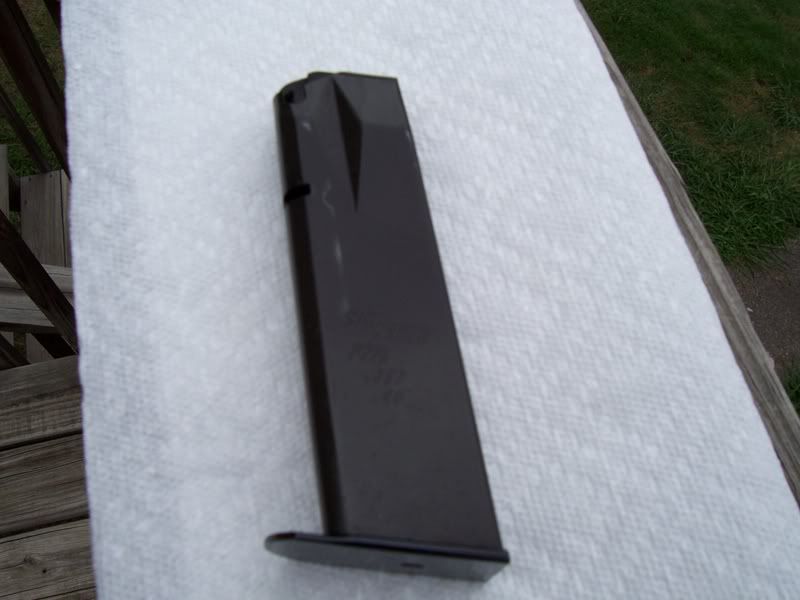 7. Boker AK-74 automatic knife, Custom Silver. Brand new, I opened the package and oiled it and put it away. The safety is easy to manipulate and it was professionally converted to automatic with a Boker kit. Includes original box. The blade is partially serrated and spear point. Very good knife to have around for emergencies or for general use.
Price is $47 shipped.
SPF.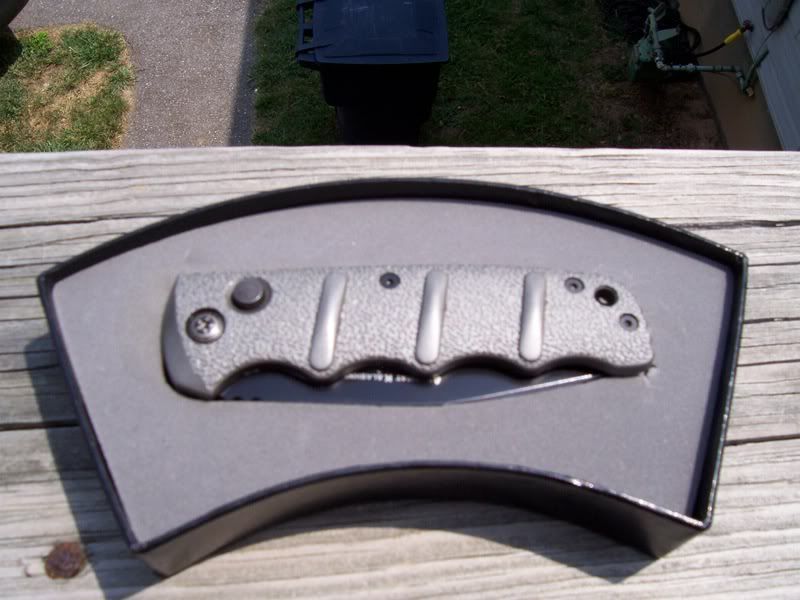 8. Pair of Faded Glory Harley Davidson rider boots. These are black leather, size 13. These are in new condition without box, I bought them a few years ago and wore them twice... once in the store and once to show off for friends, but never "out" because I didn't want to scuff them... now they are too small for my feet. Story of my life. Either way, you get boots that are basically new for far less than retail. The picture is the standard one from the website because the boots won't fit easily on my scanner but better pictures can be taken if requested.
Price is $85 shipped.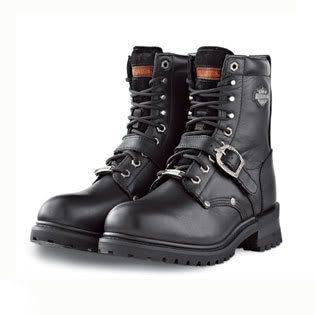 9. Russian gas mask, adult type. Includes two filters, one NIW, and the case with carrying straps. Also included is the small metal tin with multiple eyepiece covers to prevent fogging inside of the mask. Excellent condition. Factory photo is being used but I can head down and take pictures of mine if requested (though they are exactly the same.
Price is $30 shipped.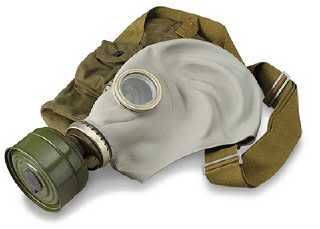 10. Hungarian milled AK bolt, non-finished (I believe it is satin chrome). It has a serial number, BM 05335. It is in very good condition with no pitting. I bought it for a project but that project went south. It is complete with firing pin, extractor, spring, etc.
Price is $35 shipped. Pictures on request as I added this late.
11. AK scope receiver cover. This is the original type, better made than later models. It has a weaver rail on top held in place with 3 rivets, and a screw on the side of the rear of the cover. Basically, you slap the top cover in place with the scope on and tighten the screw as much as possible. This prevents it from wobbling while on the rifle and helps the gun hold zero. The top cover is the heavy-duty smooth type and I believe this is Chinese made. No serial number. Excellent condition.
Price is $22 shipped.