Comrades!
I have 6 eastern european mags and 4 yugo mags I want gone!
6 Euro mags = 8$ ea
SOLD
4 Yugo mags = 10$ ea
SOLD
Shipping for 4 mags is 7$ anywhere CONUS
Don't forget these magazines are only good for holding ammo! they are bottle openers, Hammers, melee weapons, art, and much more! they are the 3rd world leathermen.
Trades, other offers all considered.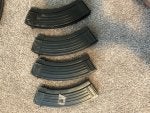 And always remember...