Discussion Starter
·
#1
·
I just got an email from one of my good buddies who was stationed in California and is back there doing PR work now. Thought some of you might like to read a chunk of it.
"....I had the privilege of spending some time with veteran's from our nations armed forces this week. I spent the week snowmobiling, skiing, shopping, and getting to know a few of them. This picture is of my good friends Hallsey and Bill (left to right) who are veterans from the USS Iowa and served on her during World War II. They've been best friends for 54 years. Bill is the Executive Vice President of the USS Iowa Veterans Association. The USS Iowa was an integral part of WW2, the Korean War, and served well into the 1980's. This ship has been decommissioned - in fact, the only active ship in it's class is the USS Arizona which as many of you know, was sunken in the Pearl Harbor attacks and rests in Hawaii. This association recently approached the city of San Francisco with a proposal to permanently place the Iowa in the bay area and turn her into a museum. Bill, who I had dinner with tonight, told me that he was told by the city that was fine as long as they dedicated it to the gays and transsexuals that are serving in the Navy today. When he told me that, I asked him, "what did you tell them?" His response was this, "I told them that what they were asking was an insult to my ship, my country, and my navy. I told them that if they thought we were going to do something like that that - they were out of their damn minds and that that conversation was over." I'm telling you - that's our nations best generation!"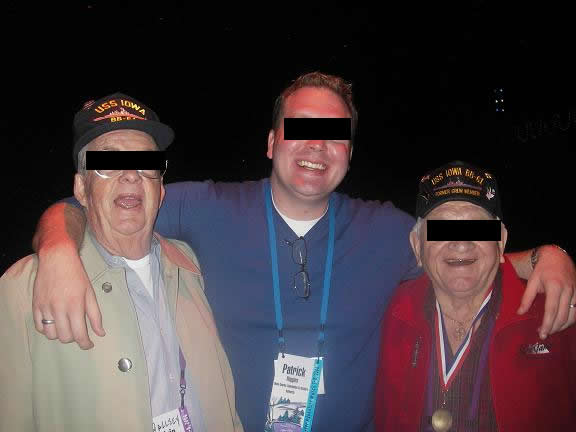 I just love to spend time with these guys that gave what they had to our nation! Both of my grandfathers were WWII vets and wish I was old enough at the time to write down or record some of their stories. These vets are almost all gone now. If you know some, take some time and spend it with them. They'll probably teach you something.
Appreciate our vets!!!!
-St